Oversized Floral Print Is The It-Girl Take On The Dated Ditsy Trend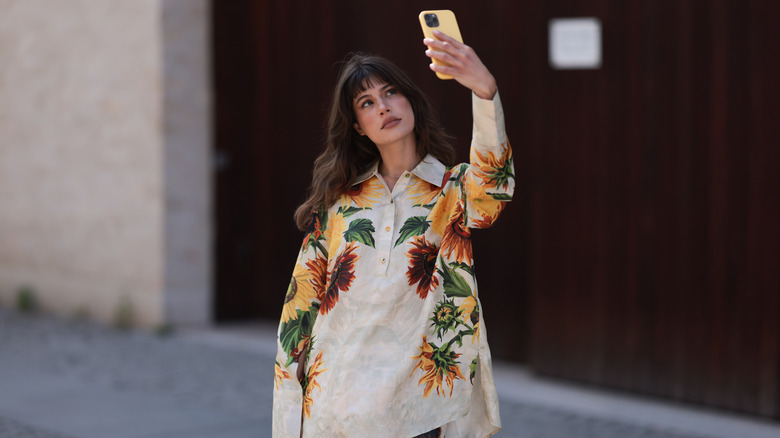 Jeremy Moeller/Getty Images
We know from "The Devil Wears Prada" that florals aren't groundbreaking, but floral print, at least, is universal and flexible. A good floral frock is a must-have fashion trend for the summer and spring seasons, but it's also adaptable for fall and winter.
Typically, you'll find regular floral prints along with the ever-so-classic ditsy print, which typically features micro-flowers. However, small florals aren't exactly to everyone's taste. If you're looking for something more unique, modern, and eye-catching, the trending oversized floral print could become your new staple. As the name suggests, it calls for zoomed-in floral details that take up the entire garment. While it's not as busy as a ditsy floral print, it's a chic and elegant alternative that gives the entire outfit a more artistic and contemporary feel. 
With this trending print, you'll elevate your typical floral frocks for something more fresh and high-fashion. Best of all, the pattern comes in all shapes and colors, making it easy to incorporate into your existing wardrobe.
Colorful oversized florals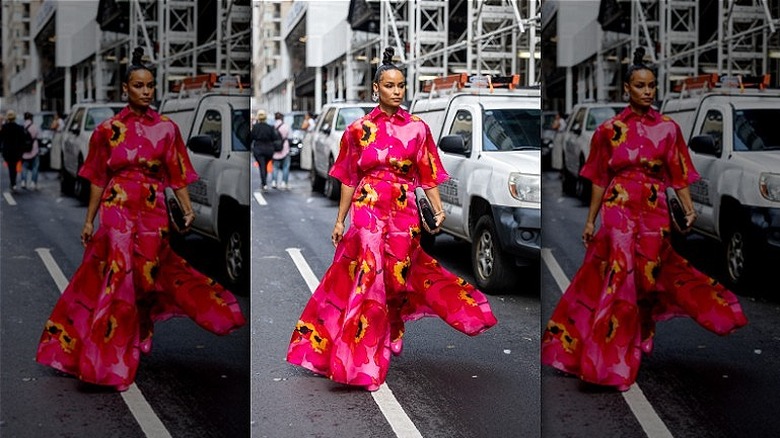 Christian Vierig/Getty Images
If you're ready to go big with your floral print, you might as well go with bold with your colorful hues. Bright colors and bold patterns go hand-in-hand and are a safe styling trick to use when in doubt. If you want to play up the fun large print, do so with a vibrant and saturated shade that can really make your pieces pop. Finish off your look with neutral accessories and footwear for some balance.
Oversized floral print bags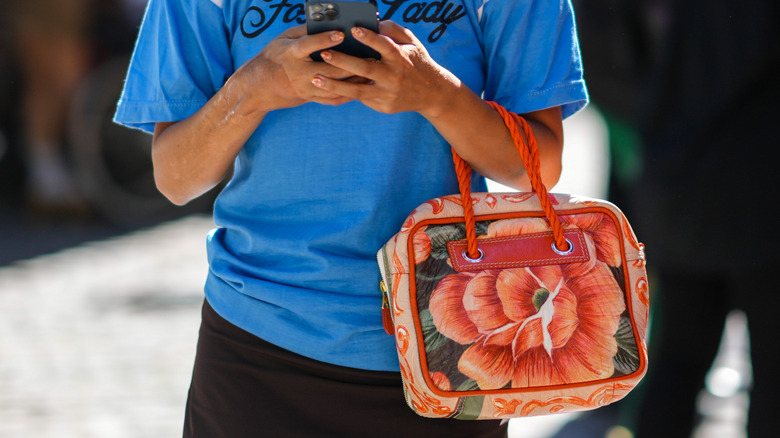 Edward Berthelot/Getty Images
Not every floral print has to be on a clothing piece for it to count. Printed bags have slowly become more chic and fashion-forward considering the personality they can add to any look. Large floral printed bags can help bring more attention to your accessory and bring your outfit to life. If you're concerned about wearing an oversized pattern, wearing it on your bag is the perfect way to add a punch of boldness to your look. This trick is great for those with a more minimalist style that still want to dabble in an oversized floral print.
Denim and oversized flowers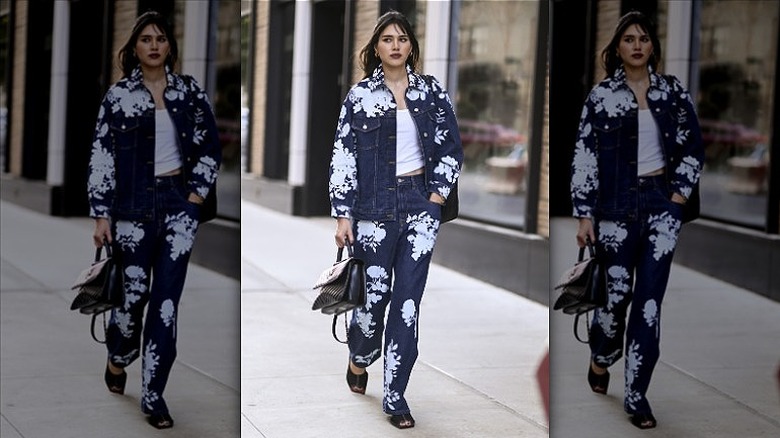 Daniel Zuchnik/Getty Images
Florals aren't restricted to cotton or lightweight fabrics; they can also exist on thicker textures like denim. Pairing the softer and larger floral pattern with a robust fabric like denim can help to combine masculine and feminine pieces in perfect harmony. It will also help elevate a floral pattern into a street-style look you'll return to all the time. 
Subtle oversized flower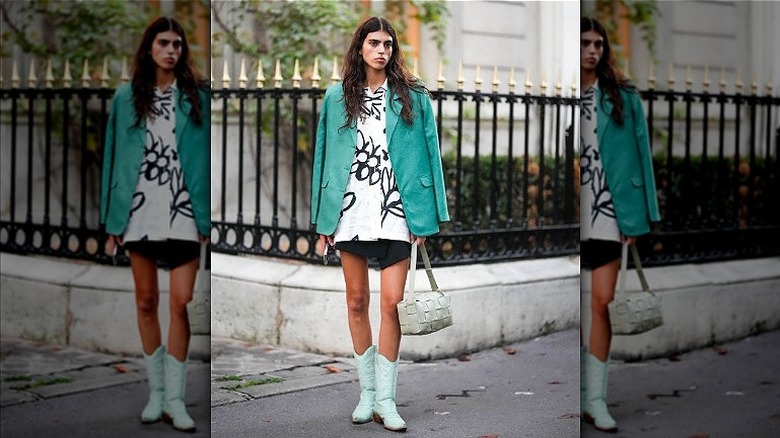 Edward Berthelot/Getty Images
It's hard to imagine oversized florals feeling subtle, but it's achievable. Choosing just one piece to feature a large floral pattern is crucial in keeping your look low-key. Pair it with other understated and simple items like denim jeans or a blazer to help counteract the piece and provide a stylish balance.
The oversized floral set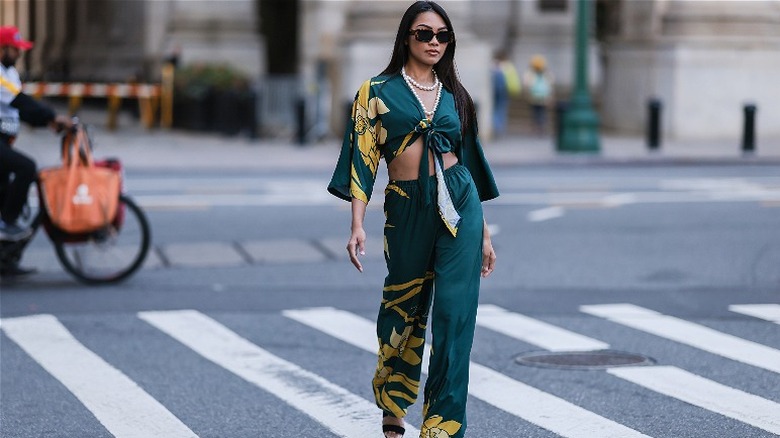 Jeremy Moeller/Getty Images
On the other hand, if you're looking to ramp up on the statement print, matching sets are the perfect way of staying on-trend. Printed matching sets are a chic and easy solution for your styling issues. Having a matching pattern can help you avoid any decision dilemmas and worries about how you should style a single piece. Having the same print on the top and bottom can also make it less overwhelming, since you'll be rocking a cohesive look. 
The zoomed-in floral top
Perhaps the easiest way of embracing the trending oversized floral print is by wearing it as a top. Although it's just one piece, this print can still be eye-catching and easy to wear daily. Pair your statement top with a pair of neutral bottoms or in a complementing color for an easy go-to outfit you'll never get tired of. An oversized floral print blouse can make your outfits more fun and feminine but still chic and on-trend.
Oversized floral dress
Floral sundresses can sometimes seem too casual or simple, making it difficult to wear them stylishly. Opting for a larger print can make the piece more modern and grownup, without losing the feel of wearing florals. It's no wonder why this chic alternative to a ditsy floral sundress has become a spring and summer staple!