Yes, Your Hair Needs SPF, Too - How To Add It To Your Routine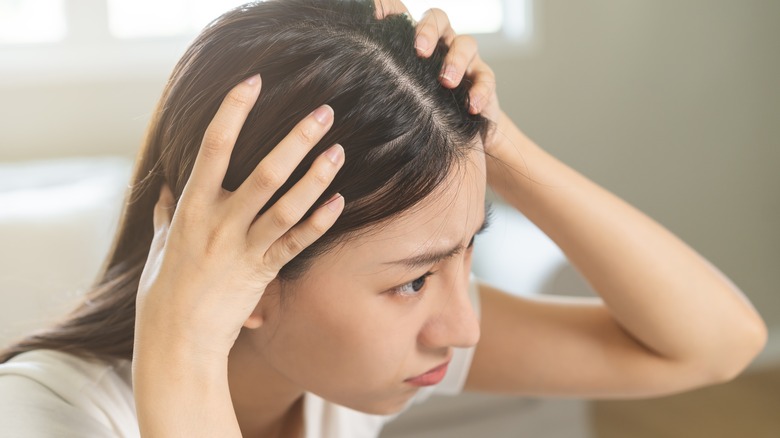 Kmpzzz/Shutterstock
We may receive a commission on purchases made from links.
You successfully made it home from the beach without managing to burn, but then you remember you forgot to cover one part: your head. Now your scalp is bright red, itchy, and you're left to deal with the avalanche of scalp flakes peeling off for the next few days. 
It's easy to forget that your scalp needs protection. After all, doesn't our hair protect us from the sun? Well, it does, but when your hair is parted a certain way or it's on the thinner side, this leaves areas of the scalp exposed to the rays. As board-certified dermatologist Dr. Orit Markowitz explained to Byrdie, "Areas especially vulnerable to sunburns are areas with less dense hair coverage, the back of the scalp/neck, and the juncture between the forehead and scalp." If you know you'll be spending a lot of time in the sun, don't forget to show your scalp some love with SPF. You can add it to your routine easily by extending your usual SPF application to areas on your scalp that you usually neglect. Additionally, you can protect your strands specifically with defensive products applied before you step into the sun. 
How to apply sunscreen to the scalp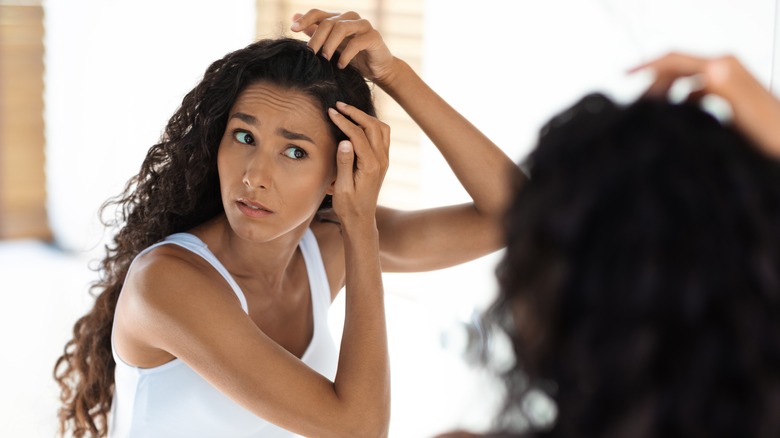 Prostock-studio/Shutterstock
Wherever your hair is parted or thinned, take a bit of lotion on your finger and massage it into the scalp, from your hairline to the back of your head, making sure it's absorbed into the skin. You should also apply it around your hairline, as that area is easily exposed to the sun as well. You can practically use any type of sunscreen on your scalp, but it all depends on your preferences and choosing the best sunscreen for your skin. The spray version of sunscreen is likely the easiest to apply, but it might not provide as much protection as the lotion version. 
If either the lotion or spray makes your hair feel too greasy, there are sunscreens formulated specifically for the scalp, like COOLA's Scalp & Hair Mist and the Scalp & Hair Mist made by Sun Bum. There are also powdered sunscreen options like Supergoop! 100% Mineral Part Powder and Isdin's Mineral Brush. Add scalp care at the end of your daily skincare routine, and be sure to reapply your SPF if you'll be outside for long periods of time.
To protect your hair specifically, you can use heat-protectant sprays, including those that you'd use before heat-styling, and those that have been designed for defense against the sun. 
The risks of not protecting your scalp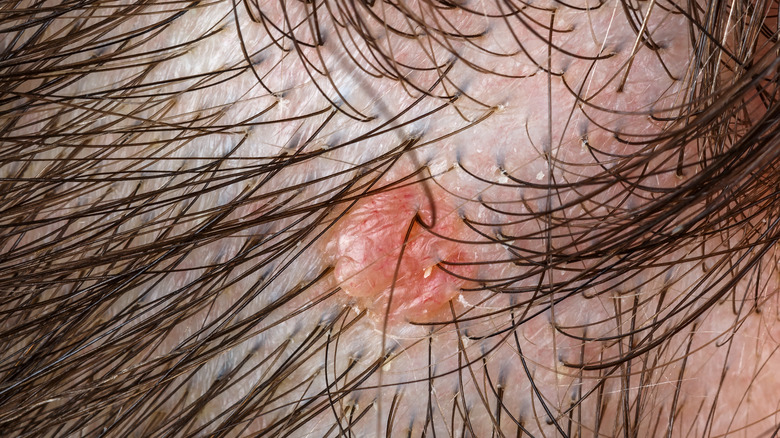 Bencemor/Shutterstock
For anyone with dyed or color-treated hair, the sun can actually bleach the hair and damage the gorgeous work your hair stylist just did. It's best to protect yourself with a hat or sit in the shade if you're worried about messing up your dyed hair. Another option is applying heat-protectant sprays designed for colored hair. You don't want that vibrant (and often expensive!) color to fade. 
A more serious threat that comes with leaving your scalp unprotected is increasing the risk of skin cancer. Though spending time out in the sun is great for our overall health, it's also one of the leading causes of skin cancer. When we're having fun outside, we may forget how dangerous it really is not to wear SPF daily. Skin cancer can develop anywhere on your body, and this includes the scalp. According to Healthline, 13% of skin cancers appear on the scalp. 
Our scalp is often forgotten about, so we might not be aware of any damage done to it, especially since our hair hides it. That's why it's important to check your scalp to make sure it's healthy. If you see a dermatologist for a skin analysis, you can ask them to check your scalp for anything out of the ordinary. Or even at the salon, you can ask your stylist to point out anything that could potentially be harmful.