Viral '6 Second Kiss' Rule Can Boost Your Connection With Your Partner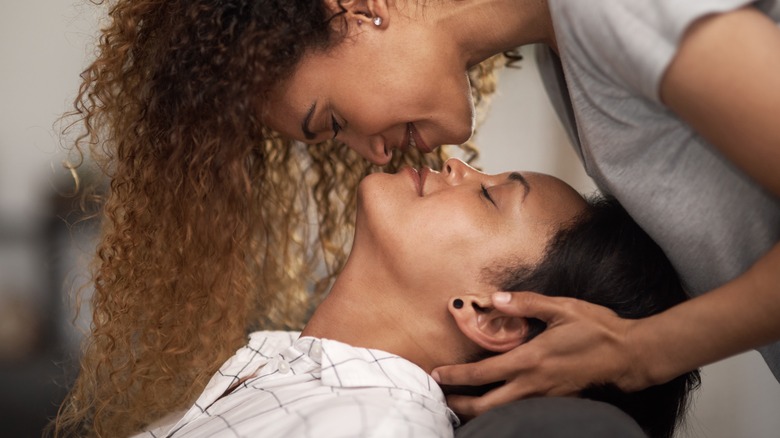 PeopleImages.com - Yuri A/Shutterstock
Life can get pretty busy, and sometimes we run out of time for intimacy. Connecting with each other gets placed lower on the list of other priorities, like work, kids, pets, and health. Relationships progress in phases, and as time goes on, it's normal to notice less physical intimacy compared to the beginning of your relationship. But as it turns out, all you need is a few seconds of the day to boost your connection with your partner. A tip called the six-second kiss rule has been going viral on TikTok, and some couples are swearing by it.
Advertisement
The six-second rule was coined by psychologist and couples therapist Dr. John Gottman, who co-founded the Gottman Institute with his wife and psychologist, Dr. Julie Schwartz Gottman. They've been married for over 35 years, so it's probably safe to say they know a thing or two about relationships. The rule is simple: Dedicate at least six seconds of the day to kissing your partner. And we don't just mean a peck; we mean an intentional and meaningful kiss that lasts for six seconds. This tip has been recently circulating on TikTok among therapists and relationship experts, as well as others who have tried it out for themselves, and it may be able to help you, too.
How does the six-second kiss rule work?
The main point of this practice is to dedicate an allotted amount of time each day to sharing a moment with your partner. But why six seconds, you ask? According to Dr. John Gottman, six seconds is a long enough time to connect deeper than you would with just a peck, per the Gottman Institute. It allows you to get out of your own head so you can focus only on your partner. It's also a way to connect with each other without words or problem-solving, allowing you to feel close to them in a physical way. Kissing reduces cortisol, our "stress hormone," and increases oxytocin levels, our "love hormone," according to the Gottman Institute. So, implementing the six-second kiss every day will give you each a dose of those lovey-dovey feelings that draw you closer together. 
Advertisement
There's a difference between the short "hello" and "goodbye" pecks you give when leaving for the day and the mindful kisses that allow you to feel present in the moment with your partner. In Dr. Gottman's words, the six-second kiss helps to build a "ritual of connection," meaning you and your partner can count on this moment together, no matter what kind of day you're both having. These rituals, like eating a meal together, talking about how the day went, or scheduling date nights, are small acts that leave a lasting, positive impact on the relationship to make it stronger.
Is it for you?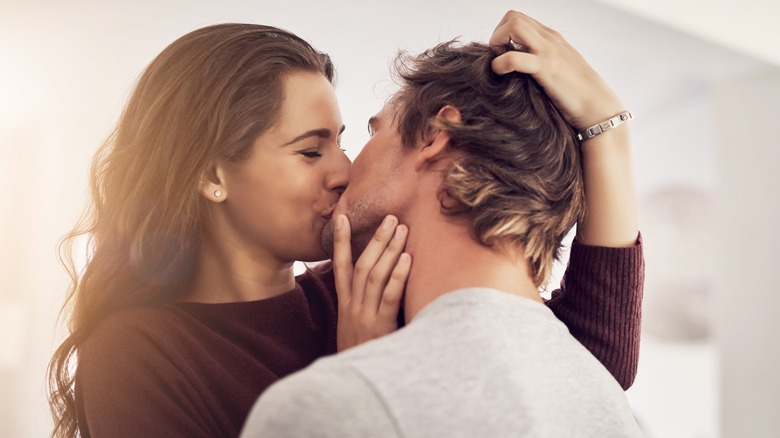 PeopleImages.com - Yuri A/Shutterstock
Every relationship is different, and you can personalize this tip however you'd like. Though it's called the six-second rule, you and your partner shouldn't focus too much on the time. Rather, focus on the kiss itself. The point of the exercise is to share a moment of connection with your partner every day. "You never want to do something with your partner out of obligation and one downside to a six-second kiss ritual is you can end up in it without feeling the inspiration," Hoffman tells USA Today. "If you're focused on keeping track of the time, you'll miss the point of the exercise."
Advertisement
It doesn't have to be rigid, and you don't have to schedule an exact time of the day. It can also be something other than a kiss, like a hug, holding hands, or looking at each other — anything that brings you together. If you're curious about people's personal experiences with this rule, people have a lot to say about it on TikTok. User @aleigh_loves_jayden_2 shared a video about how the rule helped their relationship after a small argument. "This morning I felt like he was mad at me, and to reassure me he wasn't, he gave me our six-second kiss before I left for school," the video creator said. Another couple — @blackloveandmarriage on the platform — shared a sweet moment about how they love the rule, captioning their video, "Don't stop kissing your bae!" So, pucker up, and try it out with your partner.
Advertisement