Drew Barrymore's Meditation Room Is Giving Us So Much Affirmation Inspiration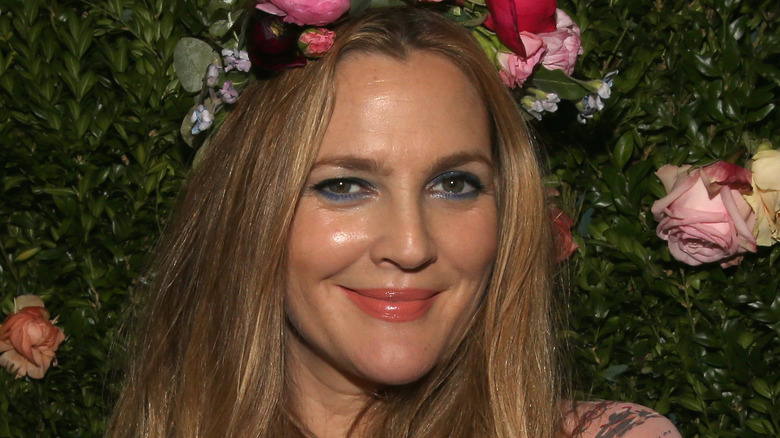 Paul Zimmerman/Getty Images
In today's fast-paced world, sometimes you need to find a quiet place to refresh your mind and find solace. But, in a post-COVID-19 world, where inflation is high, you might not be jonesing for an expensive spa day. It turns out you can look to your own closet for your daily dose of zen. This advice comes directly from one of Hollywood's own elite, actor and talk show host Drew Barrymore. As host of "The Drew Barrymore Show," the star has captured our attention as one of the more empathetic, spiritual, and soulful talk show hosts. For example, her interaction with Machine Gun Kelly – when he was not feeling his best during an appearance on her show — displays just how much time, patience, and understanding she has for those who are open about their struggles.
When it comes to Barrymore's own struggles, her meteoric rise to fame after starring in Steven Spielberg's "ET" at the tender age of 7, before spiraling into a tragic world of addiction, has been well documented. So, it stands to reason why the "Never Been Kissed" star might want to fashion her own meditation room. She revealed her patented, quiet room of reflection in an interview with Vulture, where she was photographed inside the room within her New York apartment — a room she designed herself from a walk-in closet — and it's giving us plenty of inspiration and affirmation, an important practice to add to your self-care routine.
Meditation closets allow for quiet mindfulness
"Scream" star Drew Barrymore has fashioned her own meditation room in her walk-in closet within her New York apartment. Photographers from Vulture took photos inside the space, with the outlet describing the room as covered in pink flamingo wallpaper and scraps of paper with words of positive affirmation scribbled on them. According to the outlet, these inspirational quotes include, for example, "Today is the day you start trusting yourself," "Listen to my body and soul," and "Treat myself as the mother I needed." In the photo, we can also see a small desk, a mirror, and lots of lit candles. Barrymore describes her notes as the work she's doing with her therapist to work through her "shadows," a.k.a. "everything we don't want to be but fear we are."
Noting that she's still processing her childhood (she was legally emancipated from her mother at age 14), she reiterates in the interview that she's not trying to hide from her struggles or shut them out. Rather, her meditation room allows her to practice mindfulness and therapeutically change her negative thoughts. "There's nothing I can do but just walk through it and feel my own discomfort," Barrymore says in the interview. She echoed that sentiment on Instagram, where she shared, "The true measure of success is a calm nervous system."
If you want to achieve the same equanimity, you can fashion your own meditation room and avoid the hefty price tag.
Design your own sanctuary for less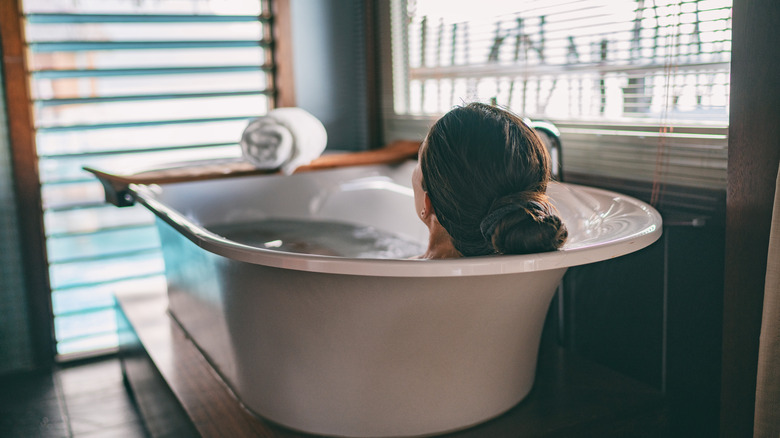 Maridav/Shutterstock
We are feeling much inspo from Drew Barrymore's meditation room, especially because a meditation room feels ahead of the trends! While we already know how meditation is one activity that can benefit our mental health, most design outlets have totally ignored meditation rooms in their closet makeovers. Plus, seeing as how Barrymore is a movie star who owns a three-bedroom New York City apartment, it's safe to say that, perhaps, not all of us have the means (or the space) to fashion our own meditation closet. With NYC rents now averaging $4,000 a month, you may not have a closet to spare. In addition, Barrymore's lovely pink flamingo wallpaper costs a whopping $177 per roll!
One idea is to find your own reading nook, window seat, or even just a comfy chair to get the same effect. We think taking her idea and running with it is the best way to achieve calm however it may work for you. If you want our meditation room advice, we suggest going to the bathroom, locking the door, and enjoying a long soak in the tub, costing you only the price of a bottle of suds.