Sporty Sunglasses Are The Athleisure Of Eyewear (Iykyk)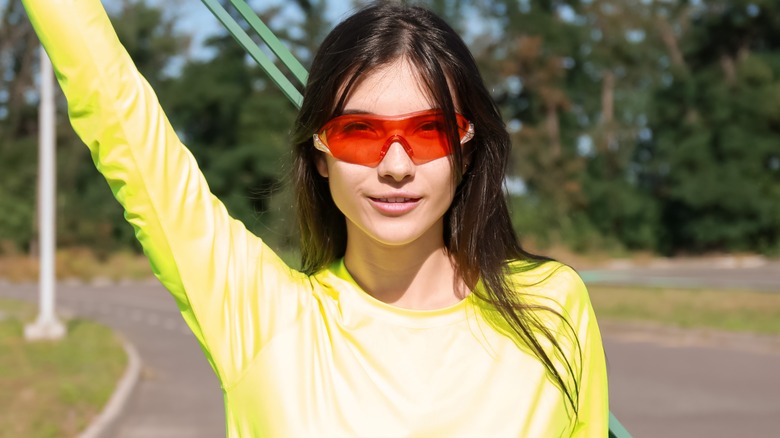 Pixel-Shot/Shutterstock
Athleisure has taken the fashion world by storm and shows no sign of stopping. Some people even believe exercise dresses are the ultimate everyday outfit, proving that athleisure gets a lot of love. If you want more ways to bring athleisure to your summer looks, look into investing in at least one pair of sporty sunglasses. After all, they'll complete your activewear looks and add a sportier touch to your other outfits.
Advertisement
"The clash that's happening right now with athletics and high fashion is dope. Razor edge shapes are really popular [right now] — they would normally stay within those sport realms but you can spot them on a celebrity courtside nowadays," Christyn Breckenridge, owner of 3rdEyeView, an eyewear brand, told The Zoe Report. The athleisure trend slash aesthetic is coming for our eyewear in 2023 and can add a no-nonsense cool-girl detail to your summer looks. Are you ready to embrace the trend and get some sporty sunglasses?
Experiment with different shapes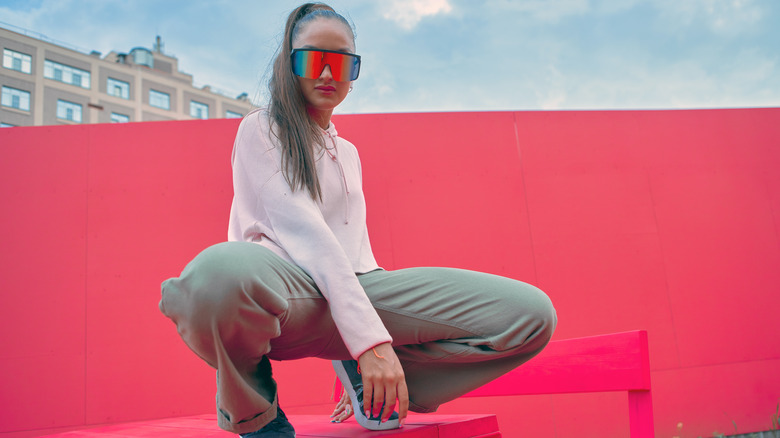 Georgii Boronin/Getty Images
Sporty sunglasses come in various shapes and sizes, so try on as many as you want until you find a pair that complements your face shape and makes you feel confident. While some people enjoy thinner looks with more of an oval-ish or cat-eye design, other individuals may prefer oversized, and squared-off looks for their athleisure look. 
Advertisement
Try a tinted look
There's something so fun and exciting about wearing tinted, sporty sunglasses to add a bold and trendy touch to your summer athleisure outfit. For instance, sunglasses with a red tint can add a playful pop of color to an all-neutral ensemble or match a red top for a cohesive and carefully coordinated look.
Advertisement
Rock the wraparound style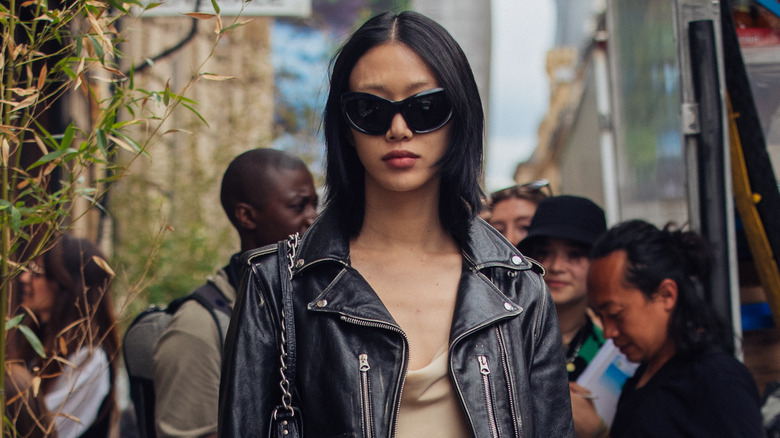 Melodie Jeng/Getty Images
Do you want to protect all areas of your eyes from the sun while looking trendy? You need a pair of wraparound sunglasses. Not only will this style protect you more than other types of sunglasses, but the sunglasses will help you look ultra-cool, no matter what you wear them with.
Advertisement
Flaunt more sporty accessories with the sunglasses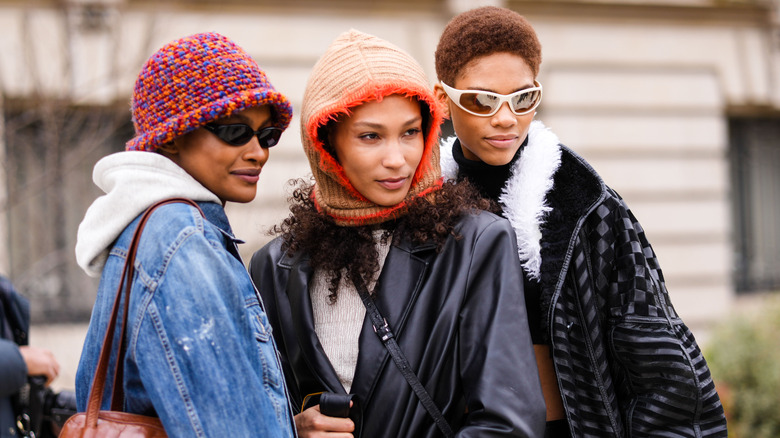 Edward Berthelot/Getty Images
Anyone who wants to look on theme with a consistent athleisure style should go the extra mile with more casual accessories, such as a baseball cap, sneakers, or both. You should also pay attention to your hairstyle, as sleek, straight hair, a high ponytail, short hair, or pigtail braids pair nicely with sporty eyewear. Any hairstyle will work, but those specific looks complement the athletic theme.
Advertisement
Consider wearing sporty sunglasses with a leather jacket
If you're going for an edgier look, you can't go wrong with a leather jacket — ever. The trendiness of the eyewear and the edginess of the jacket will exude confident, don't-mess-with-me energy, even on days you might not feel as confident on the inside. In other words, the combination of the two can help you fake it until you make it. We can't think of a cooler look.
Advertisement
Don't be scared of pairing sporty sunglasses with glamorous garments
While it might be your first instinct to pair your sporty sunglasses with only athleisure, streetwear, and ultra-casual outfits, those are not your only options. Since sporty eyewear is so chic, these sunglasses will pair well with glamorous pieces, such as fur coats or summer dresses, so don't be afraid to mix and match aesthetics.
Advertisement
Try a monochromatic black look
Of course, tinted sporty sunglasses are a lot of fun, but nothing is as sleek as black sporty eyewear. We recommend having one tinted pair in your favorite color and one black option. Black sporty sunglasses with an all-black outfit can look chic, edgy, or even glamorous and dramatic, depending on the garments you wear with the eyewear.
Advertisement