How To Prevent Your Nail Polish From Chipping Once And For All, According To An Esthetician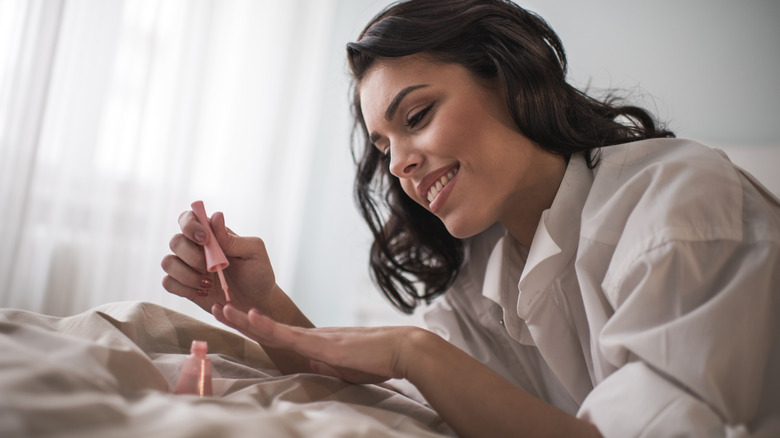 Brauns/Getty Images
If you love to paint your own nails, you know how frustrating it can be when your polish starts to chip. You want your mani and pedi to last as long as possible, but the polish decides it has other plans. Though the easiest option is to just apply the polish and hope it stays, there are some extra steps to take in order to prevent chipping. 
Glam fortunately had an exclusive chat with Amy Ling Lin, a trained esthetician and nail expert who's dedicated to disrupting the nail care market by making manicures more mindful. What's not to love? Furthermore, Lin is the CEO and founder of the nail polish and nail care brand Sundays, as well as NYC-based nail studios. She explains that the solution to persistent nail polish chipping is as simple as washing your hands, but, of course, there is more you can do to ensure you get a salon-worthy manicure or pedicure at home.
Clean your nails after removing old polish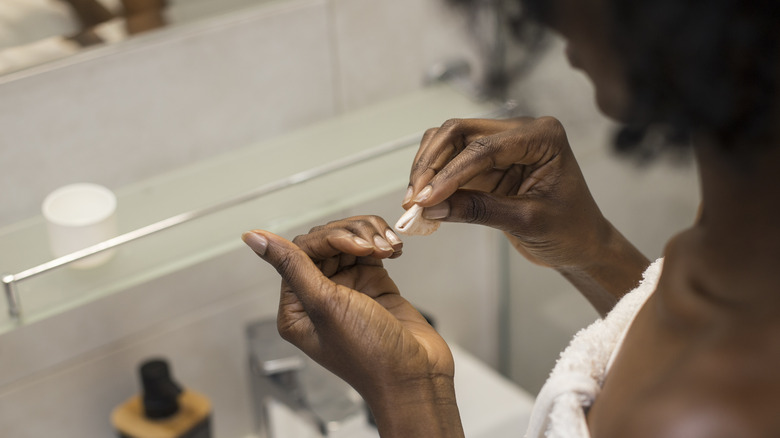 Goodlifestudio/Getty Images
According to Amy Ling Lin, "One of the biggest mistakes people make when polishing their nails, which almost always causes the nails to chip, is not properly cleaning the nails after removing the polish." Because the nail plates tend to be oily, your nail polish will start to peel off if your nails aren't clean and dry. Lin recommends cleaning the nails with a non-oil-based nail polish remover and then giving them a good wash. Some good ol' soap and water will do the trick!
Once you paint your nails, try not to let your hands or feet soak too long in warm water, especially salt water, as this can wear down the polish and cause it to chip. "If you're washing dishes for example, opt for a pair of dish gloves," Lin tells Glam exclusively. Need some new nail polish colors? Feel free to check out the gorgeous Non-Toxic Nail Polish options from Sundays. 
Use a good base coat and top coat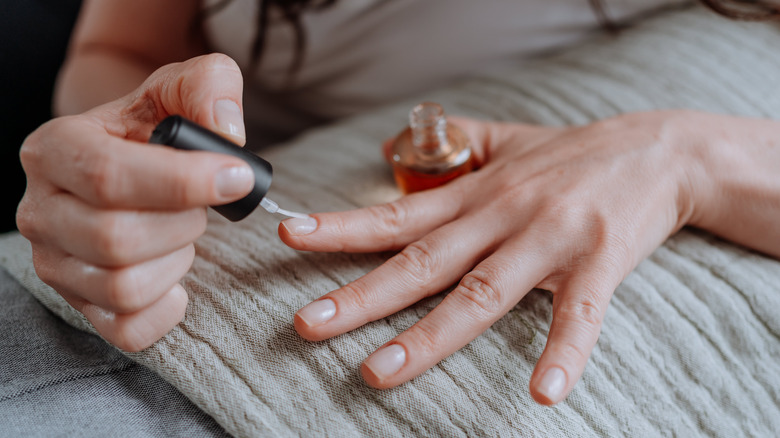 Gabrielpevide/Getty Images
Along with keeping your nails clean, it's important to give your polish some protection with a base coat and top coat. "Before painting your nails, always make sure to use a base coat — the base coat creates a great foundation for the polish to grab onto. Applying nail polish color directly to nails will not only cause your nails to chip quickly, but it can actually stain your nails," Amy Ling Lin explains exclusively to Glam. 
Don't forget the top coat, either. This creates a protective barrier for your polish, prevents chipping, and brings out the vibrant color of the polish. Lin recommends re-applying your top coat every two to three days "to preserve the vitality of the color and ensure a continuous protective layer that helps to prevent chipping."
There are different types of top coats: matte, glossy, and UV-curing top coats designed for gel polish. Make sure you use the appropriate one for your polish to get the best results. Check out the Top & Base Coat Set from Sundays for long-lasting nails.