Gourmand Perfume: The Sweet Spritz Your Summer Needs (While Staying On-Trend)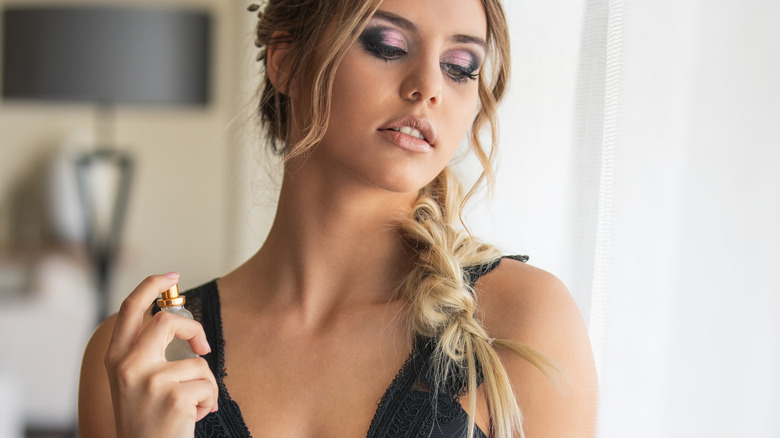 Zoranm/Getty Images
We may receive a commission on purchases made from links.
Whether you prefer Eau de Parfum or Eau de Toilette, you likely have at least one favorite perfume. After all, it's fun to have a standout signature scent. When looking for yours, there are countless perfume scent categories to explore: ultra-sweet, musky, bold, or subtle. If you're a foodie and enjoy sweet smells, you'll probably love gourmand perfumes. "Gourmand is all the edible notes that could be used as flavors in the food industry that migrated into the fragrance industry," Olya Bar, the digital strategist at niche fragrance boutique Twisted Lily, told The Zoe Report. "So anything that's considered edible, delicious, or savory would be classified as a gourmand."
So, if you have a sweet tooth and would rather smell like delicious foods and desserts rather than floral, ocean-inspired, or super sexy scents, then gourmand is the best perfume category for you. Furthermore, this yummy, food-inspired type of perfume is trending in 2023, making it the perfect treat to make your summer sweeter.
Sweet smells are back in 2023
Ready for a sweet summer? Modern gourmand perfumes are arguably more fun than ever before. "Today's gourmand is more lighthearted and flirtier. It's perfume escapism," Bee Shapiro, founder of fragrance line Ellis Brooklyn, told Byrdie. "I think we'll continue this airy take on gourmands but also utilize other food reference ingredients." Not only do today's gourmand scents smell like rich desserts, but some also have more of a fruit-inspired touch — think cherries and pears — for a lighter vibe, according to Brooklyn. Sounds delicious and perfect for summer!
According to a video posted by perfume expert @emma_vern on TikTok, gourmand perfumes feature good-enough-to-eat flavors such as vanilla, coffee, and caramel. In fact, the TikToker noted that you'll smell so yummy in gourmand scents that some people who get a whiff of you may want to taste your skin because it smells so delicious. Thus, while gourmand scents might not often be marketed as super sexy in the traditional sense — the focus is usually more on the comforting sweetness — smelling delicious enough to eat sounds pretty seductive.
Check out these gourmand perfumes
If you want to add a gourmand perfume — or multiple gourmand scents — to your summer roster, there are many choices. Anyone who wants to treat themself to a delicious designer option should consider Yves Saint Laurent Black Opium Eau de Parfum. Available for $155 at Sephora, this decadent perfume smells like coffee and vanilla with a floral touch. With more than 7,000 ratings, the beloved product has 4.6 out of five stars. One reviewer recommends the scent, writing, "My all-time favorite, forever perfume! I really love how it's different from a lot of other women's perfumes, just something about it. I ALWAYS get compliments on it, even from strangers sometimes. Lol."
For anyone looking for a more affordable gourmand option, Le Monde Gourmand Crème Vanille Eau de Parfum is available for $25 on Amazon. The Amazon's Choice item is vegan, cruelty-free, and has a sweet dessert-inspired scent. The perfume has 4.2 out of five stars with more than 3,000 ratings. A third option, best-selling Sabrina Carpenter Sweet Tooth Eau de Parfum, sells for about $30 at Walmart. With a name like "Sweet Tooth," it's no surprise this perfume smells like a chocolatey treat with some caramel and vanilla touches, too. Like many other modern gourmand perfumes, it's dessert-like but isn't heavy or overpowering; and has 4.4 stars.