Poplin: The Lightweight, Breezy Fabric Trend Your Summer Wardrobe Needs (Bye, Heat)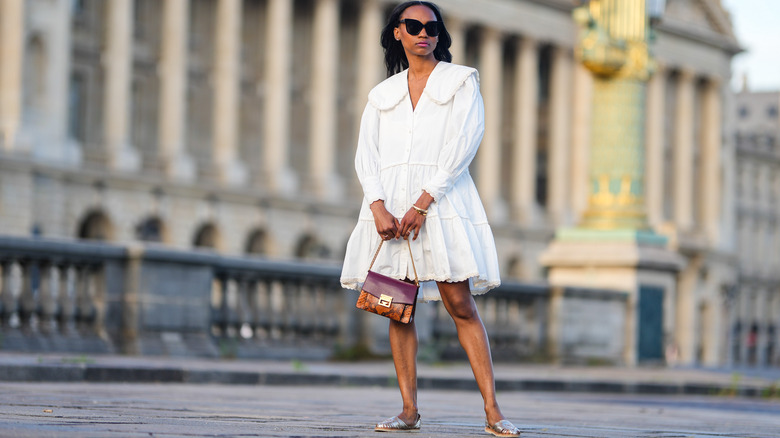 Edward Berthelot/Getty Images
Everyone knows that the summer season is the time when everyone pulls out their summer fabrics. Linen is one of the most common fabrics you see in the summer season since it's elegant but still breathable. Not only has linen masterfully transformed summer dresses, but they also come in every item like linen vests or pants. No matter what you're looking for, you can count on linen being a go-to for the warmer months. However, as much attention as linen gets, it's not the only fabric that will keep you chic and comfortable in the summer. Poplin is another fabric that can easily transform your summer wardrobe while giving it an elegant and stylish touch.
Just as a little black dress is necessary in each closet, a poplin dress is a must-have in your summer collection. Poplin is a lightweight fabric that keeps you cool in the summer but will also give your outfit structure. Made out of cotton, poplin is breathable and won't break down as easily. Like other materials made out of organic ingredients, poplin is often seen as a luxurious fabric and can give your fit an elevated look. One cannot go wrong with adding poplin into their wardrobe, especially with the many ways you can seamlessly wear it all summer long.
Poplin skirt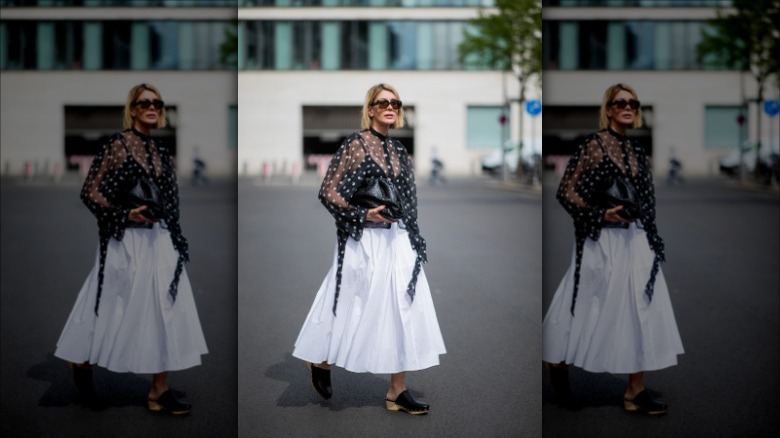 Christian Vierig/Getty Images
If you love how the material extends and creates volume, you need to have a poplin skirt in your closet. Whether it's a mini, midi, or full skirt, this fabric will create a larger-than-life shape that creates a dramatic moment. Besides being lightweight enough for the summer weather, it will flow dramatically with the slightest breeze. Even if you opt for a mini length, poplin will extend out and seem more full than it is. Pairing it with a form-fitting top will help create a balance that's chic and modern.
Poplin pants
Pants in a poplin fabric are unique considering they're rare to come by while you're out and about. However, during the summer a pair of poplin pants can be the ultimate solution for those warm-weather days. There are plenty of instances in which you'll need to reach for a pair of pants over shorts or skirts. Instead of going for your hot and constricting jeans, poplin pants can serve the same function in a more breathable and breezy fabric. Not only are they oversized and comfortable, but poplin pants can add some softness to your summer looks.
Poplin layering top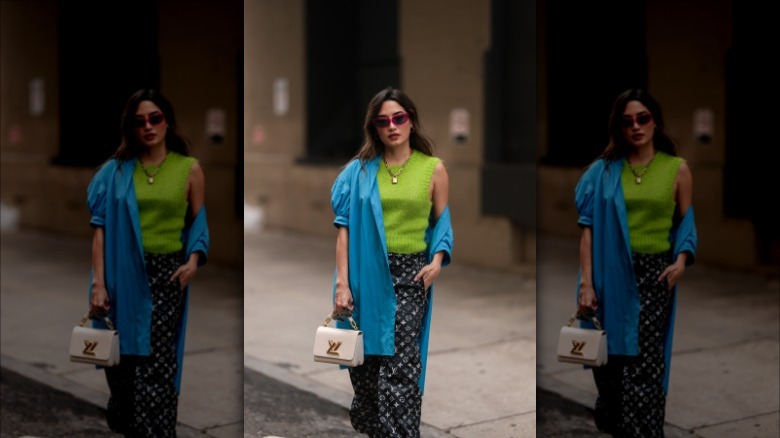 Jeremy Moeller/Getty Images
Layering isn't common in the summer season because of the warmer weather. However, poplin gives us the rare opportunity of going with a layered look and not overheating. If you're looking to add a piece on top of your tank top or crop top, a poplin button-down or top can be the perfect item. These layering pieces are lightweight and don't add to the heat, making them wearable in the summer sun. Using certain shades or hues, poplin pieces can also be used to add a splash of color to neutral, or monochromatic looks.
Poplin accents
Getting poplin into your wardrobe doesn't have to take up a huge chunk of your space. Poplin sleeves or accents are an easy way of incorporating this lightweight fabric into your look. Mixing it with our common fabrics like jersey, or polyester can make it easier to wear poplin during the summer and non-summer months. Using a combination of fabrics will always add interest to an outfit, as well as elevate your look without doing anything differently. Poplin sleeves are also a unique touch that can give your shoulders an extra pop, but keep the rest of your look form-fitting.
Poplin shorts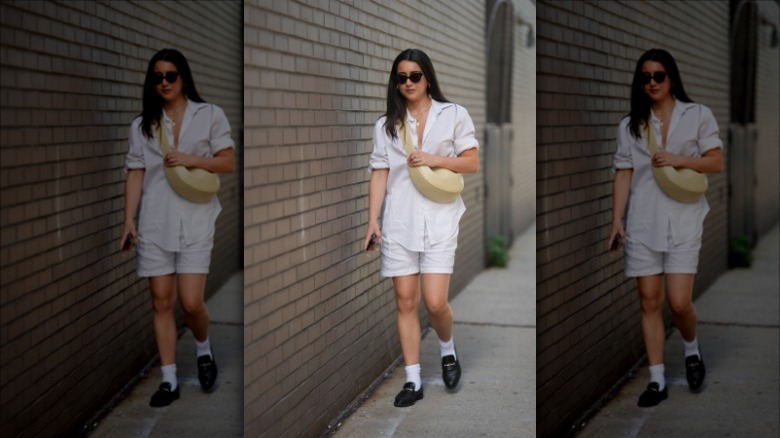 Edward Berthelot/Getty Images
Like pants, poplin shorts can sometimes give the illusion of wearing your pajamas out. However, more are opting for this piece as a comfortable daytime item rather than just a lounging short. Although they're ultra comfortable, poplin shorts will help add some texture and movement to your summer looks. As well, the poplin fabric will keep you fresh and cool during the hotter days but still give you a sophisticated look.
Poplin button-down
You can't get any better than a good poplin button-down top. Whether you wear it on its own or over another garment, poplin button-downs are staples for the summer season. These light and breathable pieces will keep your wardrobe chic and modern during the entire season without sacrificing your ability to stay comfortable in the heat. Although long sleeves are generally hotter, you can add a poplin layer during days when the sun is more bearable. Poplin button-downs are also flexible and can be worn with just about any bottom piece.
Poplin blouse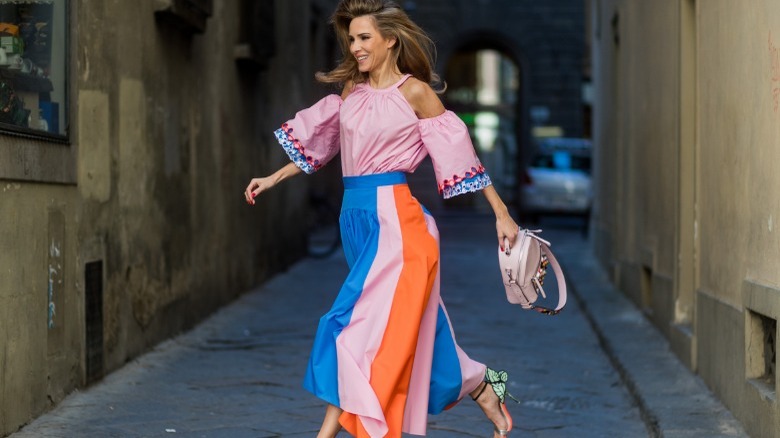 Christian Vierig/Getty Images
Not all poplin tops are button-ups, meaning you can have fun with your blouses as well. Poplin blouses will often be the go-to for formal or dressier events since it's breathable but still elegant. Pair your poplin top with another summer bottom for an outfit that will keep you moving the entire summer without overheating. Poplin blouses can give you a dressier touch but can still be used for casual days when you want to add some extra flair to your look.