Elevated Body Mists Bring The Y2K Revival Craze To Your Perfume Cabinet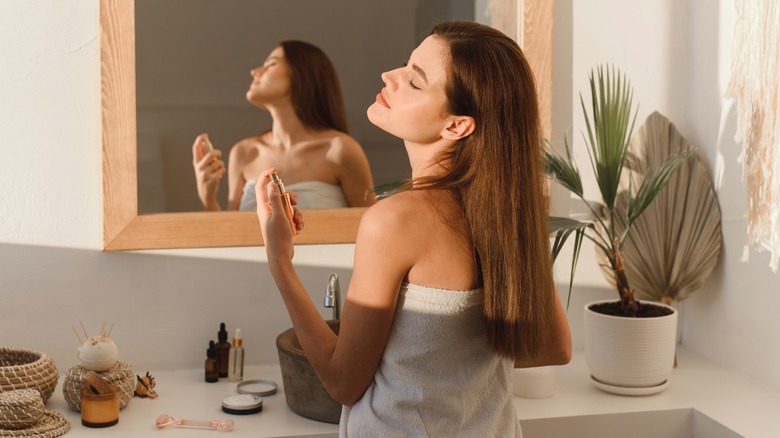 etonastenka/Shutterstock
Simpler times, simpler fragrances — body mists were all the craze in the Y2K era, and with the current obsession of nostalgia gripping the fashion and beauty spaces, body mists are making their return. 
The early 2000s were all about matching velvet tracksuits, oversized boho bags, and of course, light and fruity scents. For millennials, body mists were a staple of our teen years, and a time before we'd found our go-to collections of perfume. But the simpler, softer formulas that had a subtle yet distinct smell to them are now back on the market, giving us all a chance to go retro.
The more childishly flowery fragrance trends of body mists in the early 2000s have now been elevated to match the modern standards of fragrances for adults. Packaged in a more sleek and edgy manner, these mists have now become more than a "teen's perfume." The new wave of body mists are a great way to smell fun and refreshing while still rocking more complex scent layers, particularly as summer arrives. Here's what to know about the elevated body mists on the market right now and how they're different from your perfume.
How body mists have changed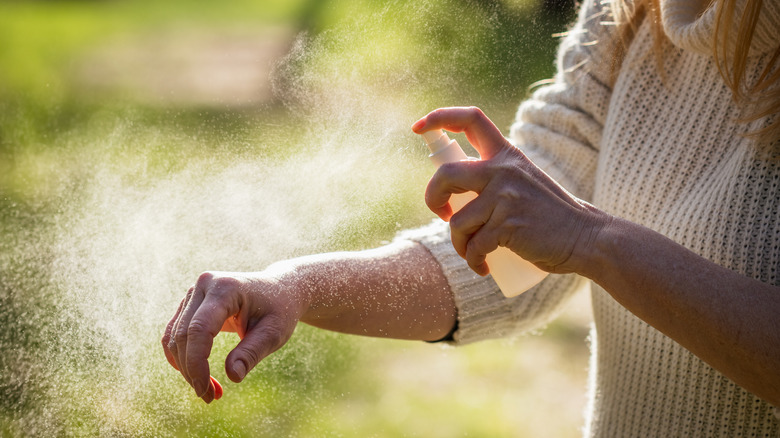 encierro/Shutterstock
The prototype for the body mists you'd find on the market today can be traced back to the early 2000s. Although the inspiration stems from the Y2K era, the new fragrances from brands like Saltair are not the same as the mists we remember. These products have been elevated to cater to what we seek in a fragrance today, rather than bringing the same surface-level fruity and summery scents of the past. 
Saltair's body mists contain layers of complex notes, from cardamom and magnolia to jasmine and orris, so the scent evolves as the day goes on. They can be used for fragrance layering, adding more dimension to your perfumes and skin or body products. These body mists are also paraben, gluten, and cruelty free to align with the more socially conscious and health conscious world we live in today. In terms of packaging, companies like Saltair have moved towards a more chic look for their body mists, steering away from the colorful, cheery packaging of the 2000s.
You can also find body mists with additional skin benefits, such as the Chanel Coco Mademoiselle Fresh Moisture Mist, which has moisturizing properties in addition to notes of orange, rose, and patchouli. While our teenage selves wouldn't have cared, we know as adults that products that are good for our skin while smelling great are total gems!
Body mist or perfume?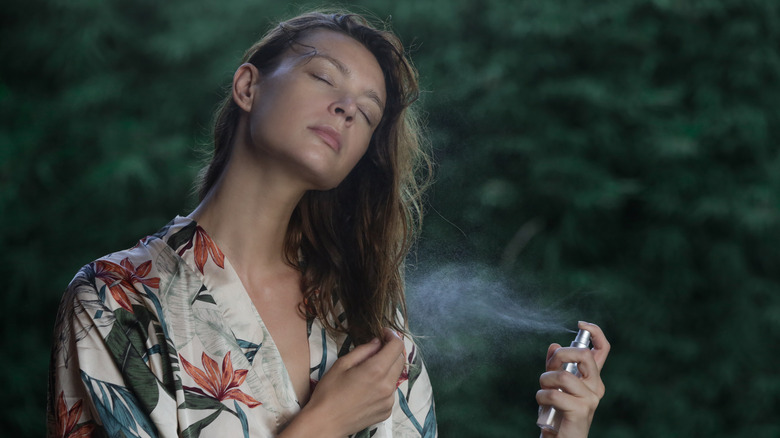 triocean/Shutterstock
Even though body mists of the modern era have been upgraded from those we remember from back in the day, you might still be torn between going for these products over a traditional eau de parfum. There is room for both body mist and perfume in any routine, but the products are indeed different.
Your perfume is bolder than your body mist, due to the fact that it is higher in aromatic oils (via Plum). Meanwhile, body mists are higher in water and alcohol. Body mists typically feature lighter scents, though the elevated versions are more complex than vintage body mists. Perfume also lasts longer, while body mist may have to be reapplied throughout the day. Often, even elevated body mists tend to have that vibrant, fun, and youthful energy to them that will bring about a happy feeling. So every time you get a sniff of yourself, you'll be reminded of the carefree days of your youth — which you probably won't get with perfume!
In addition to the good vibes body mists provide, they are also very versatile. From your hair to your body to your clothes, you can simply apply this product anywhere. Spraying too much perfume can be overwhelming, but you can typically build up body mists to create more intense scents without the result becoming overpowering.
As far as the Y2K revival goes, body mists are the perfect way to hop on the bandwagon and revisit your youth (while still meeting your adult fragrance requirements!).