Busy Prints Are The Maximalist Swimsuit Trend That Keeps On Giving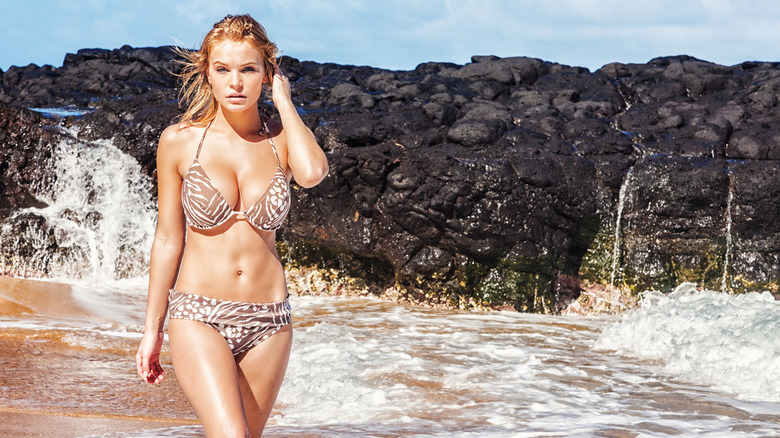 Jhorrocks/Getty Images
The world has opened up for travel again and vacationers are going big (and not going home)! Trends in summer clothing and poolside wear have shifted a lot since 2020, though. We may be headed back to the beach, but we're certainly not going back to basics.  
Our favorite celebrities and runway styles have been quick to demonstrate that busy styles are totally in for your 2023 swim outings. In showing off her Inamorata swim line, Emily Ratajkowski rocked tribal prints on the beach. Kim Kardashian's brand, Skims, has also recently branched into swimwear — with a bold camoflauge print that's sure to make wearers stand out and blend in at the exact same time. 
Fortunately, you don't need to be a celebrity (or splurge on their brands) to embrace this busy and bold look. Just in time for you to get your tan on, we've rounded up six ways for you to outshine the ocean this summer. 
Embrace Miami maximalism with abstract prints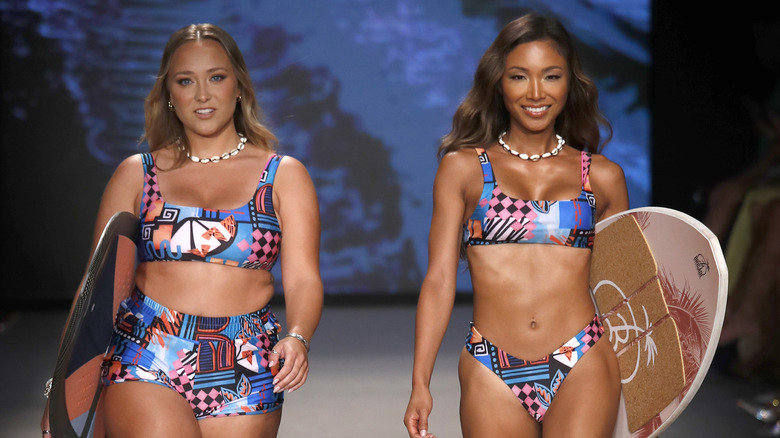 Al Zeta/Getty Images
Miami Swim Week gave us unprecedented insight into this summer's hottest trends and they're ... a lot (in the best possible way). If you're not hopping on the white swimsuit trend, you can join the models who are running in the complete opposite direction with abstract prints in vibrant colors. While some might think that less is more in terms of beach-side coverage, more is more when it comes to this 2023 style. 
Lean into '80s Barbiecore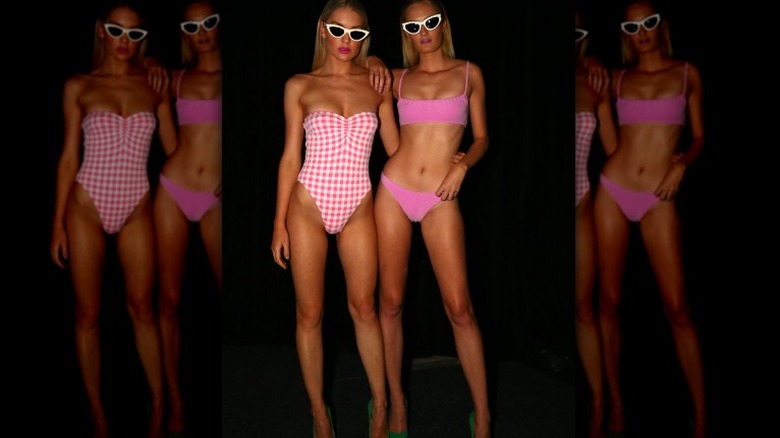 Mark Nolan/Getty Images
The new "Barbie" movie is arriving at the height of fashion's nostalgia for the '80s and '90s. Since we've already been rocking scrunchies and claw clips, fans of the franchise are eager to raid more of the Dreamhouse closet. Embracing the "Barbiecore" fashion trend at the pool could be as easy as shopping for color-blocking styles that old-school Barbie may have rocked herself, like gingham and polka dots.
Let out your inner animal (print)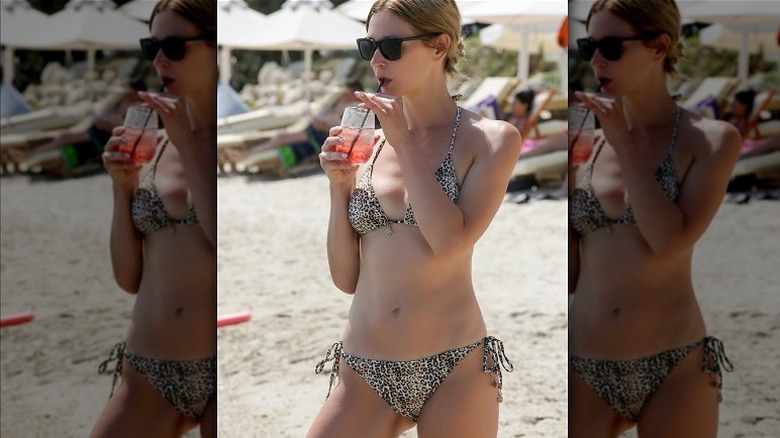 triocean/Shutterstock
The '80s were the heyday of animal print. Known for fashion that was big and bold, the whole decade offers endless inspiration to pull from. Unleashing your inner animal this summer can be as easy as hitting up your local Target for classic styles. Alternatively, luxury designers like Luli Fama have emerged to bring new life, realism, and glamour to this look. 
Shine in rainbow colors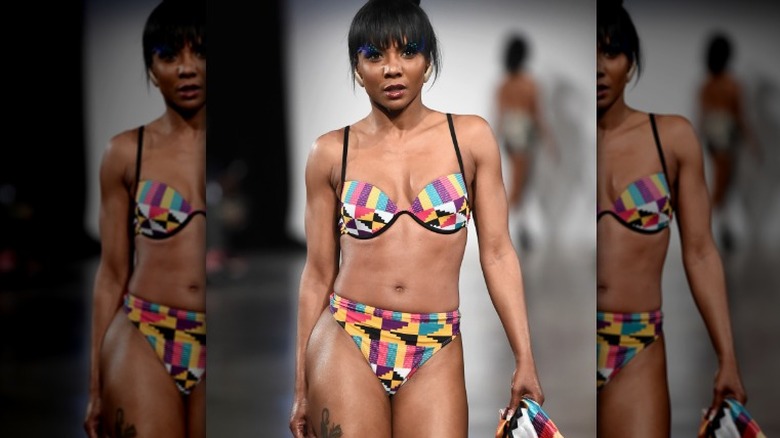 Daniel Zuchnik/Getty Images
2023's bold acceptance of sassy patterns and risky combinations opens the door to go big when it comes to color. Whether you're color-blocking or reaching for rainbow patterns, kaleidoscopic swimsuits are the move this season. The theme is comfortable and confident, and no one will be critiquing your choices — we're all just here to play mermaids. 
Play with unique cuts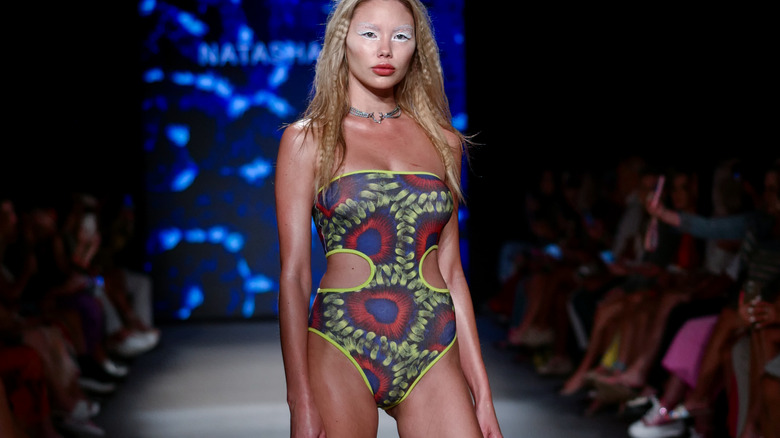 Reagan Rule/Getty Images
Extra maximalist flair can be achieved through pieces that tie in a unique way, include statement clasps, or defy the typical cut of a swimsuit. Opt for an artistic print on a one piece with cutouts to really leave an impression. You'll just want to give some careful consideration to the tan lines you're laying the groundwork for. 
Fashion-forward florals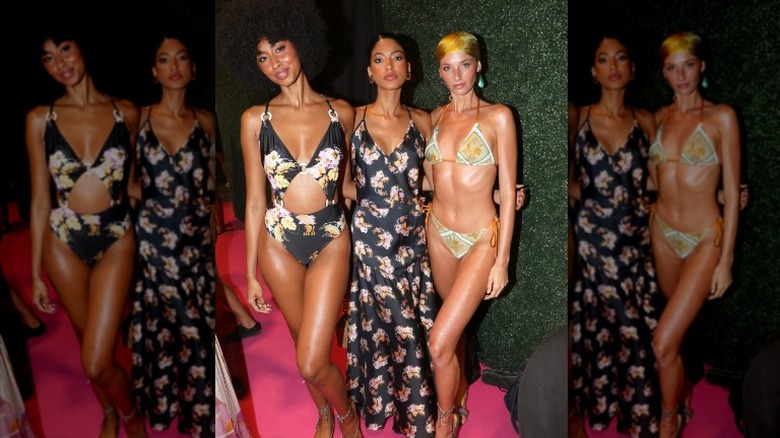 Aaron Davidson/Getty Images
For those who are new to bold prints, florals are a dainty way to go big! Bright colors and overlapping patterns allow small pieces of fabric to make a huge statement. And although many trends are short-lived, there's never been a time when flowers weren't appreciated for their beauty. Choose big flowers over ditsy prints to really ride the wave of the maximalist trend.