Fluorescent Bikinis Are Capturing Our Attention This Summer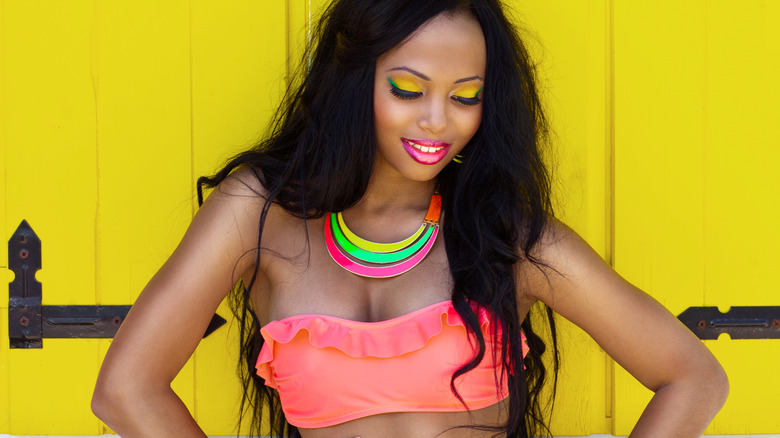 Ninamalyna/Getty Images
Each year, summer fashions run the gamut from refreshing whites and pretty pastels to larger-than-life primary colors. But one of the most quintessential color palettes for any warm-weather locale has to be eye-watering neons. In fact, neoncore is a trend to watch in summer 2023, with shockingly bright shades infiltrating everything from neon makeup looks to a neon twist on the classic French manicure.
These vibrant, fluorescent hues seem to evoke the energy of sunny days, palm trees, and ocean breezes. So if ever there was a place to fold neons into your wardrobe, swimwear is a natural fit. And if celebrity style icons are to be believed, the beachy it-look of the moment is a sexy fluorescent bikini. A-listers like Kylie Jenner have been seen proudly rocking bright, skin-baring swimsuits. In April, Kylie took to Instagram to flaunt a violently pink string bikini, while Salma Hayek graced her own Instagram account with shots of herself swimming in a highlighter-chic yellow suit. Perhaps Hailey Bieber says it best on her Instagram, posing on a kayak in a luminescent green bikini with the simple caption, "I'm ready for summer."
But you don't have to be a celeb to confidently don these searing shades. While reaching for neons can seem like an intimidatingly bold style choice, these colors are surprisingly versatile for many different aesthetics — not to mention, they're flattering on a variety of skin tones. So if you're ready to add eye-popping color to your swimwear lineup, there are many ways to adapt fluorescent bikinis to your personal vibe.
Add texture with sporty mesh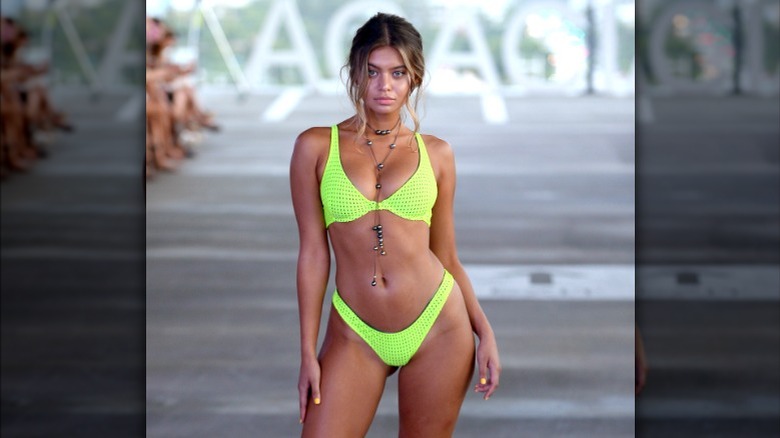 Jason Koerner/Getty Images
Neon swimwear is already eye-catching, but you can add some depth and nuance to the look by choosing a textured suit. Sporty mesh is a great choice to break up any solid wash of fluorescent color, as its athletic vibe dovetails with neon's high energy. Especially if your aesthetic tends toward activewear, this could be the ideal bikini for you. Together, mesh and neon deliver a visual impact that suggests you might grab a surfboard and hit the waves at any moment.
Balance the brightness with a quieter cover-up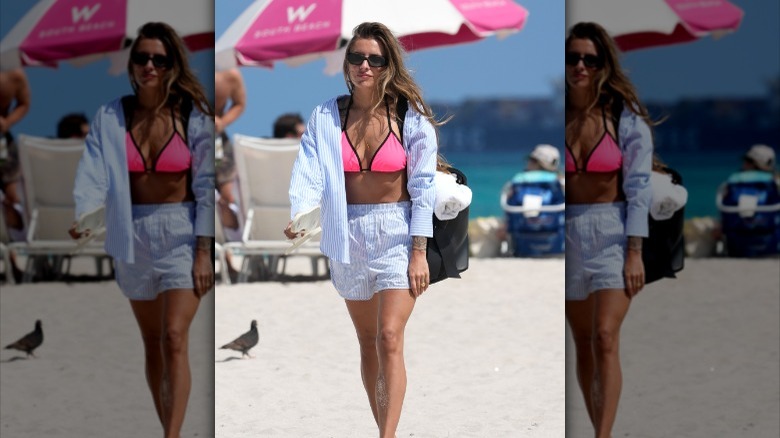 305pics/Getty Images
Neon colors are, by their very nature, in-your-face shades. But you can rein in the extreme factor by balancing their saturation with a more neutral beach-going ensemble or poolside cover-up. Try pairing your fluorescent bikini with a white sarong, airy seersucker separates, or classic denim shorts. Neon swimsuits also look great with neutral accessories, like a summery straw hat, woven sandals, or a beige beach bag. Tempering the look with these gentler hues will help bring your color palette back down to earth.
Add sweetness with crochet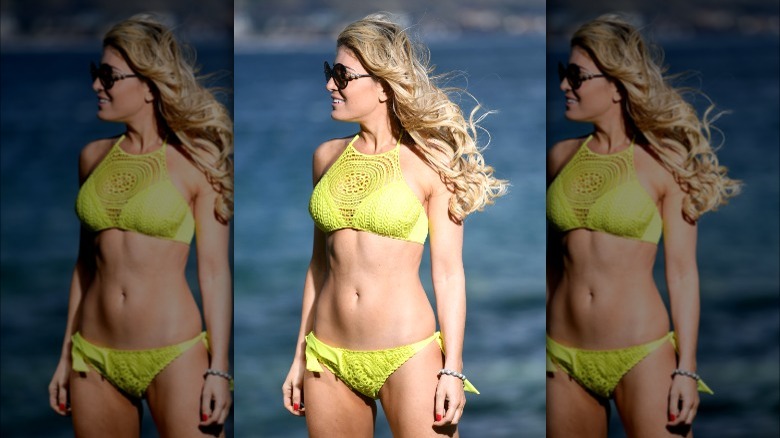 Daniele Venturelli/Getty Images
Most neon aficionados love these hues for their unapologetically bold impact. But what if your personal style is more on the feminine or girly side? Fluorescent colors may be shocking, but you can still soften them up with the right fabric choice — and one of the best ways to add sweetness is with crochet. The intricate, lace-like patterns of a crochet bikini let you flaunt some skin and wear uber-bright colors while still serving a level of bohemian cuteness. Just be sure you're wearing a sufficient amount of sunscreen on your body, or you may end up with some equally intricate crochet tan lines.
Change up the silhouette with a fluorescent tankini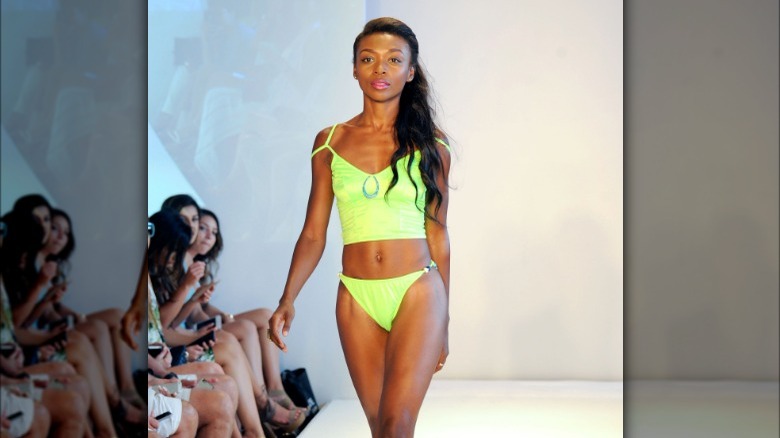 Arun Nevader/Getty Images
If you are all about an itty-bitty, teeny-weeny, little neon string bikini, then by all means, go for it. But you can also incorporate fluorescent tones into other swimwear silhouettes. For instance, neons are a fantastic shortcut to enliven a more modest tankini, so you can feel comfortable in your suit while still turning plenty of heads by the pool. And if you want to show a little less skin around your hips, we love bright shades for swim sets that include boyshort-style bottoms instead of sticking to traditional bikini cuts.
Double down on color with bright accessories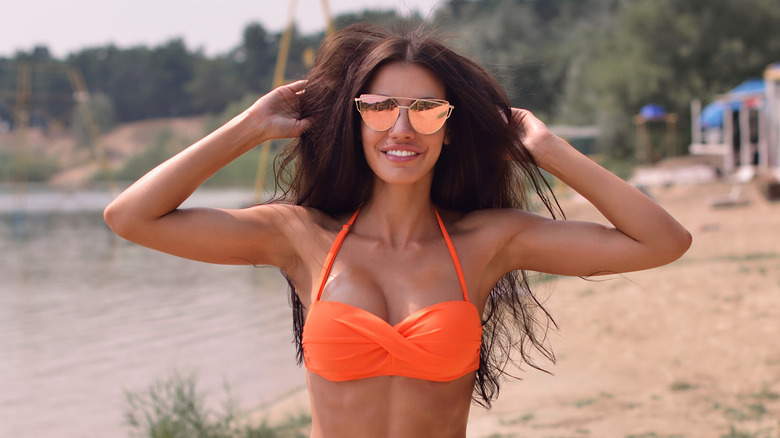 Vladee/Getty Images
For a beachy look that's cohesive from head to toe, why not double down on your neon bikini by pairing it with equally vibrant accessories? Piling on a matching kimono, handbag, and sandals will turn your vivid bikini into a fully monochromatic fashion statement. You can also accent your swimwear with big and bold jewelry in a different neon shade to provide contrast that's loud and proud. Or, for something more practical, a pair of trendy colorful sunglasses can simultaneously add extra vim and vigor to your outfit while protecting your eyes from glare. 
Consider brights beyond yellow, pink, and orange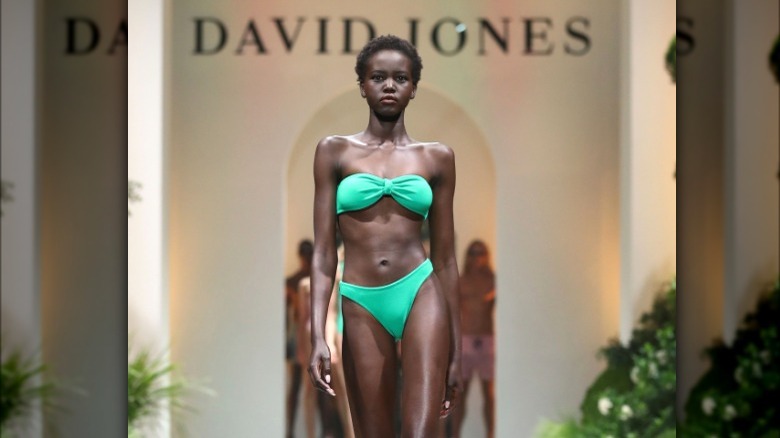 Mark Metcalfe/Getty Images
Yellow, orange, and pink may be the quintessential colors for those neon highlighters from your school days, but they aren't your only options when it comes to luminescent brights. Even the volume on cooler tones can be dialed up to 11, creating a fresh summer look perfect for your next trip to the beach. To stand out from the bright bikini crowd, consider opting for an electric turquoise, a tart lime green, or a jazzy neon purple.