It's Official: Summer 2023 Is All About Neoncore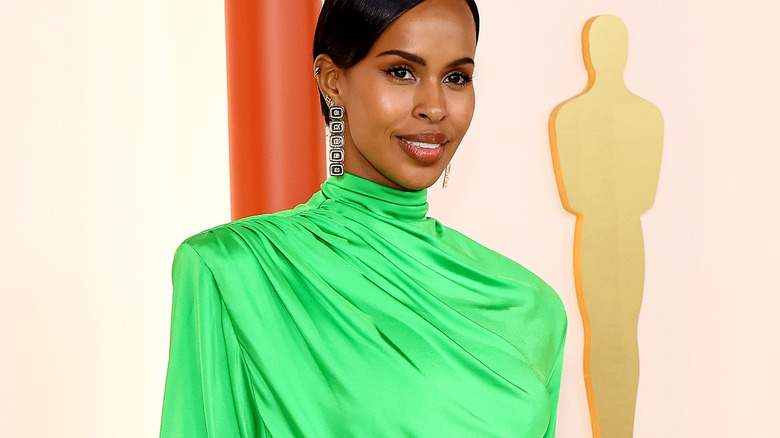 Arturo Holmes/Getty Images
Neon colors were synonymous with the 1980s, but they're making a huge comeback for 2023. Festival season is upon us, and expect to see splashes of neon everywhere — and we're not just talking about glowsticks. Idris Elba's wife, Sabrina Elba, got a head start on this trend by rocking a bright green gown for the 2023 Oscars. Lizzo stunned in a bright coral, flower-covered frock for the 2023 Grammys. Bright green neon was also seen on the runway for Fendi's Spring/Summer 2023 collection. From shiny boots to furry handbags, the fashion house seemed to be all about mixing in some fluorescent colors for the coming season.
Advertisement
With designers embracing the neoncore trend, we know that looking like a highlighter is going to be in this summer. If you're more of a neutral-palette person and balk at the idea of going Day-Glo, fear not. There are many subtle ways to incorporate neon into your wardrobe. Try accessorizing with earrings or a small clutch. A pop of color never hurts and will be sure to brighten up anyone's day.
Green is the it color this summer
Designers have been loving green for 2023, and the hue has been seen all over runways. Double up on trends with a breezy pair of neon green pants. The statement piece should be paired with a neutral color, such as black or white. Keep your accessories in the same color family so they don't clash with your outfit.
Advertisement
Pair your neon with a bold print
Wearing neon is a bold move, so why not take it a notch further and pair it with prints? There are no rules when it comes to mixing and matching neon. A bright, tropical, multicolored shirt pairs well with an equally eye-catching pair of neon pink pants. Add a lime green purse, and all eyes will be on you.
Advertisement
Shine bright at the beach with a neon pink bikini
Last season was all about light, pastel shades of pink, but you'll be seeing bolder colors in 2023. Both Kendall Jenner and her bestie Hailey Bieber were spotted wearing similar bright green bikinis. Hop on the neon trend with a vivid pink bikini. This look isn't for the faint of heart, so expect to turn heads everywhere.
Advertisement
You'll be seeing highlighter yellow everywhere this summer
Summer is all about having fun — especially with your wardrobe. Don't be afraid of looking like a highlighter with a neon yellow fitted dress. Remember, with this trend, the brighter, the better. Put on some matching nail polish to tie your look together. You can accessorize with another neon shade or keep the look simple with nude sandals.
Advertisement
Colorblock with neons
Colorblocking is a great way to mix and match your favorite shades, and you can't go wrong with neons. The best thing about neon colors is that they don't clash with each other. The bold shades work harmoniously while standing out on their own. Bright yellow and neon orange go well together, as they're in the same color family. Add some contrast with a fuchsia blazer, and you'll be the most colorful one in the crowd.
Advertisement
Add a pop of neon to a neutral outfit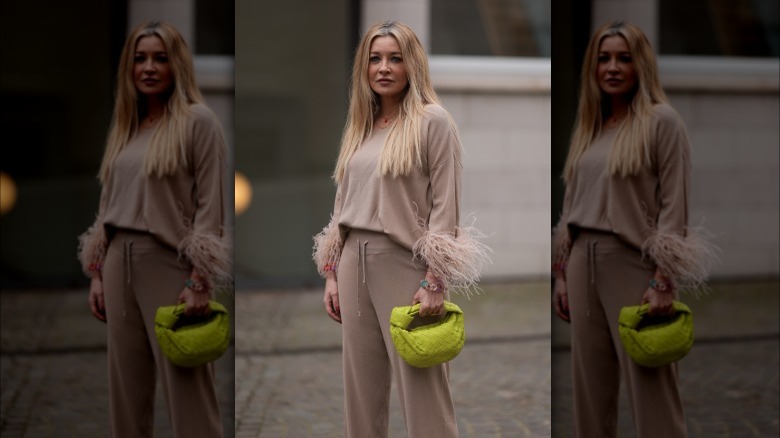 Jeremy Moeller/Getty Images
If wearing neon from head to toe is not for you, try an accessory instead. A neon purse is the perfect pop of color for an otherwise nude, monochromatic outfit. Have fun with colors — you can choose anything from bright pink to neon green. Additionally, you can opt for fun jewelry to add some color. Accessorizing with neon is the best way to ease into this trend.
Advertisement
Let your feet in on the neon trend
Why should your clothes have all the fun? Summer isn't complete without some colorful shoes, and you need a pair for 2023 stat. Whether you choose neon pink wedges or bright orange strappy stilettos, your outfit will stand out with a pair of vivid shoes. Keep it casual with a pair of jeans and a T-shirt, or go all out with a bright neon dress of another color. Whichever you choose, you'll be dazzling this summer.
Advertisement