Colorful Sunglasses Are The Trendiest Way To Protect Your Peepers This Summer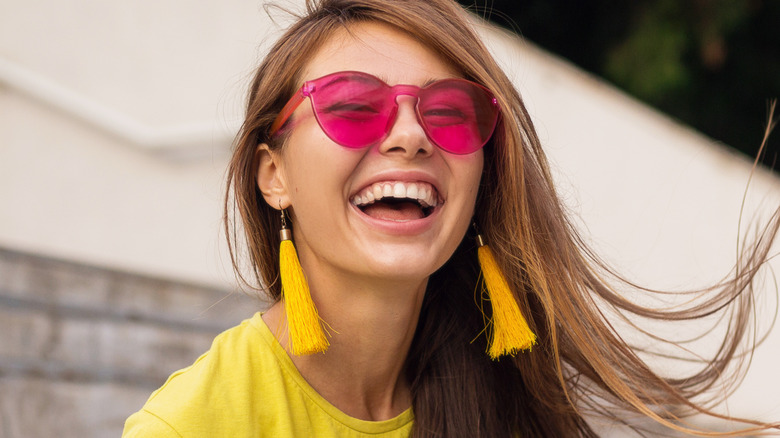 Maria Markevich/Shutterstock
When warm weather hits, it's time for a wardrobe refresh. But summer's not just about unearthing your favorite tanks, shorts, and sundresses. No matter your personal style, just about every outfit you wear this season needs the same must-have accent: a pair of hot sunglasses.
For some people, sunglasses might seem like an afterthought. But these bits of protective eyewear can exude style and take your ensemble to the next level. Of course, there's the matter of size and shape. But while size matters when it comes to sunglasses, it shouldn't be your only consideration. This year, especially, it's all about hue as rainbow-colored lenses are set to dominate as one of summer's best sunglasses trends.
"Color is key this season, with oversized shapes and lenses in optimistic, euphoric colorways — ranging from bold brights to digital pastels — giving any look a fresh pop of color," eyewear expert Heather Stewart-Feldman tells Marie Claire. "Find the shades that best represent your style, and you will be feeling good while looking good all summer long."
So if you're ready to bring a playful, eye-catching edge to your summer outfits, take this chance to look beyond the silhouette of your sunnies and consider replacing standard black or brown lenses with a quirkier shade. Colorful sunglasses will transform your eyewear from a mere necessity to a statement accessory — and literally change the way you see the world.
Bold red lenses ooze confidence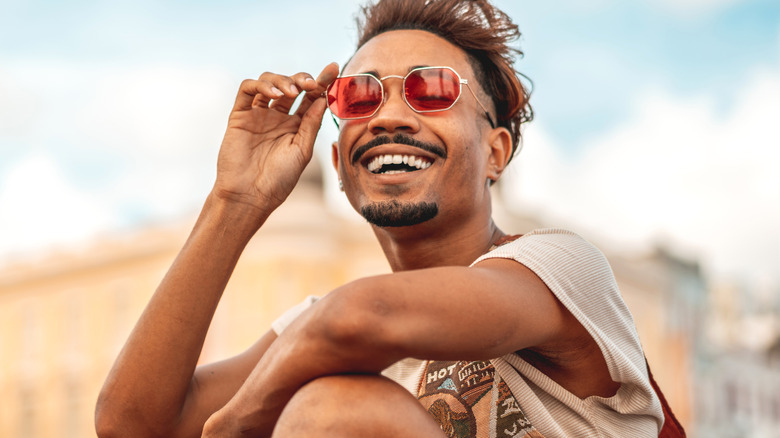 Mesquitafms/Getty Images
When you want to add a splash of fun and fearlessness to any outfit, you can't go wrong with red-tinted sunglasses. Red is the color of love, passion, and fire, making this hue perfect for living those hot summer days to their fullest. Pair red lenses with a neutral outfit to create a striking focal point, or contrast them against another bold color to proudly declare your presence to the world.
Orange sunglasses are naturally stylish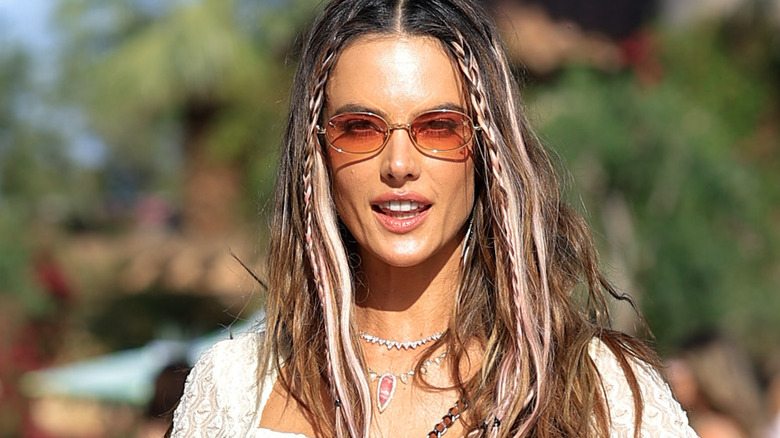 Rachpoot/bauer-griffin/Getty Images
Practically embodying the cozy glow of a sunset on the beach, orange lenses lend your look an inviting summer aura. With a softer effect than red glasses, the warm, earthy tones of orange sunglasses are ideal to finish off any boho aesthetic. But you can also embrace their natural cool factor even outside of the hippie fashion of festival season. Consider pairing orange aviators with a sharp work outfit like a tailored suit to add a trendy vibe.
Yellow sunglasses make a sunshiney statement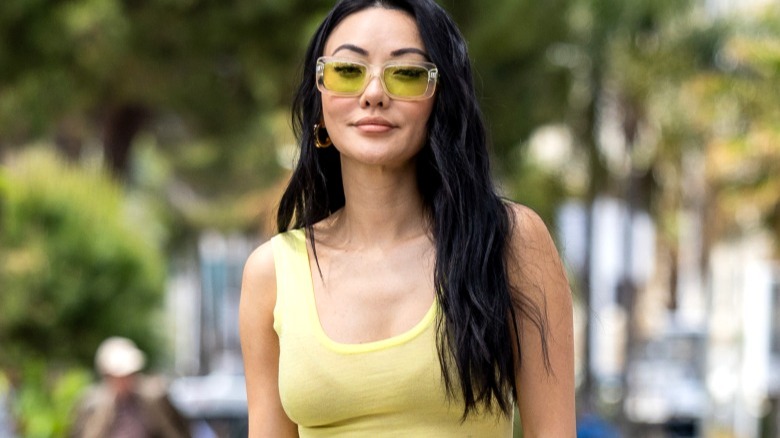 Christian Vierig/Getty Images
When you want to invigorate a warm-weather ensemble, yellow-tinted sunglasses offer the bright contrast you need. These sunny lenses are quintessentially upbeat and summery, whether you pair them with cheerful florals or a punky black crop top. Yellow sunglasses also highlight your eyes, drawing attention to your features without obscuring them the way darker glasses might. So if you want a look that's light, fun, and totally you, try reaching for the luminous pop of yellow lenses.
Serene green adds subtle intrigue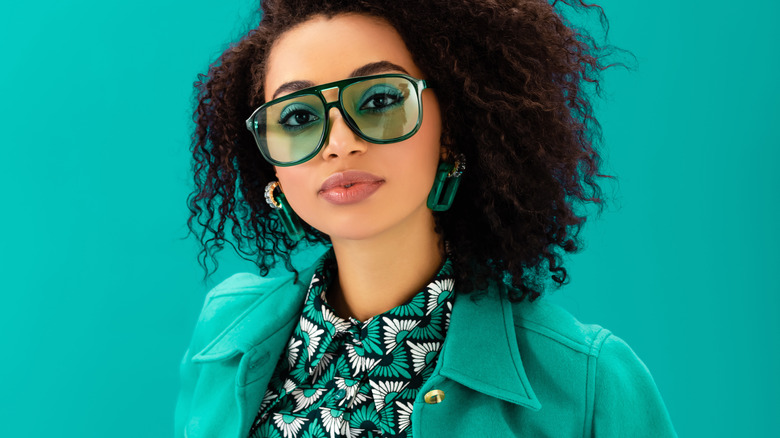 Lightfieldstudios/Getty Images
Green-hued lenses may be among the most uncommon colors in tinted sunglasses, but they have a lot to offer. Simultaneously daring and understated, green sunglasses don't have to be loud to be noticeable. The natural tranquility of green gives your outfit a quiet confidence, while the rarity of this shade adds a layer of intrigue. Go green-on-green by wearing them with a monochromatic outfit in similar hues, or give your green sunglasses extra oomph by pairing them with whites or neutrals.
Blue lenses are effortlessly cool
Summer fashion is all about looking chic without working too hard for it. Fortunately, this is what blue lenses do best. The icy tones of blue sunglasses offer a cool reprieve from all the hot colors of summer, helping anyone look unruffled and put together — no matter the temperatures outside. Throw on blue sunglasses to look suave in your work clothes or glam and untouchable at any social event. Or, to make these lenses really sing, wear them with a snowy white top. The end result will look so fresh and so clean. 
A pop of purple is funky and mysterious
Summer is the perfect time to flaunt a quirky personality, and no shade of sunglasses is more playful than purple. Rocking a pair of lavender lenses delivers instant style with an audaciously eccentric edge. If you like to live loud and inspire curiosity with your sartorial choices, purple sunglasses should be your new go-to. Dress them down with denim or a white tee, or pump up the volume by pairing your purple shades with an equally bright yellow or lime green ensemble.
Peachy pink lenses bring the sweetness
Of course, not all tinted sunglasses are designed to pull attention from the rest of your outfit. If you prefer a more delicate aesthetic, peachy pink lenses are a gorgeous compliment to any summer look. Not only do they match fantastically with clothes in whites, neutrals, and classic denim, but pink sunglasses can also emphasize the kissable hue of your lipstick or gloss. Wear pink lenses beside lippie in matte, rosy colors, naturally beautiful nude shades, or sweet babydoll pinks for a cohesive and summer-fresh makeup look.