Summer's Best Sunglasses Trends Are Full Of Fun To Polish Off Your Best Outfits With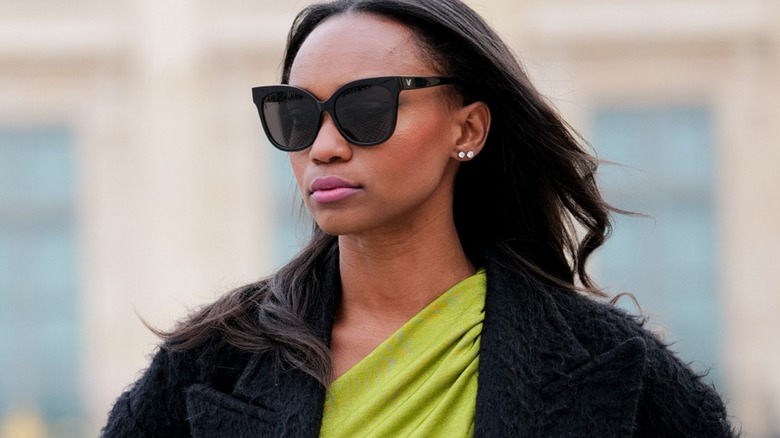 Edward Berthelot/Getty
Summer is almost here, and it's bringing a classic warm-weather accessory: sunglasses. Sure, sunglasses are a year-round fashion staple, but there's nothing quite like a pair of flirty, on-trend sunglasses that capture the summer zeitgeist.
When it comes to lightweight summer ensembles, it's often the accessories that ultimately define the look. If sunglasses are one of your go-to summer accessories (and they should be if you want to protect your eyes from sun damage), having the right pair can ensure that you look gorgeous all summer long, from casual mornings by the pool to festive outdoor weddings.
This summer, you can look forward to sunglasses that are big, fun, and colorful. Gone are the days of boring, tiny shades — if you want your sunglasses to feel current, you'll need to search for frames with bold, imaginative designs, such as a futuristic, sporty silhouette or an exaggerated cat eye. So bring out your creative side and get ready for a season of quirky, playful sunglasses.
Funky and chunky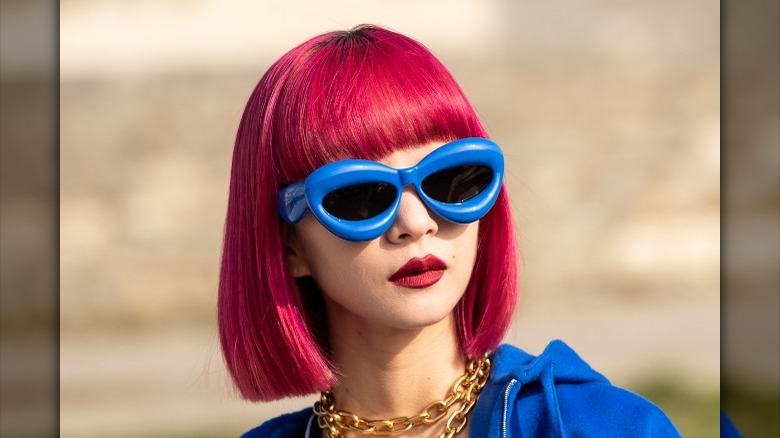 Kirstin Sinclair/Getty
Take a full dive into 2023 summer vibes with a pair of chunky sunglasses. Cartoonishly thick sunglass frames have been popping up everywhere in the last few months, frequently with bold, saturated colors and bubble shapes. This sunglasses style makes a major statement and will keep all your summer outfits from feeling dull.
Pink and girly
Nostalgia is having a moment with the Barbiecore fashion trend – thanks to Greta Gerwig's "Barbie" coming out this summer — and pink sunglasses are a great way to get in on it. Ironically girly and effortlessly chic, a pair of campy pink frames are the perfect way to show that you're pop culture-savvy and not afraid to have some cheeky fun with your summer accessories. 
The bigger, the better
Teeny Y2K sunglasses have been making the rounds these last few years, but now oversized sunglasses are making a big comeback. Oversized glasses can elevate any ensemble and enhance your cheekbones and other facial features. Whether you're channeling a glam Paris Hilton vibe or retro '70s energy, a big pair of sunglasses will make your summer style feel ultra cool.
Find your angle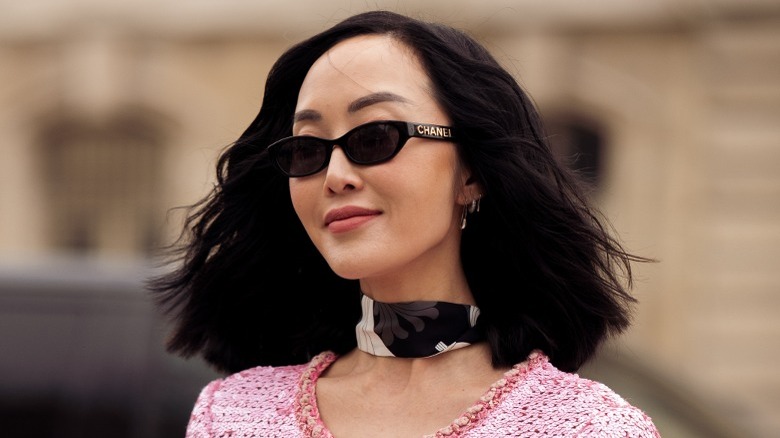 Raimonda Kulikauskiene/Getty
Don't be afraid to experiment with angular shapes this summer. Oversized rectangles, sharp cat eyes, and tapered hexagons are all in fashion. Narrow cat-eye sunglasses are a particularly trendy shape favored by the likes of influencers such as Bella Hadid. If you're unsure of how to pull off the somewhat severe shape, just remember that there are many ways to style timeless cat-eye sunglasses that can suit your tastes.
Visor shades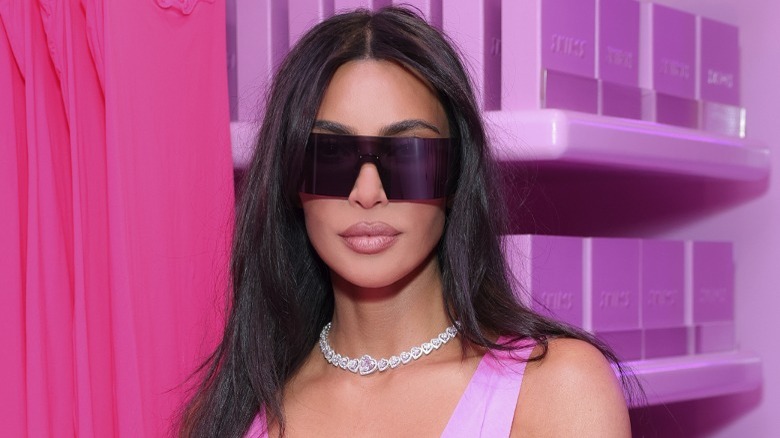 Stefanie Keenan/Getty
Summer 2023 sunglasses trends take a turn for the futuristic with visor shades. Visor sunglasses form a unique shape that produces a sporty, sleek look while providing ample sun protection. You can get them in a tinted color for a cute summer feel, or opt for mirrored lenses to complete the modern aesthetic.
Crisp white frames
If you need a fashionable pair of sunglasses that can stay versatile for future trends, consider white frames. White sunglasses add a pop of brightness to your face and add a vintage, luxurious essence to your ensemble. For the most current take on white sunglasses, look for thicker frames in an angular shape.
Colorful lenses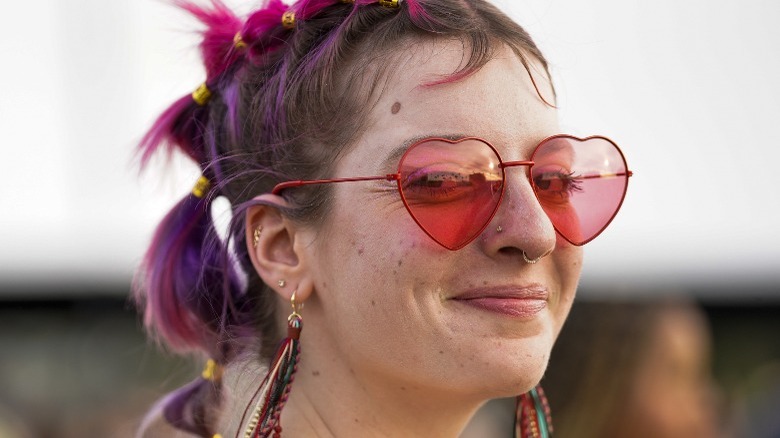 Presley Ann/Getty
Be adventurous and go for a bold color. While brightly colored frames aren't anything new, sunglasses these days also feature color in the lenses. Tinted lenses in shades of orange, pink, and even blue will take you from the music festival to your dream summer date night. You can pick one pair in your favorite signature color, or build a collection of tinted lenses to match every outfit.
Rounded frames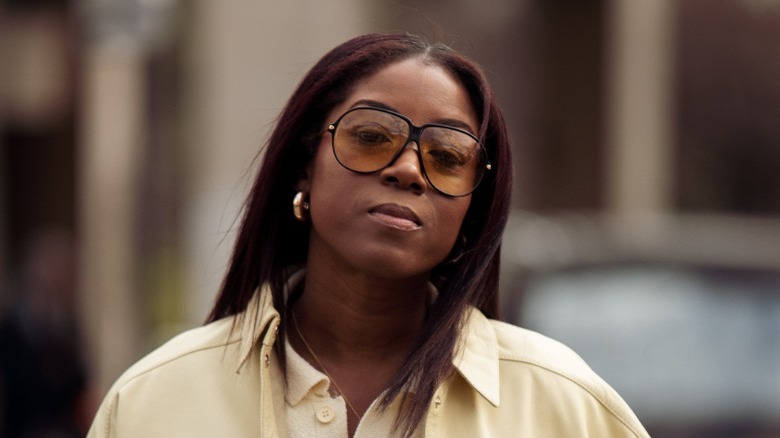 Raimonda Kulikauskiene/Getty
If angular frames aren't your thing, go in the opposite direction and get a pair of rounded oversized sunglasses. Rounded frames for this summer should evoke a mid-century style, akin to characters in "Daisy Jones and the Six" or, to go back a little further in time, a 1960s girl next door vibe. Incorporate other on-trend elements, such as tinted lenses, to make your circular sunglasses feel perfectly of the moment.