How To DIY Rosette-Adorned Shoes On A Budget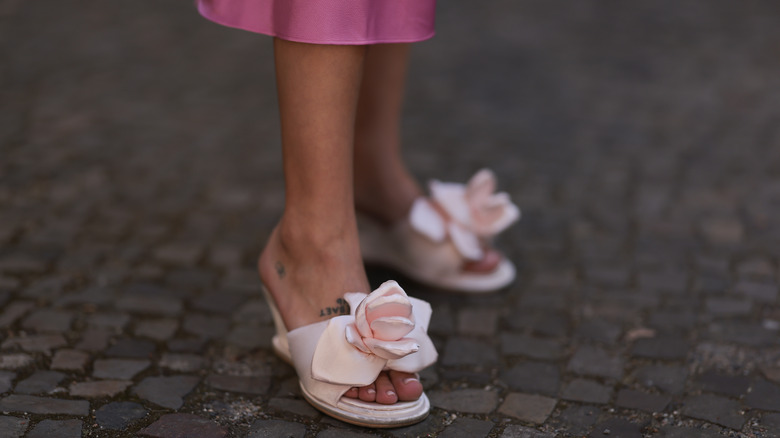 Jeremy Moeller/Getty Images
In "The Devil Wears Prada," Miranda Priestly sneered during an editorial meeting at the thought of doing florals for spring, "Florals? For Spring? Ground-breaking." It was hard not to feel bad for everyone in that boardroom. However, florals can actually trend for any season, and your tender tootsies deserve to be adorned with a bloom or two.
Go into your shoe closet and bring out your tired, old heels. Perhaps they're Manolo Blahniks, Jimmy Choos, or Steve Maddens, or maybe they're just a no-name brand you got from the mall. Regardless of the brand, if you feel they need a little more 'oomph,' add a little floral. There's no need to buy new heels or take them to a cobbler. After all, DIY shoe projects involve adding little rosettes to your Choos. In fact, just a mere glimpse at TikTok reveals an entire host of instructional videos, like one from TikTok user Lauren Wolfe, where she shows luxurious Dolce & Gabbana heels sporting little rosettes on the shoe strap. So, instead of forking over her rent money, she grabbed some fake blooms with clip-ons and attached them to her strappy sandals. If your tired old soles are in need of a fresh new look, this DIY shoe hack might be for you. Plus, it's easier than it looks.
More ways to apply flowers to your old shoes
A fellow TikTok user, Caity Nug, also shared how she upscaled and revamped her pumps with artificial blooms. Revealing that she got her fake flowers from her local dollar store, she recommended hot gluing them first and then sewing them into place to give them a little extra structure and security. In another TikTok video, user Emma Lou revealed that she just took the wire stems of the fake flowers and wounded them around the toe strap of her pink Steve Maddens, and then safety-pinned the blooms into place. 
Of course, there are many reasons why people are putting their credit cards away and turning to their own creative abilities to refashion their own heels. The Gentleman's Touch revealed that their customers were fans of designing their own shoes because they wanted to express themselves, stand out, and impress their friends. In other words, they wanted to create something only they would have and have fun with it. Also, on that list was the customer's desire to support the environment by producing less waste. Yes, upscaling your shoes with little dollar-store rosettes might just help save the environment and fight the climate crisis.
DIY shoe upcycling helps the environment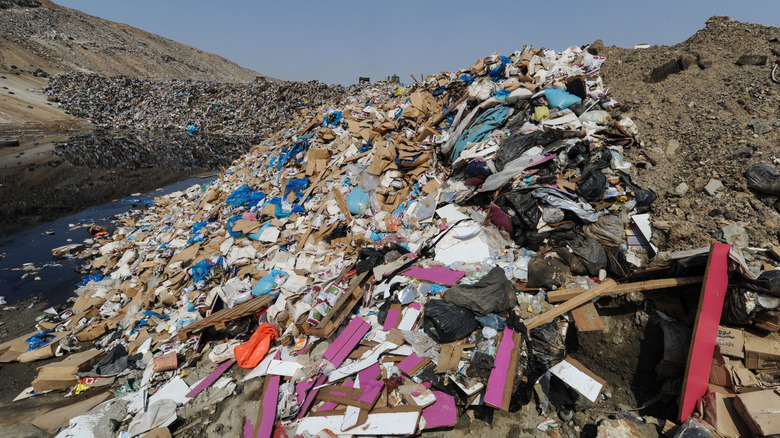 Leo Morgan/Shutterstock
It's impossible to ignore the devastating effects of the climate crisis. And while we've been learning more about fast fashion's negative effects on the environment, like how it uses a lot of water and causes clothes to end up in landfills, as per Insider, we're also learning how the shoe industry plays a part in that. The footwear industry churns out 24.3 billion pairs of shoes annually in a global supply chain, according to World Footwear, which is responsible for 1.4% of the global climate impact, shares Quantis. Most shoes end up in a landfill, and they can take 1,000 years to decompose, Sahadat Hossain, the director of the Solid Waste Institute for Sustainability, told Fashionista.
In addition to that, there's inflation. Have you seen the price of shoes these days? When we compare the price of women's shoes from 2022 to 2023, the cost has risen by 4.9%, per Inverse. A writer for Public Lives Secret Recipes, Caitlin Lee, shared how taken back she was when she found rose-adorned shoes at Nordstrom for $225 and a Chanel pair for $1295. Luckily, with just her cheap fake blooms, scissors, and a hot glue gun, she recreated the designer look for a total price tag of $33. 
If you don't feel like you're up for the task though, Etsy's got you covered. Many sellers offer shoe rosette clips starting from $17. So yes, florals? For spring? Ground-breaking!