Halter Dress: The Summer Trend For Dynamic, Warm-Weather Necklines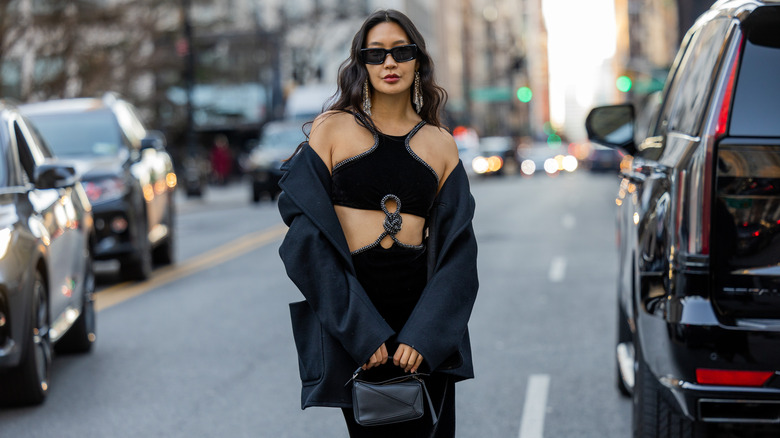 Christian Vierig/Getty Images
When it comes to summer fashion trends, some fade away as quickly as they appeared. Others have built-in staying power, such as the halter neckline. Great for more than just your swimsuit, this style can also add some flair to your dresses. Halter dresses typically employ straps or fabric that ascend from the garment's core to wrap around your neck, leaving your back exposed. It's one of those designs that is simply made for the warmer weather and is perfect for adding some variety to your vacation looks.
Halter dresses can be worn year-round, but there's something whimsical and dynamic about donning them when the days grow long and hot. The halter is a surprisingly versatile neckline that can help make your styling process a tad bit easier and stave off the heat. Look no further than the halter dress this summer to keep your wardrobe fun and resort-ready.
Plunging neckline halter dress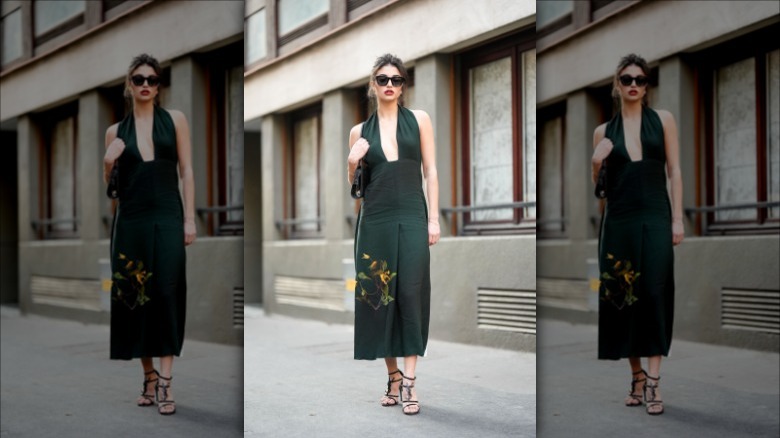 Edward Berthelot/Getty Images
In addition to showing off your back, this variety of halter dresses capitalizes on an open front to add some extra drama. The fabric will typically cover your breasts and wrap around your neck, keeping everything secure and in place. This type of plunging halter neckline is ideal for summer formal events where you want to opt for something more lively that's still classic and sophisticated.
Summer dress with strappy halter accent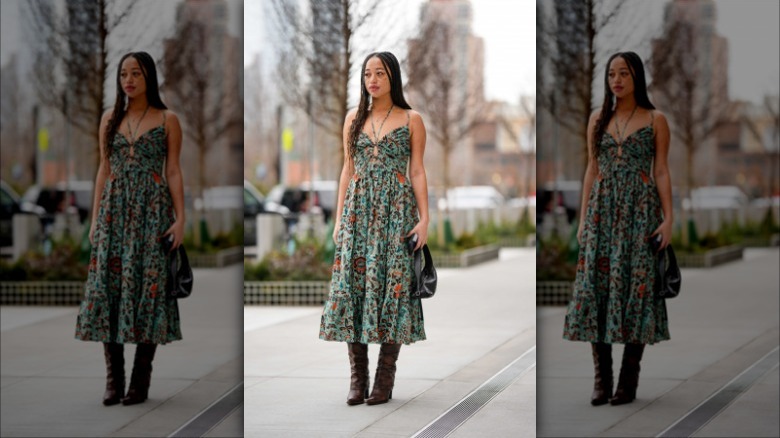 Edward Berthelot/Getty Images
For a dress to qualify as a halter, it simply needs to wrap around your neck in some manner. Many have opted to use this style to add extra straps and details onto the front of their dresses for an unexpected twist that combines necklines. Strappy halter dresses are a great summer piece to add to any wardrobe if you want an option that's more lively and less mundane. Something as simple as incorporating straps can take your warm-weather look to the next level.
See-through halter dress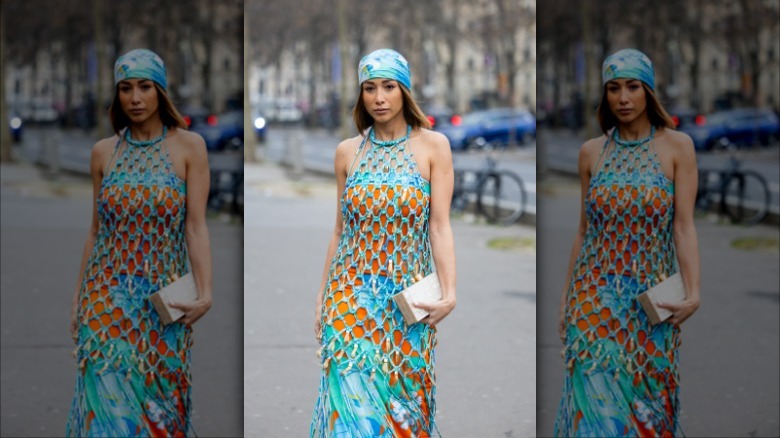 Christian Vierig/Getty Images
Do you want to show some extra skin this summer? Crochet, sheer, and mesh are just some of the see-through fabrics that are taking over seasonal trends because of their playfulness and breathability. This is the perfect way to highlight your chest without feeling too exposed. The halter neckline also adds a bit of elegance to your more casual summer fabrics, complimenting those chic crochet fashion looks that continue to pop up.
Open front and back dress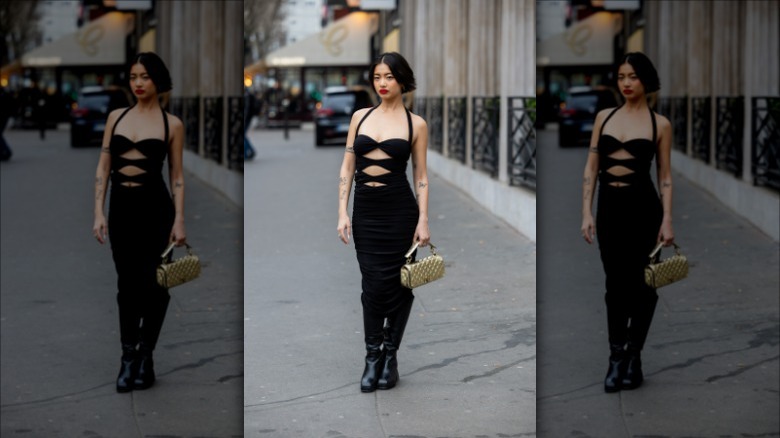 Christian Vierig/Getty Images
If you don't want to go for a full plunge but still want to put some skin on display, opt for a halter dress with a wide, exposed chest. These dresses typically have straps that move up from the central panel close to the underarms and around the neck. This style will give you the illusion of a wider stance and chest, which can help you look more confident and powerful. It also works wonders on date night.
Crossed halter dress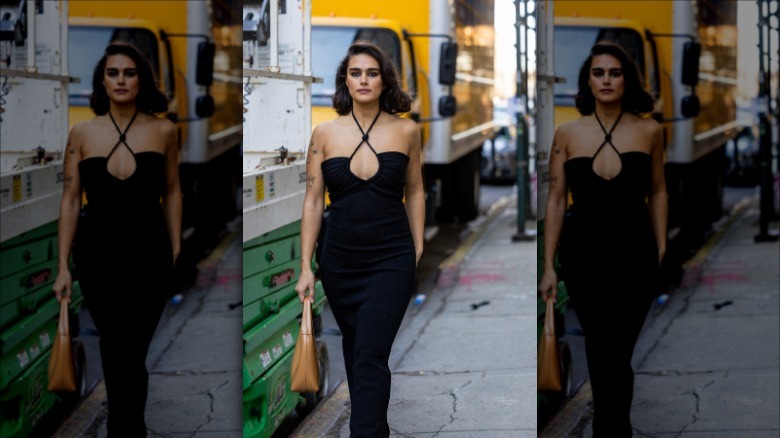 Christian Vierig/Getty Images
Although all halter dresses wrap around the neck in some form, there are nigh endless possibilities when it comes to the orientation of the straps in the front. One option is to cross the straps along the chest area, creating an interesting visual detail that accentuates the halter neckline. This element is laidback yet chic, making it ideal for any situation or event.
High-neck halter dress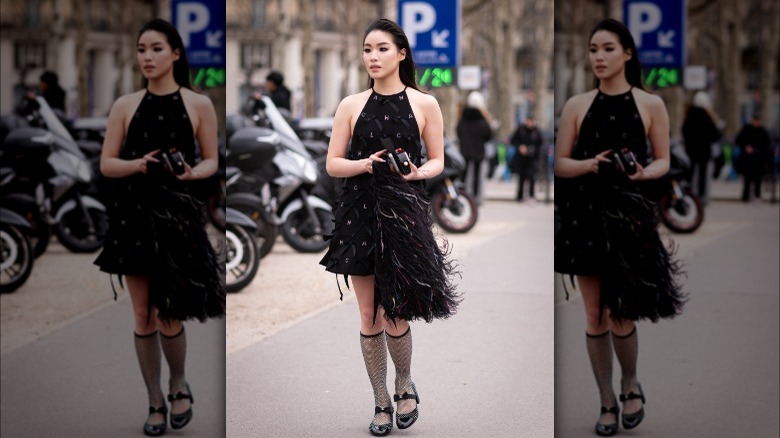 Claudio Lavenia/Getty Images
For those looking for something more modest in front, there are also options. A high-neck halter dress will keep your chest covered and your back exposed. Cut to accentuate your shoulders, this neckline retains the halter style while revealing less skin. It will shine at any formal event where you want to evoke a feeling of modern elegance.