How To Ask For Highlights That Effortlessly Elevate Your Hair At The Salon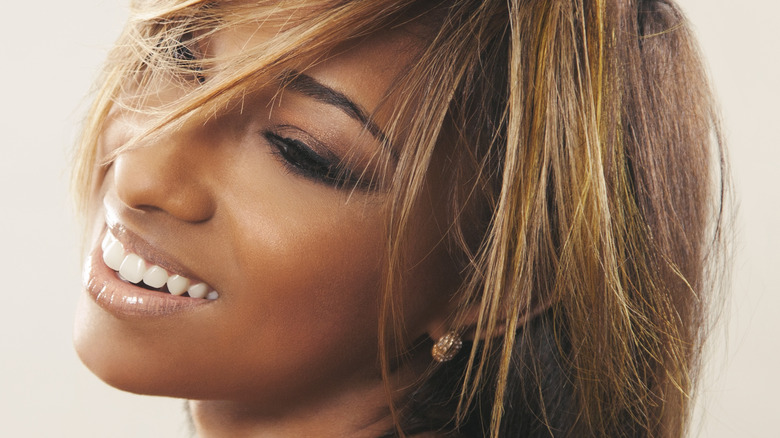 Alejandrophotography/Getty Images
If you're looking for a way to add a little glow to your hair but haven't warmed up to the idea of highlights, it's time to start thinking of them in a new way. When highlights come to mind, you may have images of 90s hairstyles drifting through your mind — bold blonde tresses layered on top of brunette hair dominated television and movies. However, highlights have come a long way since Hollywood put its own spin on them. These days, it's possible to rock highlights in a subtle way that elevates your natural hair color.
However, you might be at a loss if you don't know how to explain the look you want to your hairstylist. While you know you want to try highlights, you don't necessarily want a mainstream look that will stand out amidst your existing hair color. Depending on how you phrase it to your hair stylist, you could end up with an additional hue that is too dramatic — and it may be the last thing you want.
One way to elevate your look without winding up with a color that puts it over the edge is to reconsider the hue you ask for at the salon. You might be inclined to go bright in an attempt to create the glow you desire, but in actuality, it may be best to ask for a darker color. Much of it will depend on factors such as your eye color, base hair color, and skin tone.
Choosing highlights to complement your existing hair color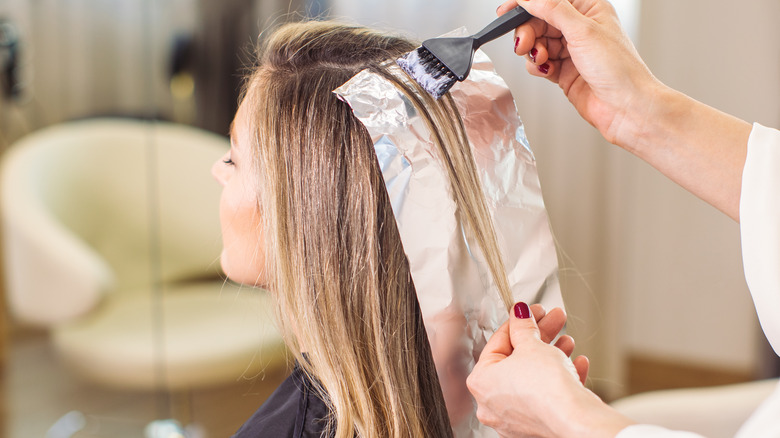 Miljko/Getty Images
If you want to avoid creating a look that seems better suited for the 90s, you'll want to avoid chunky highlights. Instead, work with your stylist to weigh your skin tone, existing base hair color, and eye color to narrow down highlight hues that may work best for you. For example, you might find that red highlights are all you need to elevate your hair if you have a medium skin tone, dark eyes, and a dark base, per Marie Claire. On the other end of the spectrum, deep brown highlights may amplify your look if you have a dark skin tone, dark hair, and dark eyes. "A good colorist should always take the time to discuss the shade suitability and maintenance with every client to ensure her desired color fits her lifestyle," stylist Tre Wyrosdick told Marie Claire. "Some shades, especially red or lighter shades on darker bases, require more salon visits and more frequent maintenance. Great hair color can make your complexion brighter and more youthful."
Another foolproof way to ease into highlights is to try a style that your colorist is likely already familiar with, such as sombré — a look that consists of gradient highlights closer to your base tone. Babylights are another option to consider if you want natural-looking highlights that don't appear too bold. If you want to go bright, think about keeping your highlights in the underlayers of your hair for a subtle look.
Highlights, lowlights, and creating a natural look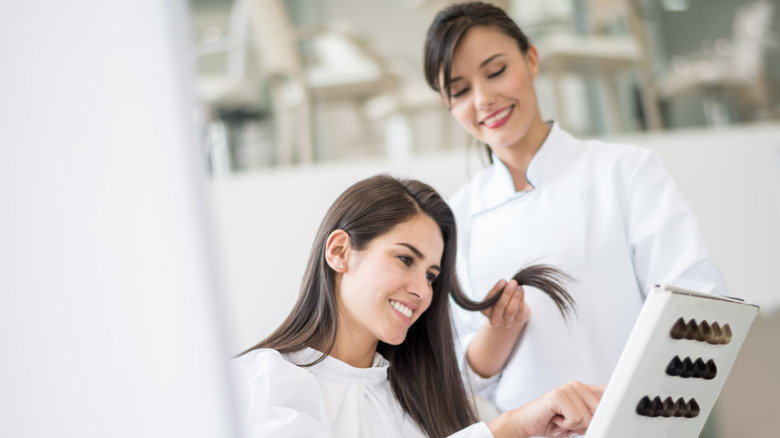 Andresr/Getty Images
As you look to integrate a new hue into your hair, you might want to familiarize yourself with the differences between highlights and lowlights. Highlights are fairly self-explanatory — they involve adding a lighter tint to your tresses to elevate your hair. Lowlights are a bit different in the sense that they go darker to bring more dimension to your locks. If you ask your stylist for lowlights, you can expect them to be distributed evenly throughout your hair subtly for contrast. When you ask for highlights, your stylist will lift the color of your natural base tone for brightness.
If you don't know which you should opt for, you don't have to pick just one — many people go with both lowlights and highlights to create the look they want. "Most clients would use a highlighting plus lowlighting technique to give a very blended, natural look," colorist Emily Woodstrom told Byrdie. "This technique is best for a natural grow-out process. If your stylist chooses a soft, fine weave, you could go several weeks without needing a touchup."
Still worried about easing into highlights? Ask for no more than two shades lighter than your base color once you get to the salon. Doing so will guarantee a natural look.