Kick Off Summer Dating Season With Our Best Tips For Throwing A Singles Party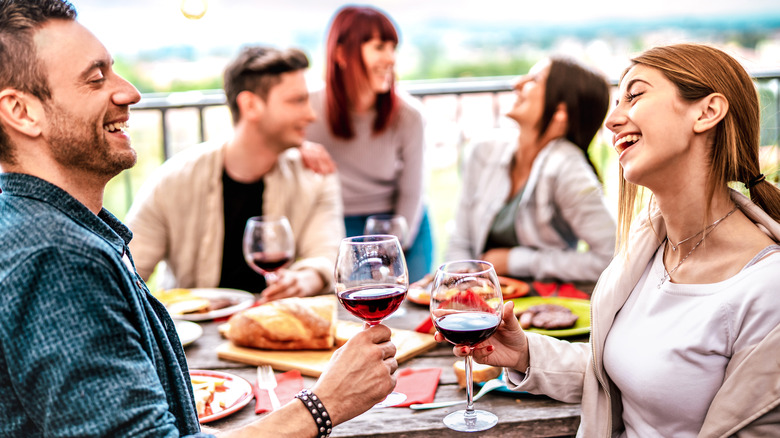 View Apart/Shutterstock
Throwing a singles party opens the door to a new and exciting avenue when it comes to your pursuit of love. Partying it up with other singles who are on the same page with you about relationships might be the easiest way to finally cross paths with your soulmate.
Being single during the summer season doesn't automatically mean you have to spend your single-girl era in pursuit of a "hot girl summer." Meeting your forever person to settle into a long-lasting relationship with could be what's actually on your mind. 
Putting yourself out there to meet new suitors means showcasing your vulnerable side as you open yourself up to the possibilities. And what better way than hosting a singles party? By throwing a singles party, you are cultivating an atmosphere for single people to cross paths for the first time, providing an opportunity to create the start of a beautiful love story.
Utilize dating apps to find people to invite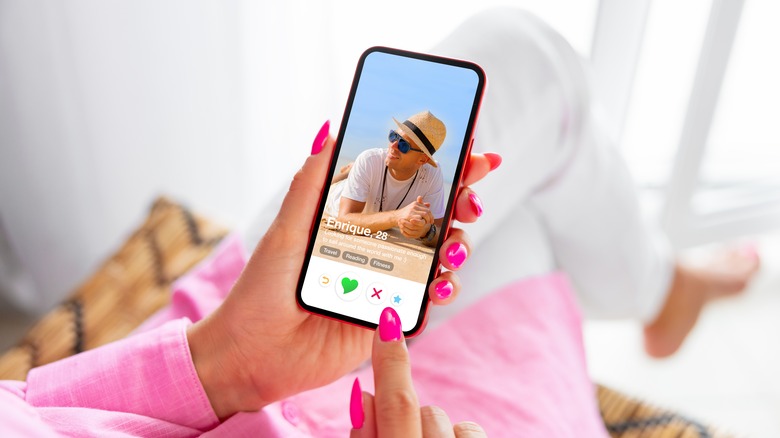 Kaspars Grinvalds/Shutterstock
Dating apps are the easiest place to start your search for people you can invite to your singles party. Singles who've signed up to join different dating apps are likely looking to connect with people they're attracted to. The purpose of dating apps is to match with individuals who are already living in close proximity so you can meet each other face-to-face. Although you might've passed by someone you like many times at a coffee shop or bookstore, striking up an initial conversation in person doesn't always comfortably happen. 
It's a bit easier for people to get a conversation going with the help of dating apps since there's a screen to serve as a security blanket in the beginning. Some of the most popular dating apps to download right now include Tinder, Bumble, Hinge, OkCupid, and Plenty of Fish.
Although Tinder has a bad reputation for being nothing more than a hookup app, couples have successfully found love using Tinder over the years. According to a Shane Co. survey of over 1,000 Americans, 49% of engaged and married couples admitted to meeting their partner on Tinder (via The Loupe). So, go ahead and advertise your singles party on your dating app profiles so the people you match with will know about it.
Promote your party on social media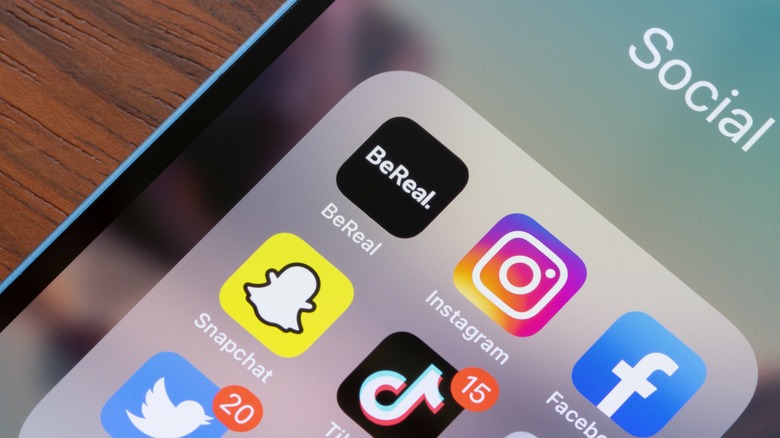 Tada Images/Shutterstock
A fabulous avenue to use when promoting your singles party is social media. Plenty of people looking for love use social media, even if they're not active on any particular dating app. You'll open the floodgates to way more potential invitee options if you bring the news about your singles party to platforms like TikTok, Instagram, Snapchat, Facebook, and Twitter. Fortunately, hashtags exist on social media for people to quickly find the content they are looking for.
Hashtags help spread information like wildfire since they rapidly connect you with like-minded individuals who are interested in the same things. Along with the flyer that advertises your singles party, be sure to add hashtags that mention the city where the party will be located and exactly what type of party you're hosting. Once the details of your singles party are posted on social media, people who are interested are free to save and share the information before the day rolls around.
You may want to spare any personal details, addresses, or locations on the public post, however, and only share it with individuals who request more information so you can do a virtual screening of who wants to attend.
Make sure all your single friends invite their single friends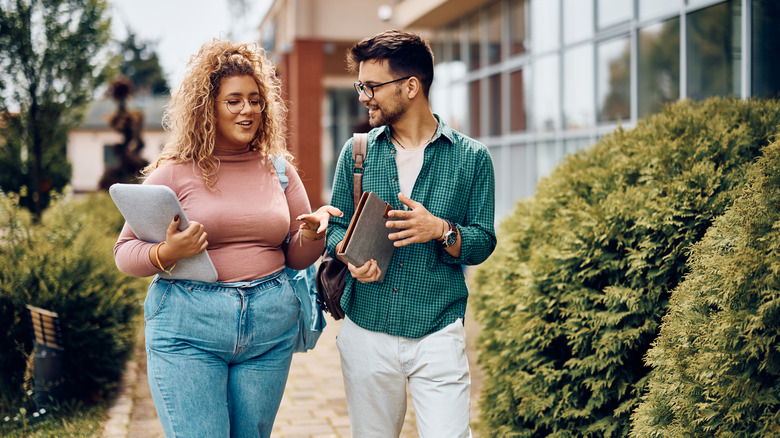 Drazen Zigic/Getty Images
Before the age of technology and social media, news about upcoming parties was likely spread by word-of-mouth, among other things. If people weren't openly discussing and sharing upcoming parties with their friends, it would be a lot more difficult for mutual guests to know when and where to show up.
Although you'll certainly find success in sharing news about your singles party on dating apps and social media platforms, ensuring that more possible guests find out about your event through word of mouth is still a great idea. Be sure that all your single friends are inviting all their single friends. 
Partying with a bunch of mutual friends means everyone who's there will know at least one other person. There's less of a chance that people will be left feeling isolated or outcasted as well. It's a great idea to check in with mutual friends about certain people who catch your eye. Ask your mutual friends if the person you're into is a good-hearted person instead of being forced to make guesses about their intentions.
Advertise the party on sites like Eventbrite and Meetup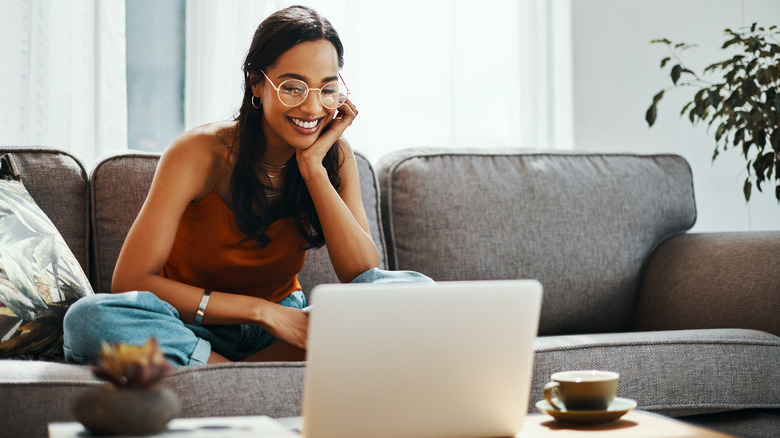 Delmaine Donson/Getty Images
Eventbrite and Meetup are two excellent sites where you can advertise your party. With enough advertisement, a solid number of singles may show up to meet each other. Eventbrite allows you to create and manage different events on their platform for free.
Some people set up festivals while other people plan conferences. Some people set up dance classes, while others arrange emotional healing workshops. And many people promote parties on Eventbrite, which is one of the best places online to do so — at least it seems that way — since Eventbrite's website claims they are "the world's largest events marketplace, where 90 million people discover parties every day."
Meetup is similar to Eventbrite but different in the sense that it's a site dedicated to building a community, reaching like-minded people, and making new, lasting friendships. Although Meetup is often used by organizers who want to host ongoing events, you can use it for a one-time singles party. You can also use it to post about continual singles parties in the future.
Narrow down a fun theme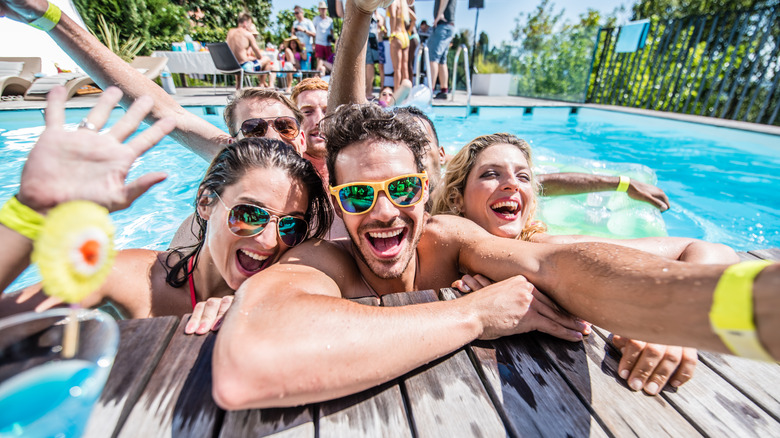 Simonkr/Getty Images
What's a singles party without a fun theme attached to it? The theme itself might simply be that everyone who's showing up is "single and ready to mingle." There's no harm in keeping it simple, but you might find that people are more inclined to come if there's a specific theme they can hone in on.
Tiki night is one idea where everyone shows up wearing beachy attire with vacation-style decor everywhere. Hosting the ultimate pool party might involve a theme where everyone shows up in their swimsuits to splash around and socialize in the water. During the summertime season, any excuse to cool off in a pool is easy to agree to.
A red carpet night theme might appeal to the singles you're inviting if they're keen on dressing up to the nines and giving off total Hollywood vibes. A karaoke theme lightens the stress load many people might have on their shoulders since karaoke is typically a lighthearted activity people can do at a party.
Have cocktails and mocktails available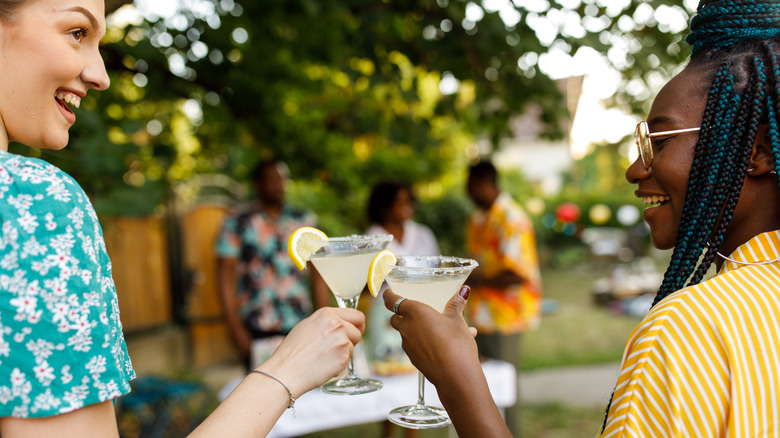 Fotostorm/Getty Images
As the host of a singles party, having an abundance of cocktails and mocktails on deck is a great idea. Anyone who's feeling a bit awkward by the idea of meeting new romantic suitors might experience some relief after sipping on a cocktail or two.
By that same token, tons of people today are opting for a "sober curious," alcohol-free lifestyle to keep a clear mind in their day-to-day life. "We're seeing a huge number of customers seeking mocktail recipes these days," Lauren Butler, co-founder of Yes Cocktail Co., tells Faire. "Whether it's health-related or wanting to stay engaged in conversation socially, more and more people are sober curious, at least occasionally." Those people deserve delicious alcohol-free options!
Mocktails are anything but boring because even though they don't have any alcohol in them, they often emulate the flavor and provide the same visual aesthetic. It's your prerogative if you want to hire a bartender to make everyone's drinks throughout the night or if you'd rather set up a bar station for people to mix and pour drinks to their hearts' desire. Whether your guests prefer cocktails or mocktails, having different flavors and garnishes on hand to suit a range of tastes is a must.
Offer a wide variety of food options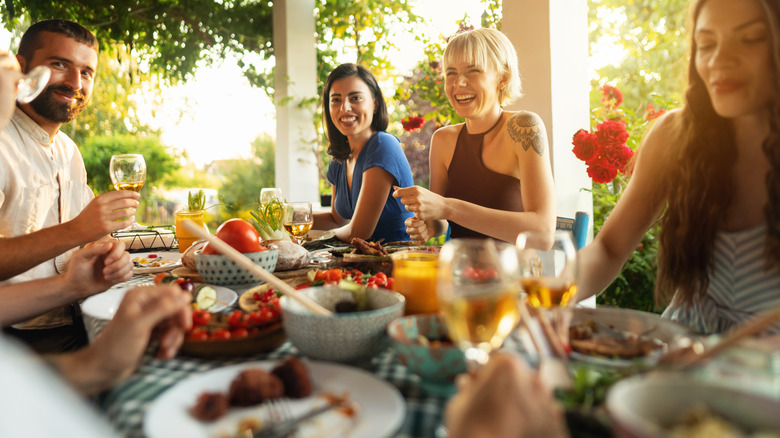 Srdjanpav/Getty Images
Your singles party will automatically be considered more of a success if you offer a wide variety of food options. According to the Better Health Channel, offering food at gatherings "can unite and strengthen community bonds" and bring people closer together — which is exactly what you want at a singles event.
Besides that, no one wants to show up to a party to be disappointed with the food being served. You won't be able to please all guests since people have such different tastes in various cuisines. You also won't be able to keep track of everyone's dietary restrictions and food allergies. Don't feel pressured to make every person happy, but do your best to offer a wide enough selection of food to avoid disappointed, hangry guests.
People who are watching their caloric intake will likely appreciate a veggie platter and fruit tray. Those ready for dinner when they arrive will be happy to see boxes of pizza and cheeseburger sliders. Anyone who has a sweet tooth will love seeing boxes of donuts, plates of cookies, and trays of cupcakes. Have fun with the food options you provide at your singles party by prioritizing variety and flavor over decadence.
Create an enjoyable music playlist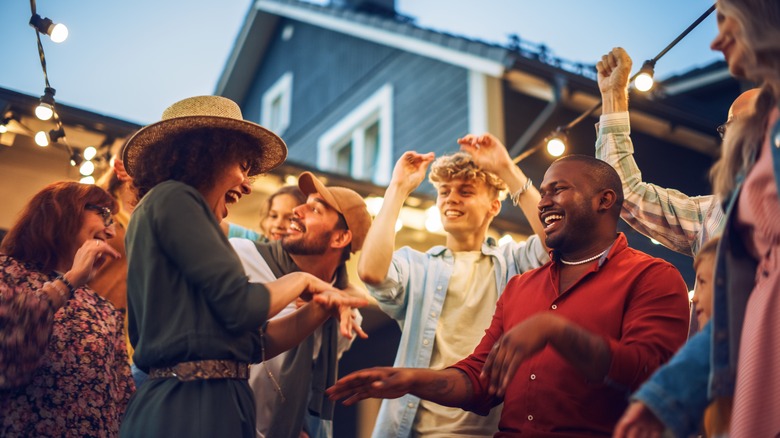 Gorodenkoff/Shutterstock
If the music at your singles party isn't on point, there's a chance people won't actually enjoy themselves. Music makes a huge difference at a party because it controls the vibe and ambiance. Not only that, but it "unites people," "conveys emotions," "energizes" those at any event, and "creates memories," according to Events By Knight.
If the music isn't to everyone's liking, it may encourage people to leave earlier than they originally planned. As you create an enjoyable music playlist for everyone to jam out to, think about popular songs to add. The guests at your singles party might not care to dance for hours in the middle of a dance floor, but the music playing in the background as they try to connect with others in a romantic way will certainly impact their opinions on the events taking place.
Hiring a DJ to take over this responsibility is an option, but you can save a lot of money by curating the perfect playlist on your own time. Consider adding songs that most people love listening to from artists like Katy Perry, Drake, Adele, Beyoncé, and Ed Sheeran. You can't exactly go wrong with musicians who are nearly universally beloved.
Set up speed dating tables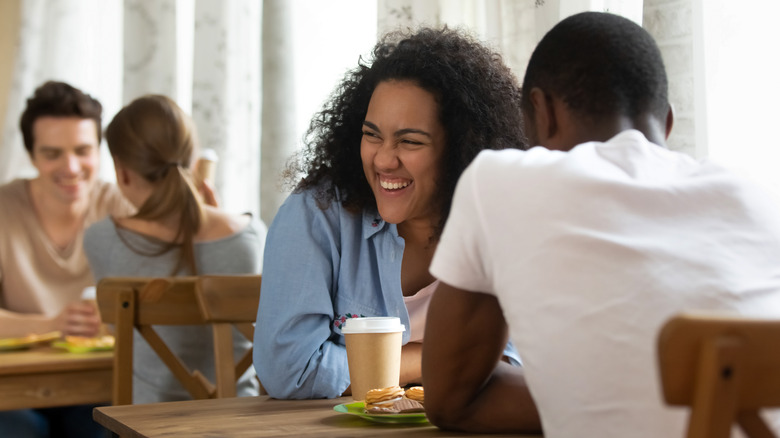 Fizkes/Getty Images
Although the entire singles party doesn't have to revolve around the speed dating aspect, incorporating this kind of activity could be a fun addition that will take up a portion of time, allowing everyone to get to know each other. Speed dating is popular among singles who are ready to put themselves out there without relying on dating apps or social media. 
"Rather than meeting a potential love interest through an algorithm, people are more interested in meeting others through more organic and social environments — particularly larger, in-person events — which could be why more people are turning to speed dating," Dr. Laura Vowels, principal researcher and sex therapist at sex therapy app Blueheart, tells Metro.
When you go to a speeding event, you sit across the table from potential suitors for a couple of minutes at a time before moving on to your next possible match. Taking time to introduce yourself by sharing your name, job title, educational background, and romantic intentions helps the person sitting across from you realize that you're compatible. Giving your singles party guests a chance to participate in something like speed dating will accelerate the process of everyone meeting the right person
Have several physical ice breaker games prepared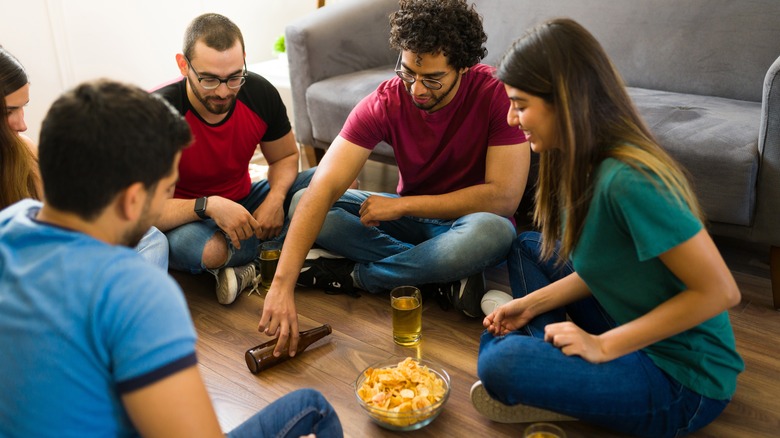 antoniodiaz/Shutterstock
Physical icebreaker games can be a fantastic activity at a singles party, depending on the comfort level of your guests. Icebreaker games may be instrumental in helping people break out of their shells. If games cause people to get physical (even slightly), people may be less likely to hide out in their comfort zone. Love doesn't often bloom in a comfort zone, which means physical icebreaker games may be the game-changer everyone will love. 
Some examples of physical icebreaker games include Spin the Bottle, Seven Minutes in Heaven, Truth or Dare, and Twister. While playing Spin the Bottle, first kiss experiences between your guests will definitely be shared. While playing Seven Minutes in Heaven, two people stuck in a closet for seven minutes will get to decide whether they want to explore anything romantically with each o not. 
We all know Truth or Dare, the game that allows people to accept challenging dares or reveal confidential secrets. While playing Twister, everyone on the colorful game mat at one time will be touching someone else at one point or another. Depending on how edgy your guests are, a game like strip poker might also be a fun suggestion.
Line up multiple conversation-starting games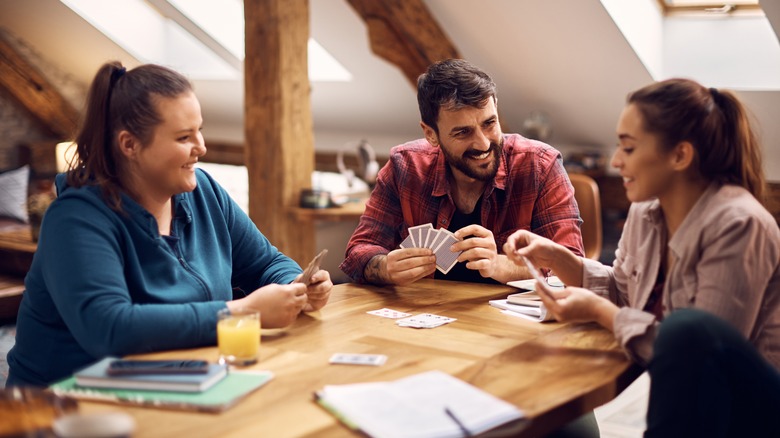 Drazen Zigic/Shutterstock
There's a chance the guests at your singles party aren't super excited about playing physical icebreaker games that would involve them actually touching others. Conversation-starting games are a great alternative since no one has to kiss, touch, or remove pieces of clothing. Some examples of conversation-starting games include Never Have I Ever, Cards Against Humanity, Two Truths and a Lie, and 20 Questions. These games serve as the perfect starting point for deep conversations relating to just about anything under the sun. 
If everyone wants to talk about past relationships and heartache, the conversation will get to that point. Conversely, if everyone wants to talk about their fetishes and kinks, the conversation will get to that point, too. The more open and vulnerable your guests are, the easier it will be for people who are attracted to each other to connect on a deeper level. Those who are comfortable drinking alcohol can incorporate their cocktails into any of the conversation-starting games being played.
Don't skimp out on festive decor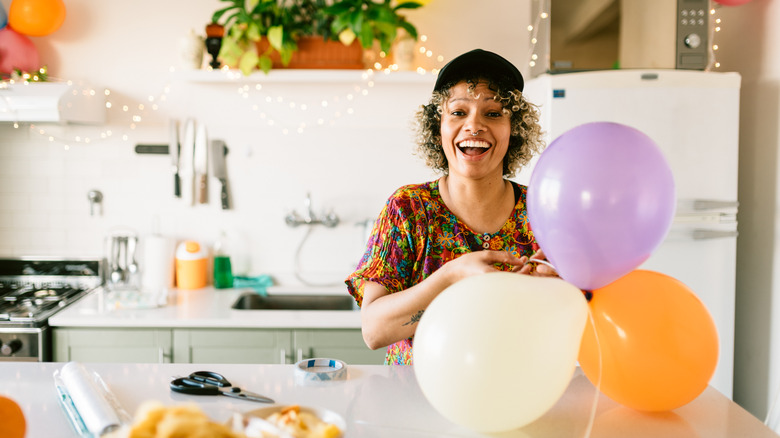 Ferrantraite/Getty Images
The decor at your singles party is not something that should be neglected. Party City notes that decorating — and not only one room but several rooms of the space — is "one of the best ways to create an irresistible atmosphere of fun." So, as soon as you figure out what theme you're going with, it's crucial you find decorations that will honor the theme.
If you're expecting your guests to show up in costumes or attire that honors the theme you've come up with, then the decor you have arranged should be just as festive and exciting to look at. You don't have to stress yourself out on over-the-top decorations if it's something you'd consider to be pretty low on your priority chart. 
Still, having decor near the entryway, around the main dance floor, near the food and drink stations, and around the speed dating tables will help create a more pleasant experience for everyone invited. Having the right amount of decor everywhere will encourage people to take tons of pictures to share their experiences with others! This is a win if you want to host another singles party at some point in the future.
Set up a selfie station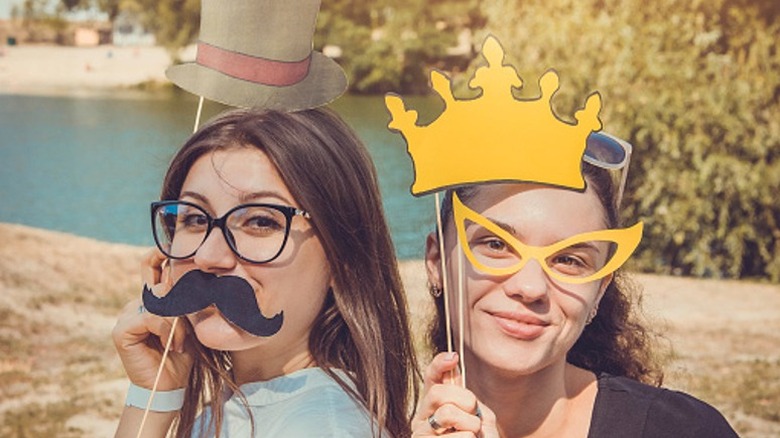 Maryviolet/Getty Images
The phrase "pics or it didn't happen" has been circulating for quite some time. Most people who use social media understand that it's easier to talk about how fun an event is when you have pictures and videos to share. If your goal is to ensure that your singles party is completely memorable, you have to make sure everyone will be able to take pictures to preserve their memories.
For these reasons, setting up a selfie station will instantly take your singles party up a notch. Selfie stations can be as simple as a pretty backdrop pressed against a wall with several props to pose with nearby. It can also be as intricate as a full-on photo booth with special lighting and filter effects. 
While it's true that people are free to snap as many selfies as they want on their own smartphones, it's a little more special to be able to snap unforgettable pictures at a party with a designated selfie station. And who knows, maybe a selfie you take with a random stranger becomes one that will be displayed at your wedding.
Allow everyone to make playful name tags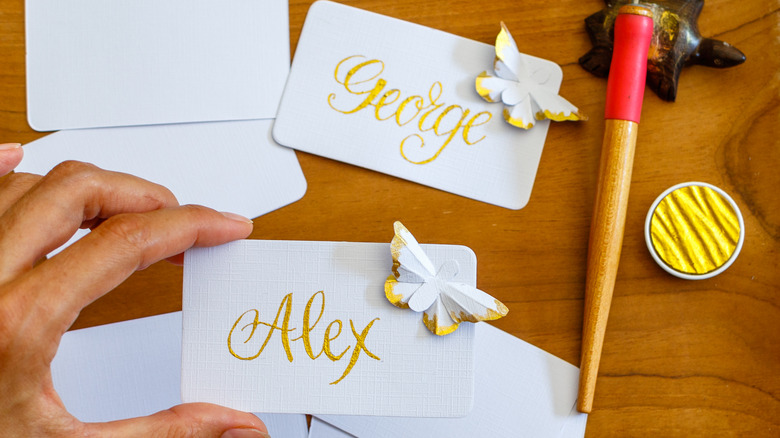 Gekko Gallery/Shutterstock
We know what you're thinking, and no, name tags aren't something reserved explicitly for elementary school kids on the first day of class. In fact, one of the first things that should take place when guests arrive at your singles party is making playful name tags.
Name tags make it easier for everyone to recognize each other without having to constantly re-introduce themselves. Not to mention, name tags are especially helpful for people who become forgetful after sipping on one too many cocktails.
You'll definitely want to organize a name tag table where people can use markers in any color they choose on stickers that will be placed somewhere on their clothing. When everyone has a name tag located somewhere on their person, it takes the awkwardness out of introductions and keeps conversations smooth sailing. 
Send all your guests home with memorable party favors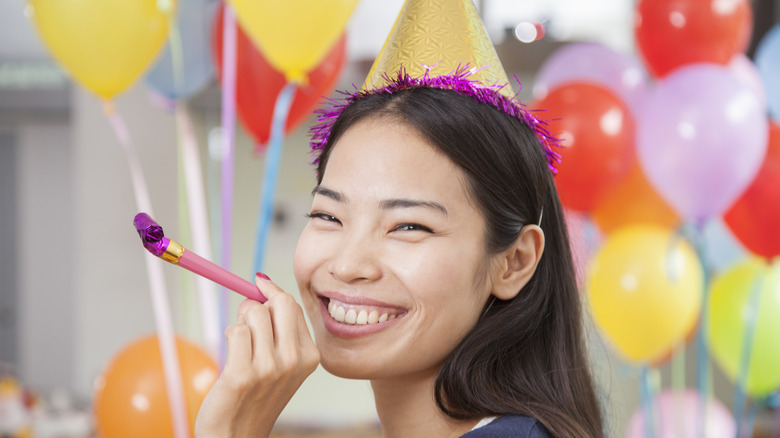 Xixinxing/Getty Images
Memorable party favors will cement your event in stone as being one of the most enjoyable nights ever. Before people leave for the night, make sure they grab whatever party favors you have available so they'll walk away knowing how appreciated they are for attending. 
Miniature bottles of liquor, unopened card decks, and any "ready-to-mingle" paraphernalia will suffice. When people talk about your singles party to their friends who couldn't make it, they'll have more positivity to share, thanks in part to whatever memorable party favors you sent them off with. 
This is great news if you're already leaning toward the idea of hosting more than one singles party with an expectation that each party will be better than the last. If you're feeling stumped about party favor ideas, think about the type of knickknacks and gifts that are given away at bachelor and bachelorette parties or typical birthday celebrations. Anything humorous or entertaining that comes to mind will likely be a hit.