How To Store Your Gua Sha & Jade Roller To Ensure They Aren't Damaged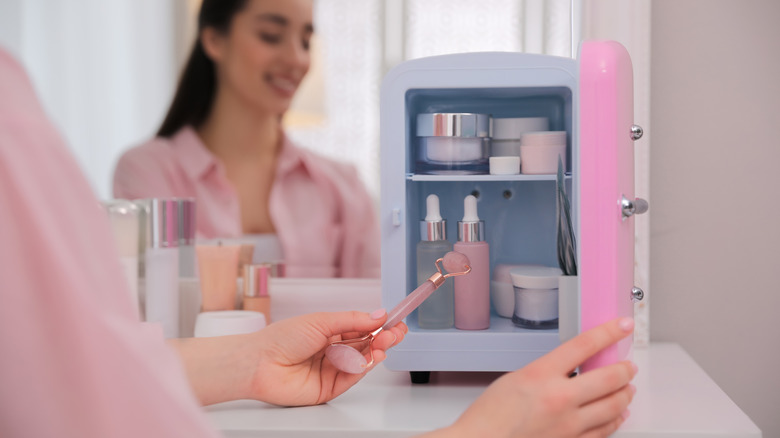 New Africa/Shutterstock
There are a lot of different kinds of beauty techniques and tools we use to take our skincare game to the next level. On one end, there are tried-and-tested techniques, like washing your face, using a great moisturizer, and removing your makeup at the end of the day. At the other end, there are wacky and strange treatments like a Zombie facial or painful enzyme peelers. And somewhere in between both spectrums is the gua sha and the jade roller. We know you've definitely heard of the gua sha before. After all, a quick look at the #guasha tag on TikTok reveals that it has been viewed 2.3 billion times. So, chances are, you probably already know the benefits of using the Chinese tool that has been around since the seventh century, and in all likelihood, you have one in your medicine cabinet right now, ready to use.
Have you ever considered that maybe the cabinet isn't the best place to store it? If you want to extend the life of your fave beauty tool, it turns out that storing it in a cool place and away from precarious locations, where it might fall or be damaged by other large objects is probably your best bet. Let's explore the best places to store your gua shas and your jade rollers to keep them safe, and why you're going to want to make some space in your fridge. Yes, you read that right. 
Keep them cold in the fridge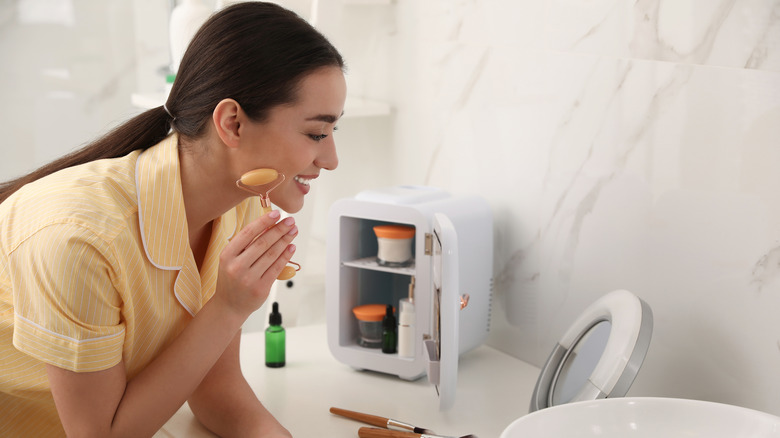 New Africa/Shutterstock
Where you store your gua sha or jade roller is just as important as how. Many people tend to leave their gua sha's in the bathroom, where bacteria can exist on almost every surface, acupuncturist and herbalist, Kai Yim told Byrdie. So if you want to make sure you're keeping those kinds of germs away from your delicate skin, store it carefully. After cleaning it and drying it with a towel, put it in a Ziploc bag to prevent roaming bacteria particles from landing on it, according to California esthetician Taylor Nicole via Ipsy. The experts at Gua-Sha.com also recommend that you don't keep your gua sha or jade roller in a cluttered drawer to prevent damage to the surface of the tool. That said, if you keep it on your vanity, make sure you're not storing it precariously on the edge so it doesn't fall and break.
On that note, NBC News reports that the practice of gua sha directly translates to "scratch" and "sand," and using it can lead to redness or skin tenderness. Therefore, storing your tools in the fridge can counteract the redness. In other words, having a cold (not frozen) gua sha will tighten your skin, reduce inflammation and puffiness, and promote lymphatic drainage. Just be sure you don't keep it on or near any stinky food. You don't want your precious gua sha to smell like chili con carne.
The difference between gua shas and jade rollers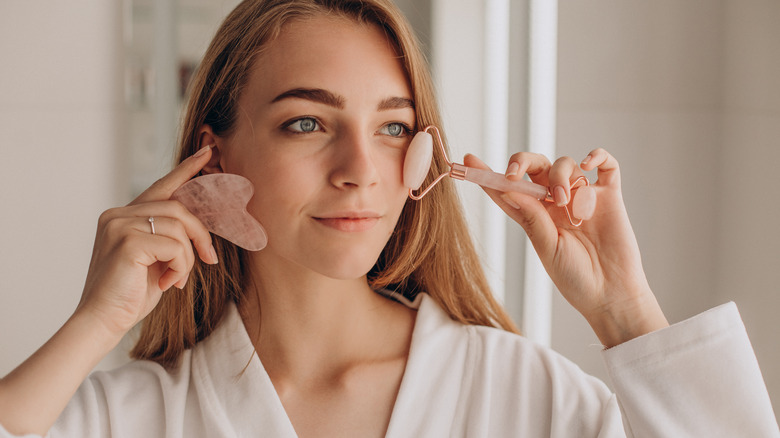 PH888/Shutterstock
Although we definitely want you to extend the life of your gua sha and jade roller tools, if you did accidentally drop one on the floor, that might actually tell you something about the quality of your product. Jade is actually a very fragile substance, and can easily crack or break when dropped on a hard surface, per Baller on a Budget. Real jade is super cool to the touch naturally, so even if you're keeping it in the fridge, fake jade can warm up quickly or fail to retain the coolness. In that case, what you might have is fake marble dyed to look like jade. 
In terms of storage, gua shas are obviously smaller than jade rollers and therefore, require less space to keep safe and sound, but it's important to note that they are two different tools used for different purposes. LifeStyle Asia recommends using gua sha's specifically for face sculpting, blood circulation, and also for those who have extra time to use the tool, whereas jade rollers are better suited for cooling off the skin and for those who just need a quick pick-me-up for their skin.