Carrie Bradshaw's Iconic Summer Outfit Formula Is A Wardrobe Must-Have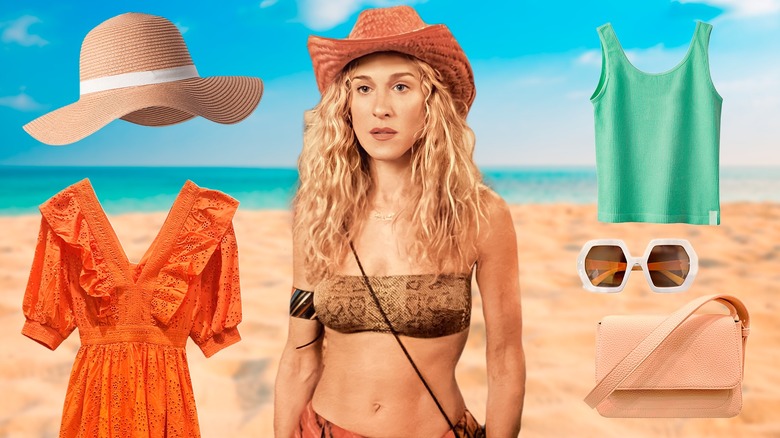 Static Media / Shutterstock
Just like us, are you also obsessing over "And Just Like That...?" Your cinematic preferences may or may not include the reboot of the cult classic show "Sex and the City." However, even if you've caught a minor glimpse of the show, there is no denying that its protagonist Carrie Bradshaw's sartorial choices continue to hold sway, even decades later.
In fact, a particular outfit Sarah Jessica Parker wore in Season 3 of the original show is going viral. Dubbed the Carrie Bradshaw summer outfit formula, it consists of a feminine, whimsical blouse, preferably in white or lighter-colored tones, paired with dark-colored track shorts and a pair of fancy shoes that one wouldn't ordinarily think of putting together with this look. This could range from delicate flats to bright kitten heels.
Recreating this look couldn't be easier — just follow the principles of pretty meets practical, and you've nailed it. The look is simple to put together and packs a punch, so we are obsessed. And if you try it out, we are sure you will be too.
Style it with denim shorts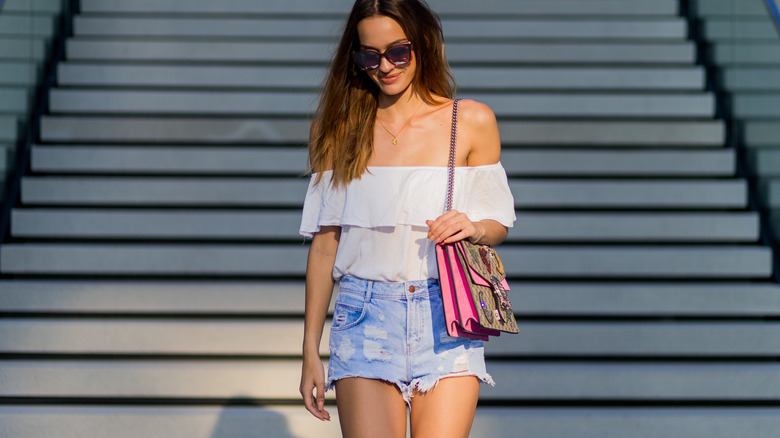 Christian Vierig/Getty Images
If you are unsure whether this style will work for you, try it out with a more feminine silhouette first. Denim shorts are an easy way to test the waters with this trend but still stay within your comfort zone by making it seem fun and flirty.
Go big with the blouses
One way to play around and make this look your own is by playing with different silhouettes but staying within the same basic outfit formula. A delicate white blouse is a great way to experiment and stand out from the crowd. Pair it with solid-colored shorts for maximum effect.
A combo for an evening out
If you are concerned that this look only works for a casual summer outing, we assure you that the formula does equally well for an evening out. For this, pull out a blouse with a pretty neckline and pair it with well-tailored shorts and high heels.
A different take on the shorts and heels
If you like the idea but aren't sure about Carrie's dark-colored shorts or her red heels, how about giving it your own twist with lighter-colored shorts and heels? In other words, you can achieve an effect similar to her summer outfit formula but with your unique twist to it.
White on white works too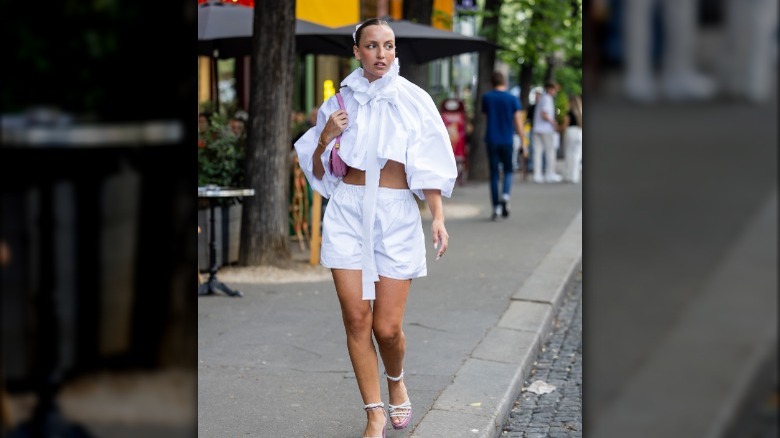 Christian Vierig/Getty Images
Don't be afraid to wear white on white for a unique take on this trend. A flouncy cropped blouse with bell sleeves is nicely balanced with a pair of fitted shorts in the same color. Baring your midriff is a nice break from the same-on-same color scheme.