The Eyebrow Brushing Technique To Use For Powerful Arches (& It Couldn't Be Easier)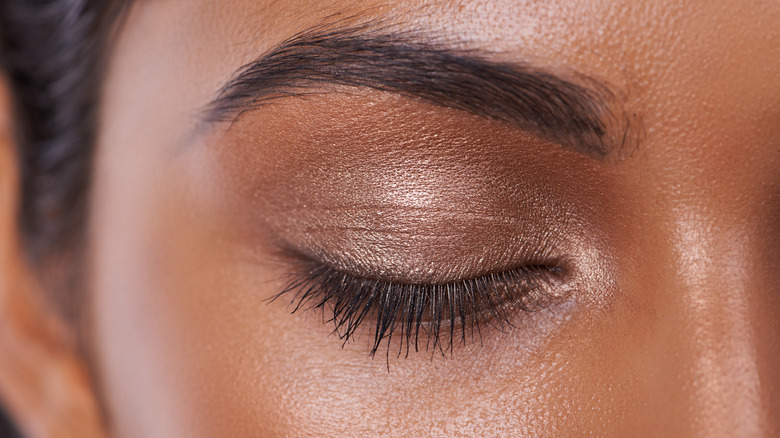 Peopleimages/Getty Images
We may receive a commission on purchases made from links.
Your foundation blended seamlessly and your winged eyeliner is on point. Your eyebrows, on the other hand, still look wonky and uneven. If this sounds familiar, then you've landed on the right page. People underestimate how a pair of weak brows can completely make or break your look. So, if you are still sporting floppy semi-circle eyebrows then, honey, it is time to step up your brow game.
According to celebrity makeup artist Amy Nadine, the secret to flawless brows lies with a specific brushing technique that allows you to create perfectly arched brows. In Nadine's tutorial, she outlines four simple steps and they are entirely beginner-friendly. To accentuate your arches, Nadine explains that you need to brush away your brow hairs to fill in the shape on the skin underneath. Exposing the skin behind the hairs allows you to accurately manipulate both the shape and definition of your arch. If your arches are in desperate need of a boost, then this brushing technique is exactly what you need to complement your face.
Use your brush to reveal the arch
Volodymyr TVERDOKHLIB/Shutterstock
Before you start, take a moment to consider the shape and thickness of your natural brows. Makeup expert Amy Nadine uses an eyebrow powder in her tutorial, but a pomade will also work well here if you have sparser hairs that lack density or require more hold, per The Brow Fixx. Otherwise, stick with a standard brow powder similar to Anastasia Beverly Hills' Duo Compact, which is a great option if you are unsure which shade pairs well with your natural brow color. Shadows also tend to be less waxy and easier to apply. Next, look for a dual-sided eyebrow brush that includes a spoolie on one end and an angled brush on the other. You can also opt for a regular brow brush and a clean mascara spoolie, but a single tool is certainly a handy alternative.
Now, use the spoolie end of the brow brush to gently push down the hairs that make up the arch of your brows. Brushing your hairs downward reveals the skin behind the arch, which is key to this technique. And while it may look funny in the mirror, do yourself a favor and trust the process, as these hairs will be brushed back into place.
Fill in your brows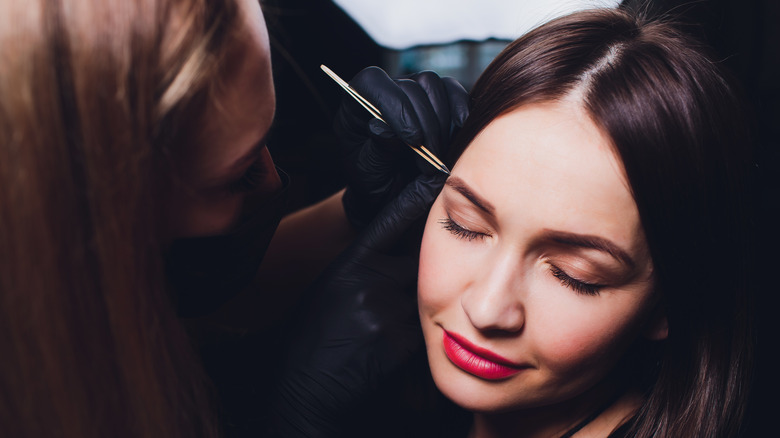 Vershinin89/Shutterstock
When you brush your brow hairs out of the way, you reveal the skin underneath and you should see the roots of your hairs along the arch. "If you only shade over brow hairs, you are filling in but you're missing the chance to also define," Nadine explains in her tutorial. In other words, you lose the ability to control the shape and sharpness of the arches, which is why you want to move the hairs out of the way completely before moving in with eyebrow powder.
Begin with a small amount of product and use your angled brush to draw precise strokes and create definition. Apply the product on the skin and continue to brush the hairs out of the way as needed. This method aims for the illusion of naturally defined brows, so make sure to step back and observe the shape after a few strokes to prevent yourself from over-lining.
Draw in the rest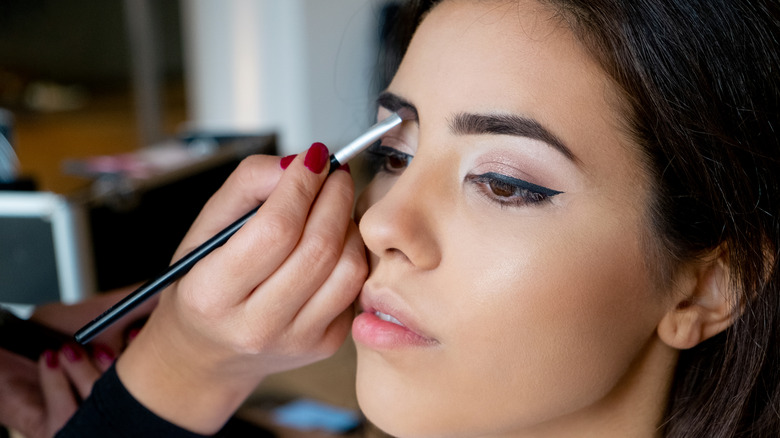 Zoranm/Getty Images
"After you've drawn it in, switch back to the spoolie end and brush the hairs back up," explains Nadine for the third step in her brow tutorial. Use the spoolie to brush your brow hairs back into place and blend the shadow. Don't worry if you draw your lines too thick; simply brush the hairs downward again and carefully wipe away the excess product. Removing excess product will be substantially more difficult if you use an eyebrow pomade, so be careful not to dislodge your other makeup during this process. Repeat this process, if necessary, until you're satisfied with the arches. After you brush the brow hairs back up, see if you need to trim the longer hairs to keep them uniform.
Next, fill in the rest of your eyebrows as usual. Always draw in the arches first before finishing the tail end of your brows as it is easier to touch up the rest of your brows when you have the defined arches as a base. Well, folks, that's all there is to this foolproof fix for wimpy brows.