How To Embrace The Versatility Of A Classic Black Belt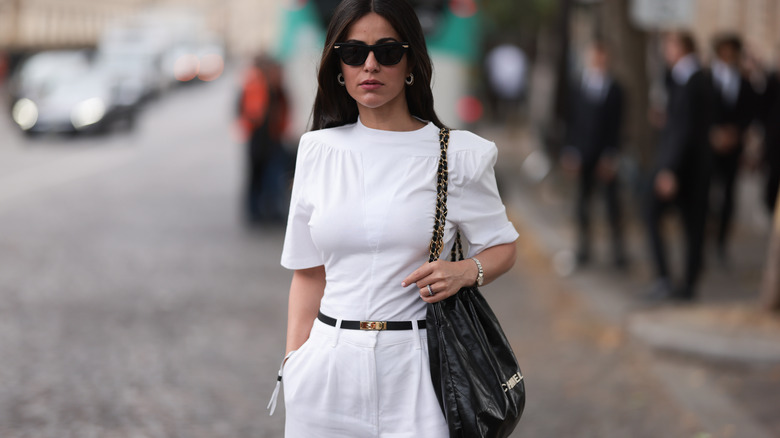 Jeremy Moeller/Getty Images
There are fashion pieces that never go out of style. They remain classic, timeless, and everlasting no matter the trends, vibes, or aesthetics of the year, decade, or era. Among crisp white shirts, nude heels, and tailored little black dresses (LBDs) is the accoutrement à la mode, or the most stylish of timeless accessories: the black belt. 
The accessory is not only stylish, but widely versatile. It can be paired with practically any type of outfit or individual garment. While it is most widely known to be made of sleek leather, it is also available in hemp, woven fabric, and even string and rubber. Some black belts are even made out of repurposed materials. They also come in multiple designs ranging from finely stitched and smooth to bedazzled, woven, and embroidered.
The increase in sightings of black belts on runways, red carpets, social media, and in your day-to-day is a definite sign that you should get your hands on one ASAP and experiment with the many ways you can style it.
Black belts and denim are a versatile duo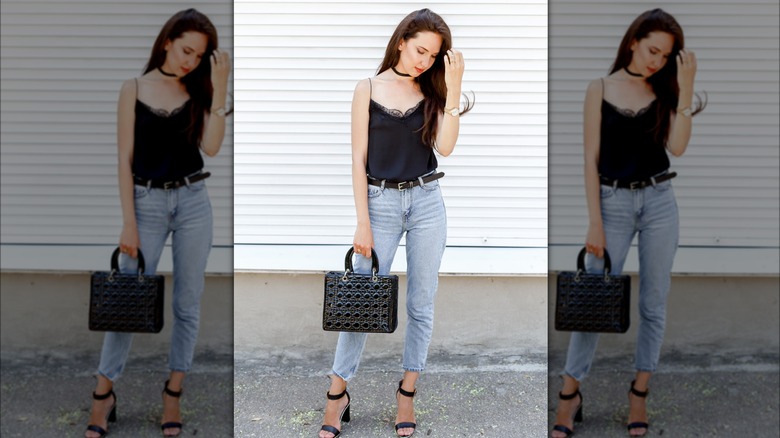 Nesolenaya Alexandra/Shutterstock
A black belt and denim is a fashion pairing that is the very definition of timeless style and versatile vogue. This duo can be worn as a casual weekend look with a basic black belt paired with shorts and sandals, or dressed up with jeans and satin camisole. For a business casual vibe, choose a button-down shirt that can take you from day to night.
Top your outerwear with a classic black belt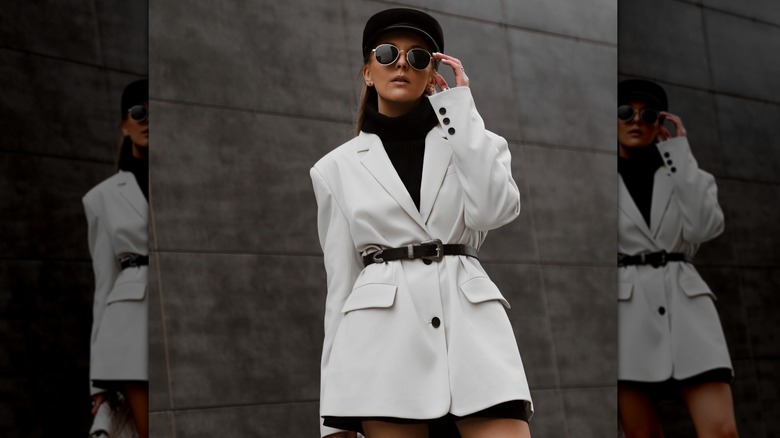 Eugenia Lytvyn/Shutterstock
Top your outerwear in the most fashionable way with a chic black belt worn across your natural waistline. You'll be an instant icon in this elite trendsetting look giving off vibes of exclusive, understated luxury. Invest in refined options with square belt buckles in gold or silver metals, or horseshoe, double loop, or double clasp details.
Indulge in Y2K nostalgia with studded black belts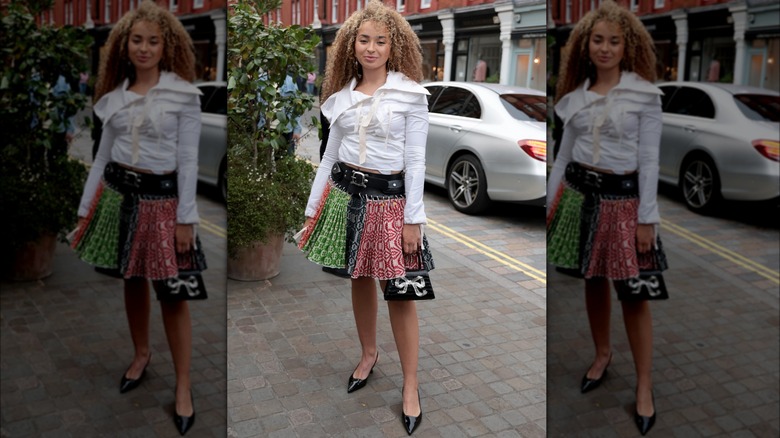 Shane Anthony Sinclair/Getty Images
Thick black belts with silver studs give Y2K punk-era nostalgia in the best ways! With pleated skater skirts and plaid prints coming back into vogue as well, adding a thick black leather or canvas belt with silver loopholes, grommets, and other forms of metallic trim will make you feel like you're right back in the days of punk influence.
Elevate your tonal ensembles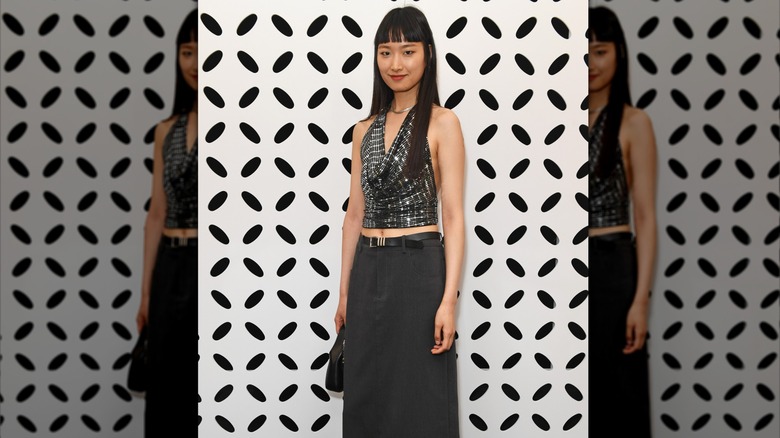 David M. Benett/Getty Images
It might seem counterintuitive to wear a black accessory on top of an all-black outfit, but it's a way to elevate any outfit effortlessly and easily. If you wear a black belt with a black outfit, consider choosing a leather option with a sheen or glossy finish to it, or look for an embellished option for a small pop of color. 
Black belts tie together a colorful design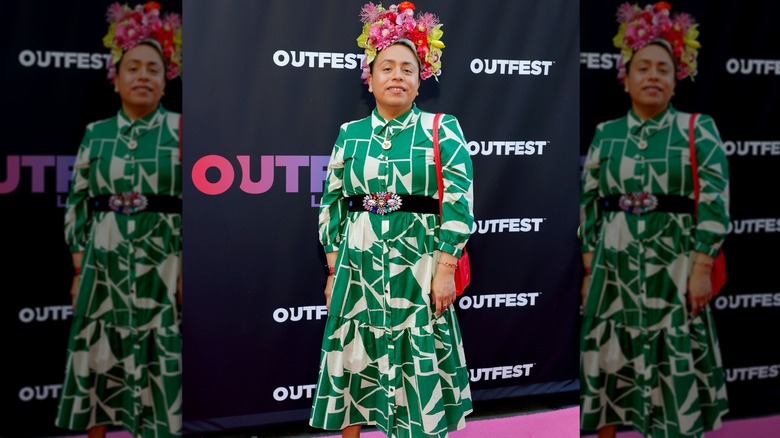 Emma Mcintyre/Getty Images
Black belts aren't limited to neutrals, metallics, or even an all-black palette. Take advantage of simple black belts that can tie together a colorful look full of embellishments, bejeweled designs, and woven embroidery. Or add even more color to your look by adhering emblems, jewels, and even nostalgia-fulfilling rhinestones to your black belt with fabric glue. 
Double the belts for double the fun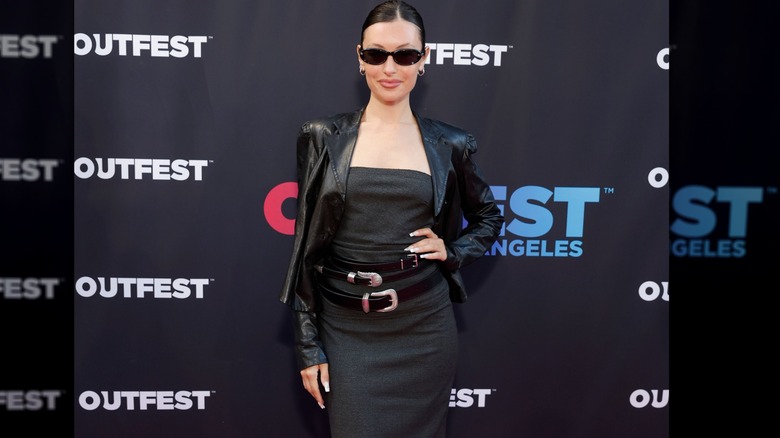 Emma Mcintyre/Getty Images
Why wear one black leather belt when you can wear two or more? Choose identical-sized belts, pair a thin belt with a thick one, or try any combination of the two. Then you can get creative with where to wear the belts: one on your hips and one on your natural waist, or intertwine the accessories for a double twist.
Tone down Barbiecore pink looks with a black belt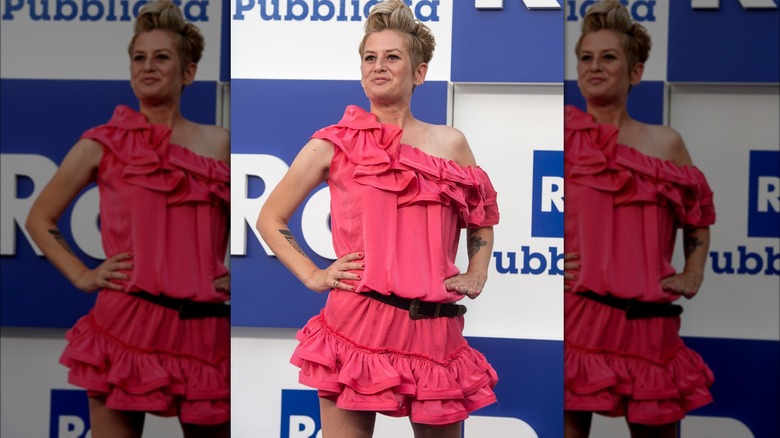 Ivan Romano/Getty Images
Add a black belt to Barbiecore pink-shaded ensembles to create chic, stylish dress combinations. The contrast between pink and solid black is eye-catching, but also feels minimalist. The black tones down bright or neon shades so that they are more suitable for office or networking settings. Don't limit yourself to only pink hues, though. The entire color wheel is at your disposal.