The Deals You Don't Want To Miss For National Lipstick Day 2023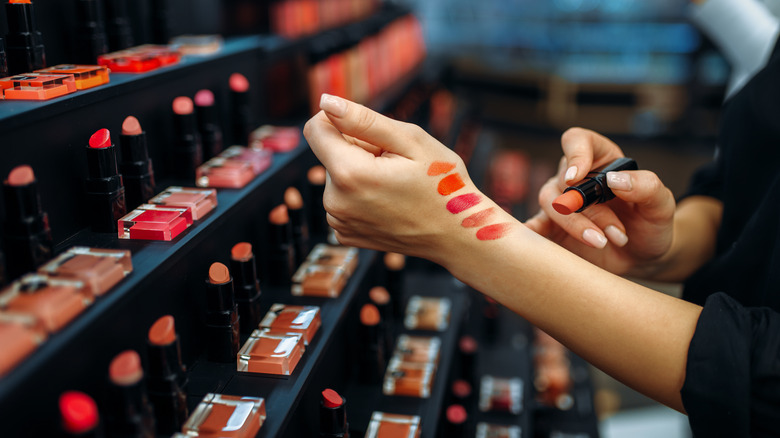 Nomad_Soul/Shutterstock
We may receive a commission on purchases made from links.
National Lipstick Day is coming up on Saturday, July 29, and while the annual ode to everyone's favorite lip product is certainly not a bank holiday, it is a major shopping opportunity for makeup lovers everywhere. Department stores, beauty retailers, and makeup brands alike take advantage of National Lipstick Day each year — Sephora, MAC, and Bite Beauty are just three of the many retailers who hosted sales in 2022, for instance — to entice consumers with special deals on their favorite lip products.
Although Lipstick Day deals don't tend to be as heavily advertised as other sale events — such as Christmas steals or even the Nordstrom Anniversary Sale — you can find amazing discounts and promotions. For example, MAC hosted a buy one, get one free promotion on its beloved bullet lipstick collection last year, while Kosas handed out full-size lipsticks to customers who purchased other items. With any luck, the sales will be just as amazing this year, and to help out all the beauty lovers who appreciate a budget buy, Glam's tracked down the best National Lipstick Day deals you won't want to miss.
Deals with major retailers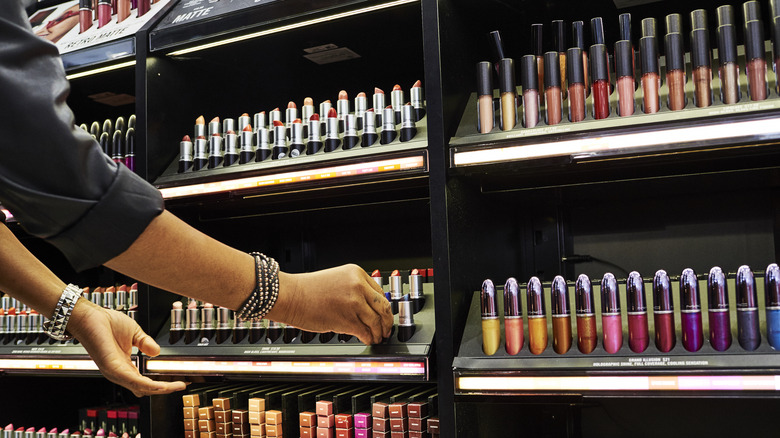 Bloomberg/Getty Images
Naturally, beauty behemoths Ulta Beauty and Sephora are folks' go-to sources for deals. This year, Ulta Beauty is running its National Lipstick Day sale from Sunday, July 23, to Saturday, July 29, and it's offering fantastic discounts on drugstore and high-end brands alike. The beauty giant's biggest promotion is a buy one, get one 50% off deal that features a wide range of popular products, including NYX Professional Makeup Butter Gloss and Maybelline Super Stay Vinyl Ink Liquid Lipcolor. What's more, Ulta's offering 40% off on select lip products from prominent brands like Lancôme, Estée Lauder, MAC, and Tarte.
Sephora has yet to advertise any specific National Lipstick Day promotions, but based on prior years, it's worth checking out the company's website on July 29 to see if any appear. In past years, Sephora's had discounts as high as 50% off for this holiday, so it'll be exciting to see what the retailer has planned for 2023.
Aside from Ulta and Sephora, you can also enjoy sales at department stores. In fact, Macy's is holding a National Lipstick Day sale over the weekend, and we've already spotted some deals on premium brands. The Kylie Cosmetics High Gloss ($12.60) and Bobbi Brown Crushed Oil-Infused Gloss Shimmer ($19.80) are just two steals we're eyeing. Meanwhile, the Nordstrom Anniversary Sale runs through August 6 and has some incredible cosmetics deals, including heavily discounted lip kits, though it's not specific to National Lipstick Day.
Special brand perks for National Lipstick Day 2023
Individual brands are also offering their own National Lipstick Day deals. Lancôme truly came through this year with a buy one, get one free deal on all lipsticks with the code LIPLOVE. These lipsticks typically cost over $30, making this one of the best deals of this year's holiday. Similarly, Anastasia Beverly Hills is offering a buy one, get one 25% off deal with the discount code LIPSTICKDAY. It's not as big a discount as Ulta Beauty's, but given the high price point of the brand, it's still a tempting deal. Other brands are creating special events and contests for National Lipstick Day, including Maybelline New York, which is holding a lip kit giveaway sweepstakes and hosting a National Lipstick Day pop-up in Hudson Yards on Thursday, July 27.
Many popular lipstick brands haven't announced their National Lipstick Day deals ahead of time but have been known to hold big promotions, including MAC, Kosas, and Tarte. If you're a fan of a particular lipstick brand, you should keep an eye on the company's website and social media presence on Saturday, July 29, to see if any surprise deals or offers appear.