How Long Should You Wait To Wash Your Hair After Getting A Fresh Color?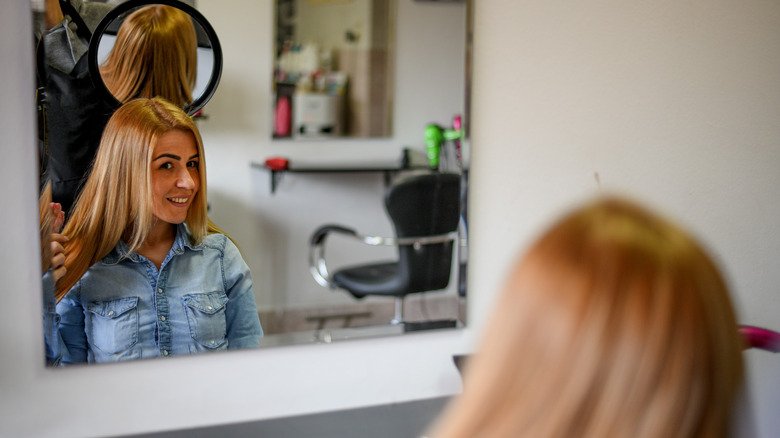 Dmphoto/Getty Images
We may receive a commission on purchases made from links.
All of 2023's most popular hair color trends are super fun and gorgeous, so there's a constant temptation to go to the hair salon and try a new hue every few months. In fact, when leaving the salon, we're eager to show everyone our hair transformation. Then once we get home, we get the instant fear of anything messing up our hair color — including how long we should wait before washing it. While you should wait at least two days to wash your hair after coloring it, according to hairstylist Abbey Brookee via her TikTok video, the truth is that washing your new hair shouldn't mess up if you use the right products. 
In other words, rather than buying into the common belief that washing your hair too soon will ruin it, consider that the products and process you use when washing is what can preserve or destroy your beautiful new hair color. 
Think about the hair washing products you're using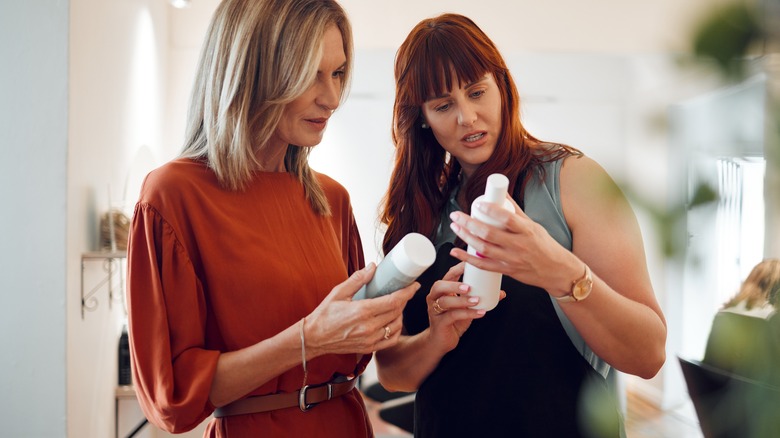 PeopleImages.com - Yuri A/Shutterstock
Believe it or not, washing your hair quickly after coloring isn't usually going to mess it up. So, if the color gets ruined, it likely wasn't due to when you washed your hair. "Washing your hair right after you color it really isn't the problem. Focus more on what products you're using rather than time in between shampoos," Jade Kromer, a hair-color specialist at Juut Salon Spa in Minneapolis, told PopSugar. Therefore, you no longer have the excuse of waiting a whole extra week to wash your hair once you color it.
Nevertheless, Abbey Brookee recommends holding off the wash in order to avoid the new color from fading. "The reason being is because you want your hair color to soak into your hair cuticle as much as possible," she explains via her TikTok clip. A fellow social media user, who goes by Thebeautyxpert, also posted a video suggesting that people wait at least two days to wash their hair, even if they only got highlights. Plus, they also noted the importance of color-safe products. 
Tips for maintaining your new hair color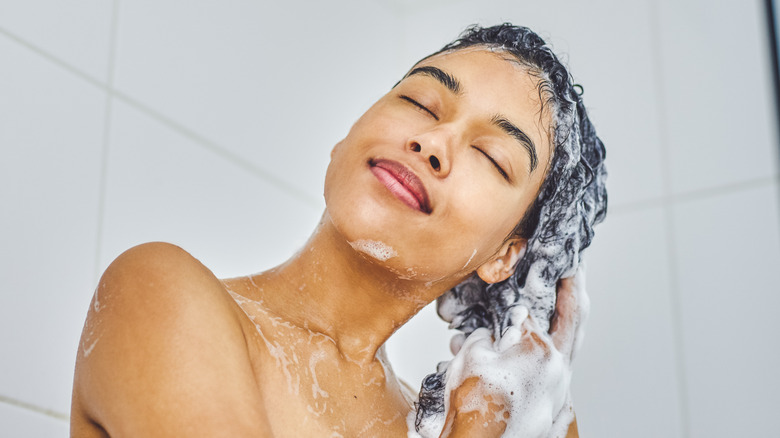 Moyo Studio/Getty Images
If you lost your new hair color after washing it, that probably happened not because of when you washed it but because the water was too hot or because you used products that aren't healthy for dyed hair. "When water is too hot, it opens up the hair cuticle and releases color molecules at a rapid pace. I always recommend a color-safe shampoo and conditioner," Ashley Pineda, a hair colorist with expertise in balayage at High Brow Hippie Salon and Tesler Salon, told Byrdie. So, even if you love scorching hot showers, those high water temperatures could put your fresh hair color at risk.
One well-liked shampoo for dyed hair is the Redken Color Extend Magnetics Shampoo for Color-Treated Hair, available for under $10 on Amazon. The sulfate-free Amazon's Choice product has 4.6 out of five stars with more than 8,000 ratings. If you like that shampoo, consider the Redken Color Extend Magnetics Conditioner, also selling for under $10 on Amazon. Made to help preserve your hair color while nourishing the tresses, this Amazon's Choice item has 4.6 stars, too, with over 5,000 ratings.