Why You'll Want To Answer The 'I Know The Best Spot In Town For' Hinge Prompt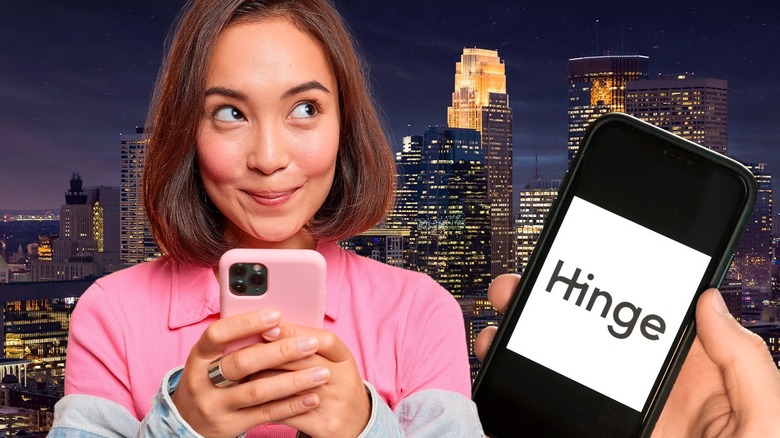 Static Media/Shutterstock
It's no secret: online dating is hard. Whether you're struggling to snag a match, or you're finding it nearly impossible to make a real connection when you're inundated with pictures of guys holding fish, you're not the only one who's having difficulties. But what else can you do? In this increasingly digitized romantic landscape, the monotony of swiping left and right all day can make it hard to avoid the dreaded dating burnout.
Luckily, not all dating apps are created equally. While some are more hookup-oriented (yeah, we're looking at you, Tinder), Hinge is perfect for those looking to settle down. As they say, this is "the dating app that's designed to be deleted," and Hinge encourages its users to create detailed profiles, structured by three prompts that are designed to show the real you.
With so many prompts to choose from, though, the prospect can be daunting. How do you even know which ones to answer in the first place? And how do you go about answering them? Well, there's one in particular that'll get the ball rolling: "I know the best spot in town for..."
What's so good about this prompt, anyway?
On the surface, this prompt may not seem like much, and it's definitely not the only good one out there; Hinge prompts like "the best way to ask me out is . . ." can be just as great to answer. If you're on the shyer side, though, and struggle with turning a great convo over text into a date IRL, the "I know the best spot in town for" prompt is for you. It immediately piques your potential date's curiosity and puts the possibility of a meetup at the forefront of your conversation. 
When crafting your profile and conversing with matches, you'll want to strike that perfect balance between specific and informal. As @thisislarek notes, "You want it to be casual . . . because the goal is to get on the date and get out of the app." This prompt, she says, gives you the tools you need to do just that, and we have to agree. While texting can be a great way to get to know someone initially, though, it's not sustainable. Online dating expert Dr. Jess Carbino told Cosmopolitan that "If you talk with people more in-depth, you're able to discover those things that are more meaningful and distinguishable." And it's much easier to do that in person. So, how can you go about answering it?
The simple secret to answering this prompt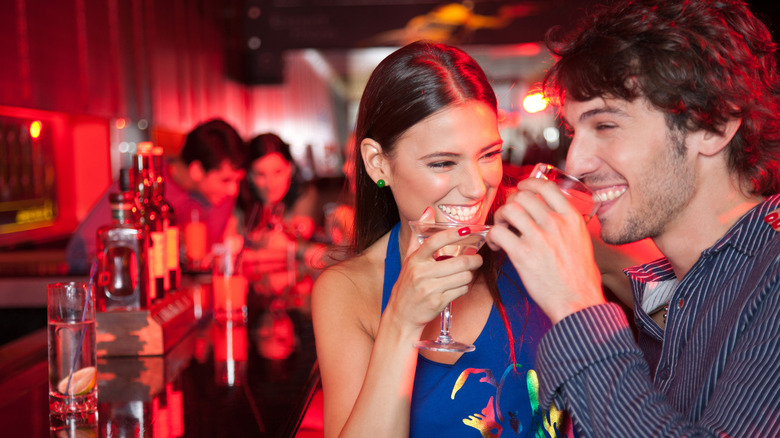 Paul Bradbury/Getty Images
We get it: crafting the perfect dating profile can be intimidating. But this prompt is much easier to answer than it seems — you just need to be specific and, most importantly, true to yourself. Don't answer this prompt with other people in mind. The goal here isn't to water yourself down to seem cooler. It's to find your perfect match! The only surefire way to do that is being yourself from the get-go.
One of the biggest problems with online dating is that it can feel reductive. Though Hinge aims to be more specific than its competitors, people are so much more than the few short sentences and six photos it allows. Use this prompt — and, subsequently, the date itself — to share something you consider to be important or interesting about you. Is it impossible for you to go a day without coffee? Pick out a cute local cafe that makes your favorite kind of latte. It doesn't need to be a traditional date, either.
Do you geek out over comics? Share your favorite comic book store. Whatever you decide, you'll kill two birds with one stone: setting up meaningful dates, with people who share your interests or values. By avoiding basic responses, you can guarantee that you'll still have fun on your date, even if it ultimately doesn't work out. The goal, as Riley puts it, is to actually "get on the dates and get to know each other." So, what are you waiting for?