Why You Should Ditch The Powder And Say Hello To Liquid Blush
When we are in the throes of summer, our makeup must match our sunny temperaments and the soaring temperature outside. Warm, dewy, glowy, youthful, and fresh are the adjectives that come to mind for this purpose. You can try many trends to create a summery glow with makeup, but one that we swear by above all others is using an adequate amount of blush on your cheeks.
Powder blush may be the go-to makeup item for most of us when it comes to this cosmetic, but it isn't the best way to achieve the summertime glow you crave. For that, it's best to turn to a cream or liquid blush formula. Its creamy consistency makes it easier to blend into the skin to ensure you look like you are naturally flushed from within, glowing like a goddess.
Not quite convinced a liquid blush is up your alley? Trust us, once you have figured out how to properly apply cream blush, you won't regret ditching the powder.
Powder vs. liquid blush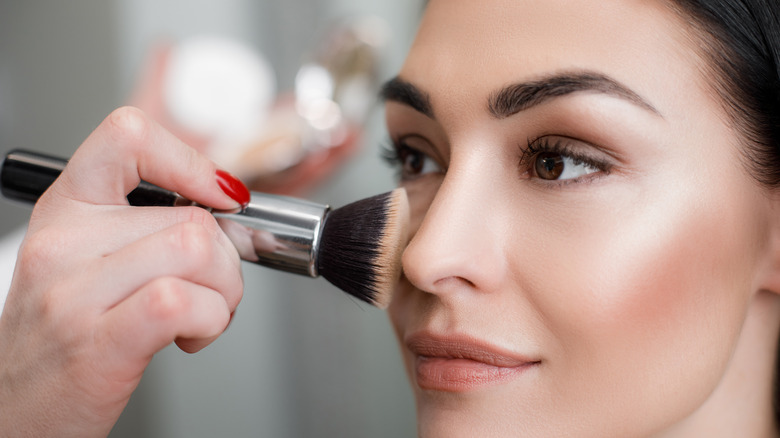 Olena Yakobchuk/Shutterstock
The biggest advantage of a liquid blush is the natural-looking flush it provides to the cheeks, which mimics a soft and healthy glow from within. Liquid blushes are easy to blend and are therefore buildable, as you can control the intensity of color on the cheek. Liquid blushes are also versatile, as they can be used in multiple ways on the cheeks, lips, and eyes for a monochromatic look. They are particularly good for people with dry skin, as they don't highlight texture on the skin or dry patches. Liquid blushes are also known to last longer and are therefore preferred for important events.
However, this doesn't mean they are perfect. Liquid blushes can be difficult to blend and can remove the foundation underneath. They can also fade if you have excess oil on your skin. Powder blushes are used by many because they are quick and easy to apply. Powder blushes also offer a matte finish, which is preferred by some, and blending is simple.
That being said, however, powder blushes can sometimes look heavy and cakey on the skin. Even worse, they can emphasize dry patches and texture.
Ditch the powder by converting it to liquid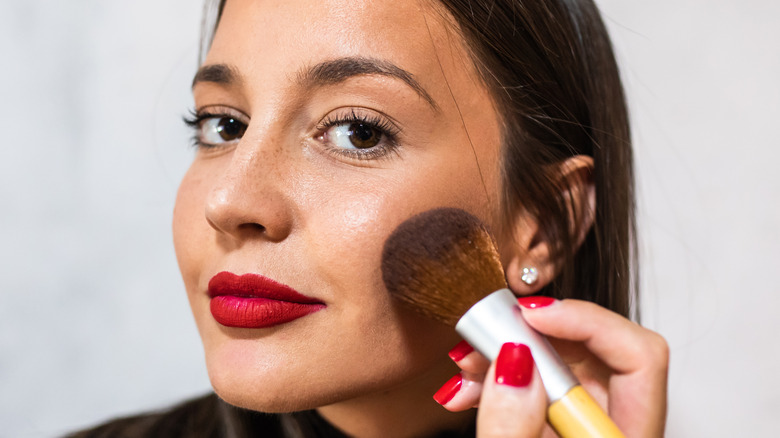 Aleksandar Jankovic/Getty Images
If you don't want your powder blush to go to waste, you can be resourceful and simply convert them into liquid ones. Makeup professional Ashley Teague explained how to do so on her website, Red Apple Lipstick. To begin, scrape a dime-size amount of blush onto a plate or the back of your hand.
There are two ways you could go from here. If you choose to use an oil base, just add one drop of it to the loose powder. You can add a couple more if needed until you have a glossy, liquid consistency and a bright color. If you don't want to use oil, you can follow the same process with a moisturizer, but ensure that the ratio of the moisturizer is a little less than that of the powder. Teague says the result will be a creamy or mousse-like consistency with a soft color.
"Having dry skin, I prefer a makeup sponge and dabbing or stippling because I've found that brushes and sweeping or swirling motions tend to enhance dry patches and can end up streaking if not done correctly," Teague stated on her site. "I encourage you to try both and see what works best for you."