Kate Middleton's Favorite Hair Products Are The Secret To Her Shiny Tresses
Static Media/Shutterstock/Getty
We may receive a commission on purchases made from links.
As the future Queen Consort of the United Kingdom, Kate Middleton sets fashion and beauty trends no matter what she wears. But some parts of her look are so objectively beautiful that she'd still have millions of people trying to copy her, even if she weren't the Princess of Wales.
Middleton's signature brown glossy hair is one of the most coveted elements of her overall style. She's been known to wear her hair in numerous ways, from intricate ball-ready updos to curtain bangs with casual waves, but no matter what cut and style she goes for, her hair is always shiny. According to Town and Country, the shampoo she uses to achieve such gleaming tresses is believed to be Kérastase Discipline Bain Oléo-Relax.
Additionally, it's been reported that Middleton uses two other products that are known for their shine-inducing qualities: Kiehl's Creme with Silk Groom (which is not available at the time of writing) and L'Oréal Paris Elnett Satin Extra Strong Hold Hairspray.
While stocking up on these products may help you to emulate Middleton's signature lustrous locks, her regal look is truly executed with a combination of products and master styling techniques.
How these products turn up the shine factor
Kate Middleton's rumored shampoo, Kérastase Discipline Bain Oléo-Relax, has received the relatively high rating of 4 stars on Sephora, with reviewers claiming that it's "worth the hefty price tag" and a "game-changer for unruly hair." Most of the issues that unsatisfied users had with it seemed to be related to the $40 (at the time of writing) price tag.
The shampoo claims to moisturize and control frizz, and is specifically recommended for those with "voluminous hair types." It claims to be good for dry or damaged hair, leaving previously dull locks with a new radiance. Note that while most users seem to be happy with the shampoo, it wouldn't be the best choice for those with oily or fine hair, as ingredients that add shine to dry hair tend to weigh down finer strands and make them look greasy.
Similarly, the L'Oréal Paris Elnett Satin Extra Strong Hold Hairspray, which is $14.99, offers a "brushable hold" without the signature "crunch" of many hairsprays. That explains why it leaves hair with shine, rather than the tacky dullness you can get with some hairsprays.
Meanwhile, Kiehl's Creme with Silk Groom is another product that claims to "condition and smooth" the hair, but as it's not currently available, you could substitute it with a product like Ouai Finishing Crème. At the same price of $26, both products are moisturizing and tackle dryness to give hair a "shiny finish."
Styling to get the Kate Middleton look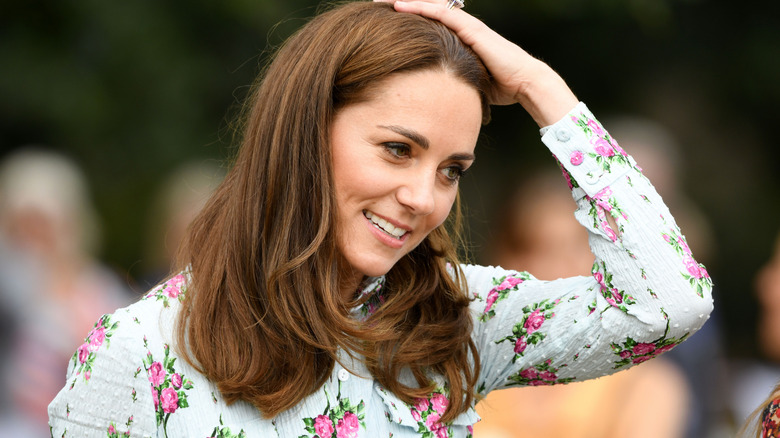 Lingtren.comShutterstock
Using Kate Middleton's favorite hair products is only part of the puzzle; her hairstylists also use specific techniques to get her hair looking as impeccable as it does.
Speaking to Harper's Bazaar, Hari salon senior stylist Miffy Goknil reveals that much of Middleton's beloved look comes down to a great blow-dry. She recommends beginning by squeezing out excess water and protecting your hair with a heat protectant spray before adding moisturizing products (or volumizing products if you have fine hair).
"... blow dry hair in sections starting from the top with a round brush, making sure to get a good bend on the ends and pinning each section into a hair roller," Goknil instructs, adding that it's vital to let the hair "cool and set properly" before taking out the rollers. After giving your hair a shake to return its natural flow, add in your serum or shine spray to turn up the shine factor.
Alternatively, if you want to achieve the straight hair look that Middleton wears less frequently than her bouncy waves, A-list stylist Jason Collier recommends the use of smoothing spray (via Hello!).
"To achieve [Middleton's straight hair], Kate's locks will have [been] blow-dried with a large paddle brush, smoothing it through the mid-lengths, before curving it out at the ends ... It looks like a shine spray and split end balm have also been applied post blow-dry, to finish off the hair perfectly."