Shift Weddings: What They Are And How They Can Keep Your Big Day Affordable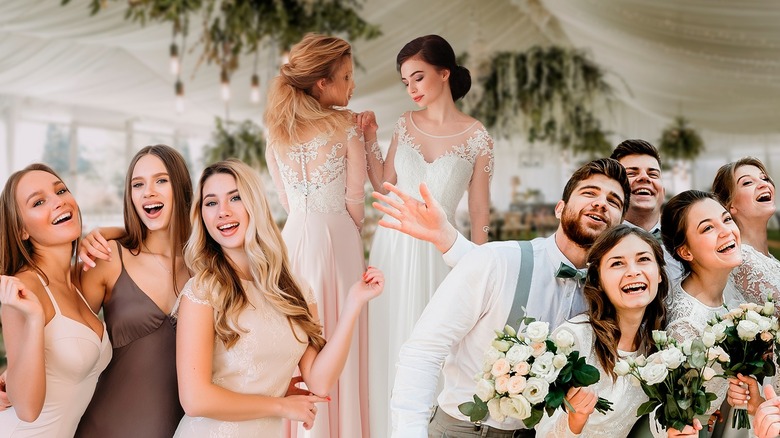 Static Media/Shutterstock
Weddings and everything that goes into preparing them can be an anxiety trigger. One of the most significant issues among mates gearing up to say "I do" is the guest list. This thoughtful list can dictate how much you spend on food, the venue, and even pre-wedding goods such as invitations and keepsakes. Luckily, there is a new way to manage your number of guests better and save you some money in the process.
In recent years, a popular nuptial style known as the "shift wedding" has emerged, and couples couldn't be happier. Shift weddings became popular during the 2020 COVID-19 pandemic when lovebirds were scrambling to figure out how to conduct their ceremonies safely. The concept is fairly simple: the wedding day is split into two shifts, with invitees attending one or the other. Picking who is invited to which shift should depend on their age and social groups. The idea is to keep costs manageable while enjoying each of the guests. "Shifts" may not be a wedding trend or tradition people are used to, but they can be a huge stress reliever.
Second shift can be for the guests who like to party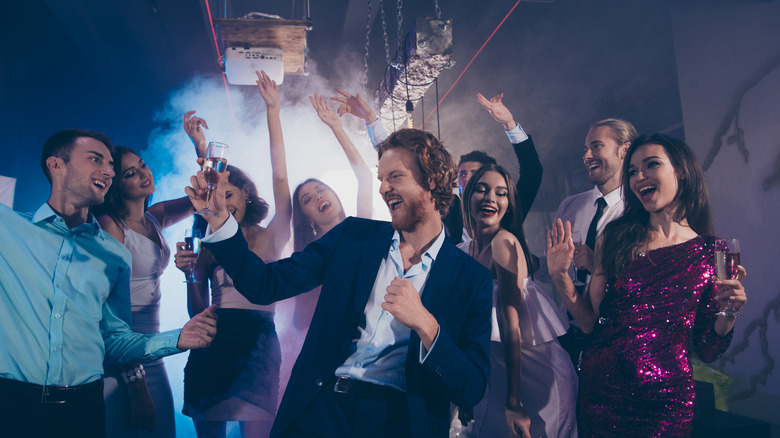 Deagreez/Getty Images
If you're planning a wedding, you're likely preparing for a reception filled with music, plenty of grub, and alcohol. The Knot reports that in 2021, most wedding DJs cost around $1,400. Couples spend a good chunk of money to guarantee visitors have a good time, which is why receptions make an excellent "second shift." The partygoers who received invitations will want to celebrate the big day, but they may appreciate the evening festivities more than the sermon and vow exchange.
In many wedding receptions, as the night wears on and the dance floor battles intensify, the older crowd tends to bow out gracefully. Shelley Stewart, General Manager at Palm Valley by Wedgewood Weddings, says this "second shift" represents how receptions end up. "You can take advantage of the natural shift that happens during receptions," she shared in a blog post on the company's website.
Courthouse weddings make a great first shift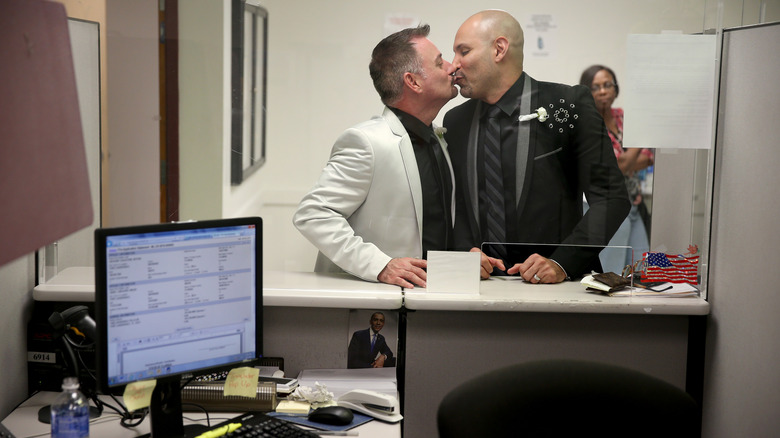 Joe Raedle/Getty Images
Many couples go to their local courthouse to get married. Not only is it convenient, but it's also cost-efficient. Fees for weddings in government buildings can vary by location, though counties such as Miami-Dade County charge around $88. In many places, military members or first responders can take advantage of this service for free.
Courthouse matrimonies serve as terrific "first shift" weddings. Couples should check with their local government to see if there is a limit on how many people can attend a courthouse wedding. Bringing along 15-20 guests who want to witness the big day can be the "first shift." The pro is that couples won't have to pay for each person. Additionally, with "first shift" already paying their respects to the happy couple, they likely won't be offended to skip the bigger celebration or "second shift."
While shift weddings were initially a way to practice social distancing during the pandemic, it has now become a popular money saver. With the average wedding costing roughly $30,000, partners always appreciate preserving some extra funds. Even better, no one on the guest list is excluded, not even those B-list wedding guests. It's a win-win.