The Chub Rub Patch: What Happened To The Product After Shark Tank?
We may receive a commission on purchases made from links.
It's hard to enjoy a fun day out when you're dealing with inner thigh chafing. You may have tried Vaseline, baby powder, deodorant, or shapewear to prevent that uncomfortable burning sensation, but there's a new product on the market that's much more comfortable. The Chub Rub Patch was invented by entrepreneur Brittany Lammon, who had the opportunity to pitch the product on Season 14 of "Shark Tank." 
Lammon launched The Chub Rub Patch in 2021 with the hopes of helping people to prevent inner thigh chafing, also known as "chub rub." As someone who struggled with it for years, she wanted to help alleviate others' pain and discomfort. The patches are made of hypoallergenic, medical-grade material, which comfortably sticks to the inner thighs. They come in several different skin tone shades and can be worn for three to four days at a time. Even before pitching to "Shark Tank," Lammon had already been going viral on TikTok, which is how producers found her and reached out, according to a 2023 interview with business strategist Joe Pardo. Though she didn't get a deal, Lammon continues to prove her success with this clever product.
The Chub Rub Patch Shark Tank pitch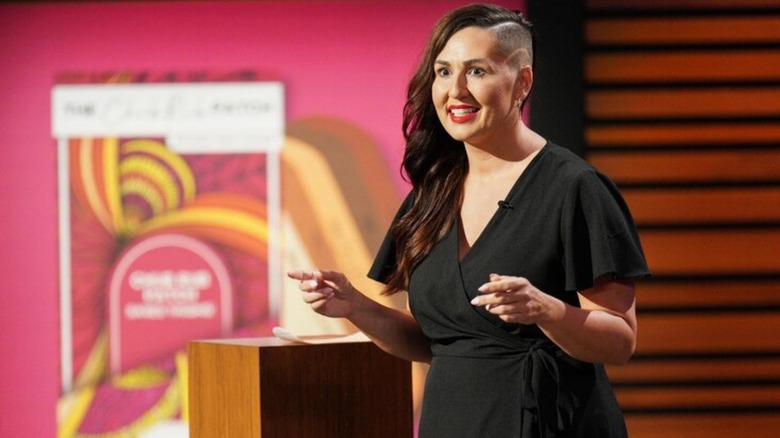 ABC
Brittany Lammon asked the sharks to invest $200,000 in exchange for 30% equity in The Chub Rub Patch, her anti-chafing invention. She impressed the sharks with her sales numbers, earning $105,000 in the first year of business by selling directly from the brand's website. Lammon mentioned how, on top of starting her own business, she works full-time as a hair and makeup stylist for World Wrestling Entertainment (WWE), which helped inspire her to create the patches after seeing her athletic clients deal with chafing. 
Sharks Robert Herjavec and Mark Cuban shared their own struggles with chafing and how they understood the product's usefulness. Lammon went on to explain how chafing is a common issue, and even though there are anti-chafing powders and creams out there, these are not an all-day fix like water-proof The Chub Rub Patch. Though the sharks liked the idea, most of them found that The Chub Rub Patch wasn't an investable opportunity for them. For Mark Cuban, he felt like putting Vaseline on his thighs worked just as well. Lori Greiner told Lammon that she might not even need an investor to continue with her business. Lammon unfortunately walked out without a deal, but this certainly didn't stop her.
The Chub Rub Patch after Shark Tank
Whether or not you get a deal on the hit ABC show "Shark Tank," pitching your own idea to the sharks is a monumental achievement in itself. For Brittany Lammon, her patch is certainly one of many "Shark Tank" pitches that didn't get a deal but still saw success. Lammon's episode aired in February of 2023, and she was well-prepared for the influx of sales that would come in the weeks following. In her interview on "The Joe Pardo Show," she explained how she hired a brand strategist to help her figure out how much inventory she needed. She was also able to get The Chub Rub Patch on Amazon just ten minutes before the episode aired, which would tremendously boost her sales. 
In the weeks after Lammon's "Shark Tank" appearance, the sales numbers exceeded her expectations. "It was ten-fold of what we were selling [before], so it was incredible to be on the show," she said in her interview. The television exposure attracted new customers as well as entrepreneurial podcasts who wanted to have her on the show, including "The Joe Pardo Show" and "Inventors Helping Inventors." The Chub Rub Patch was also featured in a local news segment for KSEE24 News in Fresno, California. 
Is The Chub Rub Patch still in business?
The Chub Rub Patch is still going strong after two strong years of business so far. You can find the patches on the brand's website and on Amazon. The Chub Rub Patch continues to have a very active social media presence, posting frequently on Instagram and TikTok. In fact, the brand's TikTok page has nearly 90,000 followers.
The customer reviews are overwhelmingly positive, with a majority of 5-star reviews on Amazon. One happy customer, for instance, wrote about how the patches saved her husband while on a trip to Disney World in 100+ degree weather. Another wrote, "I used these for a 3-day festival and these lasted through 10 hours of dancing, walking, sweating, etc." If you too are a member of the chub rub club, this product could help you out. And these patches don't only have to go on your thighs. You can place them anywhere you experience chafing, like your armpits, as shown in this promotion video.
What's next for The Chub Rub Patch?
The future is bright for Brittany Lammon and her anti-chafing patches. Though they aren't sold in large retail stores like CVS or Walgreens, it is something the brand is working towards. This way, customers won't have to solely order The Chub Rub Patch online or wait for shipping.
On the "Inventors Helping Inventors" podcast, Lammon mentioned she's been contacted by running companies as well as military organizations and horseback riding gear brands about promoting the patches. These were markets she wasn't expecting to reach, which just goes to show how many people are seeing her product and how they can benefit from it.
In this interview, Lammon also stated that she's working on expanding the line, so we may see some new products in the future. She continues working for WWE and plans on keeping The Chub Rub Patch going so her customers never have to worry about chafing.