Meghan Markle's Favorite Foundation Is A TikTok Fave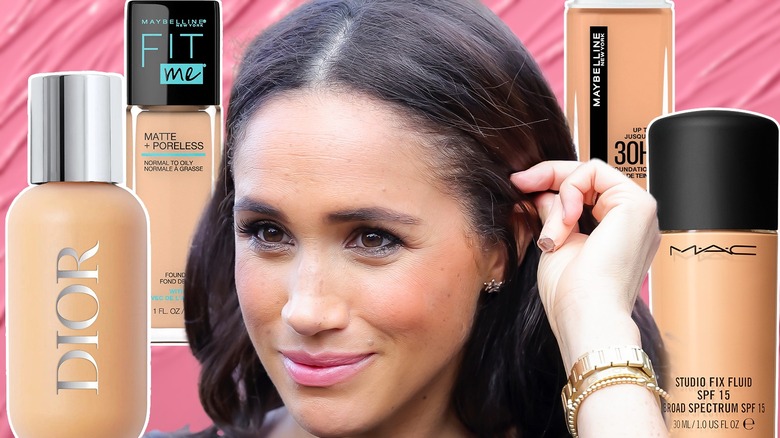 Static Media/Shutterstock/Getty
We may receive a commission on purchases made from links.
A style and beauty icon with quite the impressive list of achievements behind her, Meghan Markle has the ultimate selling power when it comes to makeup. If she uses a product, we want it. Luckily, her favorite foundation is one of Markle's go-to beauty secrets that is likely to leave fans satisfied, as many TikTok users confirm that it's a must-have product.
For her 2018 wedding to Prince Harry, the Duke of Sussex, Meghan, the Duchess of Sussex, opted for Dior Backstage Face & Body Foundation, per The Knot. Many commented on Markle's low-key look, which almost made it seem as if she wasn't wearing foundation at all. The sheer product provided just enough coverage to even out Markle's tone without hiding her signature freckles — a feature that she has openly spoken about embracing.
It wasn't just Markle's wedding look that cemented her as a fan of barely-there makeup; in many of the appearances she's made since, Markle has worn mostly light-coverage foundation, preferring to take a heavier hand with eyeliner and mascara. As she often has the same wedding glow that she rocked back in 2018, we can safely assume that she uses the Dior foundation frequently.
What they're saying on TikTok
Since it was revealed that Dior Backstage Face & Body Foundation is one of Meghan Markle's favorites, TikTok beauty influencers and content creators have made it their mission to review the sought-after product.
Many users, including Rachel Wiseman of @rawmakeup, gushed about their love for the foundation, noting how radiant it made their skin look. TikToker Peggy Xu commented that the formula was particularly "liquidy" yet still "really blendable" and provides "really good coverage." Xu also noted that the foundation gives a "skin-like finish," which explains why Markle's wedding look was so barely there.
While the majority of reviews are positive, there are also some TikTok users who aren't fans of the product. User @rxbeautyxo said, "Honestly, the product is stunning on anyone who has no texture or even a tiny bump on their face," captioning the video, "It's a no from me." Their biggest gripe with the foundation was that it highlights imperfections and textures on the skin that you may prefer to conceal. They finished the video by confirming that the product is "not worth the hype."
Despite the criticism, many reviewers do seem to love this product, so it may be worth trying for yourself! At the time of writing, the foundation retails for $43.
How to wear it like Meghan Markle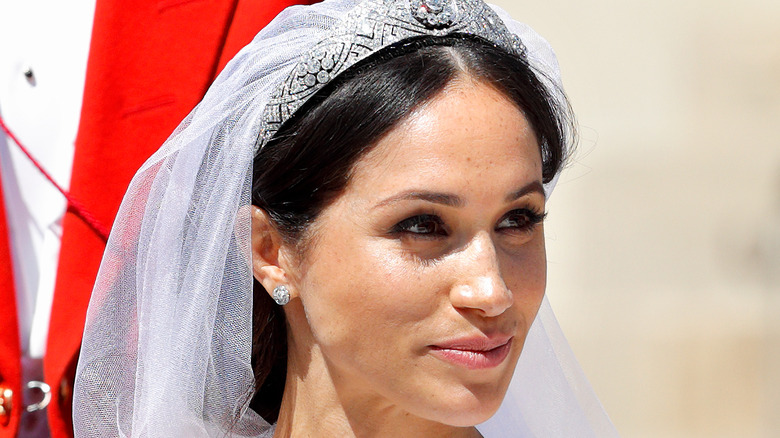 Max Mumby/indigo/Getty Images
To truly capture Meghan Markle's wedding look, you'll need her Dior foundation and also the techniques that her makeup artist Daniel Martin employed on the day.
In an interview with Grazia, Martin, who has been friends with Markle for more than 10 years, confirmed that his favorite method of foundation application is using his hands. "Use your hands," he advised. "If you do your make-up [with] your hands, you'll notice there's a glow, a radiance, a liveliness to the skin that you don't get using the tools."
Martin also explained that Markle didn't even have a makeup trial before her wedding day — the two discussed the details over text. Rather than being picky about every small detail, Markle focused on relaxing on her wedding morning and trusting that her inner-confidence would cement the look.
"It's all about being comfortable in your own skin, because it's such an iconic moment in anyone's life," Martin added. "I love her freckles ... She has incredible skin so it was easy — it was a visceral reaction."
Speaking to Brides, Martin said that he took into account the various places Markle would appear on her wedding day, making sure he wasn't applying too much foundation that would look too dark in certain lights. In addition to the Dior foundation, he used "waterproof mascara, lash accents on her outer corners, and filled-in brows" along with a moisturizing lip balm to give Markle her dream wedding look.