How To Wear White Jeans For Fall - Because The Labor Day Rule Was Made To Be Broken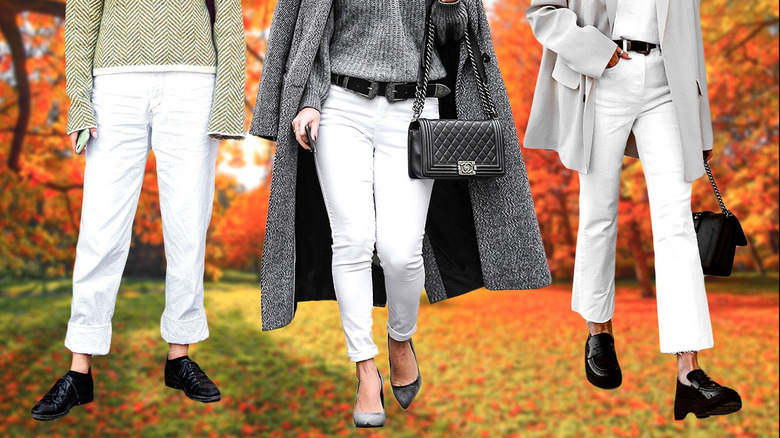 Static Media / Shutterstock / Getty
Everyone knows the "No white after Labor Day" rule, and honestly, we want to roll our eyes every time anyone brings it up. White is a versatile and classic neutral, and we refuse to listen to an old, outdated rule telling us we're not allowed to wear the timeless hue once September kicks off. Thus, we'll continue wearing our white tops, outerwear, and jeans after Labor Day — these garments are too chic to stop wearing just because of a dated rule.
While not every white outfit will work for the fall season, you should continue wearing your favorite white jeans. Some style tips for wearing white jeans in the fall include adding darker hues and neutrals to the ensemble and thinking about your footwear and accessories. As long as you can make the rest of your outfit more fall-like, we see no problem with wearing white jeans during the fall season — actually, we encourage it.
Wear your white jeans with boots
We can't think of any other footwear that screams "fall" more than boots, so you should break out your favorite pair to make your white jeans look more fall-appropriate. While sandals and flip-flops work with white jeans in the summertime, boots are a much better choice for fall fashion.
Rock a darker top
As much as we love rocking monochromatic white outfits in the summer, we prefer more balanced looks in the fall. Consider pairing your white jeans with a top in your favorite dark fall color or neutral — such as burnt orange, burgundy, or brown — or wear a black shirt for a noticeably contrasting, classic look.
Dress appropriately for the weather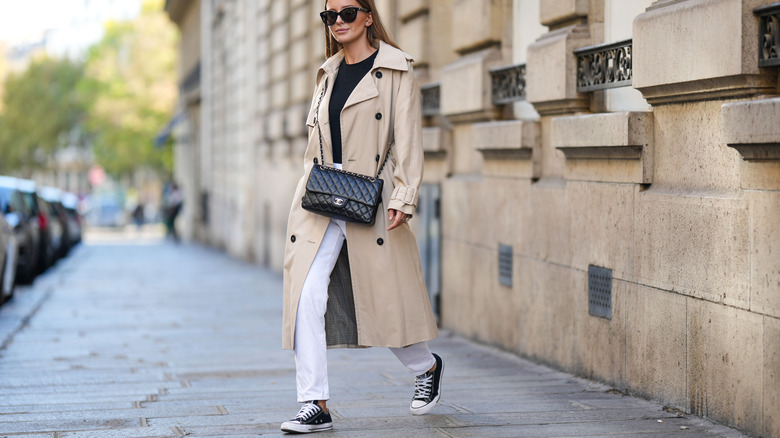 Edward Berthelot/Getty Images
White jeans are still jeans, so they should keep your legs warm on chillier fall days. With that said, you should wear clothes that will help you stay comfortable in colder fall weather — swap your sleeveless tops for long sleeves and sweaters, and add a jacket or coat if necessary.
Remember to accessorize mindfully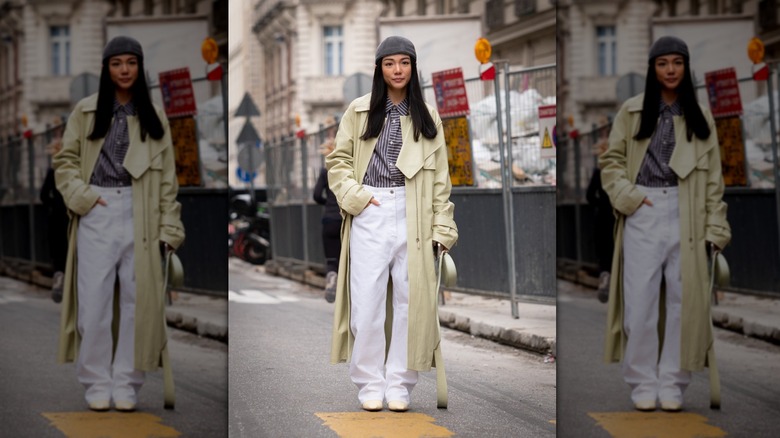 Claudio Lavenia/Getty Images
We probably sound like your parents by this point but remember to be practical with your accessories in the fall and winter seasons. In other words, a cute hat and gloves are perfect additions to your white jean ensembles on those chillier days. Body chains and sunglasses are better for spring and summer.
Consider off-white and ivory options
Anyone feeling reluctant about jumping into crisp, classic white jeans in the fall — if that's not usually what they wear — can ease into the look by starting with more of an off-white or ivory option to test out the style. If you're not sure about that, begin with creamy beige or jeans in other light neutrals.