What You Should Know About Topilase, The New Fix For Excess Filler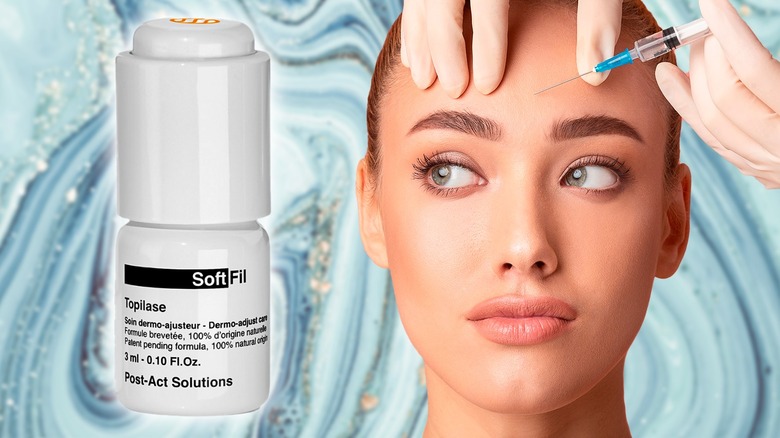 Static Media/Shutterstock
If you've gotten hyaluronic acid (HA) fillers — like JUVÉDERM and Restylane — and are looking to smooth out or subtly reduce the effects, you should know about Topilase. Think of it akin to filler dissolving — without the dramatic results or painful needle. "It certainly doesn't dissolve all the filler, but it appears to reduce it," board-certified facial plastic surgeon Dr. Yael Halaas tells RealSelf.
According to the American Society for Dermatologic Surgery, HA can help restore volume to the lips and reduce the appearance of fine lines, wrinkles, and folds in the face. It is magic in a syringe. However, too much fill can leave you with an undesired look. That is where Topilase comes in. Apply this topical after your procedure, and it may help adjust swollen and uneven tweaks.
It is available in Europe and other international markets but not yet accessible in the U.S. (yet!). Topilase is the first of its kind, and it might need a spot in your HA filler routine.
Topilase is a pain-free way to subtly adjust uneven or overdone HA fillers
The makers of Topilase, SoftFil, note that the topical has "100% natural origin ingredients" and has "no reported side effects." It is made from a mix of essential oils (helichrysum, lavender, cyst, myrrh), aloe vera, and a complex of enzymes. Its formulation soothes, tones, purifies, repairs, and reduces swelling. 
"Patients have been very happy with their results," Hema Sundaram, board-certified dermatologist and a principal investigator on the promising pilot evaluation conducted of Topilase, tells Harper's Bazaar. "To me, Topilase is a true innovation, because it's a completely noninvasive way of perfecting how the skin looks after HA injection. It can be that final icing on the cake that helps patients achieve the most natural-looking results."
According to SoftFil, the Topilase cream is simply massaged on the overfilled, swollen, or uneven area. It can be used in conjunction with a dermaroller for better results. Some cases may require up to four weekly sessions to see the desired effect. The after-effect (and total sessions) depends on the amount of filler injected, the filler's texture, when the procedure occurred, and how deep the injection is. Apart from not requiring a needle, Topilase is different from hyaluronidase injections in several ways, but it definitely isn't kicking traditional filler correctors out of the medicine cabinet anytime soon.
Topilase vs. injectable hyaluronidase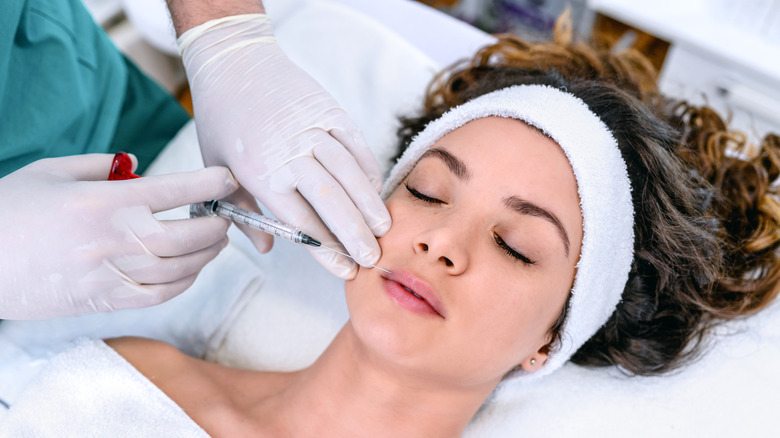 Bluecinema/Getty Images
Since Topilase is intended as a topical cream and not an injectable (like hyaluronidase, which is used as an injectable to dissolve filler), it is only fit for areas with thin skin. "No topical is going to replace an injection," Dr. Halaas tells RealSelf. However, Topilase can work its magic in some areas. "What can be impressive is that with thin-skinned areas, like lips or under-eyes, is that it did appear to reduce the overfilled effect," says Dr. Halaas.
Topilase is not a replacement for injectable hyaluronidase — in fact, it's a "cosmetic product, not a prescription medicine," Dr. Emily Mehta, one of the London-based practitioners who used the product before it launched in the U.K., tells Aesthetic Medicine Magazine. "You have to use it only when the filler is superficial; if the filler is sitting on the bone, then Topilase isn't going to do anything." Hyaluronidase, on the other hand, can correct problems with HA fillers that occur deep within the skin.
Doctors also keep it on hand in case of vascular occlusion, a complication where the filler seeps into the bloodstream or blocks arteries (via the American Board of Facial Cosmetic Surgery). If this occurs, oxygen and nutrients can't get to the skin, resulting in bruising, discoloration, and swelling (and even skin death in severe cases and if not treated quickly). Topilase, of course, will not help emergency complications like that. For minor tweaks and a natural finish, talk to your dermatologist or cosmetic surgeon about adding Topilase to your future filler procedure. Although it's not available in the United States yet, some experts believe it's on its way.