5 Hair And Skincare Uses For Castile Soap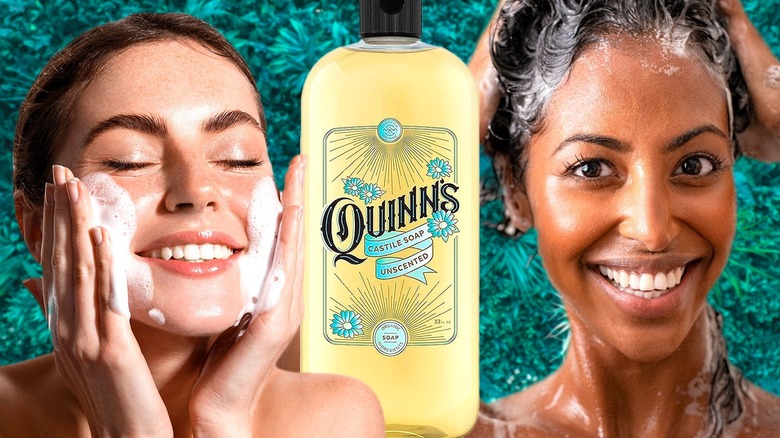 Static Media/Shutterstock
For sensitive individuals, Castile soap can be a smart choice. This gentle (yet strong!) soap is all-natural and made out of vegetable oil, making it vegan, non-toxic, and environmentally friendly (via Healthline). Castile is also ideal for individuals with dry skin as oils that comprise the soap — traditionally olive oil, but others like coconut, castor, and hemp can be found in many today — hold a lot of moisture properties, which is also the reason you should use Castile soap for hair and skin.
"Castile soap can be effectively used for cleansing the body and hair — but can also be used as an all-purpose cleanser for household cleaning, washing clothing, and cleansing makeup brushes and sponges," cosmetic chemist Kelly Dobos tells Real Simple. "That being said, castile soap needs to be diluted prior to use since it is very strong." It can be combined with distilled water, other moisture-rich oils such as coconut or vitamin E, and essential oils for a soothing aroma.
Besides its versatility and customizability, Castile is also environmentally friendly because it's biodegradable. Plus, you can replace your body wash, shampoo, dish soap, carpet cleaner, etc., with Castile, which lowers your plastic consumption. There are so many reasons to make the switch to a Castile household. So first, focus on your skincare and learn how to create a hair and skin routine based around eco-friendly Castile soap. 
Body wash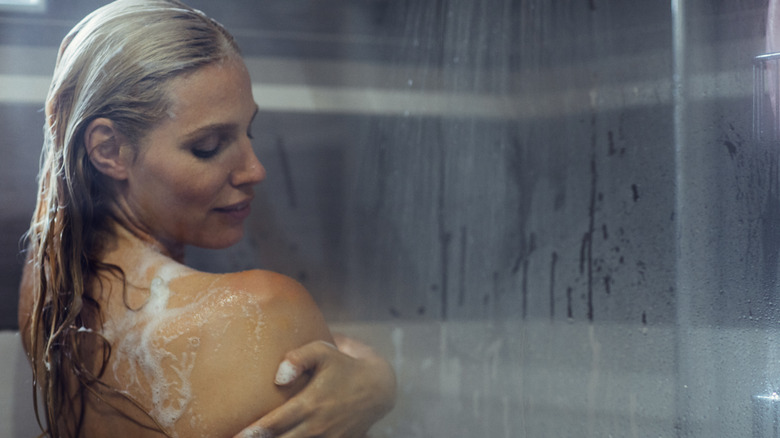 Vgajic/Getty Images
The perfect body wash is hard to find, so why not make your own with non-toxic Castile soap? A body wash with Castile soap is not only great for you but also good for Mother Earth as it keeps more plastic out of our landfills. Plus, when you make your own, you can recycle the same container over and over again. Glass is the best choice because it can be washed out easily, and you will not get any chemical output like you would from plastic. 
If you prefer to save the extra step and skip on the dilution, Castile body wash can sometimes be used on its own in the shower, as the water from the shower will dilute it. Dr. Bonner's suggests "pre-diluting" their pure Castile soap in a "separate container," but some people prefer to use the shower water to dilute it. "It's a matter of personal preference," the organic soap company notes on its website.
Feel free to combine other ingredients as well. Honey, for example, is a beneficial additive to this simple body wash recipe as it not only can add extra moisture to the skin but even "kill bacteria that can cause acne or body odor" (via The Healthy). It's not just a superfood you can digest — honey is a superfood for your entire exterior as well. 
Shave oil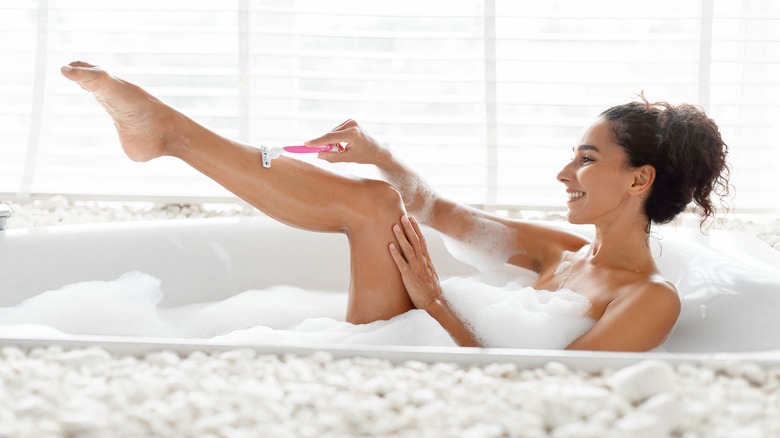 Prostock-studio/Shutterstock
If you've always been someone who uses a special cream for shaving, you'll soon switch to Castile shave oil after seeing and feeling the results. Castile makes a top-notch shave oil because, as mentioned, it provides moisture, leaving your shaved skin silky smooth. It lathers like any store-bought cream and contains fewer ingredients, which is a win for those who prefer a natural product.
When it comes to using Castile oil for shaving, simply mixing the concentrated Castile oil with plenty of water will be enough to lather onto your body for shaving. However, some essential oils, like tea tree oil, may help with razor burn. "Tea tree oil is extremely rich in antibacterial and anti-inflammatory properties that will help you get rid of redness and itchiness caused by razor bumps," spa owner Ania Siemieniaka tells The Strategist.
Only a few small drops will do! For even smoother, more supple skin, mix the Castile soap with water and coconut oil. This anti-inflammatory, antibacterial oil also works wonders for dry skin and any irritation you may experience (via Healthline). 
Facial cleanser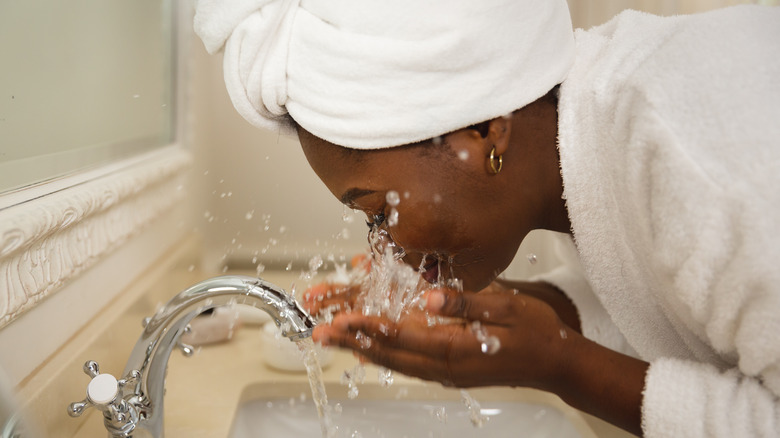 wavebreakmedia/Shutterstock
A quality cleanser is vital to any skincare routine. A cleanser's job is to get rid of any makeup, dirt, germs, pollutants, dead skin cells, and pore build-up that may have emerged throughout the day or while you were sleeping. If you're looking to change your over-the-counter cleanser for a Castile cleanser with fewer ingredients, minus all the things you should never put on your face, all it takes is a few minutes.
When using Castile soap as a face cleanser, it's perfectly fine to use it as is, straight out of the bottle, as long as you dilute it with water from the faucet as it comes in a concentrated form. Simply wet your face with the newly mixed formula, put a penny-sized amount on your hands, and lather away, being sure to get into the crevices around your nose and avoiding your eyes as Castile soap may sting. 
You can also add other ingredients to create a more spa-like experience. For example, adding a bit of flower water, such as rose or geranium, and a couple of drops of a face-beneficial essential oil, such as lavender, which works to calm redness, can make washing your face a more relaxing experience. 
Makeup remover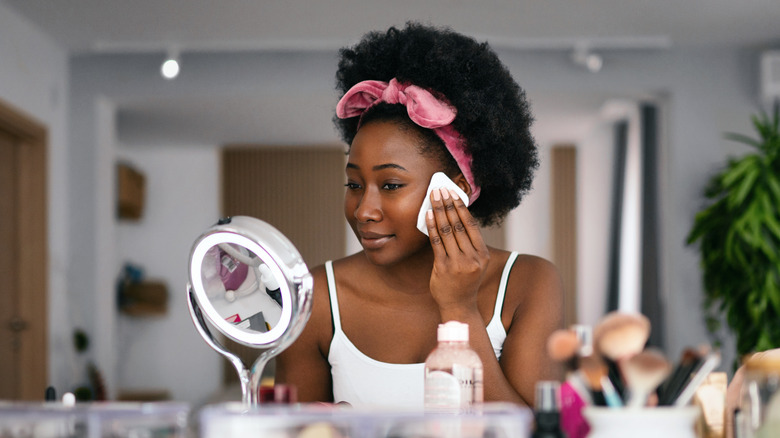 Aja Koska/Getty Images
Along with being an overall cleanser that rids the face of debris and other pore-clogging pollutants, you can also make a DIY makeup remover using a bit of Castile soap. Mixing ⅓ cup of distilled water with 1 teaspoon of Castile soap, 2 tablespoons of coconut oil, and about 5 drops each of vitamin E or jojoba oil creates a simple yet effective makeup remover that can replace your over-the-counter choice easily.
All the ingredients in this makeup remover have hydrating properties and help protect the skin's natural barrier. The power of the oils protects your face's natural oils rather than stripping and replacing them.
So, unlike many other products you may find on the pharmacy or drugstore shelf, this makeup remover works with your natural skin to give you the best possible healthy glow. It's also gentle yet powerful enough to remove mascara! Best of all, these non-toxic ingredients aren't damaging to your skin and lashes, giving you peace of mind every time.
Shampoo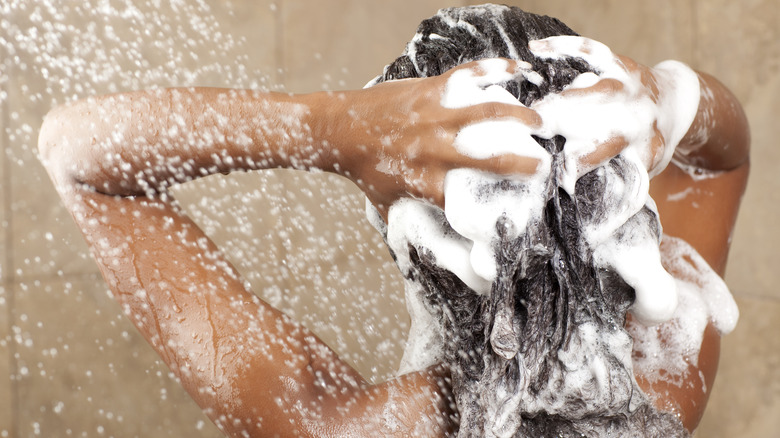 Ruslandashinsky/Getty Images
Finding the right shampoo can be tricky as everyone has their own individual hair needs. However, from straight to wavy to curly to dry to oily hair, there is a Castile recipe for you — you just have to find the right combination of ingredients. One thing to note, though: "Despite the fact that it is a gentle cleanser, it's very clarifying and can end up stripping your hair color," hairstylist April Kayganich tells Byrdie. So if you have color-treated hair, it's best to do this sparingly.
For oily hair, 2 tablespoons of Castile soap and 3 tablespoons of distilled water can be combined with 1 teaspoon of castor oil, 1 teaspoon of apple cider vinegar, and about 10 drops of rosemary essential oil and grapefruit essential oil. It smells fantastic, and it's effective. Aloe vera gel is another common additive for Castile-based oily hair shampoo because of its ability to get rid of excess oil; plus, it gives your locks a shiny boost.
If you're dealing with severely dry or brittle hair, adding ¼ cup of coconut milk and ½ teaspoon of vitamin E oil to ⅓ cup of Castile soap can help rehydrate your locks without leaving them greasy or heavy. Chamomile and jojoba also work well in this mixture. Since you are using coconut milk in this recipe, be sure to store the shampoo in the fridge, where it will be good to use within a month's time.