Silver Is The Trendiest Fall 2023 Color For Everything, Including Statement Fashion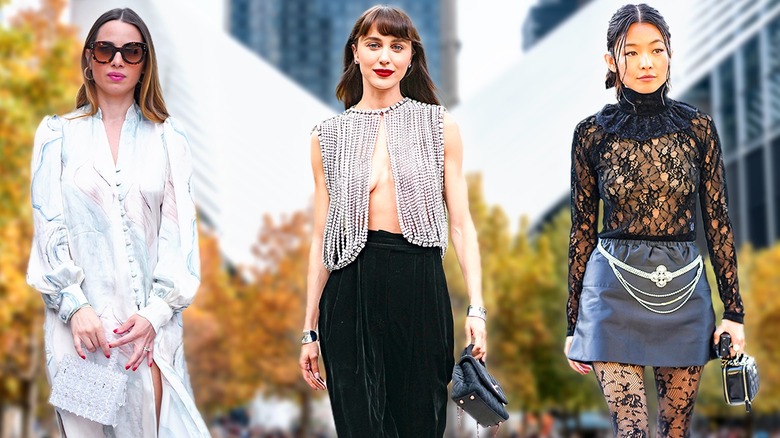 Static Media/Shutterstock/Getty
Although gold will always be the iconic metal that it is, silver is ready for the spotlight. Recently, we've seen how silver has slowly crept up from a mere jewelry piece to the must-have bold accent for your fall outfits. This shiny metallic hue isn't exactly subtle, but it can still fit your current or future style. Perfect for minimalists and maximalists alike, there's no reason not to love this trend.
While some love red for fall, silver is the perfect middle ground for those looking for a trend that's useable for the day-to-day fall look and also turns up the sophistication factor at night. Silver as a metallic is a classic, but when infused into your garments as the base color, it can be a stellar look that leaves your outfit shimmering. Brands from Versace to Chanel have capitalized on the trend, showcasing it uniquely to fit their style. Instead of adopting a color you'll never use again, try silver and get a timeless piece.
Shining bottoms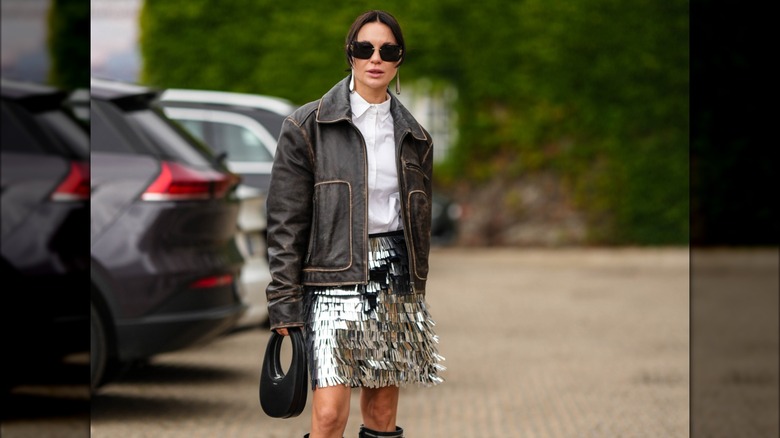 Edward Berthelot/Getty Images
If you're in love with the glimmering aspect of silver, you might as well opt for a bold bottom. Silver bottoms are fun, flirty, and modern. Far from being a safe choice, silver pants or skirts can help bring you out of your comfort zone and make a statement. Add wild accents like fringe or ruffle for something straight off the haute couture runway.
Street-style outerwear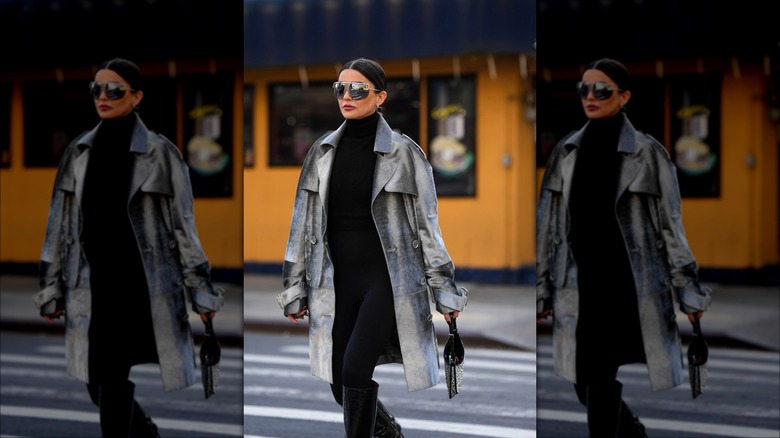 Edward Berthelot/Getty Images
With the start of the fall season, it's time to bring out the coats and jackets. For autumn, you can't forget the statement outerwear pieces that add edge and comfort. Silver outerwear pieces, like coats or jackets, bring a cool-girl futuristic vibe to all your fall outfits. Like a neutral, you can layer silver over any cold-weather looks.
Luxurious dresses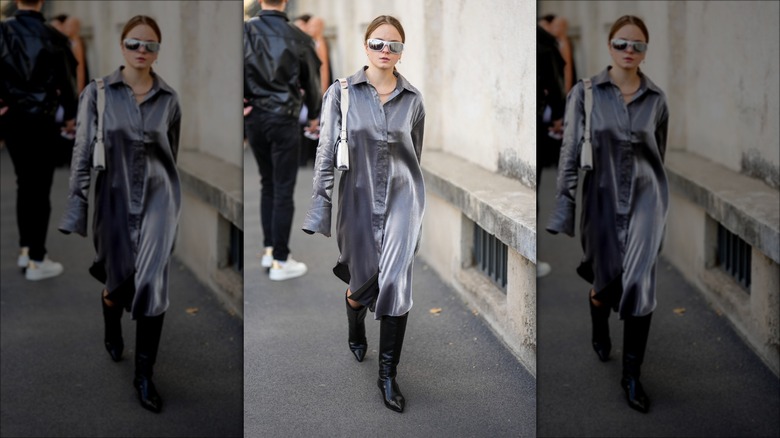 Edward Berthelot/Getty Images
When it comes to wearing silver, you've probably seen it mainly as the go-to for festive dresses. Instead of saving these fun pieces for a special occasion, it's time to bring them out for fall. The Altuzarra Spring Summer 2023 collection showcased how dynamic and flexible a silver dress can be year-round. Surround your silver dress with muted tones to let it shine by itself.
Statement silver tops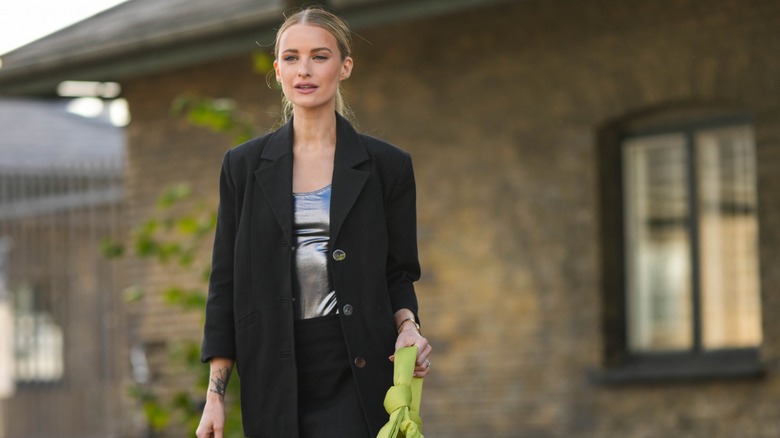 Edward Berthelot/Getty Images
If you want to make a statement, infusing silver into your tops is the best way. Whether it's a '70s-inspired bodysuit, tank top, or a modern metallic blouse, you can go about it in various ways. The Chanel Spring-Summer 2023 show gave us plenty of examples of utilizing silver tops, from button-up layering pieces to standalone gleaming tops. No need to stifle your shine with this trend because the more silver on your blouse, the better.
Metallic details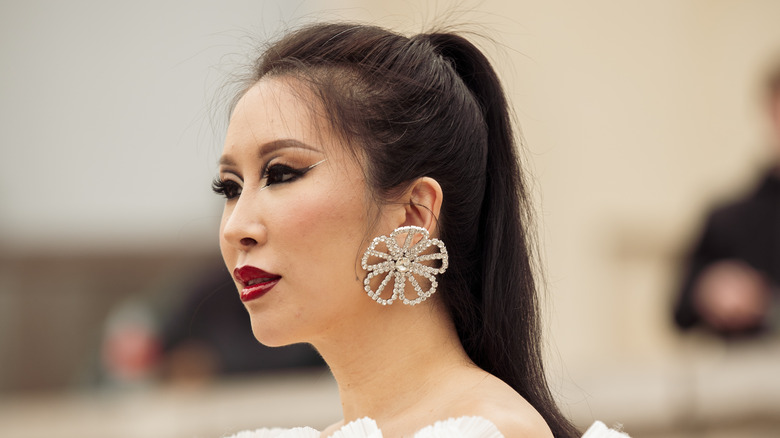 Raimonda Kulikauskiene/Getty Images
Silver jewelry often takes second place after gold jewelry. However, dainty jewelry in a silver coat can help elevate your look and give you a cool-toned aesthetic. Silver jewelry is the easiest method to introduce the silver trend into your 'fits without splurging on new pieces. These modern jewelry pieces can give an edgier vibe to all of your fall ensembles.
Chromatic accessories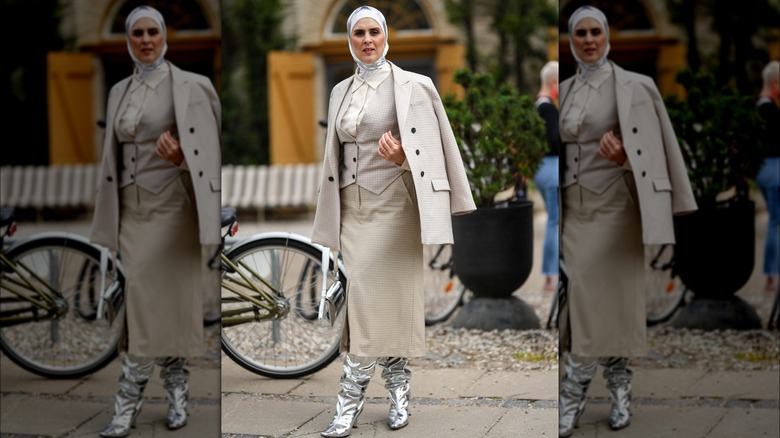 Edward Berthelot/Getty Images
It's easy to get overwhelmed by all the silvery options for your clothing and jewelry. For those looking to still jump on the trend but want something less obvious, accessories are your best bet. You can find plenty of smaller pieces from bags to shoes in this shiny coloring. Loewe's Fall Winter 2022 show demonstrated to us how silver heels can be the talk of the town.