Red Will Be The 'It' Color Of Fall 2023, According To Early Trend Reports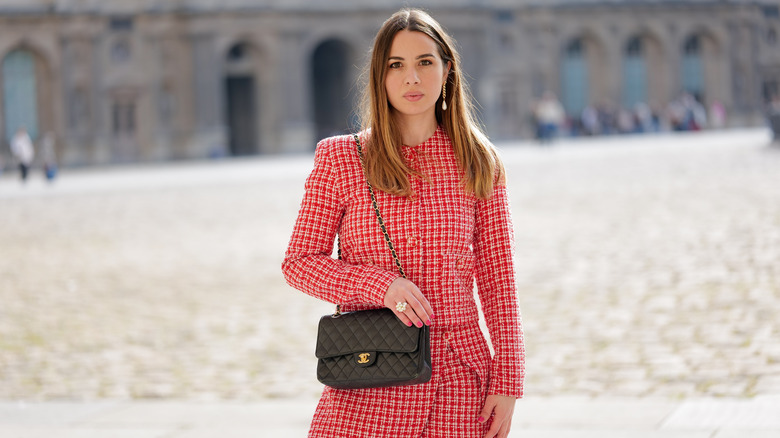 Edward Berthelot/Getty Images
Although fall has yet to appear, it's safe to say that we are all getting ready for another fashionable season. It's not unusual that the fashion industry gives us some indications of next season's trends early. Some of the early reports for this year emphasize that the hottest trend of the fall season is one of the easiest trends you'll probably participate in. Far from being about silhouettes or prints, the color red is poised to make its mark everywhere this fall season. Red's reign began during the global shows of Fall Ready-to-Wear Fashion, where it was seen on multiple runways like Ferragamo, Hermes, Valentino, Prabal Gurung, and many more. Although seeing red isn't uncommon, it was striking to see several different brands use red so prominently and numerously.
Besides the runways, many stores are getting ready for this red explosion, which is set to hit their stores in the fall season. Brands like Net-A-Porter have highlighted how red will impact this fall, paving the way for many other stores to follow. With red being one of the most anticipated trends by designers and stores alike, it's only reasonable for shoppers to start gathering ideas of how to blend this color seamlessly into their existing fall wardrobes. Thankfully this color can have many functions and help create a high-impact fashion moment or add a subtle touch of color, depending on your style and preferences.
Red textures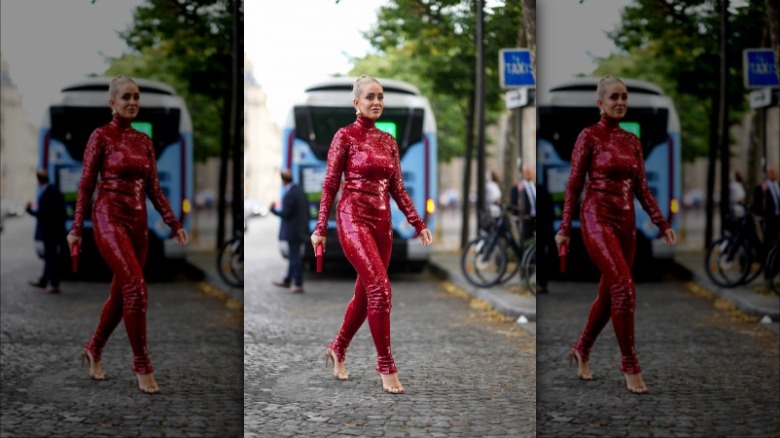 Edward Berthelot/Getty Images
The color red is a dynamic and striking hue. No matter how you utilize it, this shade will always help flatter and emphasize any piece attached to it. Red textures like satin, silk, sequins, or feathers are just some ways this color can change the appearance and elevate it. Since the fall season is close to the holiday season, it's the perfect time to start bringing out these fun textures. For example, red sequins bring a sense of glam but are still modern and sophisticated enough to elevate your entire look.
Head-to-toe red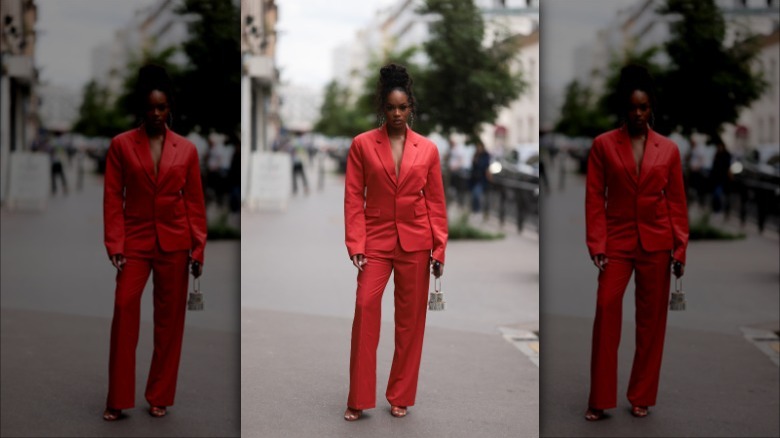 Jeremy Moeller/Getty Images
There's no reason why an all-red look can't be the norm during the fall season. After all, the flexible hue is the perfect shade to create a high-fashion statement. A head-to-toe red outfit is striking and powerful, invoking the feeling of confidence. Plus, going for a monochrome red look means you don't need to struggle with trying to pair this dynamic shade with another hue.
Red and something else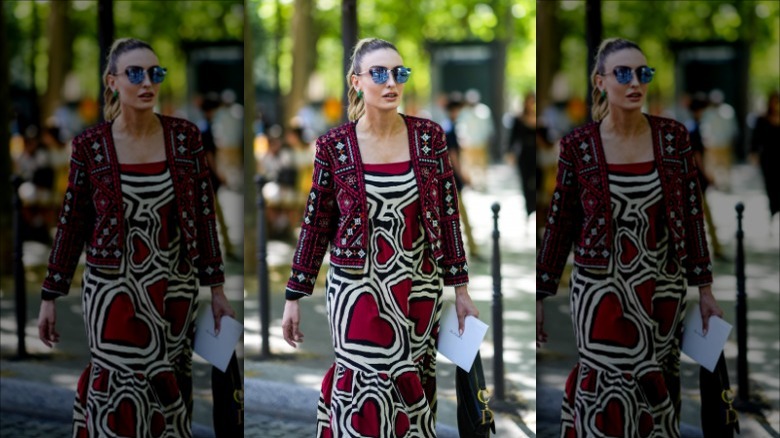 Edward Berthelot/Getty Images
Red, on its own, is fantastic and bold. However, for many, it can be overwhelming. If the upcoming red trend is catching you off-guard, there's no reason you can't pair it with something else. Red is a flexible color. It can pair perfectly with many other shades. If you've been keen on the minimalism trend, red and black printed frocks are perfect ways of easing yourself into this color. However, if you're looking to pair red with another vibrant color, orange and pink are fantastic at making each other pop.
Red outerwear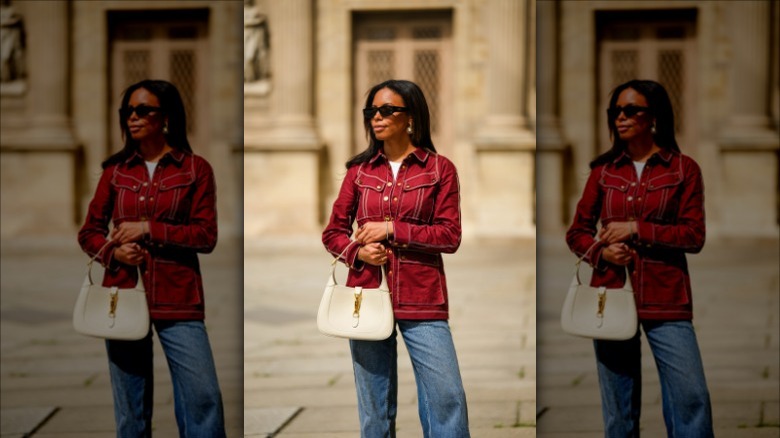 Edward Berthelot/Getty Images
Fall is when we bring out all our favorite outerwear pieces once again. Those outerwear pieces that have long been forgotten in storage are once again brought out for use. Red outerwear pieces like jackets or coats can give you the warmth and fashion you seek. A red coat, along with your favorite fall look, can turn you into a splash of color in a sea of khaki trench coats. Red outerwear pieces will automatically help you stand out from the crowd, but with the warmth and extra layer that the colder season requires.
A pair of red pants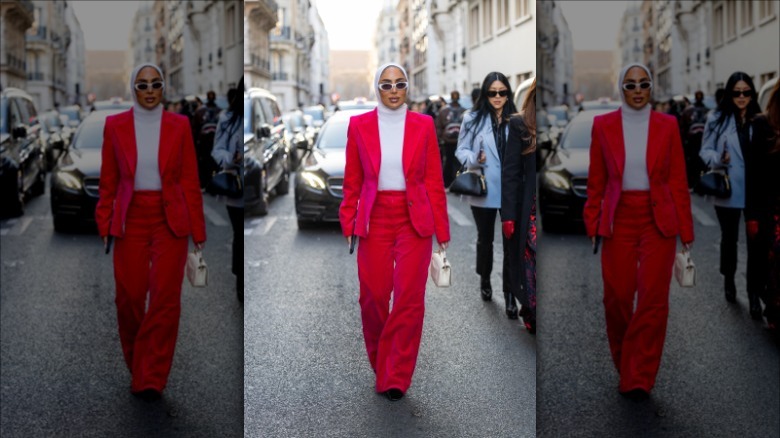 Christian Vierig/Getty Images
Everyone knows that pairing a bold top with a pair of denim jeans or slacks is an easy way of pulling off a bold color. However, if you want to flip this typical fashion rule on its head, opt for a vibrant red pair of pants with a neutral choice. Even though this combination is uncommon, it follows the same balance ques. A saturated shade of red can give you a stark color that will pair perfectly with a neutral or minimal top.
Classic red sweatshirts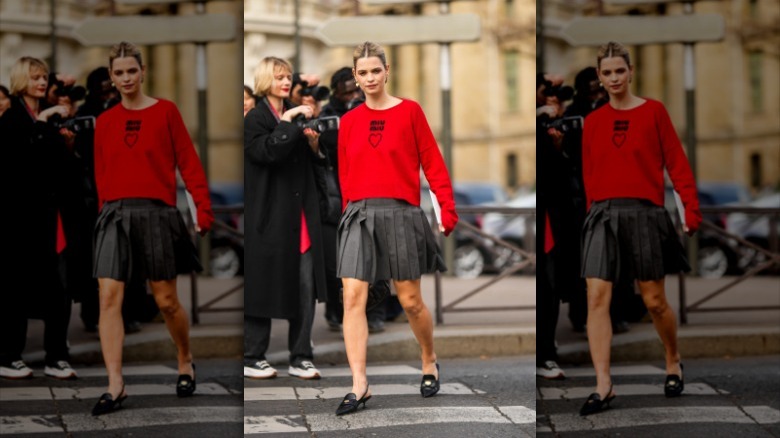 Edward Berthelot/Getty Images
With wearability becoming another fashion trend, it's time to make space for some regular pieces you'll frequently. Red sweatshirts, for example, are both warm and cozy and can be chic for all your street-style looks. Simply pair a red sweatshirt with a dressed-up bottom for an outfit formula that can be dressed up or down. You can also swap up your trousers or slacks for a comfortable pair of denim jeans to create outfits that resemble those worn by the late Princess Diana.
Red accessories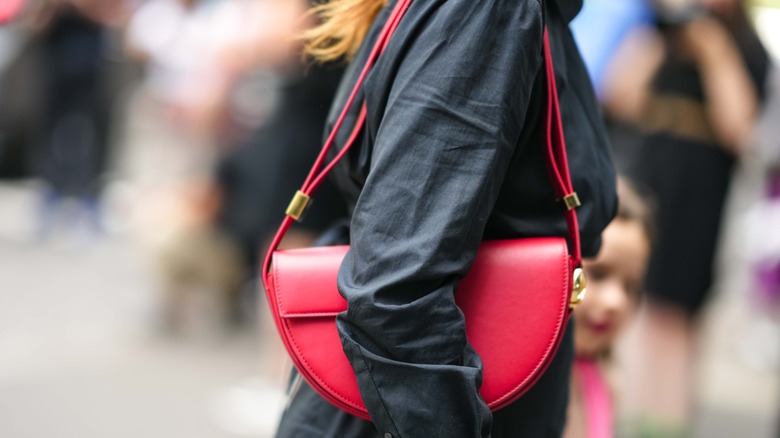 Edward Berthelot/Getty Images
Not everyone is keen on incorporating so much color into their outfits. For those with a minimalist style or a subtle wardrobe, incorporating red into your accessories is the easiest way of jumping on this trend. In other words, red handbags, hair accessories, or shoes will give you the pop of color you seek without having them take over your closet. These items can easily translate after the fall season, making them an investment to add to your wardrobe.