20 Fall 2023 Fashion Trends To Know Now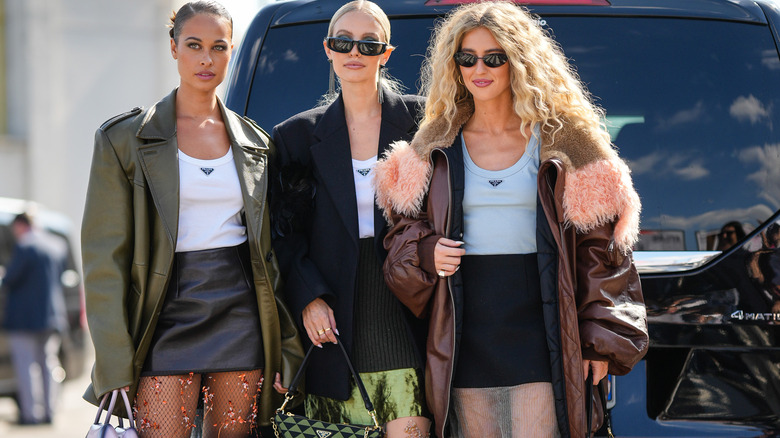 Edward Berthelot/Getty Images
Fall will be here before we know it, and with it comes a few of our favorite things, like pumpkins, crunchy leaves, Halloween, cozy sweaters, and of course, new(ish) fashion trends to fit the season. If you're anything like us, you look to the streets, the runway, and the World Wide Web for seasonal styling inspo.
And if you've already done some digging, you know that this season's trends are full of bold pieces, timeless classics, and a few quirky new trends you may already be seeing on the streets. This fall, we'll be seeing a continuation of many trans-seasonal pieces you may already have in your wardrobe. For example, the trench coat still reigns supreme as an oversized outerwear piece, and the bright, trendy colors of spring 2023 are still very much in style.
If you took some cues from the fashion inspo at Taylor Swift's Eras tour when considering your fall pieces, we applaud you, as sparkly metallics and pops of color aren't going away anytime soon. Even some of this summer's fashion trends (like textured pieces and sheer shirts) are still taking center stage this fall, meaning you shouldn't need to splurge on a bunch of new pieces for autumn if you've been keeping up with recent trends. 
Elevated athleisure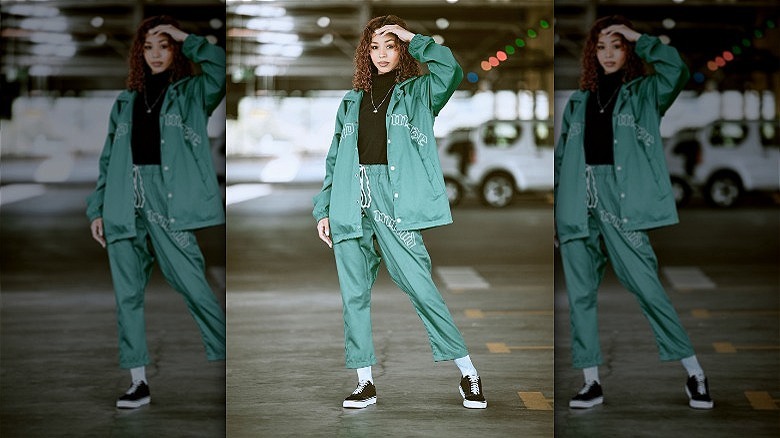 PeopleImages.com - Yuri A/Shutterstock
Ever since the onset of the coronavirus, comfy clothes have reigned supreme, especially in the "athleisure" trend. Matching sets of leggings, crop tops, sports bras, and athletic jackets can be seen anywhere you turn, and we wouldn't be surprised if you have a few (or several) of these pieces in your closet.
This fall, though, it's time to take athleisure up a notch or two when it comes to glam. The goal? To stay feeling cozy and looking as chic as possible. Elevated athleisure is going to be one of this fall's most wearable trends, and we're here for it. We're seeing an emphasis on chic, minimal, eco-friendly pieces that can be worn both day and night — and not just on a run to the grocery store.
This means matching sets are still absolutely the vibe; dress them up by adding minimal accessories, like a pair of studs or a small necklace. Athleisure that gives dancer vibes is also very trendy this fall, so capitalize on one-shoulder bodysuits tucked into leggings to capture that essence. Flared leggings with a side slit are also chic athleisure pieces to wear this fall.
Modern '80s apparel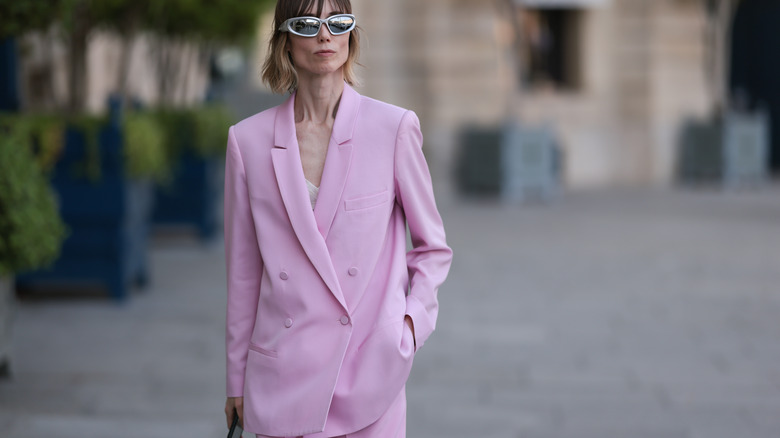 Jeremy Moeller/Getty Images
Yes, nostalgia is still a driving force behind this season's fashion trends, and we doubt that will change anytime soon. Fashion trends from the '80s especially are making a resurgence this fall, and you know what that means: We'll be seeing lots of bold, geometric patterns, bold colors, oversized pieces, and maybe even a shoulder pad or two. 
As always, bonus points if you can find matching sets that incorporate all of the above '80s themes. Want a couple of easy ways to get on the '80s train before it leaves the station? As far as workwear is concerned, look for a matching pantsuit set in a bold color. An oversized blazer is a must, and if it has shoulder pads, more power to you. 
When shopping for other pieces in your wardrobe, don't be afraid to try something bright, bold, and in a pattern that you could've sworn you saw on an episode of "Cheers." Round out any ensemble with something metallic, whether it be a pair of futuristic sunglasses or a chunky metal necklace. 
Bright, bold red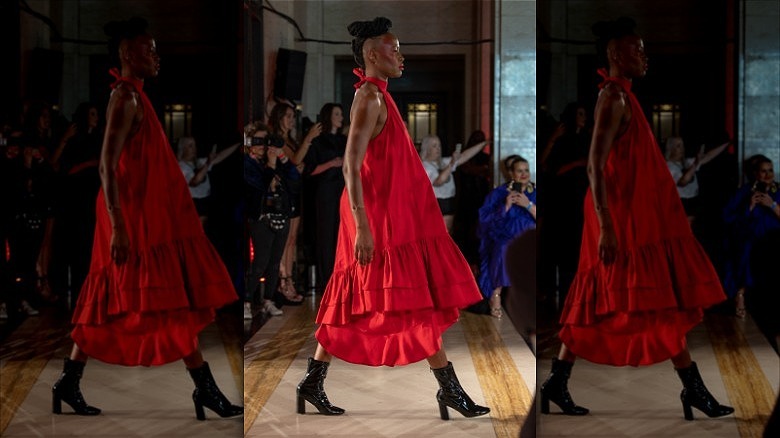 Shane Anthony Sinclair/bfc
If there's one trend that truly took over in the spring and summer of 2023, it's Barbiecore. Bright pink, '80s-inspired apparel saw a huge comeback as "Barbie" fans looked forward to the July 2023 release of Greta Gerwig's film. We don't think bright pink is on its way out, per se, but we do see it continuing in a new iteration of the trend as bright red colors get ready to take over the scene this fall. 
Sure, deep red and maroon shades will always have a place in fall wardrobes, but this year, you may want to take a step or two outside your comfort zone by opting for a lighter and brighter red. Adopt a bright red power suit à la Brianna on "Grace and Frankie."
Don't feel like you have to dress all in red, though, as reds also make for great pops of color if you prefer to don black ensembles this fall. A metallic red is sure to make a scene, and if you want to stand out without adopting shine, red leather pieces are another great option this fall.
Soft textures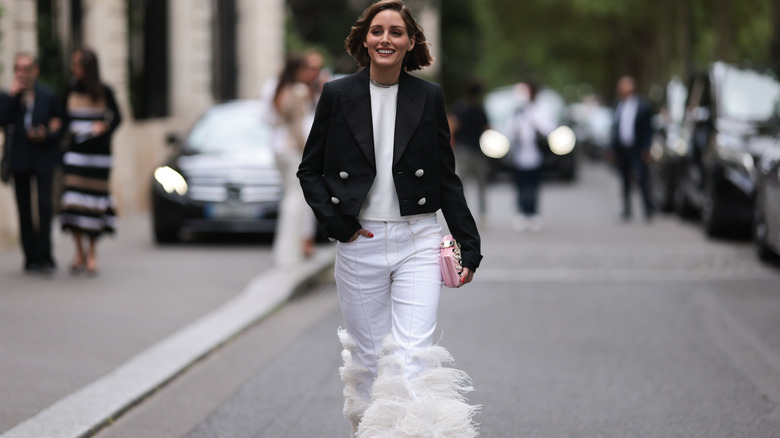 Jeremy Moeller/Getty Images
Yes, minimalism is still very chic this fall. However, if "minimalism" isn't a word in your vocabulary, don't worry: There's a 2023 fall fashion trend that embodies maximalism like no other. This fall, we're seeing plenty of textured pieces hit the streets, and we couldn't be more excited. Feathered and fuzzy pieces are still very wearable, as are pieces that feature lace and beading.
When it comes to wearing textured pieces this fall, it's hard to go wrong and easy to customize to be as minimal or maximal as you want. Are you looking to incorporate some small touches of texture to elevate a fairly minimalist outfit? Opt for feathered earrings, a textured tote, or even sandals adorned with a feather or two.
If your vibe is leaning more toward maximalism, on the other hand, opt for clothing that features the texture of your choice. Pants with feathered cuffs are a fun option, and you could match a pair of feathered pants with a lace bodysuit to be a truly maximalist fashionista.
Shimmery metallics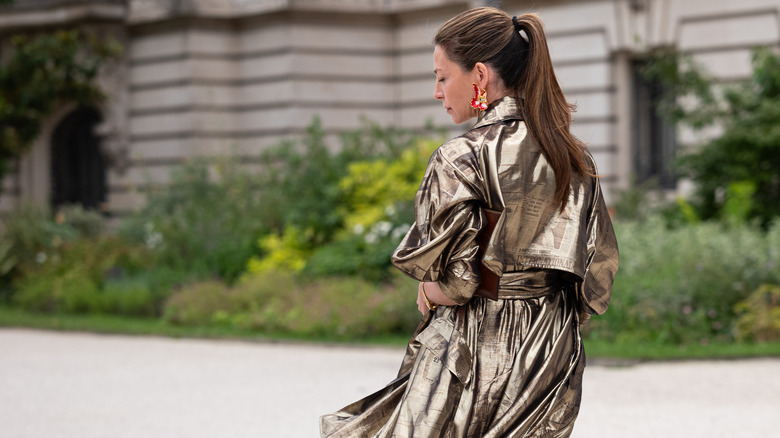 Claudio Lavenia/Getty Images
Another '80s-inspired trend we were delighted to see hit the runways this year was the return of metallic everything. Yes, the light-reflecting fabric that reigned decades ago is seeing a comeback this fall, and this is a trend you'll want to jump on ASAP. Despite its instantly eye-catching, unique appearance, metallic clothing is surprisingly versatile, and we can't wait to incorporate metallic pieces into our fall wardrobes.
If you want to ease yourself into the metallic trend, start with your accessories. A metallic clutch or metallic shoes make for great going-out pieces, or you can capitalize on this season's bold jewelry trend by donning a pair of chunky metallic earrings or a metallic bracelet or two.
On the other hand, if you're ready to dive headfirst into the metallic trend, reach for a metallic blazer, maxi skirt, or metallic pants. Want to go the extra mile as far as glam is concerned? Opt for metallic pieces that incorporate glitter into the equation to make sure all eyes stay on you.
Leather is back, baby
Yes, we're also seeing leather's popularity surge in fall 2023, another '80s-inspired trend that simply refuses to quit. Sure, you'll always have your classic leather staples — like bomber and biker jackets — but this season, leather is being adopted for head-to-toe ensembles in a way we're simply obsessed with.
Gone are the days of leather being purely for the edgiest among us. We're seeing this fabric be adopted in ways that make it more versatile than ever. For example, colorful leather makes the trend super versatile no matter what your style is, and leather dresses and maxi skirts are easy to throw on no matter what the day has in store for you. 
Leather-on-leather is also super chic this season, so feel free to wear a leather corset top with a leather mini or maxi skirt without feeling too over-the-top. Leather boots and handbags are accessories you can easily wear with any ensemble, too, and don't feel like you have to incorporate color into the equation. Black leather is still very much chic and always a timeless choice. 
Free the nipple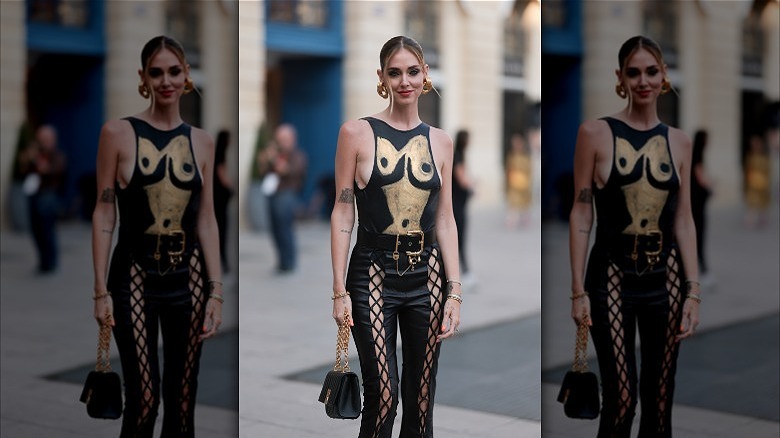 Jeremy Moeller/Getty Images
It's no secret that we women are tired of our bodies being over-sexualized. We want to be able to wear comfortable clothing without eliciting uncomfortable stares or catcalls, and as we work toward achieving that goal, we'll wear whatever we darn well please. Given all of that, it's no surprise that one trend we're seeing hit the streets has been dubbed "Free the Nipple," a campaign that originated in 2013 and is making a major comeback this season, encouraging women to wear what they want, transparency included.
As a response to minimalism and against the over-sexualization of women's bodies, we're personally excited to see more "free nipple" looks hit the streets as an expression of women's liberation. After all, bras aren't always comfy, and sometimes you just don't want to wear one — so don't. If you want to ease yourself into this trend, dare to wear a thin cotton shirt without a bra.
First-timers may be more comfortable adopting this trend on a night out; if that's the case for you, don a thin shirt and either let your nips poke through or wear a sheer top and cover them with some cute nipple stickers. Depending on your local laws, showing your entire nipple may not be legal, so doing a bit of research before going all out is advised. Remember, comfort is key with this trend, so don't feel pressured to venture too far outside your comfort zone. 
Luxe minimalism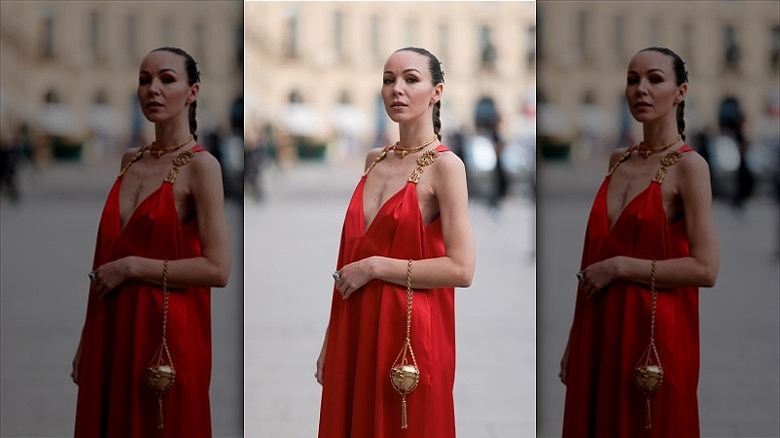 Jeremy Moeller/Getty Images
As you've probably guessed, yes, one trend that's enduring through fall 2023 is minimalism. However, with glam pieces taking over the fashion scene (think metallics, bold jewelry, and texture galore), we're seeing minimalist styles get a bit of a luxe upgrade. The key to creating a minimalist wardrobe this fall is to capitalize on pieces that are easy to wear, luxurious, and chic — yet comfy.
When going for luxe minimalist vibes this fall, there are a few helpful tips to keep in mind. One-and-done outfits like maxi dresses are easy to wear and style, and if they incorporate some chic detailing (like the gold shoulder details in the above photo), you've got yourself a perfect luxe minimalist ensemble. You can also look for solid-color fitted dresses that are ruched along the sides.
Make any minimalist outfit instantly luxurious when you pair it with a gold accessory or two, and always be on the lookout for minimalist pieces in chic fabrics, like silk or chiffon. Ribbed pieces are also great for adding a little bit of visual interest to your 'fit while still keeping it as minimal as possible. 
Pantsless elegance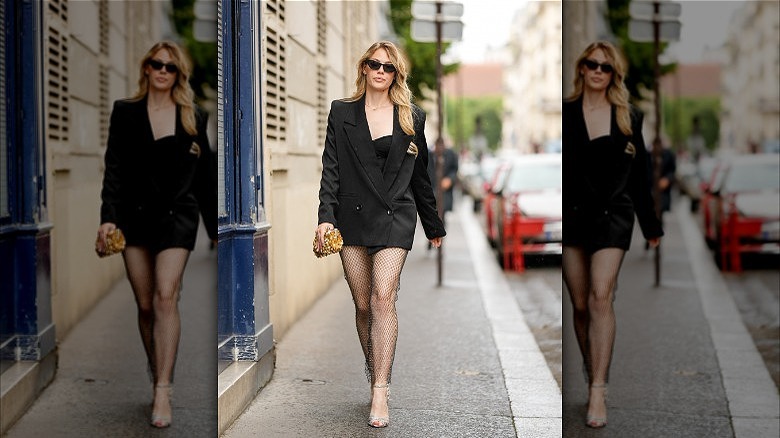 Edward Berthelot/Getty Images
Along with the "Free the Nipple" trend, we're seeing another daring look take over the scene this fall, and we're dubbing it "Pantsless Elegance." That's right: We're seeing fashionistas everywhere ditch the pants in favor of business-on-the-top, party-on-the-bottom ensembles, and we can't get enough of it.
So if you're tired of shopping around for pants that fit your hips but not your waist (or vice versa), take a lesson from the pantsless elegance trend and just ditch the pants entirely. Of course, this trend doesn't call for engaging in indecent exposure; rather, you'll just switch out your pants for a bodysuit or wear a pair of booty shorts that can be hidden by your top.
When going pantsless, a bodysuit worn under an oversized blazer is a very popular (and wearable) option. Also, the pantsless trend doesn't necessitate going completely bare-legged. A pair of tightly-woven fishnet tights can still keep your look conservative, while a more open fishnet would offer a sexier vibe. Sheer pantyhose would work just as well, or if you want to avoid the possibility of flashing anyone (or just need to stay warm), opt for a pair of opaque fleece-lined tights.
Oversized outerwear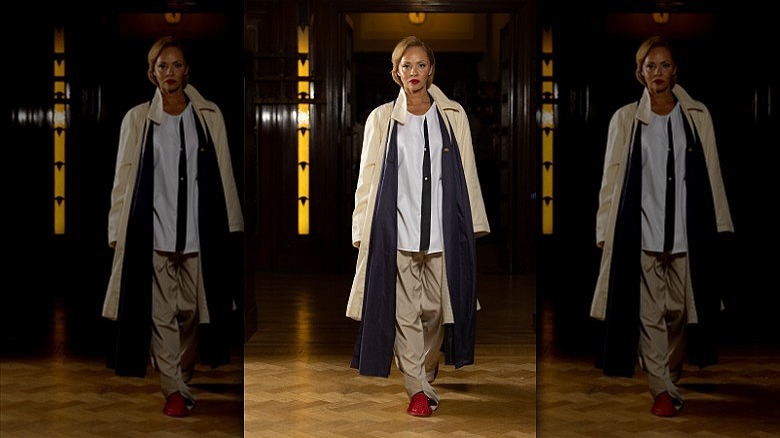 Shane Anthony Sinclair/bfc
An easy response to the rise of '80s fashion and pantsless outfits, oversized outerwear is quickly taking over the fall fashion scene. If you think oversized outerwear means you'll have to ditch your favorite coats in favor of a trench or that you have to look swaddled in massive fabrics, think again. The oversized outerwear trend is very wearable no matter what your favorite style or fit of jacket is. 
Fortunately for all of us, tailoring is very much in, meaning it's perfectly acceptable to wear oversized pieces that are also structured. Big, tailored shoulders (padded or not) and double-breasted fits will ensure you retain some shape no matter how big your jacket is. If you typically wear a bomber or biker jacket, simply opt for one that's roomy enough to allow ample layering underneath.
Trenches or other floor-length coats are almost a one-and-done ensemble in and of themselves, especially if you're going to be outside in the chill all day. Plus, this trend is easy to combine with the texture trend we're seeing: Just grab an oversized jacket (bomber, trench, or otherwise) in a croc-effect, fur, leather, or even feathered fabric. 
Sheer and sexy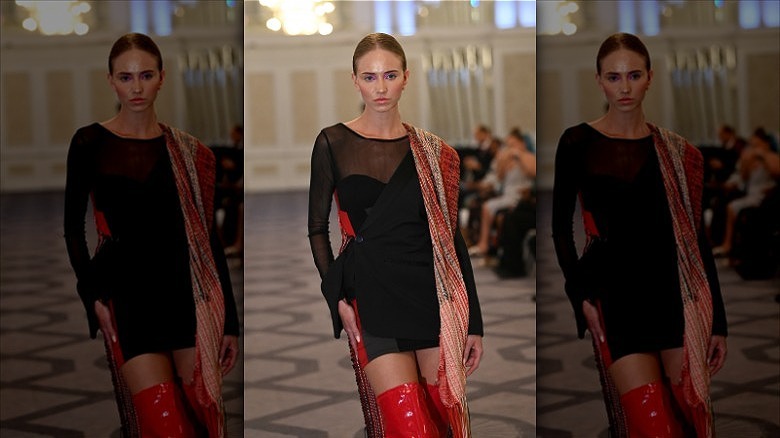 Eamonn Mccormack/bfc
A more-than-welcome companion to this season's "Free the Nipple" and "Pantsless Elegance" trends is the continuing trend of sheer clothing. Sheer pieces offer enough coverage that you won't feel completely bare, but they show enough to keep your vibe sexy as anything, making these pieces pretty easy to take from day to night.
If you're concerned with styling mistakes with sheer clothing, there are a few easy tips to keep in mind. When combined with opaque pieces, the sheer clothing trend is simply chef's kiss. Wear a bandeau, opaque crop top, or simply a cute bra underneath a sheer top when you want some coverage, or wear a pair of booty shorts underneath a sheer dress or skirt.
Make sure you buy sheer pieces that are loose enough to allow for layering underneath, too. When wearing pieces that fall on the spectrum between sheer and opaque, don't feel like you have to layer anything underneath; just be sure to check whether you can see your undergarments through the fabric in bright light. 
Vibrant hues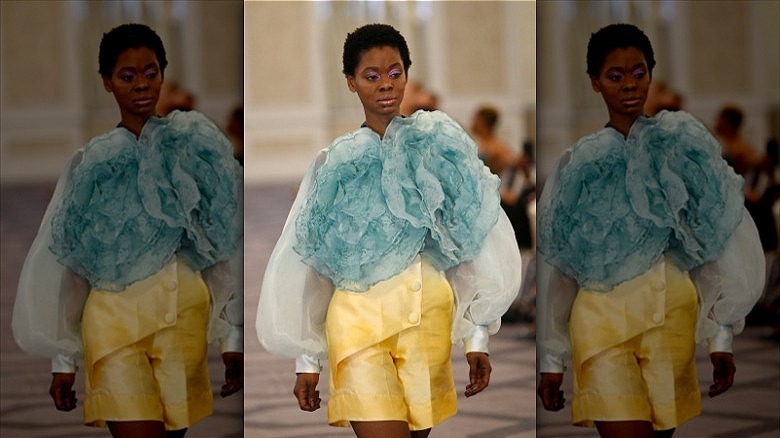 Eamonn Mccormack/bfc
Pantone's color of the year is Viva Magenta, and it appears to have inspired fashionistas everywhere to deck themselves out in all manner of vibrant hues. While jewel tones are always staple colors in any fall closet, we're seeing bright takes on them this autumn.
For example, magenta offers a bright alternative to burgundy; vivid oranges are a fun take on the classic burnt orange, and bright lemon and butter yellow shades take the typical mustard color up a notch. The rise of vibrant colors in 2023 fall wardrobes works particularly well with other maximalist trends we're seeing (like texture and bold jewelry).
We love that this fall's vibrant hues are easy to mix and match, as in the yellow and blue ensemble above. Or, you could use one vibrant color to create a trendy monochromatic outfit. If you don't want to adopt ultra-vibrant colors, tone it down a bit by opting for muted shades. A gentle pea green, powder blue, or classic cream are great options when you want to mellow down your vibe a bit. 
Bold statement jewelry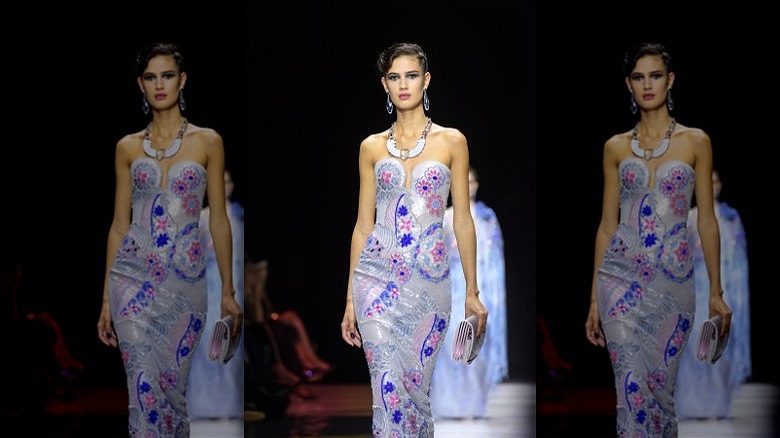 Dominique Charriau/Getty Images
Summer's metallic accessories trend isn't going away this fall, it seems, and we're more than okay with that. Personally, we think it's far past time that chunky metallic accessories were back in style. These pieces are taking center stage when it comes to accessories this fall, and they offer an easy way to elevate any outfit, making them versatile options out of which you'll definitely get ample wear.
We're seeing the bold statement accessories trend manifest itself in big metallic necklaces, cuffs, earrings, and clutches. Even brooches are making a comeback. This accessories trend is being used to bring minimalist ensembles up a notch or two, so why not wear a pair of chunky gold earrings to elevate your favorite athleisure look?
Use a chunky silver necklace to ornament an otherwise minimal dress, or carry around an elevated clutch when you are spending all day bundled up in an oversized coat. If you're feeling particularly extra, wear a chunky metallic silver hair clip to pin your locks back. 
Gothic chicness à la Wednesday Addams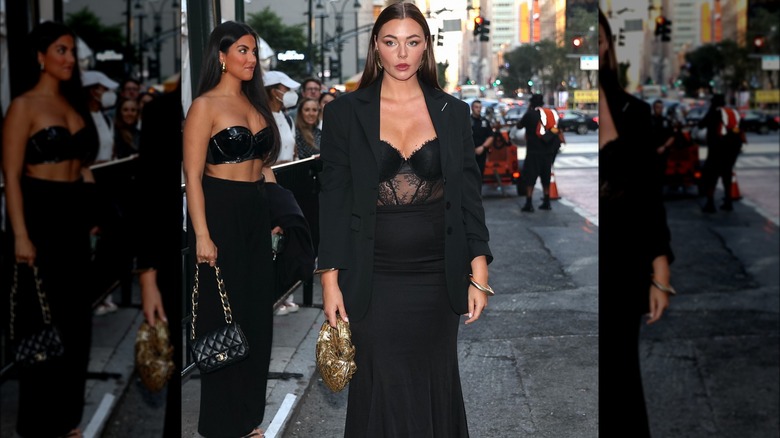 Jose Perez/bauer-griffin
As the leaves begin falling and the temperature starts dropping, it's time to embrace your inner Wednesday Addams with the hauntingly stylish gothic chic trend. Picture yourself in darkly elegant outfits draped in the rich hues of black and deep jewel tones. But it's not just about color; texture takes center stage here, too. Lace and velvet become your trusted allies in crafting this bewitching look that will never be out of style this fall.
For daytime adventures, slip into a classic black turtleneck paired with dark bottoms to serve a bit of mysterious sophistication. But when the moonlight calls, don't shy away from unleashing your inner goth goddess. Opt for a lacey dress that captures the dark aesthetic perfectly, and layer on those accessories — even your nails can explore the Wednesdaycore trend. If this is already your style, feel free to amp it up with even vampier pieces, and if it isn't, get ready to embrace the shadows this year — and add a touch of dark drama to your fall fashion lineup!
Timeless off-the-shoulder silhouettes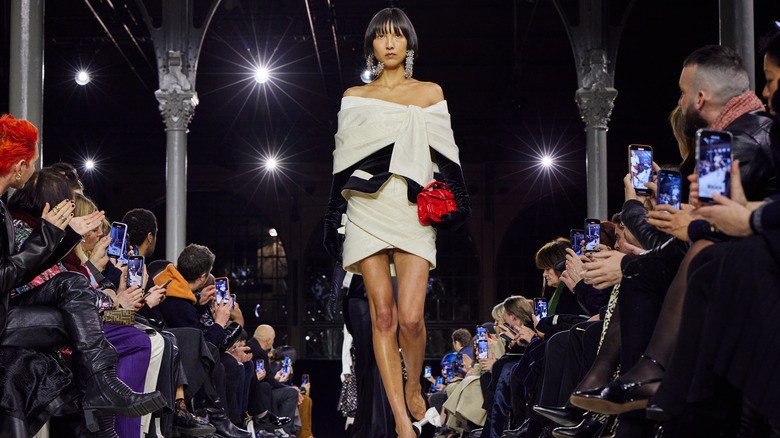 Peter White/Getty Images
The timeless, off-the-shoulder silhouette is making a major comeback. The trend offers the perfect balance between showing some skin and staying cozy when the temperature starts to drop. Off-the-shoulder styles have been popular for decades, but this season, they're taking center stage. This style accentuates your collarbones and neck while still allowing you to flaunt your personal style. And if you've been keeping an eye on the runways, you'll have noticed that this trend is frequently styled with statement earrings that add an extra touch of drama to the look. Now, keep in mind that this trend requires a no-bra-strap approach. Whether you opt for a reliable strapless bra for extra support or decide to go bra-free for a carefree vibe is up to you.
Perhaps the best part of this trend is how effortlessly elegant it is. From casual daytime outfits to more dressed-up evening ensembles, off-the-shoulder pieces are versatile and extremely chic — from sipping cocktails on a Saturday evening to enjoying a relaxed Sunday brunch. In fact, just a simple off-the-shoulder cotton top paired with jeans will make you appear more polished than a classic black tee — just take a cue from style icon Sandy Olsson!
Tights that pop: a splash of color for your legs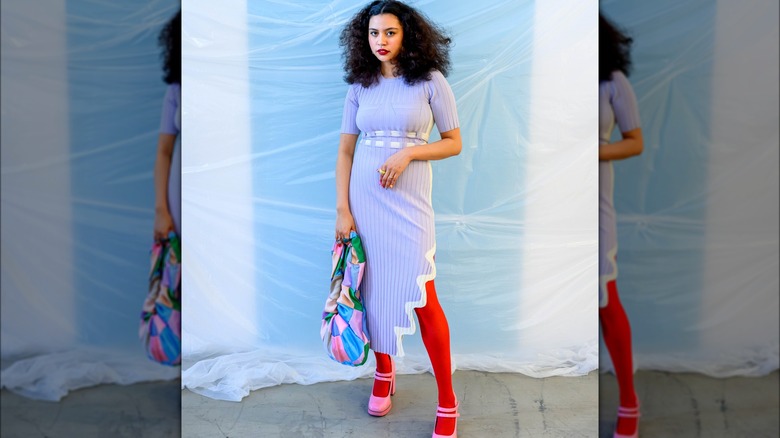 Roy Rochlin/Getty Images
If your closet seems to be stuck in a sea of dark and muted tones, this fall fashion scene has a fun surprise for you. The trend of bold and brightly colored tights is here to help you embrace bold hues even on the grayest of days.
For those who may be a tad apprehensive about diving headfirst into this trend, starting easy with subtle shades like baby pink or muted green can be an excellent entry point. These softer hues offer a slow introduction to the world of colorful tights while still allowing for a funky twist to your outfits. However, if you're feeling daring and ready to make a statement, why not go all out with bright and vivacious colors like fiery orange, electric blue, or seductive red?
One thing that makes this trend even better is its accessibility, as adding a splash of color to your legs won't break the bank. Colorful tights are generally budget-friendly, making them a great addition to your style arsenal in the upcoming months. In fact, Forever 21 offers red tights for just over $5, so why not give them a try?
The 2010s are back: high-low, peplum, and statement necklaces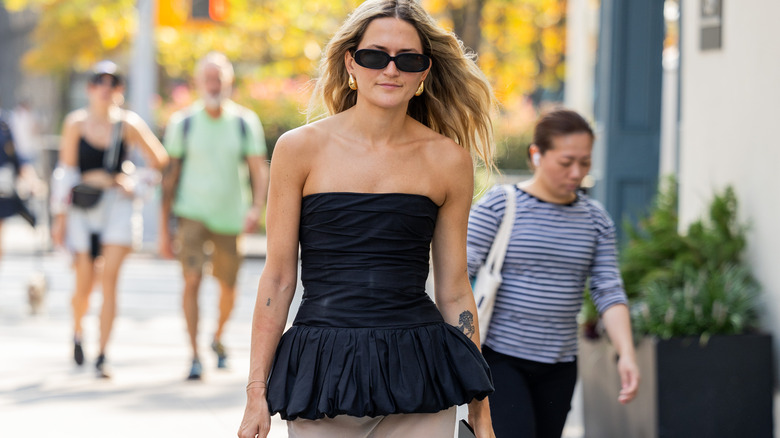 Christian Vierig/Getty Images
While Y2K fashion is still going strong, it seems as though this fall will have quite a bit of competition, as some of the most iconic pieces from the early 2010s are having a comeback. This means that anyone who still has a peplum top or a high-low hemline skirt in the back of their closet should consider themselves lucky.  The high-low hemline, with its dramatic asymmetry, is perfect for transitioning summer looks into fall. Whether it's a high-low skirt or a dress, this style adds movement and easily takes a look from boring to fun. If you really want to go the early 2010s route, pair it with some ankle boots. 
Then, peplum tops, with their flared silhouette, are also back. They provide a great way to accentuate your waist without feeling too constrained by your clothes. Completing the early 2010s revival is the return of statement necklaces that provide an easy way to add pizzazz. And trust us: We're just as surprised by this one as you are!
Normcore aesthetic for the everyday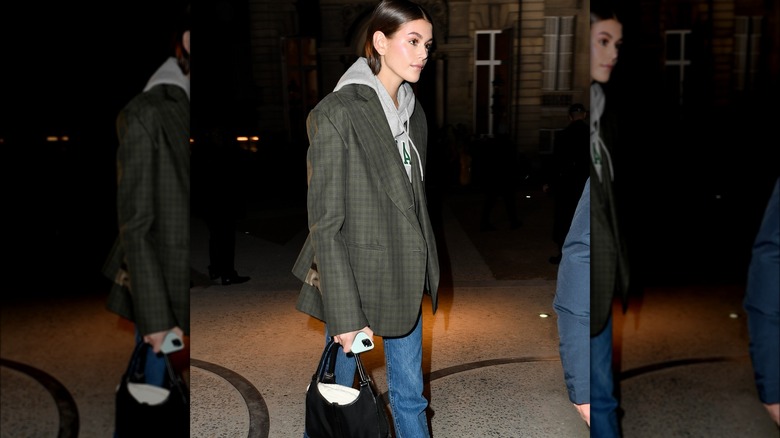 Jacopo Raule/Getty Images
Get ready to embrace the return of normcore, the fashion movement that celebrates all things "normal." This trend is all about effortless style and comfortable classics that can easily become your everyday essentials. Unisex clothing is at the heart of the normcore movement, blurring traditional gender boundaries and allowing everyone to enjoy fashion without constraints.
Think of your favorite vintage T-shirt, those classic '90s jeans that fit just right, and that oversized blazer you've always loved. These are the kinds of pieces that define the normcore aesthetic. It's about embracing the familiar and the unpretentious and thereby finding beauty in simplicity.
Furthermore, normcore is about the ease of reaching into your closet, confident that whatever you grab will look good and save you from the hassle of spending hours deciding what to wear — much like Steve Jobs and his signature style. Normcore encourages you to ditch the flashy logos and extravagant designs in favor of comfort and versatility. Mix and match your normcore pieces to create simple, laid-back outfits, just like model Kaia Gerber.
Sweater-dress weather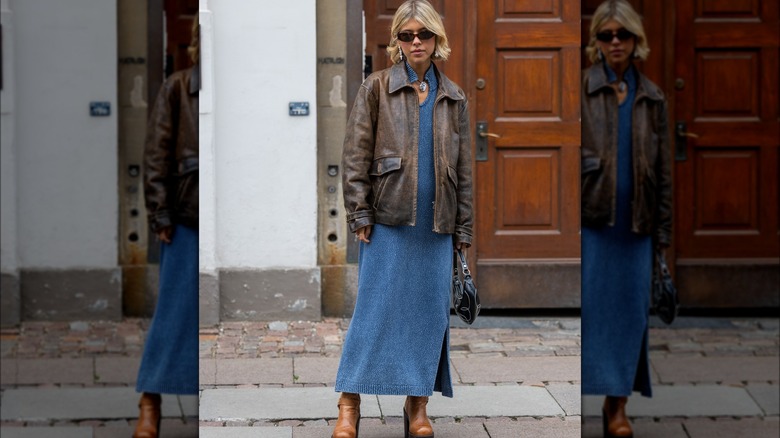 Christian Vierig/Getty Images
Sweater dresses are the epitome of cozy-chic fashion; after all, they're like a warm hug on a chilly day. They're the perfect choice for embracing sweater weather, as they provide both comfort and style. With just a pair of tights (preferably brightly colored ones) and your favorite shoes, you can effortlessly put together a fashionable and cozy look. Plus, their timeless charm means you'll actually have a wardrobe staple that can serve you well for many seasons to come — in fact, most of us probably already have a sweater dress tucked away somewhere in our closets just waiting for its moment to shine.
The magic of sweater dresses doesn't stop at their simplicity. They're actually quite versatile, coming in various lengths to suit your style preferences. Whether you opt for a chic maxi sweater dress and pair it with a classic blazer or a shorter sweater dress to go with some fun sneakers, you can certainly channel different aesthetics with this trend.
The bigger the scarf, the better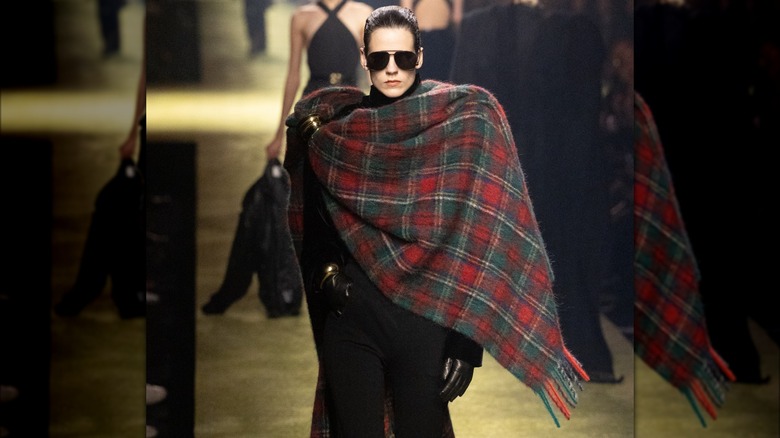 Marc Piasecki/Getty Images
Blanket scarves are making their grand return this fall, and they're a foolproof way to fight the cold weather. No matter your style, a blanket scarf will add flair to any look — and we truly mean any look.
Classic fall shades like brown, black, and red are tried-and-true options for solid-colored scarves, but you can also opt for timeless fall patterns like plaid, which never goes out of style. However, for the bold fashionistas out there, the blanket scarf trend offers a chance to make a statement. Consider choosing one in a vibrant, eye-catching hue or a funky, attention-grabbing pattern. These scarves are like wearable art pieces, so why not make the most of them? Either way, whether you go for the classic or the daring, there is only one rule you have to follow: the bigger the scarf, the better. Then, you just need a PSL to round out your look.