Statement Pendant Necklaces Are The Trend For Those Over Delicate Jewelry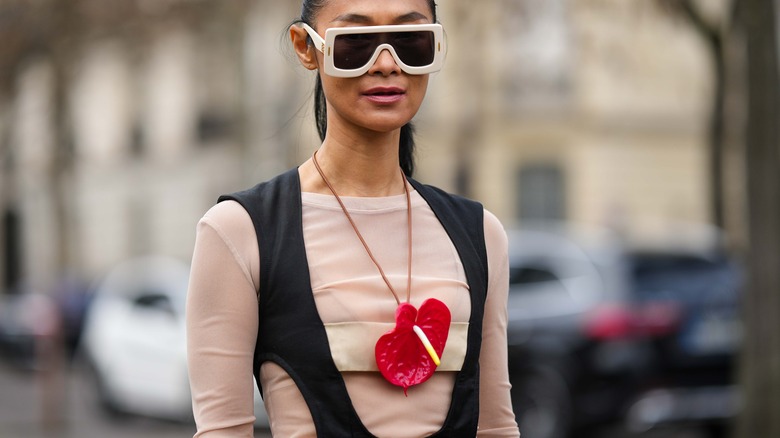 Edward Berthelot/Getty Images
Everyone knows delicate jewelry can provide an elegant, subtle touch of low-key glam. But let's face the truth — those dainty pieces can be boring. Sometimes it's more fun to rock bold, eye-catching jewelry. After all, accessories are supposed to add more life to our ensembles, so why shouldn't we go bold? Style-savvy people are starting to recognize the excitement of experimenting with louder jewelry in the 2020s. "We've seen far more demand for bolder pieces," Brent Neale, a jewelry designer, told Harper's Bazaar.
The statement jewelry trend is so much fun, and because big and bold jewelry is 2023's hottest trend, there are many ways to embrace daring accessories. Necklaces, in particular, are excellent options for statement looks, especially when they have unique, stunning pendants. The pendant is the most eye-catching aspect of most necklaces, so why not choose a lively, bold one to stand out with an unforgettable look?
Try multiple statement pendants
When everything loud and statement-worthy is trending in the fashion and beauty worlds — as it is in 2023 — you're not limited to only one pendant per necklace. As long as your necklace base is sturdy enough to hold multiples, show off as many loud pendants as you desire for a daring, maximalist look.
Pair a statement pendant with plunging necklines
Are you looking for a trendy way to add even more sex appeal to your most low-cut tops and dresses? Try adding a necklace with a long statement pendant. The jewelry's length will look stunning against your skin and draw attention to the garment's low cut for a super seductive vibe.
The more detail, the better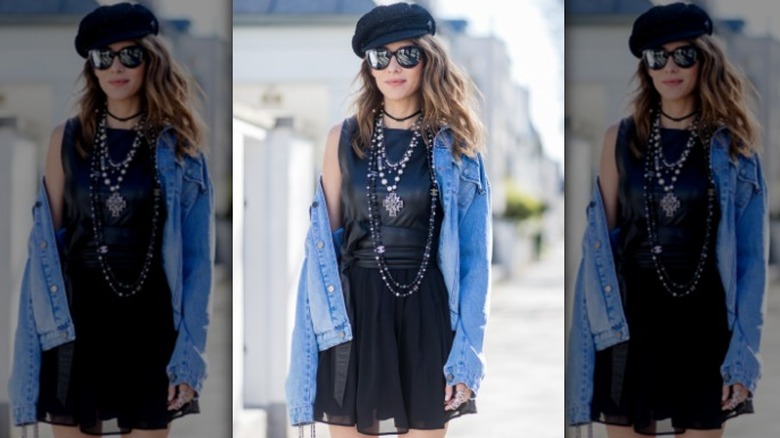 Christian Vierig/Getty Images
We've never seen a pendant with too much detail, as the more details your pendant has, the more unique and eye-catching the necklace will appear. If you're looking for a dramatic way to elevate even the most basic, neutral, and minimalistic outfits, a pendant with intricate detail will transform your ensemble from dull to trendy.
Try a layered look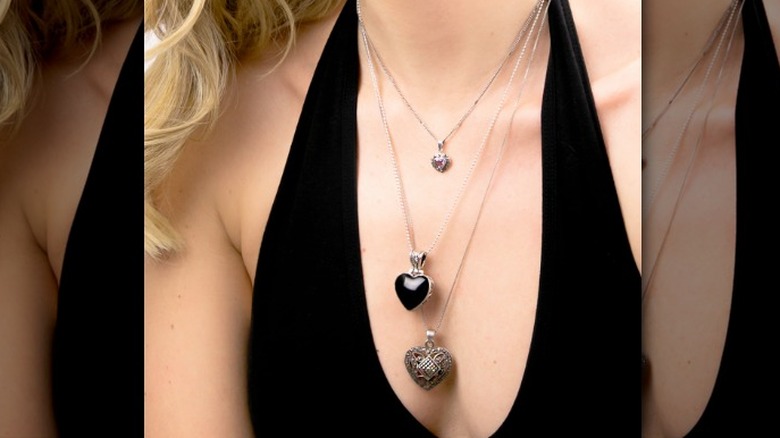 Lindsey Michelle Elliott/Shutterstock
We love a layered look! If you can't decide between two necklaces with statement pendants, why not wear them both? Or, you may even want to go above and beyond and rock more than two necklaces. Wearing multiple necklaces will add exciting contrast to even the most understated outfits.
Explore crystal pendants
Crystals have been trending over the past few years in both the jewelry and wellness areas. Some people use crystals to boost confidence and self-esteem, along with other lifestyle and mental health benefits. Whether you're intrigued by the ways that crystals can potentially improve your wellness or just think they look pretty, consider rocking a crystal pendant to add a trendy accessory to your outfits.
Opt for color and sparkle
Colorful pendants are beautiful and bold. Sparkly pendants are stunning and eye-catching. So, why not get the best of both worlds with a colorful pendant featuring sparkly details? Wearing a necklace with a sparkly, colorful piece will make a stylish statement in any setting for upbeat and trendy energy.
There's no such thing as too long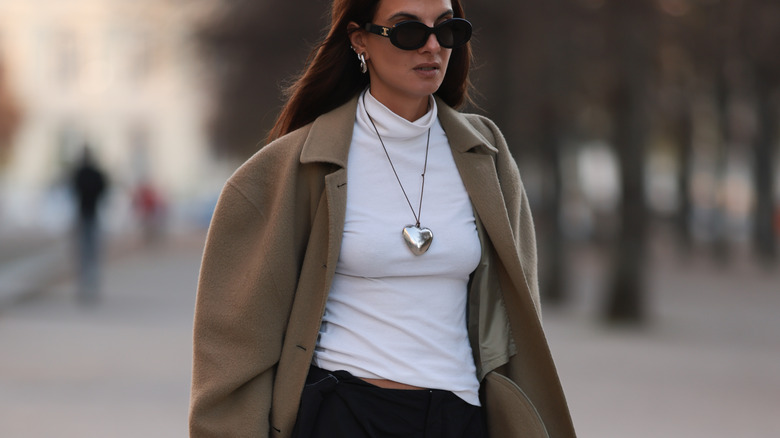 Jeremy Moeller/Getty Images
When you want to make a statement with your necklace, there's no need to worry whether the pendant is too long. Longer lengths equal more drama, so look for long pendants to make a daring statement, whether you wear those long pieces with a dress, blouse, or lingerie.