Red Is This Summer's Spiciest Color - Here's How To Wear It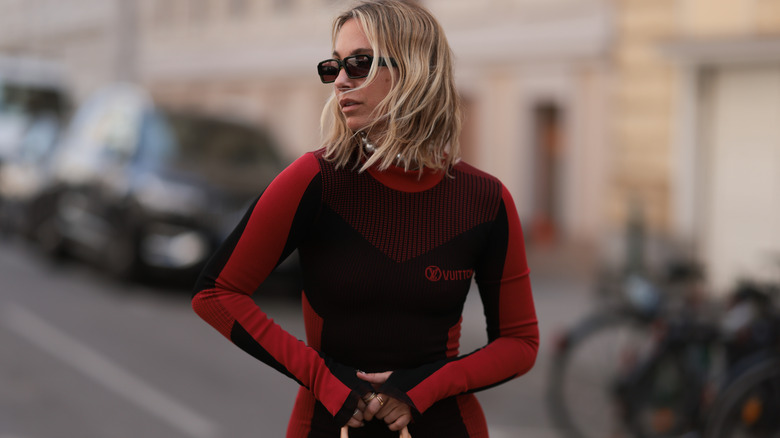 Jeremy Moeller/Getty Images
Summer is not just around the corner; it's knocking at our doors. As temperatures rise, fashion trends follow suit, and fashionistas everywhere start sporting a new hot color to match the hot weather. This sizzling, brazen color is the epitome of fearlessness and passion, and we are seeing it make a grand entrance into the summer fashion landscape. Red is the season's spiciest color and will add vibrancy and energy to your fashion choices, making a lasting impression during this sunny season.
From sexy high heels to flowy maxi dresses to practical tote bags and statement accessories, the fiery red hue is dominating street style as a hot summer trend you'll want to beat the heat in. So, if you're looking for ways to ignite your summer wardrobe and elevate your style, red is the ultimate color to achieve the perfect balance of boldness, elegance, and sexiness and spice up your style. Here are some of our absolute favorite ways to seamlessly incorporate red into your summer ensembles.
The bag - adds a dash of color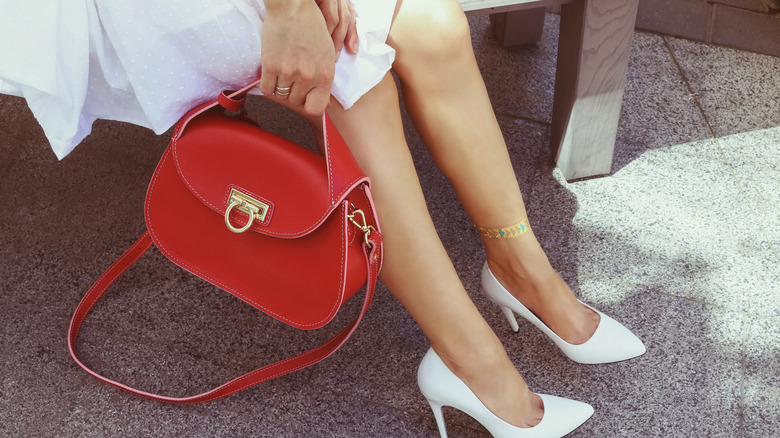 Cozy Home/Shutterstock
A red bag is the perfect way to add the season's spiciest color to any outfit. Ideal for those who are not too keen on sporting vibrant, colorful clothing trends, a red bag will spice up your outfit without compromising your preferred clothing color palette. Whether a practical crossbody, bohemian tote, elegant handbag, sexy clutch, or girly hobo, a red bag can add the colorful spice your summer attire needs.
The shoes - presents a bold fashion statement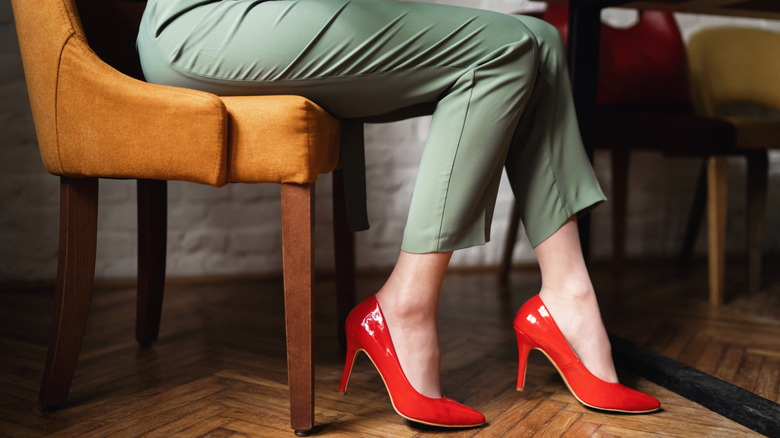 Srdjanpav/Getty Images
Red shoes can boldly and perfectly elevate your apparel with the summer season's spiciest color. Add some pizzazz to a little black dress with red stilettos, or give a flirty flair to your jeans with wine-red sneakers. Red ballet flats, which received chic upgrades for summer, can bring out the carefree innocence of childhood, while ruby-colored platforms can perfectly complement shorts or summer dresses and can be dressed up or down. Whether a casual day out or a glamorous evening affair, red shoes can add that extra touch of spice to complete your summer look.
The dress - gives that summer allure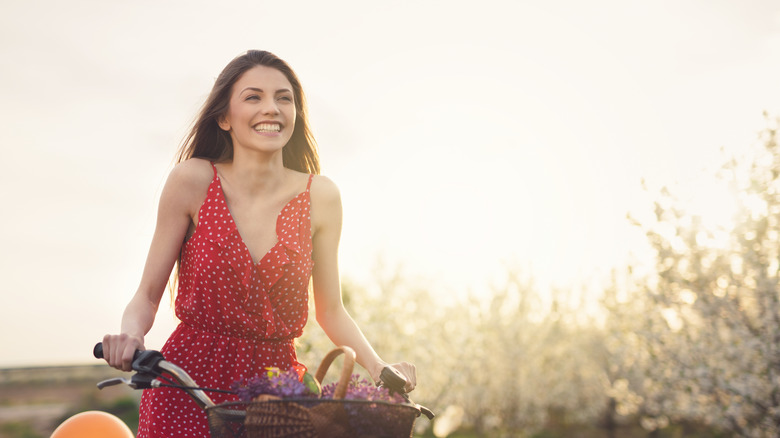 Srdjanpav/Getty Images
Nothing embodies summer more than a cute summer dress. Long or short, form-fitting or flowy, summer dresses are the perfect way to beat that summer heat while staying sexy. A red dress will surely turn heads wherever you go, and, depending on the style you choose, can accentuate your best features and hide the ones you'd like to minimize. If you're not comfortable sporting an entirely red look, you can still sport this summer's spiciest color by wearing a dress with red details.
The jewelry - reflects your personality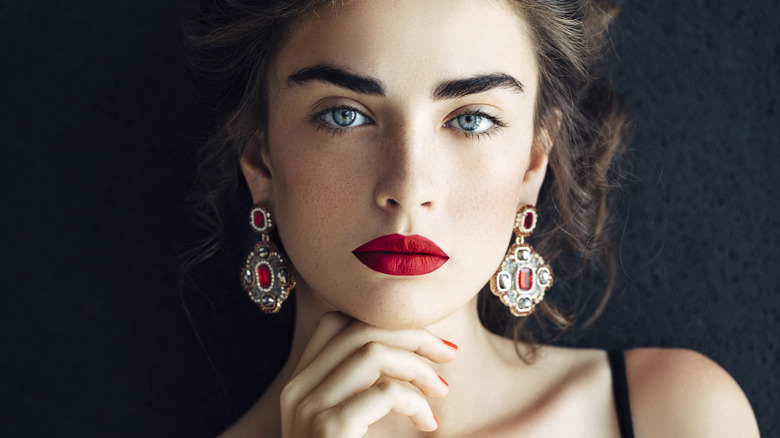 Coffeeandmilk/Getty Images
Whether you like bold jewelry that enhances your ensemble or prefer subtle pieces that add some elegance to your looks, the jewelry you choose speaks volumes of your personality. Choose a discreet red pendant for a romantic allure, or go wild with extravagant chandelier earrings that showcase the fearless fashionista in you. Alternatively, opt for a red necklace for understated elegance, or go big with red bangles. Whichever way you choose to incorporate the color into your jewelry, you can't go wrong. Plus, it's the perfect opportunity to reflect your personality with your style.
The shorts - adds some sexy flair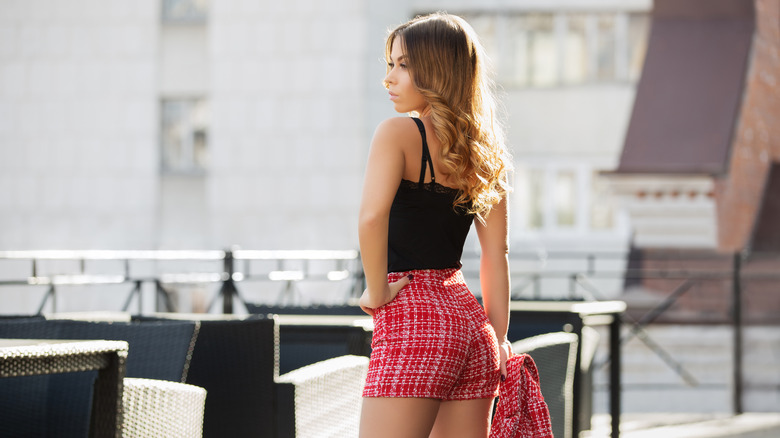 A-wrangler/Getty Images
Nothing is sexier than shorts — except, perhaps, red shorts. Fearlessly showcase your beautiful legs in a pair of hot, red shorts. Perfect for a casual morning meetup with friends, lunch with the family at a local bistro, or a night out clubbing, shorts are so versatile they can be worn up or down, depending on how you choose to complement them — sneakers and a comfy t-shirt for day, high heels and a sultry halter neck for night. The sexy allure of red shorts will follow you throughout the day.
The top - provides versatility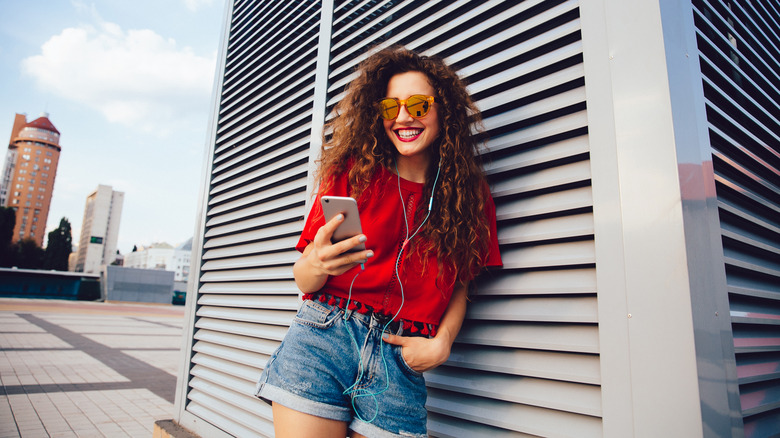 Maksym Azovtsev/Shutterstock
From skinny jeans to wide-leg pants, from sexy shorts to flowy skirts, a red top is the perfect way to spice up your look. Choose a red crop top to match high-waist jeans, a red off-the-shoulder top to complement a gipsy skirt, a red cami to dress up a pair of black pants, or a red tank to elevate a pair of casual shorts. Whether you're aiming for chic and casual or trendy and playful, the versatility of a red top allows you to mix and match with various bottoms to achieve the effect you want.
The hat - protects stylishly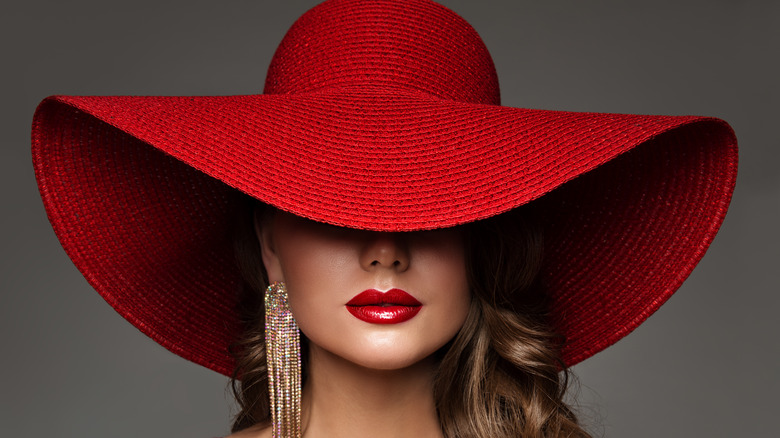 Inarik/Getty Images
Summer is here, and, as much as we love spending time outdoors and lounging al fresco, the sun is relentless on our skin. A red hat is the perfect stylish protection to safeguard our face and neck from harmful UV rays. Keep sun spots and melasma at bay while adding a sensual allure to your style with an oversized red hat, whether straw, sun, cloche, floppy, or bucket — the options are endless. No matter what you're wearing, there is a hat to perfectly complement your looks and elevate your style while stylishly protecting you.
The lips - re(a)d my lips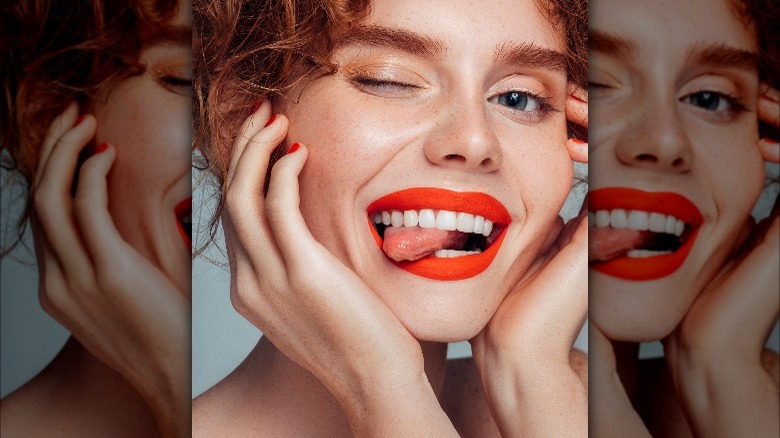 Coffeeandmilk/Getty Images
Red sultry lips have always embodied sexiness. Unfortunately, we've witnessed red lipstick cast aside for more natural, earthy tones. However, since red is this summer's spiciest color, perhaps it's time to bring this classic favorite back to the center stage of the fashion landscape — a look that can be pulled off easily. Trends may come and go, but red lipstick will stand the test of time, as red lips are the perfect way to spice up even the most understated of ensembles.