Colored Sneakers Are Taking Over From Neutral Shoe Options In 2023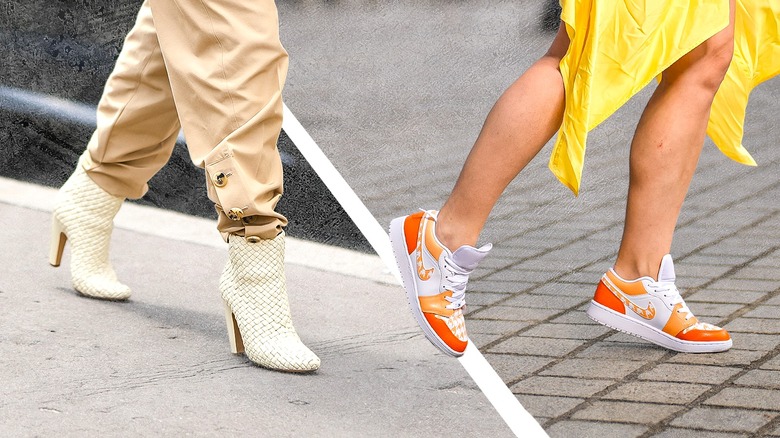 Static Media / Getty / Shutterstock
There's something to be said for a neutral shoe. After all, there's a reason that white sneakers will never go out of style. From shoes to belts, understated accessories are timeless and versatile. However, these neutral options also have one major downside — they're expected. While black boots or tan heels may ooze elegance when worn well, no one is going to be shocked or delighted to see an outfit completed with such classic pieces. Reliable? Yes. Fashion-forward? That's a harder sell. So while these pieces have most certainly earned their reputation as wardrobe staples, they aren't the end-all-be-all of fashion accessories. It's no wonder, then, that a louder, more daring trend is shaping up for fall 2023: the revival of the colorful sneaker.
No longer relegated to the gym, bright, attention-snaring sneakers are gracing looks from the street to the red carpet. Quirky and confident, colorful sneakers can elevate a casual look, add pizzazz to a sharp, tailored ensemble, or accent couture garments with undeniable playfulness. And as this trend gains steam in fashion circles, there are many different styles of colorful sneakers available to reinvigorate your next outfit.
Bold primary colors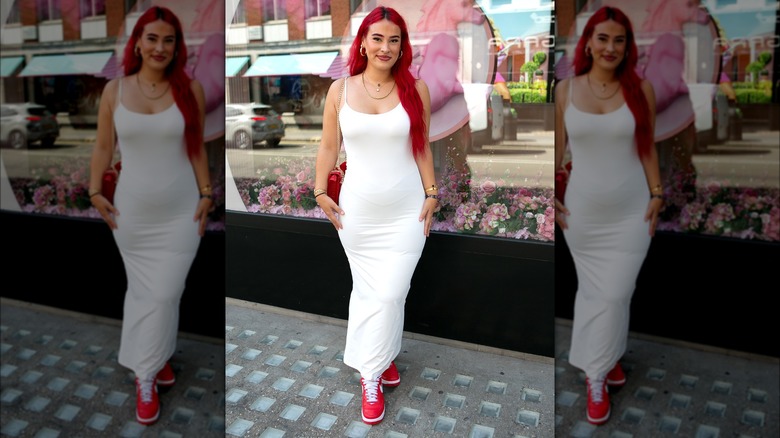 Ricky Vigil/Getty Images
Vivid red is one of the color trends set to dominate wardrobes in fall 2023 — and there's no easier way to incorporate this shade into every outfit than through a pair of vibrant sneakers. Whether you're trying to add flair to a simple maxi dress or pair some statement shoes with your go-to jeans, bold primary colors are instantly eye-catching. Red makes a classic statement, but bright yellows or saturated blues are also a fantastic choice to make your entire outfit pop. So the next time you feel like your ensemble might be skewing a little too basic, just reach for sneakers in your favorite crayon-bright colors.
Sophisticated secondary colors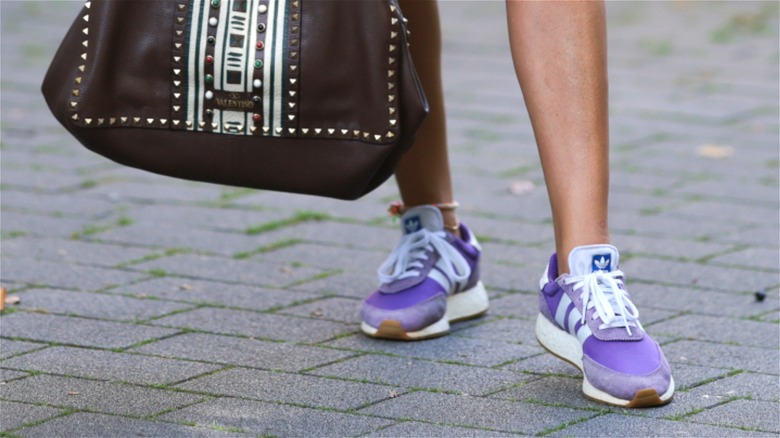 Jeremy Moeller/Getty Images
For wall-to-wall color with a slightly gentler touch, consider selecting sneakers in a secondary color like green, purple, or orange. These shades are stunning in both muted hues and rich jewel tones, offering plenty of eye-catching versatility. For a natural approach, consider shades of sage, violet, or burnt sienna, which will evoke blooming plants and dusky sunsets. Or add a luxurious edge to your shoe game with sneakers in deep emerald, amethyst, or amber. These tones tend to be a bit more moody and mysterious than primary colors, lending your ensemble an air of sporty sophistication.
Neon sneakers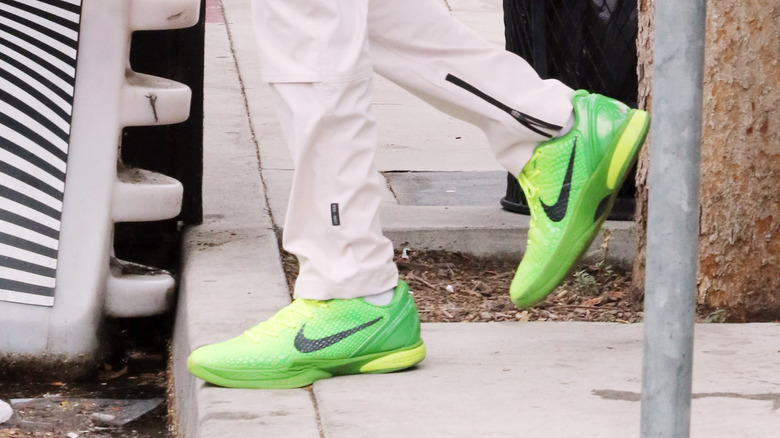 Mega/Getty Images
Understated or monochromatic outfits can be effortlessly cool, but sometimes they're a little lacking in the personality department. If you want to add a spicy twist to a classic look, simply create a focal point with neon sneakers. These loud colors pump up the volume, with an entire rainbow of Day-Glo hues at your disposal. From lime green to electric orange, these edgy, energetic sneakers look especially good with stark color palettes like white, black, and gray. They also pair well with trendy light-wash jeans for a more casual, everyday look.
Metallic sneakers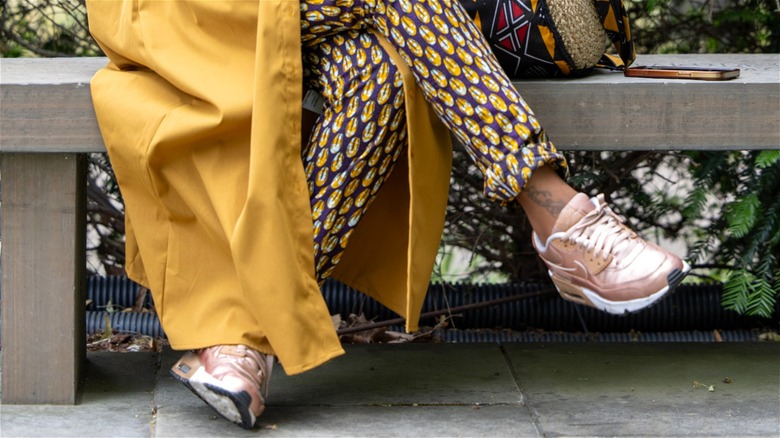 Shane Anthony Sinclair/Getty Images
If you're looking for a colorful alternative to standard neutrals like white, black, and beige, why not add subtle whimsy with metallic sneakers? Whether you're dressed up or dressed down, the reflective sheen of metallic sneakers adds style without fighting the rest of your outfit. Gold sneakers will add gentle warmth, silver shoes offer a cooler, futuristic touch, and rose gold sneakers are an easy shortcut to the quiet luxury aesthetic. Wear metallic sneakers with neutral clothes to keep things chic, or pair them with an equally colorful ensemble to give off creative, artistic vibes.
Pastel gradients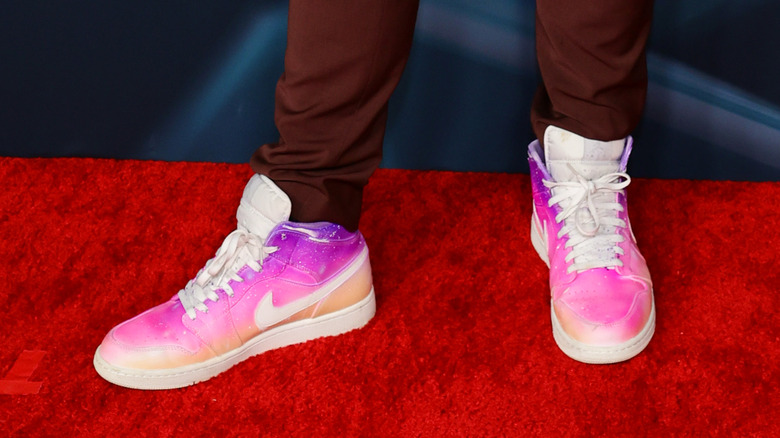 Matt Winkelmeyer/Getty Images
Practically embodying youthful fun, pastel gradient sneakers are full of character. And while they'll look incredible paired with fresh white pants or light-wash jeans, you can also use them to brighten dark trousers and add something special to otherwise refined outfits. For instance, we love the pairing of cheeky, pastel gradient sneakers with a sleek suit. You can even juxtapose these statement shoes against jewel-toned fabrics, making pastel sneakers more versatile than you might expect.
Colorblock sneakers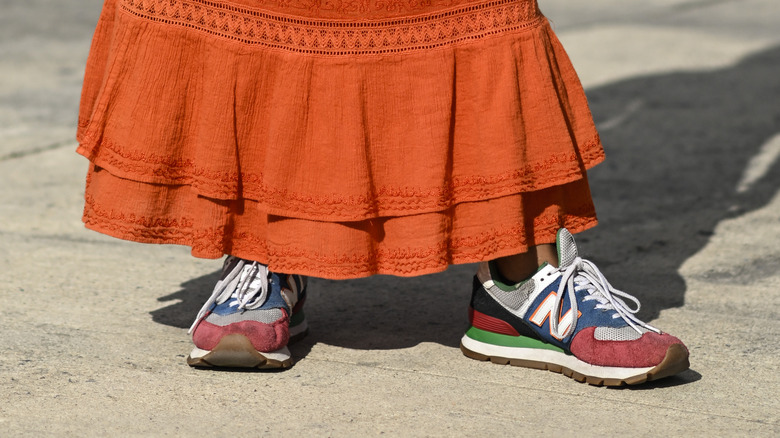 Daniel Zuchnik/Getty Images
For funky shoes with an unconventional feel, there are also colorblock sneakers to consider. So far outside the box that they nearly refuse to be categorized, colorblock sneakers can easily accent a variety of different outfits and aesthetics. Play up their innate eccentricity by wearing your multicolored sneakers with a long hippie skirt, creating a charmingly bohemian feel. Or partner colorblock shoes with simple jeans and a grandpa sweater to evoke vintage '90s style. With so many different hues at play, these shoes will go with almost anything in your closet.