7 Color Trends That Will Dominate Wardrobes All Fall 2023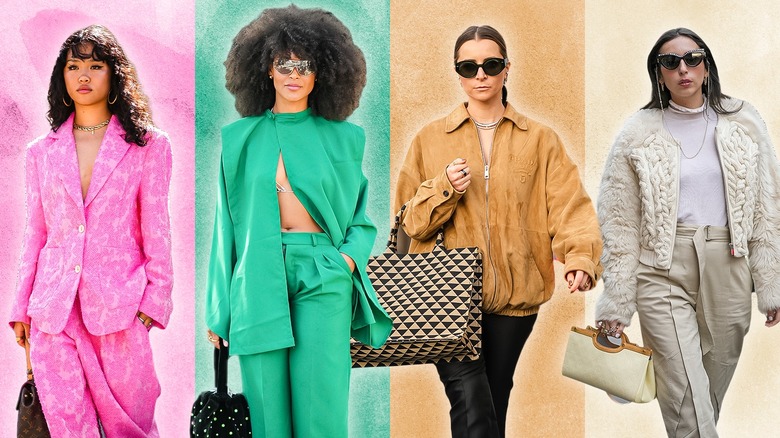 Static Media / Shutterstock / Getty
Is anyone else excited to swap their summer cocktails and lemonade for pumpkin spice lattes and fresh apple cider? Not only are we eager for all the fall flavors and festivities, but we also can't wait to start experimenting with fall fashion. However, fall fashion looks a little different in 2023 — instead of lowkey, muted, pumpkin-inspired orange shades, get ready for more colorful hues, such as pinks, reds, and buttery yellows. 
"Viva Magenta was not only chosen as Pantone's Color of the Year but is also front and center with the long-awaited 'Barbie' movie. We can expect to see this color in the fall and winter of 2023. Red Dahlia was prevalent among the Yves Saint Laurent and Prada Fall '23 shows and The Row Spring '24 runway show. At Gucci, we also saw it paired up beautifully with a buttery shade of yellow," Naina Singla, a fashion stylist style expert, told InStyle. 
This fall, we predict to see a continuation of the pink trend, various gray pieces, and delicious warm brown hues. While you probably expected the brown — no one can argue with the fact that brown clothes and the fall season go together better than pumpkin picking and apple cider doughnuts — it's understandable if you're a bit thrown by the brighter and more neutral trends. But these unconventional fall colors are still coming for our wardrobes, so why not embrace them? We're excited that fall 2023 is going to give more than those same predictable warm colors we see year after year.
Barbie pink isn't going anywhere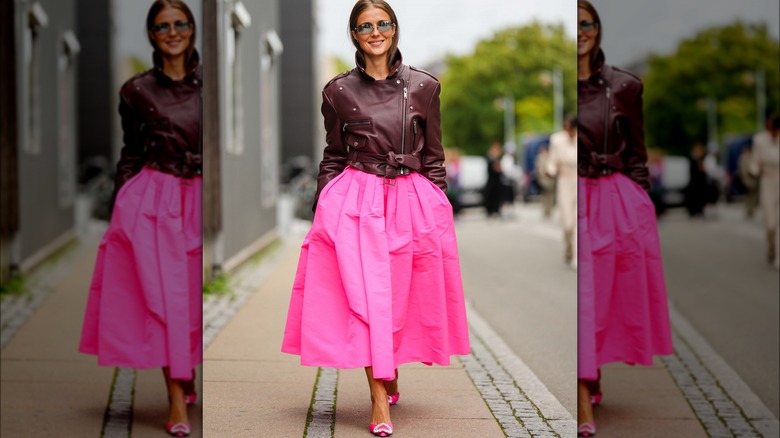 Edward Berthelot/Getty Images
You didn't think the Barbie-inspired sea of bright pink clothing would disappear in the fall after the movie came out, did you? The 2023 "Barbie" movie is a phenomenon, so pink will continue to stick around even as the weather gets chillier. "I think that the fact that Barbie embraces the extra-ness that she possesses, it's inspiring everyone to be their extra self, which I absolutely love," Zoe Gofman, a celebrity stylist, told Marie Claire. Don't expect the hue to fade until another new film with distinct fashion gets as much attention as this one did.
Rock trendy red looks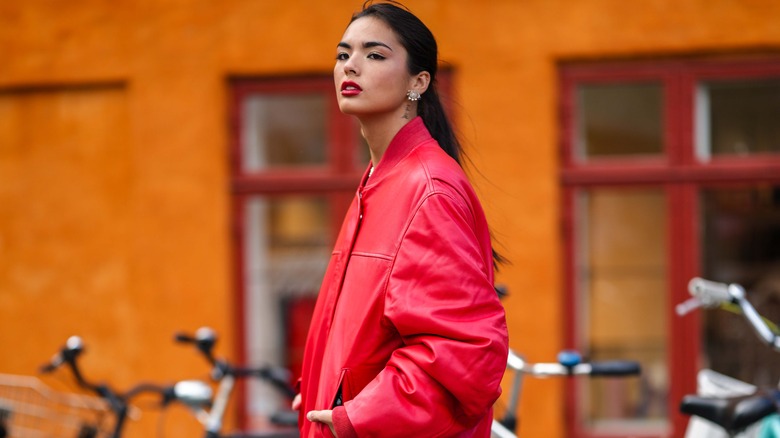 Edward Berthelot/Getty Images
Red will be the "it" color of fall 2023, so don't be afraid to flaunt some bold pieces. Classic bright red dresses, tops, pants, skirts, and outerwear will always make a daring statement! But if traditional bold red isn't your vibe, you can still embrace the fall 2023 trend with darker or muted red shades or reds with more orange hints.
Go classic in gray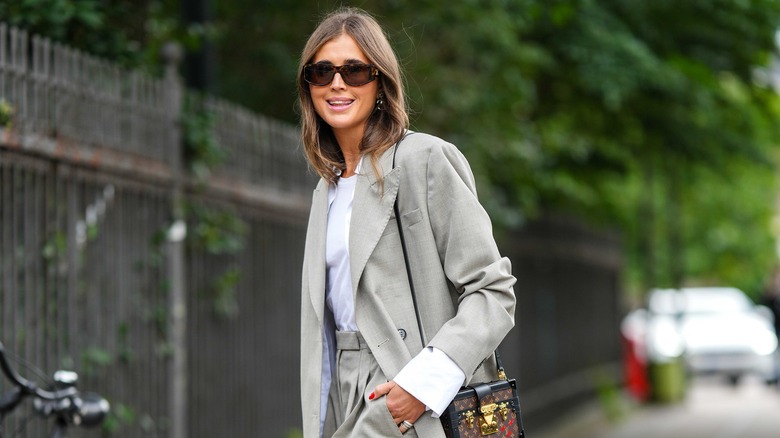 Edward Berthelot/Getty Images
While some might argue that gray is too somber for the fun fall season, you can't deny that neutral is chic. "In a more muted world, old faithful gray was very much present throughout Fall/Winter 2023 ... nodding to the winter uniforms of city workers in bygone eras," Celenie Seidel, the Senior Womenswear Lead at Farfetch, told Marie Claire. That said, many gray garments will likely pop up not only during fall 2023 but winter 2023, too. With a push to brighter color trends, it's refreshing to see a more traditional neutral option.
Green is trendy for 2023 beauty and fashion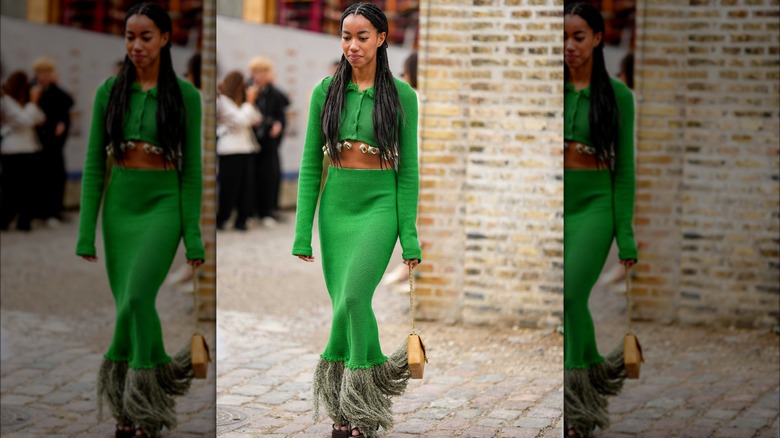 Edward Berthelot/Getty Images
Every green shade was a popular nail color choice in 2023, and that trend goes beyond your manicure. There was a plethora of green outfits at ultra-famous designer shows, such as Fendi and Givenchy, at this fall's New York Fashion Week. Get ready to see every shade of green this autumn, on everything from dresses and tops to bottoms and accessories. Whether you prefer bright green, olive green, pastel green, or blueish green, we recommend adding more green garments to your fall 2023 wardrobe if you want to look trendy.
Bring on the brown shades for coffee-inspired vibes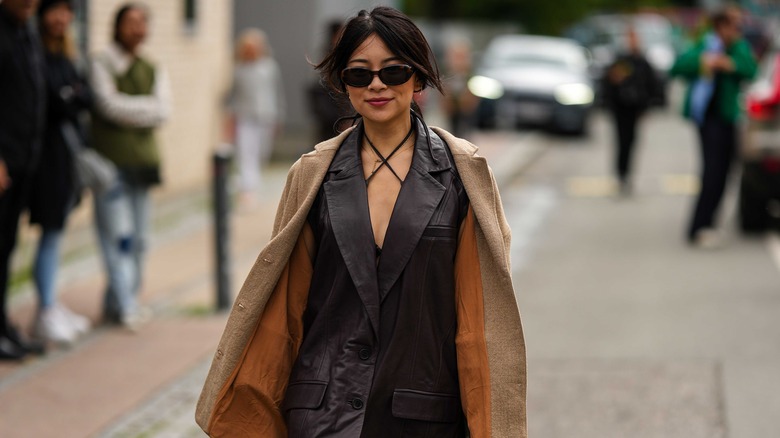 Edward Berthelot/Getty Images
Coffee-inspired espresso and latte makeup dominated summer 2023 beauty looks, so we expect this trend to trickle into fashion during the fall. "At the Saint Laurent Fall '23 show, we saw shades of brown and even head-to-toe tonal looks with this color gracing the runway," Naina Singla, told InStyle. Whether or not you enjoy the chocolate and coffee-inspired aesthetic, we can all agree that brown is a popular color for fall fashion, so it doesn't hurt to have some brown pieces in your closet for the season.
Pretty pale buttery yellow shades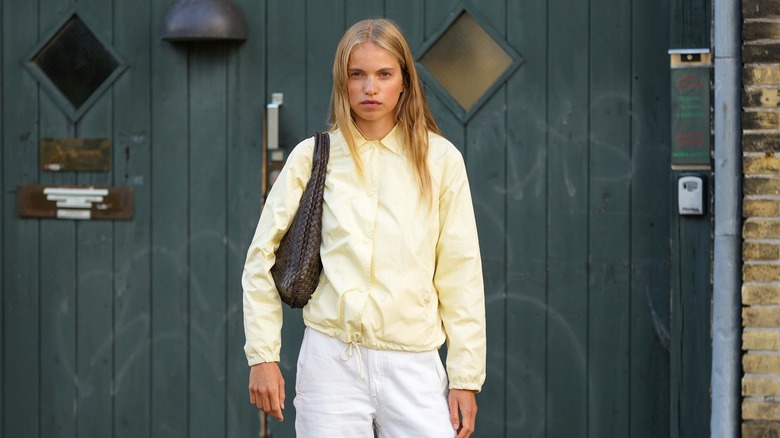 Edward Berthelot/Getty Images
Buttery yellow is the perfect fall shade for anyone who likes yellow but wants something softer and more subtle for fall fashion. "It's the perfect alternative for white, ivory, and cream while still feeling minimalistic and clean," Danielle Naer, a senior fashion editor, told Editorialist. So try a creamier, lighter shade of yellow to add a unique touch to your fall outfits.
Crisp and clean white
Last but not least, we can't forget about classic white. This traditional neutral is ideal for every season, providing a clean, elegant look, but it's particularly trendy in 2023, as bridal fashion is trending for everyday looks. Why not try the classy, minimalistic trend by rocking some new white outfits this fall?