A Classic White Sneaker Will Never Go Out Of Style When Worn Well
Regardless of your style preferences, white sneakers will always be a key piece in any closet. In fact, they are a sneaker trend everyone will be coveting in 2023. Even if you aren't a fan of a casual look, they can go with almost any ensemble. Besides being comfortable and sensible footwear, white sneakers are a timeless addition that can dress down a formal look without ruining your outfit.
You can never go wrong with wearing white sneakers if you prefer to look put together without sacrificing your feet in heels. While many variations of white sneakers have become major trends in recent years, this footwear is a classic staple rather than just a passing trend. One of the first brands to embrace the white sneaker was Keds, who first introduced the world to their canvas sneaker in 1916. Since then, designers from all price ranges have made the white sneaker their own.
Instead of underestimating the versatility of the white sneaker, use it to build up your closet. Dad shoes, chunky tennies, and simple canvas sneakers are all examples of various white-colored footwear you can choose for different occasions as an easy go-to choice. To embrace your white sneakers, be sure to style them accordingly.
Contrast an all-black look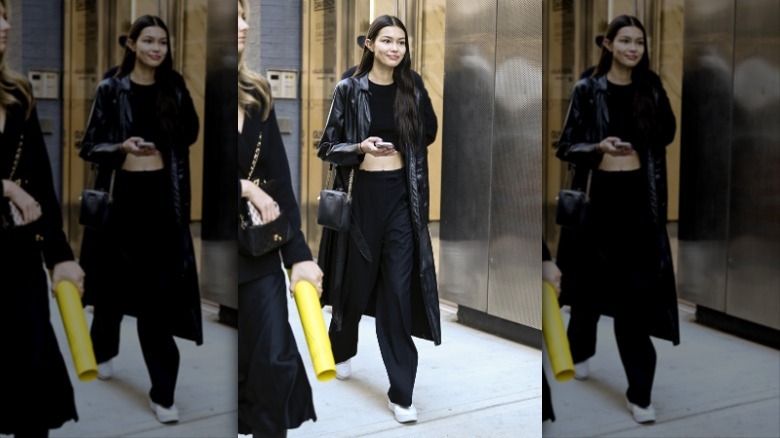 Daniel Zuchnik/Getty Images
Making white clothing pieces or accessories pop in your outfits can be challenging. To help your sneakers stand out, style them against an all-black ensemble. Not only is the black-on-black look chic and sophisticated, but adding white sneakers will help add another point of interest to your outfit. Monochromatic outfits are always a trendy rule to follow when styling your outfits, but adding a twist with your white sneakers will help you stand out.
Stylish casual looks
Let's face it: There are days when one simply doesn't have the time to put energy into their looks. The best solution? Pair your white sneakers with denim jeans, a simple tee, and a light sweater for the ultimate go-to casual outfit. Add a baseball hat and glasses for a weekend look that you can take anywhere. Swap out your denim jeans for shorts in the summer, and you have the perfect formula for a casual uniform you can wear year-round.
Baggy bottoms and white sneakers
Baggy and loose-fitting jeans are the must-have trend in denim right now. To easily incorporate a piece like baggy jeans into your closet, pair it with a classic item like white sneakers. While this look is more on the casual street style side of fashion, it's still a chic and put-together way to combine the two pieces. White sneakers are one of the best types of shoes to wear with your baggy denim since the jeans will cover up your entire footwear. You'll want to avoid putting on statement shoes, as no one will be able to even admire them underneath your jeans! Opt for white sneakers to keep your look fresh and sleek.
Workwear casual
If you spend your workday in an office, wearing uncomfortable heels all day can be daunting. Switch out those tight heels for a sleek pair of white sneakers for a modern take on office wear. Style your outfit as you regularly would with trousers and a crisp button-up top, and finish the look with a comfortable pair of white sneakers. Not only will your sneakers be a nice break away from heels, but they will still keep your ensemble looking professional and stylish.
White monochrome look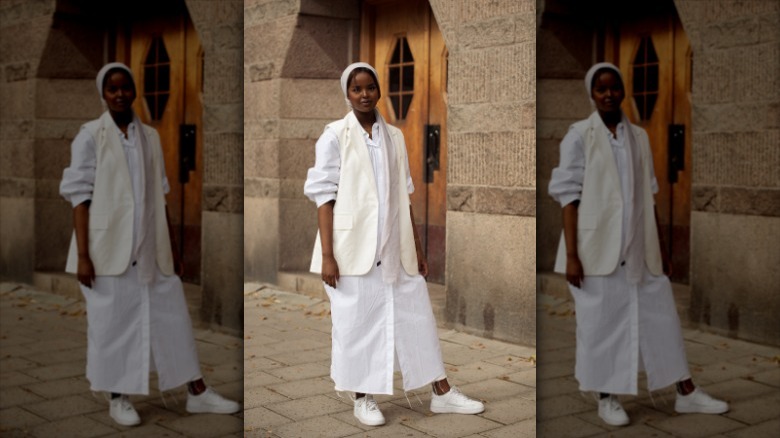 Raimonda Kulikauskiene/Getty Images
You've heard of winter and summer whites for a reason. An all-white outfit is a simple way of looking chic, refreshed, and modern. Your white-on-white ensemble wouldn't be complete without the addition of crisp white sneakers. For the warmer months, opt for Bermuda shorts and a linen top. In the colder seasons, switch out your bottoms for cream trousers and add a white coat for a stylish ensemble. No matter the time of year, an all-white look is sophisticated and glamorous.
Pair it with your skirts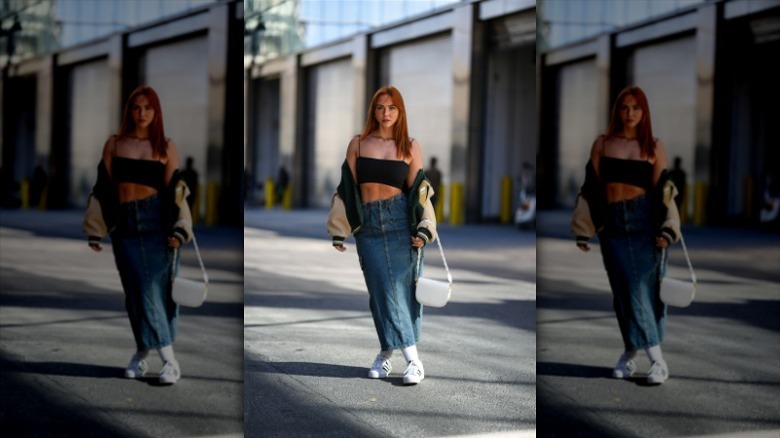 Edward Berthelot/Getty Images
Sneakers aren't just for your pants or jeans. Considering many variations of skirts are trending, it's going to be challenging to avoid them. With midi and denim skirts coming back in style, pair the trends with white sneakers for a complete Y2K-inspired outfit. Style a denim midi skirt with sneakers for a modern take on a classic pairing. Not only will you feel comfortable, but this look is a home run if you want to jump on board the '90s fashion train. You can also pair your sneakers with your favorite dresses for the ultimate girly-meets-casual vibe.
Incorporate other '90s trends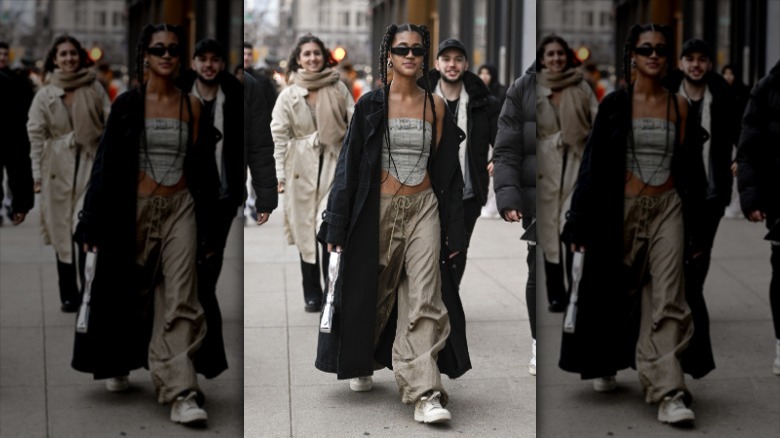 Daniel Zuchnik/Getty Images
With so many trends in fashion at the moment, it can be challenging to know how to mix them all into one ensemble. Since your white sneakers are already known for having a moment in the '90s, style them with other trends from the early aughts for a cohesive look. Any bottoms, from cargo pants to wide jeans, are perfect choices to coordinate with your sneakers. For your tops, opt for denim pieces or tank tops for a chic pairing. Finish your look with any accessories or outerwear you may need, and you have a retro aesthetic complete with white sneakers.
Dress up your sneakers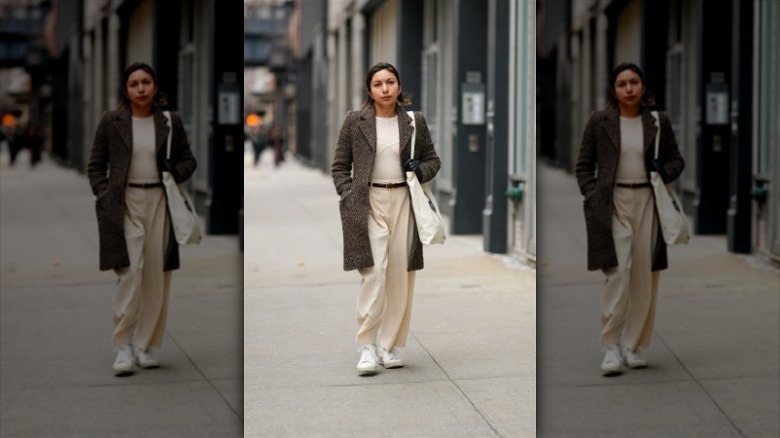 Edward Berthelot/Getty Images
You can always dress up your sneakers, even if you aren't heading to work. White sneakers are so versatile that they can easily match all situations and occasions. Start by pairing trousers or pants with a formal-style top as you typically would. Throw on your coat or jacket and finish with your white sneakers. Depending on your style, you can opt for a chunkier white sneaker for an edgier look with some height. No matter where you are headed, don't be afraid to dress up your white sneakers, as they are a trendy and timeless fashion piece.