The 10 Best Lip Scrubs You Can Buy For A Baby-Soft Pout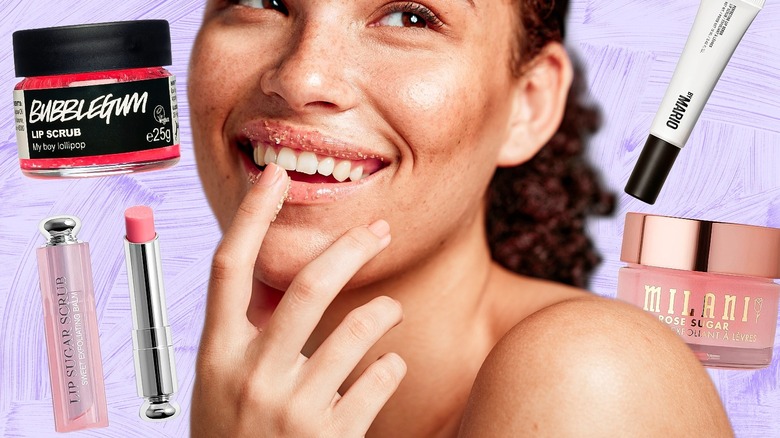 Static Media/Shutterstock
We may receive a commission on purchases made from links.
Whether you prefer a bold lip, a nude hue, a simple touch of gloss, or going completely au naturel, our lips are major facial focal points. So it's no wonder that lipstick is such an undeniable beauty staple. But there's so much more to lip care, from balms and chapsticks to an increasingly critical step in our skincare routines: lip scrub.
Just like the skin of our face benefits from regular exfoliation, our lips can thrive with proper care and maintenance. A gentle lip scrub buffs away chapped, dry skin to leave lips soft, supple, and invigorated. This creates a healthy glow when your lips are bare and provides a smooth canvas when it comes time to apply your favorite lipstick. Best of all, lip scrubs are easy to use, making them simple and seamless additions to your established beauty regimen. 
Whether you're trying to prevent dry, flaky lips or treat your lips to an anti-aging routine, lip scrubs are an important tool for perfecting and protecting your pout. But, of course, no two lip scrubs are the same. If you're tired of sifting through endless product pages looking for the "right" one, let us do the heavy lifting and point you in the direction of some truly worthwhile scrubs.
How We Selected Products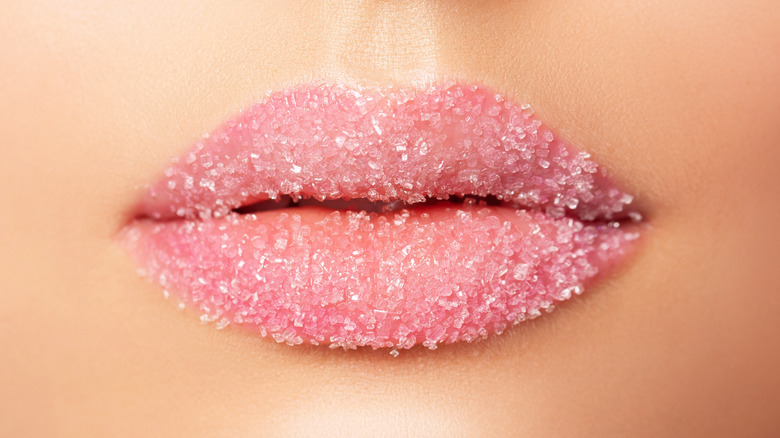 L Julia/Shutterstock
With so many beauty brands out there, ranging from cheap and cheerful to luxe investments, the well of available lip scrubs is deep. This can make it difficult to find your lips' holy grail product, especially because skincare is such a personal journey. The thin, delicate skin of your lips is no exception and requires careful consideration of products that will meet your individual needs. To help narrow your search, we've considered the stunning array of lip scrubs on the market and distilled them into 10 distinct categories.
To find a winner for each classification of lip scrub, we trawled through product descriptions, user reviews, ingredient lists, and opinions from trusted influencers and beauty experts. While every category had more than one lip scrub in the running, we ultimately culled away the runners-up to create this shortlist of the best lip scrubs for every need. We believe that whatever lip results you're seeking — and whatever your budget — there should be a scrub on this list ready to help you reach your goals.
Best Overall: Makeup by Mario Perfecting Lip Scrub
First things first: Makeup by Mario's lip scrub was in the running for so many categories that it only made sense to crown this product as the pick for Best Overall. Not only is it all-natural and cruelty-free, but the Perfecting Lip Scrub comes in a super handy tube that minimizes mess. More importantly, the formulation is powered by ingredients like soothing coconut oil, protective and collagen-boosting vitamin E, and moisture-locking hyaluronic acid. In a Sephora review entitled "Honestly Mind Blown," reviewer @slashlee writes, "This is hands down the best lip scrub I have ever used, it has the nice grit you need ... but still feels extremely moisturizing afterwards." Taken altogether, this fan-favorite lip scrub is the whole package: smoothing, hydrating, convenient, and moderately priced.
Purchase the Makeup by Mario Perfecting Lip Scrub at Sephora for $24.
Best Budget Lip Scrub: Handmade Heroes Coconut Sorbet Lip Scrub
In the wide world of beauty and skincare, you don't always have to empty your wallet to experience results. For a budget-friendly lip scrub, look no further than the vegan, cruelty-free options from Handmade Heroes — in particular, their Coconut Sorbet Lip Scrub, which is the number one best-selling lip scrub on Amazon. With nearly 19,000 ratings and an average of 4.4 stars, this sugar-based lip polish earns high marks for soft lips, a pleasant flavor, and good value for money. While slightly less popular, Handmade Heroes also offers lip scrubs featuring matcha and bakuchiol. But you can't go wrong with the OG coconut version for softer lips at an affordable price.
Purchase the Handmade Heroes Coconut Sorbet Lip Scrub on Amazon for $9.99.
Best High-End Lip Scrub: La Mer The Lip Polish
There's nothing cheap about La Mer, but if you're willing to splash out some serious bucks in the name of skincare, this may be the lip scrub for you. Crafted to address dryness, dullness, and uneven texture, The Lip Polish is built on La Mer's signature Miracle Broth, a fermented base that includes sea kelp and a proprietary blend of vitamins and minerals. On the flip side, this rich scrub proudly contains no harsh parabens, sulfates, formaldehyde, or phthalates, making it gentle enough for many skin types and needs. In a review video on TikTok, user @mexicanbutjapanese declares it "a bit pricey, but I actually notice a big difference after using. The applicator is amazing and the formula actually makes my lips soft and hydrated, not dry."
Purchase the La Mer The Lip Polish at Sephora for $80.
Best Drugstore Lip Scrub: Milani Rose Sugar Lip Scrub
Looking for a lip scrub that you can pick up in person? The reviewers have spoken, and Milani's Rose Sugar Lip Scrub is dominating the options available on drugstore shelves near you. With a 4.6-star rating at Walgreens and a 4.5-star rating at CVS, this pretty pink scrub has proven itself in the court of public opinion. As reviewer @sprousehousechaos remarks on the Milani product page, "I absolutely loved this lip exfoliator! It does give me a glamorous feel when I am done as my lips are super soft and plump. Makes any application very easy to put on. Smells literally like sweet roses."
Purchase the Milani Rose Sugar Lip Scrub at Walgreens for $9.29.
Best Lip Scrub for Dry Lips: Sara Happ The Lip Scrub
For a moisture-rich scrub, choosing Sara Happ's formulation is a no-brainer. Containing nourishing, skin-friendly ingredients like jojoba, sunflower, and grape seed oils, this lip scrub is a powerhouse of rejuvenating vitamins and fatty acids. Sara Happ reports that, in a blinded consumer study, 100% of participants replied that their dry lips were revitalized after their first use of the lip scrub. And with a stellar 4.5-star rating from the almost 900 reviews on Amazon, it's clear that the masses agree on its efficacy.
Purchase the Sara Happ The Lip Scrub on Amazon for $26.
Best Plumping Lip Scrub: Project Lip Scrub
When it comes to cushier lips, it's a lot easier to find lip-plumping glosses and balms than pout-enhancing scrubs. But Project Lip is an entire brand dedicated to fostering plusher lips, including with their signature scrub. This product includes ingredients like sweet orange, which are aimed at collagen production — hence, the purported plumping effect. This Manchester-based brand can be hard to find in the States, but the Project Lip website itself does ship to the U.S. Act fast when the scrub is available, as it tends to sell out quickly.
Purchase the Project Lip Scrub at Project Cosmetics for about $13.
Best Vegan Lip Scrub: Lush Bubblegum Lip Scrub
Beauty brand Lush has a dedicated customer base and some of its products border on legit cult status. Among these, the Lip Scrub is a constant best-seller. Vegan, edible, and made with skin-softening jojoba oil, the Lush Lip Scrub comes in a range of flavors — but Bubblegum reins supreme amongst fans. "If I had to choose one thing to bring on a deserted island, I swear it would be this Lush Lip Scrub," TikToker @whatshianshared declares in a review video for the popular product. "I use this stuff every single day." As a bonus, this scrub is reasonably priced and reportedly long-lasting, making it affordable for most budgets.
Purchase the Lush Bubblegum Lip Scrub at Lush for $13.50.
Best Overnight Lip Scrub: Beauty Bakerie Sugar Lip Scrub
If you're seeking lip products to enhance your beauty sleep, Beauty Bakerie's scrub can be applied right before bed and left to infuse your lips with moisture overnight. Delighted users praise this product for its yummy smell and smoothing moisture. But, as you might expect from an overnight product, this scrub is reportedly less gritty and exfoliating than some other options on the market. Otherwise, you would wake up every morning to a pillow covered in scratchy sugar bits. So if you want more intense exfoliation, you may need to stick to more concentrated daytime scrubs.
Purchase the Sugar Lip Scrub at Beauty Bakerie for $12.
Best Easy-Apply Lip Scrub: Dior Addict Lip Glow Sugar Scrub
Various brands have come out with lipstick-style lip scrubs, and many have been met with mixed reviews — usually because their formulas feel closer to balms than actual scrubs. But Dior's on-the-go lip scrub seems to bridge the gap and strike a happy medium with its easy application and even dispersal of sugar crystals. The Addict Lip Glow Sugar Scrub is almost universally well-received, with reviewers at Ulta praising the scrub's convenient packaging, subtle scent, and pink tint. As reviewer Riosa sums up, "I am very pleased with my purchase! Two in one! Just amazing! Exfoliate and soften lips at once. Genius!"
Purchase the Dior Addict Lip Glow Sugar Scrub at Ulta for $40.
Best Edible Lip Scrub: Jeffree Star Velour Lip Scrub
Want a lip scrub you can just lick away after exfoliating? The Velour Lip Scrub isn't just edible, it's apparently craveable. Outlets like Seventeen and Teen Vogue have reported on Jeffree Star's fans outright eating these lip scrubs straight from the tub. And in one memorable case, content creator Raphael Gomes made a YouTube video of baking Jeffree Star lip scrubs directly into a cake. So it's safe to say that the flavors are well-received. Thankfully, these lip scrubs are also touted to be safe for consumption, so sugar lovers can continue to have their scrub and eat it, too.
Purchase the Velour Lip Scrub at Jeffree Star Cosmetics for $12.