How Exactly Do Skin-Tightening Creams Work?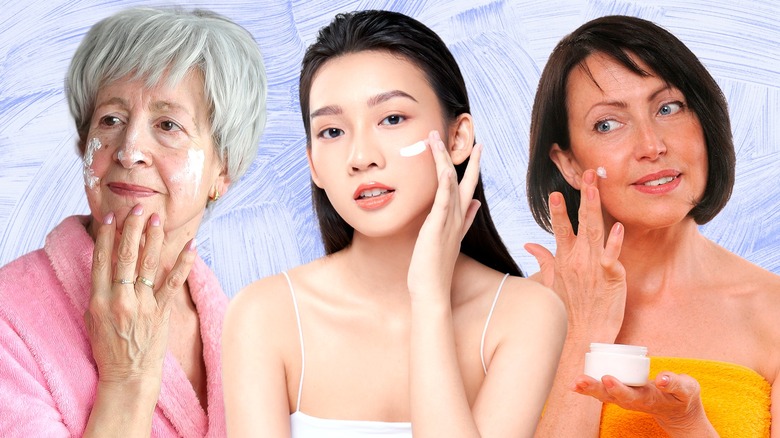 Static Media / Shutterstock
We live in an age of perfection. There is no denying that present standards of beauty are high, and there is plenty of pressure to keep up. Makeup is an art that not everyone has the time, patience, or skill for. Finding good skincare can be tricky, especially if you have sensitive or troubled skin. Plastic surgery is trending, but can be very daunting. Experimenting with 'tweakments' via injectables is a new trend as well, but its long-term results are not well-known. You could try over-the-counter skin tightening creams, but the jury is out on how these creams actually work or how effective they are in the long run as well.
"Firming body lotions are unfortunately not miracle creams. They mostly help to plump the top layer of skin, which can temporarily make the skin look tighter and smoother," Adrienne O'Connell, medical director and president of Laguna Beach Aesthetics, tells Well+Good. The thing to keep in mind is that though these creams may seem to work in the short term, long-term skin tightening is only possible when the skin's collagen and elastin production are increased from within.
The premise of skin tightening creams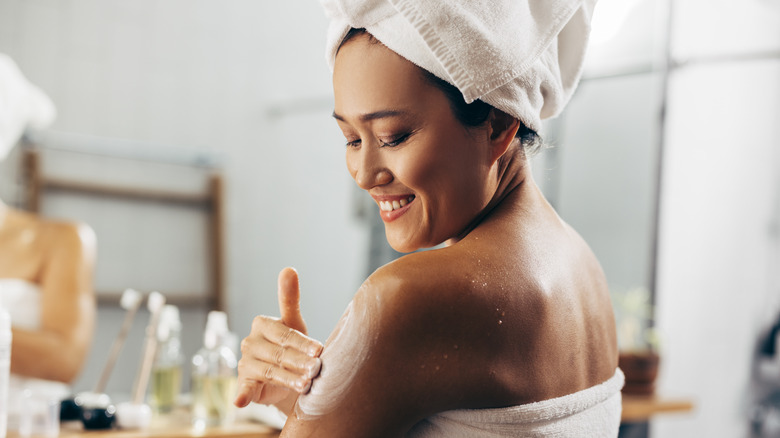 Freshsplash/Getty Images
According to Paula's Choice, collagen and elastin are the building blocks or the vital support system upon which one's skin is built. With time (and in some cases, lifestyle pressures like sun exposure and stress), they are depleted. In order to be effective, skin-tightening creams must help to restore them.
"In addition to moisturizing, skin tightening creams can increase collagen and elastin. Some creams, like those with hyaluronic acid, can also help promote skin cell turnover," Dr. Steven Goldman, a plastic surgeon with experience in skin tightening procedures, shares with Derm Collective. 
"Skin-firming topicals help support dermal fibroblasts [skin cells in the connective tissue] to produce collagen," celebrity dermatologist Audrey Kunin told The Zoe Report. "Because collagen decreases with age, and is responsible for suppleness, tightening, and volume of skin, adding in ingredients and products that promote production can help bring back youthful skin."
This does not, however, indicate that skin-tightening creams can in any way provide a result as fast and effective as surgery. That being said, they can be a more affordable and less invasive method that can be explored, per Derm Collective.
What ingredients to look for in skin tightening creams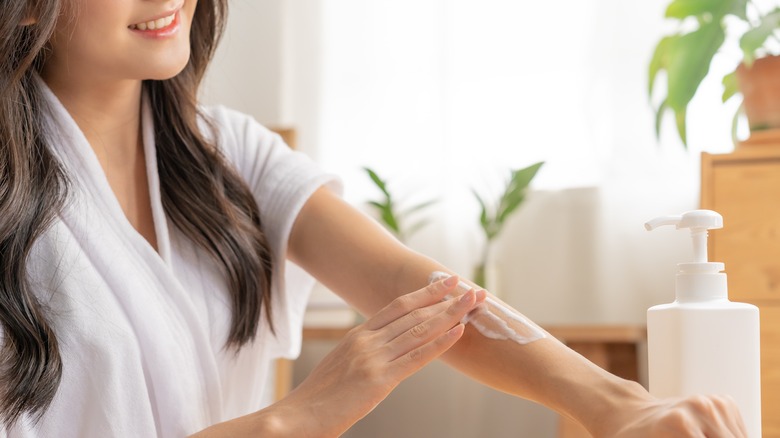 Kmpzzz/Shutterstock
If you have decided to invest in a skin-tightening cream, you should do your homework beforehand in order to get the biggest bang for your buck. Make sure the products you pick have certain ingredients, which are known to do the work. Most experts agree that retinol is extremely important, as it works to boost collagen production. "Retinol penetrates the middle layer of your skin, boosting the production of elastin and collagen to 'firm' or 'plump' the skin," Adrienne O'Connell, medical director and president of Laguna Beach Aesthetics, tells Well+Good. "It can also improve the skin's texture and tone."
Other popular ingredients in these creams are peptides, which are a combination of amino acids thought to help with collagen production. They can work particularly well when addressing the problem of sagging skin.
The presence of other ingredients can also help with tightening the appearance of the skin. Antioxidants help with decreasing inflammation that leads to a bloated look. Caffeine dehydrates the fat, in turn reducing the appearance of cellulite. A high SPF factor is also a good bet if you want to fight the signs of skin aging.