6 Times Kate Middleton Rocked Casual, Commoner Style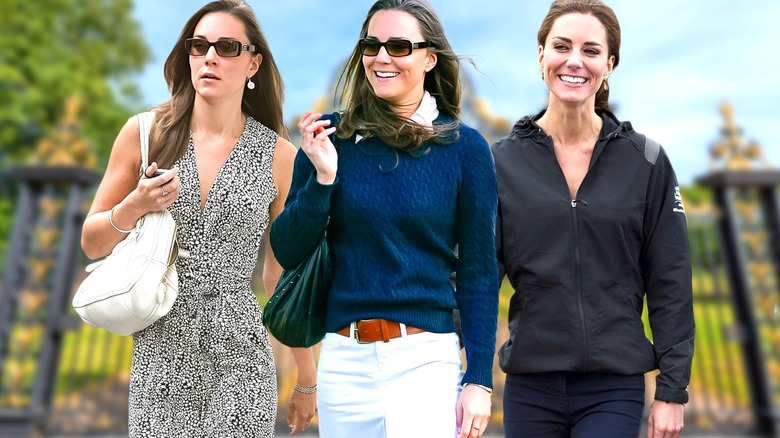 Static Media / Shutterstock / Getty
The last thing you probably think about when you imagine the royals is relatable. With numerous castles, jewels, tiaras, and gowns, it's challenging to imagine them living like everyone else. However, this is one aspect of the monarchy that the British royal family, for one, has often tried to change. Becoming more authentic is difficult for the historic institution but is a mission for some modern royals. One such royal family member who seems to be making headway in this area is the Princess of Wales, Kate Middleton. While married to the heir apparent, Prince William, the future queen consort of the United Kingdom has often tried to sway public image with her fashion sense.
Middleton's fashion has attracted many fans, as she has seemingly adopted royal elegance well. However, the princess has also dressed like everyone else in a number of instances. Middleton often wears more casual attire — everything from sneakers to skinny jeans — during her royal engagements. While it's unknown whether this is a purposeful move or if she sees no use in high-end designer items for daily meetings, it's a well-appreciated touch that makes Kate Middleton our new favorite everyday-style inspiration.
Sailing with the team from Great Britain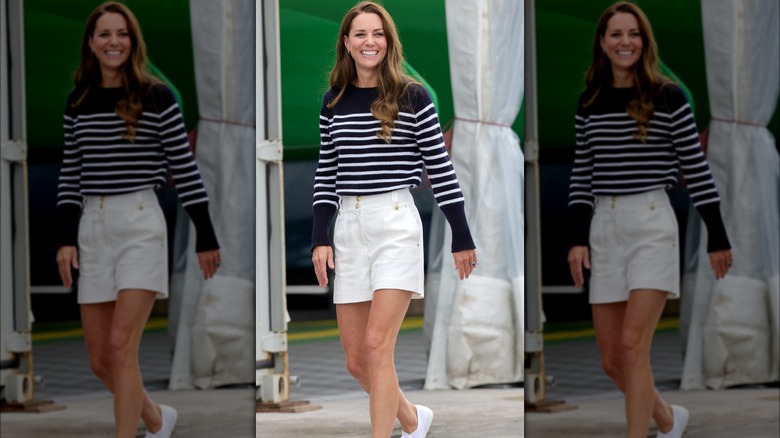 Chris Jackson/Getty Images
If there's one thing we know about Kate Middleton, it's that she enjoys her sporting activities. Since she is the royal patron of many sport-focused institutions, it's common to see Middleton rocking her best sporting 'fits. With pleated shorts and a striped sweater, Middleton made two casual pieces into a royal ensemble. A crisp combination of neutral colors, this look was perfect for spending a day sailing with the team from Great Britain. Complete with white sneakers, this look should be in everyone's closet during the warm weather seasons.
Touring in Belize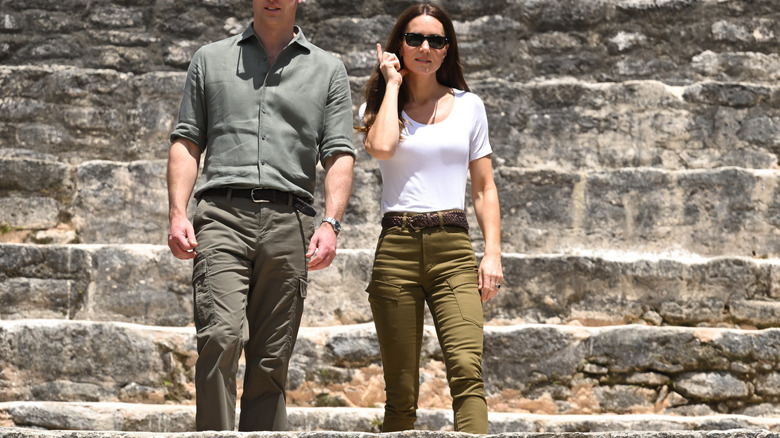 Karwai Tang/Getty Images
When visiting historic ancient ruins, it's hard to imagine wanting to dress up for the occasion. While in Belize, Kate Middleton took the chance to showcase how classic a white tee can be. By pairing it with green cargo-style skinny jeans, the royal proved a basic white tee is a must-have in every closet — it's also a piece that can be easily updated. While some may argue that skinny jeans are outdated, Middleton's outfit makes us think twice.
Boat racing in Germany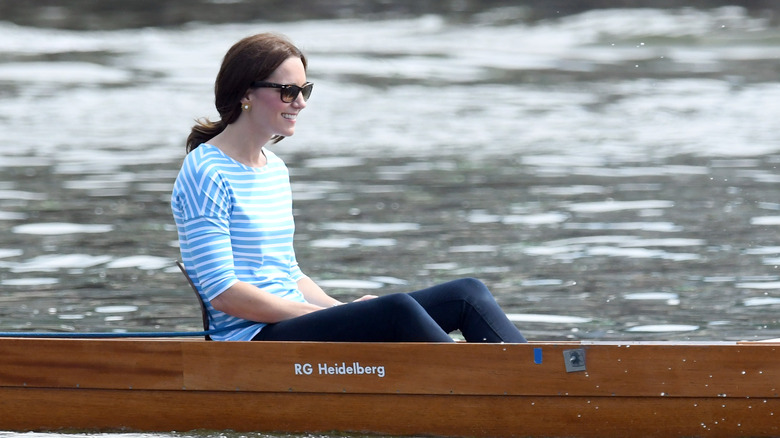 Karwai Tang/Getty Images
Once again, Kate Middleton has proven that stripes are a timeless pattern that can turn any casual outfit into a chic ensemble. By donning a blue-and-white striped top and a classic pair of jeans, the casual royal rocked a simple outfit for boat racing against her royal husband. By sticking with two classic wardrobe pieces, this look is a go-to for anyone looking to rock chic casual attire.
Sailing in the Bahamas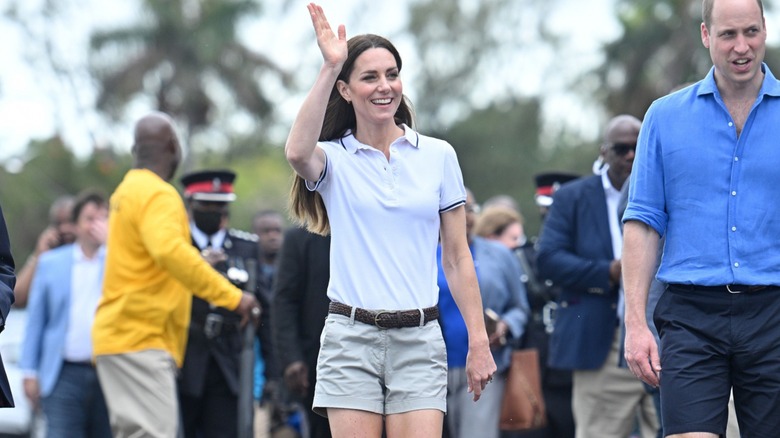 Samir Hussein/Getty Images
The polo shirt is another casual item that has caught the Princess of Wales' attention. While typically stereotyped as a school uniform, the polo shirt is a timeless piece that can make any laid-back look more sophisticated. Kate Middleton exemplified this during a sailing event in the Bahamas. By pairing it with cargo shorts and a braided belt, Middleton's white polo shirt made for a casual piece anyone can replicate.
Land yachting in Scotland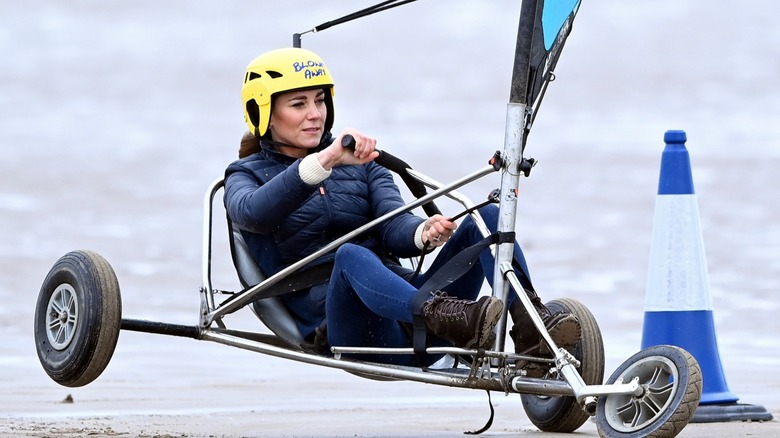 Pool/max Mumby
Although going on a yacht sounds on brand for the royal family, land yachting is an entirely different activity. With sand flying everywhere, it's no wonder the future queen consort rocked a simple pair of jeans (another pair of skinny jeans) and a puffer jacket. To combat the cold weather of Scotland, Kate Middleton showed off how it's done by pairing these two basics.
Training for the London marathon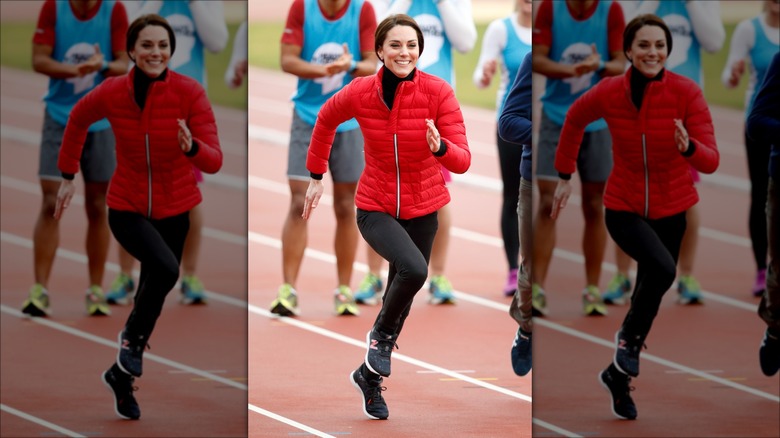 Max Mumby/indigo
With a pair of black leggings, Nike running shoes, and a red puffer jacket, Kate Middleton seemed ready to start her training for the London marathon. Casual, athletic, and comfortable are the main characteristics of her outfit, which reminds us all that running isn't meant to look glamorous. It's not often we see members of the royal family rocking running shoes, but, at the end of the day, everyone deserves to wear comfortable footwear appropriate for the occasion.