Whole Foods Creates Bouquets For Free, And It's A Game-Changer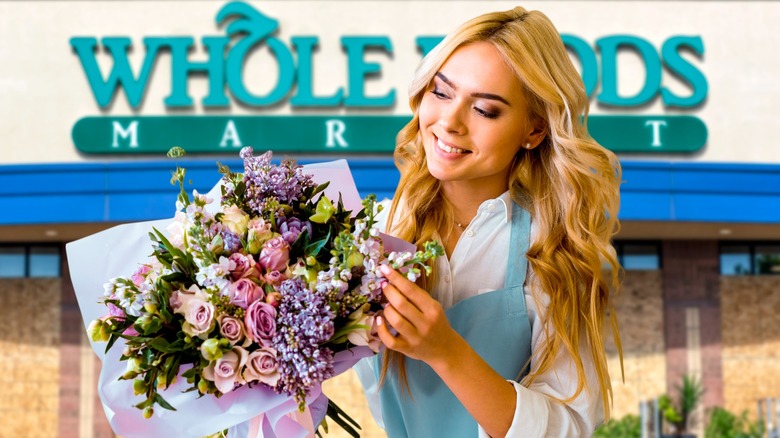 Static Media/Shutterstock
Whole Foods Market is commonly known as the number one destination for organic and minimally processed foods, but the chain's floral department is also pretty great, too. When you buy flowers from most supermarkets, they're typically wrapped in bulky plastic that you have to take apart before giving them to someone. At Whole Foods, the floral department goes the extra mile to beautifully wrap your choice of flowers upon request, and for no extra charge! This way, the flowers are all ready to give to that special someone, and they'll have that extra touch of love and care.
You may have seen people talking about this on TikTok, with users sharing their own bouquets on the app. Whether you're buying red roses for Valentine's Day, a graduation bouquet, or your mom's favorite flowers for her birthday, Whole Foods has gorgeous flowers for any occasion. If you don't have enough time to wrap them yourself or are unsure how to arrange fresh-cut flowers, you can head to a Whole Foods near you. 
How to get your bouquet at Whole Foods
When you enter a Whole Foods store, visit the floral department and ask a team member if they can wrap a bouquet for you. They'll ask you which flowers you'd like, and they can also recommend certain pairings and colors depending on the season and occasion. If there isn't someone at the floral counter, you can ask the customer service desk if there's someone available to help you. The floral team member will take the freshly cut flowers you selected and wrap them in high-quality paper and ribbons.
If you're an Amazon Prime Member who buys groceries online from Whole Foods, you can order flowers for delivery or pickup, but you can't always choose the exact color and arrangement. To guarantee you get exactly what you want, it's best to visit the store in person. You can also try calling the store to ask if the team members can prepare a bouquet for you ahead of time if you're really in a time crunch.
Why buy flowers from Whole Foods?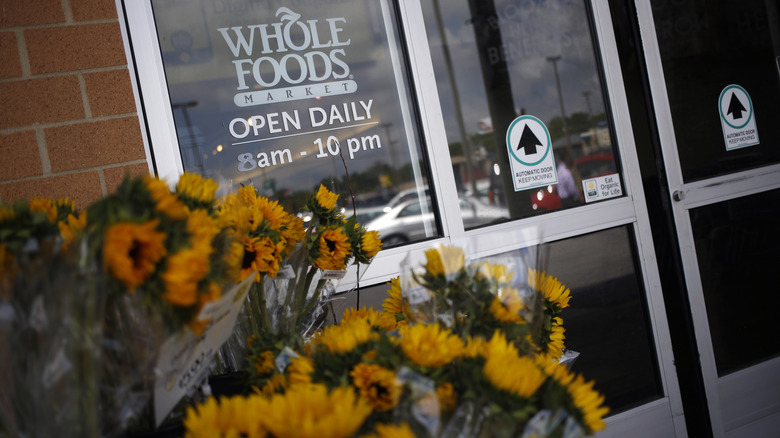 Bloomberg/Getty Images
While almost all grocery stores have a floral department, Whole Foods has a huge variety of flowers and plants to choose from. The store has many different options of organic, locally grown, and seasonal flowers for any occasion you can think of. And though Whole Foods is known for being expensive, you don't have to pay any extra for the flowers to be wrapped as you would at a professional florist. 
Whole Foods is also a grocery store that likes to give back. The store has a program called Sourced for Good, which aims to benefit the farmers and workers who supply many of its products, including select roses and tulips, through responsible sourcing. 
"At Whole Foods Market, our Sourced for Good products not only are good, they do good," Senior Vice President of Merchandising for Perishables Karen Christensen revealed on the company's website. "Our commitment to equitable trade has funded numerous community projects—from dental clinics to housing facilities to student scholarships to bird sanctuaries. By purchasing select products, customers help us in our goal to make a difference, and now with Sourced for Good, we're offering shoppers an easier way to find these special products in our stores."
At Whole Foods, you're not only buying beautiful flowers for a loved one, but your money is also making a difference.