How To Create A Looped Bun Look On Every Hair Type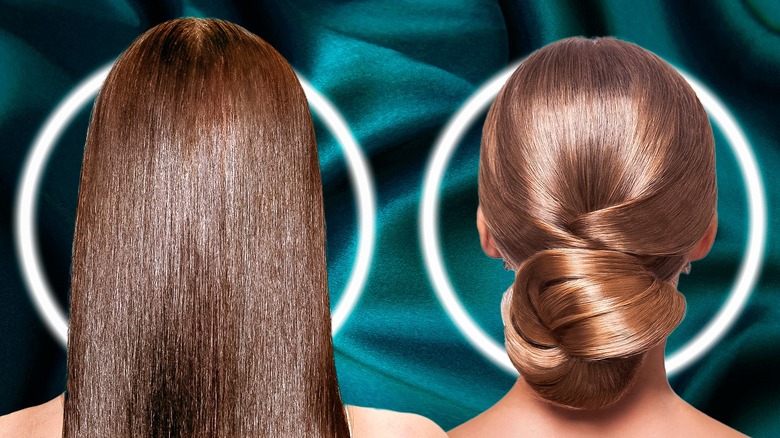 Static Media / Shutterstock
The world of haircare and hairstyling is extraordinarily vast, but even with the help of sites like Pinterest and TikTok for inspiration, it is easy to fall into a styling rut. There are so many options and products to choose from, and many of the trendier looks require a level of skill you may not possess.  
If you're currently bored by the same old ponytails and messy buns you consistently default to, the looped bun — sometimes referred to as the looped ponytail bun — may be the hairstyle for you. This cute, low-maintenance bun, made popular by celebrity hairstylists like Chris Appleton, is a refreshing take on the everyday bun. Better yet, it can easily be achieved in a matter of minutes. No matter how comfortable you are with doing your own hair, the looped bun is perfect for the busy professional, gym girlies, and boho brides alike. The looped bun also makes a fabulous date-night hairstyle you'll want to show off to everyone and your partner will adore. It is versatile, beginner-friendly, and gives everyone who wears it an effortlessly cool vibe. Try it out for yourself by using the comprehensive looped bun tutorial below. 
What is a looped bun?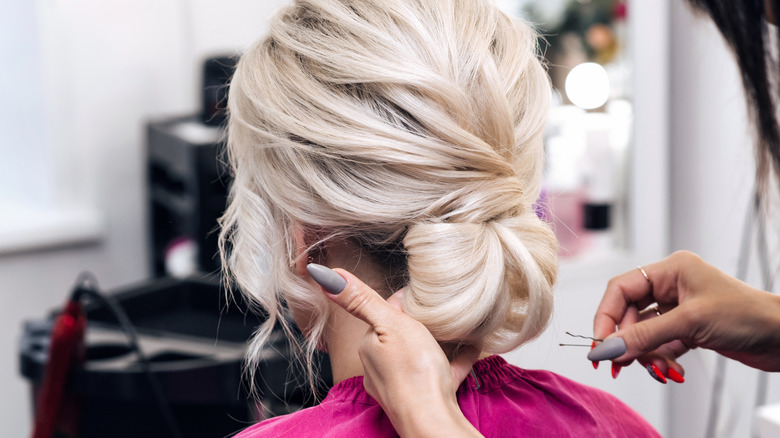 alexkoral/Shutterstock
Looped buns aren't exactly a brand new hairstyle, but it is definitely a trendy one. It is especially popular for women with short hair. Celebrities like Maura Higgins, Kim Kardashian, and Hailey Bieber have been photographed rocking the chic, sleek, and surprisingly versatile low bun look. Furthermore, the hashtag "loop bun" has taken the internet by storm with over 7 million views on TikTok, and hundreds of tutorials — featuring all kinds of hair types — on how to achieve the low-maintenance look for yourself. 
But what exactly is a looped bun, and what makes it so special? At its core, the looped bun is simply a modern twist on a low bun. Depending on your hair type, length, and density, the looped bun resembles a folded under ponytail with an artful knot of hair above it, elevating the everyday messy bun and creating more visual interest. It can be worn slicked back and smooth for a structured, high-fashion look, or styled loose and messy for the gym, date night, or a garden wedding. It makes for a great corporate style as well. 
"This is a great polished hairstyle for the office," Jocelyn Ng shared with Glamour. "It's simple and sleek, making it versatile for any setting." The style is easy to do on yourself and requires minimal products or tools to achieve. Looped buns are also more accessible for some people than similar trendy Y2K hairstyles like space buns or spiky top knots. 
Looped bun vs. chignon: What's the difference?
Looped buns are often confused with the classic chignon. While it is true that both styles are worn at the base of the neck, the similarities stop there. The chignon hairstyle originated in France from the phrase "chignon du cou" meaning nape of the neck. It has been worn for centuries in numerous cultures, and is normally associated with formality, timelessness, and vintage glamour. It can be tucked, rolled, or twisted into position. As a more polished style, it is naturally very sophisticated and frequently seen on the red carpet. The former Duchess of Sussex Meghan Markle wore a loose chignon on her wedding day, making it a regal look as well. "It's a classic style that is constantly evolving and modernizing," master stylist Leonardo Manetti tells Real Simple.
The looped bun, on the other hand, is significantly more relaxed than the chignon and can be done at home in a matter of minutes. Depending on how you wear it, this bun can certainly look polished and glamorous. However, it has street style vibes to it, giving it elements of edginess and practicality that the chignon, with all of its beauty and elegance, lacks. 
The products and tools you'll need to create a looped bun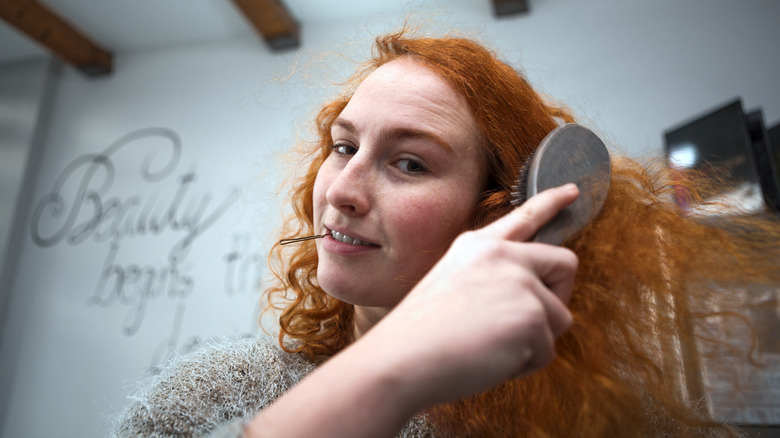 Nastasic/Getty Images
You only need a handful of tools to create this quick but deceivingly elaborate hairstyle, many of which you probably already have on hand. In addition to your preferred detangling brush or comb, you will need at least two hair elastics (clear or color-matching is best), several bobby pins, hairspray, and smoothing oil or shine spray to polish off the look. If you don't have hairspray, a little dry shampoo or hair mousse can work in a pinch to create texture, volume, and needed hold.
Depending on your hair type, a boar bristle brush is an excellent option as the soft, densely arranged bristles are perfect for creating the smooth, shiny texture the looped bun is known for. You may also want to use the end of a comb for achieving a precise part, especially if you want to rock a middle part with this bun. If you aren't a fan of the clear, plastic hair elastics, consider a hair bungee. These lengths of elastic have hooks at either end and can be wrapped around your hair to secure it with minimal pulling, damage, or creasing, in addition to perfectly matching the tension and thickness of your natural hair. Regardless of what hair tie you use, make sure they are sturdy. "You want nice and strong ones," hair guru Alex Gaboury explains in her low looped bun YouTube tutorial. "They don't have to be cute because they are going to be hidden."
Start by brushing clean, dry hair back into a low ponytail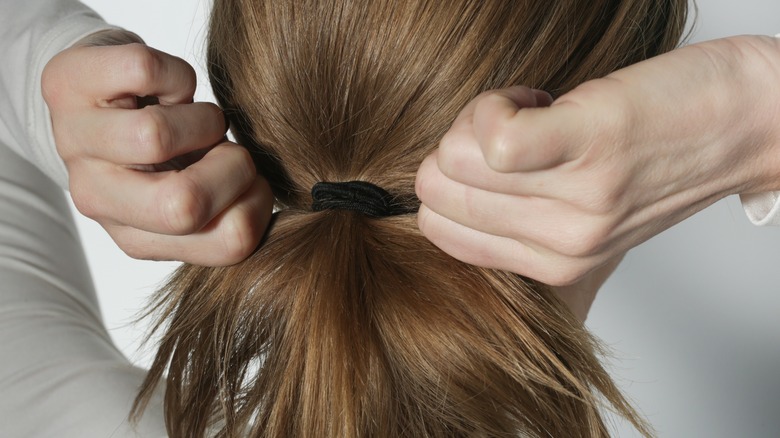 triocean/Shutterstock
Some hairstyles benefit from mildly dirty or damp hair, but a looped bun is not one of them. To make this look work on most hair types, you will need to start with dry, clean hair, which means this style starts in the shower. Make sure to condition your hair after shampooing, as this will help your hair look smooth and shiny as you manipulate it into the looped shape. As always, use a heat protectant while blow-drying your hair to avoid flyaways and frizz that will detract from the looped bun's final look. 
Once dry, run your brush through your hair to remove any final tangles and introduce some extra shine to the strands. If you want to include a precise part, use the end of a rattail styling comb to do so. Where you choose to part your hair is a matter of personal preference, although the style is often worn with a middle part. Next, use your brush to create volume by backcombing toward the scalp, focusing on the roots at the sides and crown of the head. This step is especially important if you have fine or limp hair that struggles to maintain volume. Then pull the hair back into a low ponytail and secure it with your preferred hair elastic or hair bungee at the nape of the neck.
How to create a looped bun with fine hair
Once you have your hair volumized and set securely in a sleek, low ponytail, the bun creation can begin. The looped bun is ideal for fine hair because it lends it more natural movement and volume. However, if you have fine hair, backcombing your silky strands and getting them to hold the necessary volume may be tricky. "The natural oils on the scalp weigh down the hair at roots making hair easily fall flat," celebrity hairstylist Graham Nation tells Sunday Edit. "It might also appear 'greasier' than other hair types." Add a little hairspray or texturizing spray to the roots as you backcomb to create additional hold before creating your low ponytail. Spraying a little hairspray in your hands and running them over your head can also help create hold while simultaneously taming any errant flyaways. 
Next, create a mini loop of hair by stretching the hair elastic with your non-dominant hand and pulling the ponytail halfway through it, leaving the ends free. Split the hanging ends of hair into two parts. Wrap the ends up and around the hair elastic until covered and secure with bobby pins below the bun. In her TikTok tutorial, nichole.ciotti demonstrates wrapping the whole tail around the base of the mini loop before pinning in place. To keep bobby pins firmly secured in fine, slippery hair, spray a bit of hairspray or dry shampoo on the inside of the pins for extra grip. 
How to create a looped bun with thick hair
Having thick hair certainly comes with its own advantages. It is often more coarse or dense, meaning it can hold a number of complex and voluminous styles that fine hair slips right out of, including the looped bun. However, it is also quite heavy, meaning you will need durable styling tools if you want to properly secure a looped bun.
When creating a looped bun with thick hair, applying some hair mousse to the ends of your hair will help you achieve sleekness. The mousse will also help create hold without using copious amounts of hairspray. Frizziness can be a common problem with thicker hair, so know that you will likely need to tamp down flyaways prior to tying your hair back into the twisted loop. "Spray your palms with hairspray, rub them together, and smooth over the top and crown of the head, and if you need it, through the ponytail," celebrity stylist Creighton Bowman tells Beautylish.
How to create a looped bun on natural or curly hair
The looped bun is a great protective hairstyle for people with natural and curly, coily hair. If you have shorter natural hair, consider pulling your hair into a smooth, low bun using a hair elastic and ensuring the ends are left free. With your non-dominant hand, gently twist the ends down and around the bun until the elastic is covered and pin into place. Then, smooth down the sides of your hair with your preferred brush to achieve a sleek low bun look suitable for everyday or special occasions. 
Long curly hair can also be tied up into a beautiful, no-frills version of a looped bun. In her hair tutorial on TikTok, @curlsnstyle demonstrates how to secure this style without the traditional elastics and bobby pins. Begin by gathering the hair in a low ponytail with both hands. Holding onto the base of the ponytail with your left hand, use your right hand to pull the ends of the hair up and to the side. Begin to twist the hair under and to the left until you form a loop. Pull the remaining ends of your hair through the loop and push outward until a bun forms. 
How to create a looped bun with braided hair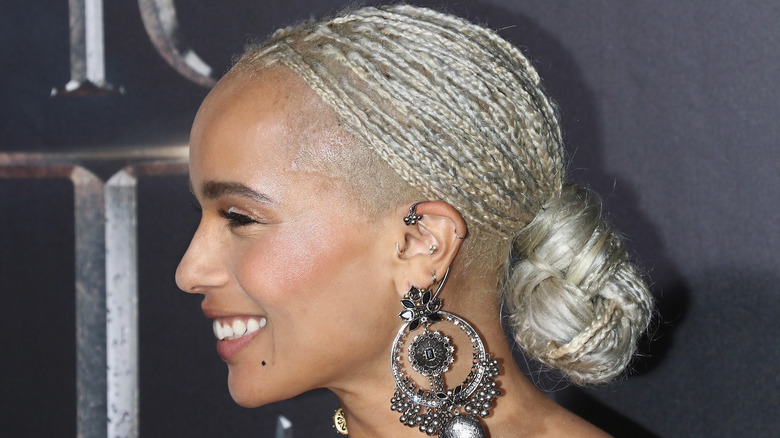 Jim Spellman/Getty Images
Women with long cornrow braids, box braids, and even locs can rock a looped bun as well. The style is protective and humidity-proof, and results in a beautifully textured and avantgarde look that will stun onlookers wherever you go. "I'm loving cornrowed braids right now," hair and beauty blogger Antonia Opiah tells Byrdie. "It's a look you can take from work to a night out. It's [also] a 'set it and forget it' look, the kind of look that, once done, requires very little maintenance."
Achieving the braided loop bun is simple. Hair must be braided all over in your preferred style, normally with the help of a stylist or licensed professional. Then, take the braided ends of your hair and gather them into a low ponytail at the nape of your neck. Pull the ends into a mini loop and cover the elastic by wrapping the hanging ends around it until secure. If you want a more complex look, consider braiding the low ponytail into large braids before pulling it into a mini loop. Tie the ends of the braids around the elastic and pin in place. 
Looped buns are ideal for people with short to medium hair
The looped bun is a go-to style for women with shorter hair. Instead of pulling all of your hair back into a low ponytail, secure only the top half into a half pony. Pull the hair through the elastic to create a small bun. With both hands, gently pull on either side of the half loop to create a soft fan shape. You can make this bun as big or small as you'd like depending on the length of your hair and the style you want to achieve. Take the loose hair against your neck into two chunks, holding one piece in each hand. Twist each side up and over the elastic and secure beneath the bun with the remaining elastic or bobby pins. 
For extra security, tie the two pieces together with a separate elastic at the ends, twist them once, and then pull them over the larger bun before pinning in place. If you want a messier vibe, create texture by pinching out small pieces of hair in the bun and around your face.
How to do a looped bun on long hair
Having very long hair doesn't take this hairstyle off the table for you. You simply have to tweak the appearance of the bun and how you secure it to account for the extra length and heaviness of your hair. Start by pulling your hair into a ponytail an inch above the nape of your neck and twist the elastic two to three times, depending on the thickness of your hair. On the last twist, pull the ends through to create a small half loop. Grab the elastic with your right pointer finger and thumb, and the tail of your hair with your left hand. Twist your hair tight and begin to wrap it around the base of your ponytail, moving from left to right until you run out of hair. Pull the ends through the hair tie in your right hand to close the loop. This version can be made loose for running errands or kept tight and polished for nights out on the town. 
You can create a looped bun the traditional way with long hair as well. After you have pulled your hair back into a low ponytail and wrapped the two tails around the elastic, you may find you have extra hair left over. If this happens, the best thing you can do is continue wrapping the ends above or below the previous wrap. Secure with bobby pins as needed and smooth down any frizz.
Loosen strands and apply smoothing cream
No matter what hair type you have, once you have secured your looped bun in place, there are a couple of finishing steps you should take to elevate the look. If you want your bun to remain sleek, minimalist, and street style-structured, don't forget to apply a smoothing styling cream over your hair. "It provides a light hold and glossy finish without using a gel, which can be harsh on the hair," celebrity stylist Graham Nation tells Coveteur. "You never want to over-apply product in your hair, so this is a great way to achieve a sleek and smooth finish with enough hold and without gluing the hair to your head."
Of course, the looped bun can be worn in a loose, piecey style as well. While you may want to smooth down any errant frizz with a little bit of styling cream, you don't want to overdo it. To make a looped bun more relaxed, don't be afraid to keep it looking textured and messy. You can also leave the excess ends of your ponytail hanging out of the hair tie or from the mini loop for an effortlessly laidback look. Pull out a few pieces in the front to frame your face as well. Regardless of how you prefer to style your looped bun, rest assured that this style looks good on everyone.