Argan Oil Is Great For More Than Just Your Hair - There Are Skincare Benefits, Too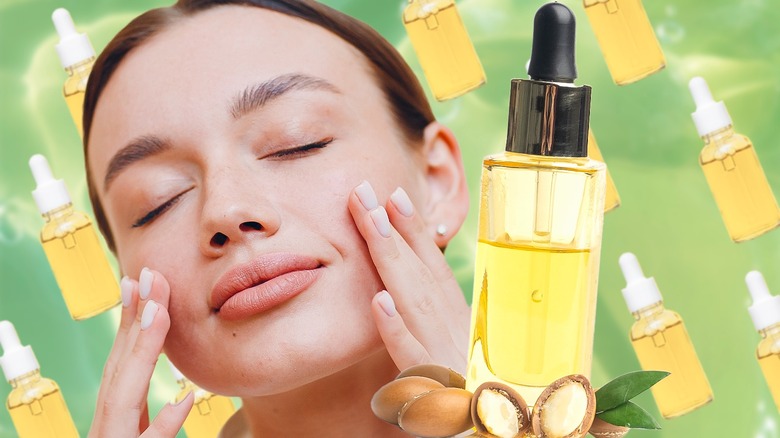 Static Media / Shutterstock
Anyone who colors or lightens their hair understands the struggle of finding the right hair oil to help repair bleach-damaged locks. Lauded by stylists and hair enthusiasts alike, argan oil is undeniably one of the most luxurious options on the shelf, thanks to its nourishing and antioxidant-rich properties, per the Cleveland Clinic. In addition to acting as the backbone of most hair repair treatments, argan oil also provides similar benefits for your skin.
"Argan oil is unique in its composition, offering high amounts of oleic and linoleic acids, which makes it extremely rich and moisturizing," cosmetic chemist Krupa Koestline explains to Allure. These fatty acids work together to support and repair the skin's natural skin barrier. Argan oil also contains vitamin E, an essential antioxidant that protects against aging and skin damage, per Healthline. Argan oil pairs well with dry and irritated skin, so don't miss out on these skin-saving secrets.
What's so special about argan oil?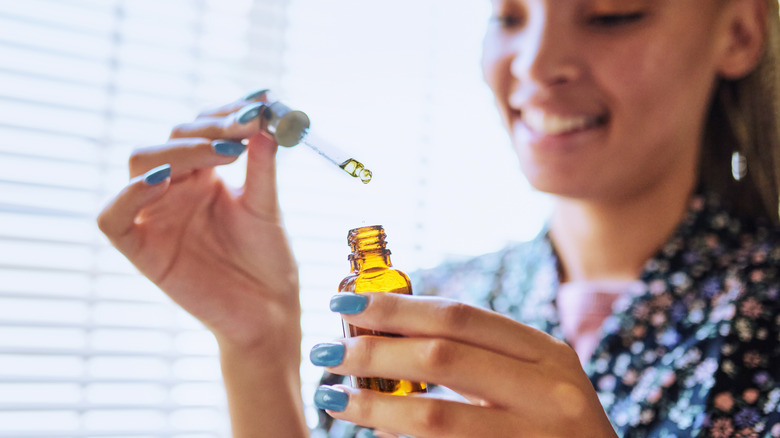 Laylabird/Getty Images
Argan oil originates from the arid deserts of Morocco and is extracted from the kernels of argan trees, as explained by Healthline. This precious oil serves countless purposes, namely providing a head-to-toe solution for dry hair, skin, and nails. "It has found a use as a skin and hair moisturizer because it is rich in oleic and linoleic acids, both helpful ingredients to maintain a healthy skin barrier because they feed our skin essential fatty acids like omega-3, 6, and 9, which our bodies do not produce," board-certified dermatologist Dr. Corey L. Hartman to Allure. 
These essential nutrients support the skin's barrier by improving cell water retention and skin elasticity when applied daily, according to a 2018 study in the International Journal of Molecular Sciences. The vitamin E present in argan oil promotes skin elasticity by encouraging collagen production, as stated in a 2014 study published in the Clinical Interventions of Aging. The antibacterial, anti-fungal, and anti-inflammatory properties also help treat burns, wounds, and inflammatory skin conditions, such as rosacea, psoriasis, and eczema, per Healthline.
Is argan oil safe for acne-prone skin?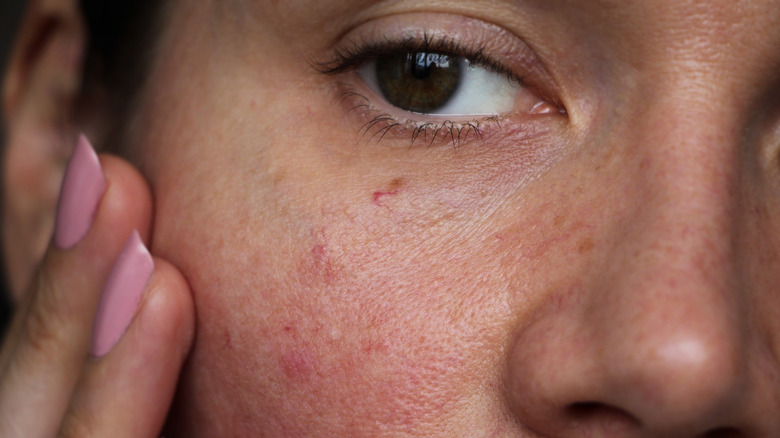 Geinz Angelina/Shutterstock
Argan oil is often referred to as "liquid gold" due its ability to treat a range of skin issues, including oily and acne-prone skin. "In general, argan oil can be used by all skin types as those with dry skin will benefit from its moisturizing properties, while those with oily skin may also find it tolerable as it is lightweight and won't leave the skin feeling greasy," New York-based dermatologist Dr. Marisa Garshick shared with Byrdie. Despite popular belief, applying face oils to oily, acne-prone skin doesn't always aggravate the skin. In fact, many people with acne-prone skin experience severe irritation due to overuse of harsh acne products, which dry out the skin. Applying a non-comedogenic oil, such as argan oil, will help restore balance and reduce the number of breakouts over time, per Healthline. Argan oil also soothes irritated skin by creating an anti-inflammatory effect, which further decreases the chance of breakouts and redness.
Although rare, it is possible for your skin to react to argan oil. This especially applies to those with sensitive skin or individuals with nut allergies. In this case, it's always wise to conduct a patch test and apply small amounts to help your skin adjust.