The Stunning Style Transformation Of Meghan Markle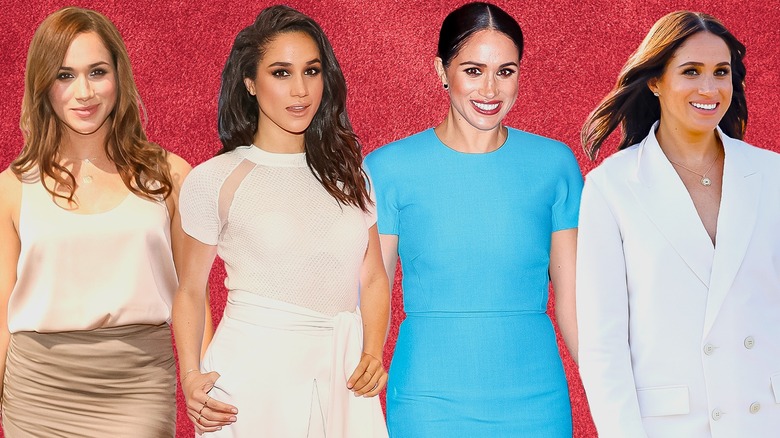 Static Media / Shutterstock / Getty
Long before she married Prince Harry, Duke of Sussex, Meghan Markle, currently known as the Duchess of Sussex, was an influential fashion personality. During the years between 2011 and 2019, Markle worked as a Hollywood entertainer, portraying the character Rachel Zane on the USA Network's legal drama "Suits." Her role on the show put her in the public eye, and in those years, she made frequent red-carpet appearances. Markle also maintained a lifestyle website called The Tig between 2014 – 2017, where she wrote about diverse topics including beauty, fashion, travel, food, and others.
Markle's life changed forever in 2016 when she met Prince Harry and fell in love with him. She gave up her acting career and her website and exchanged her entertainer's lifestyle for the life of a working member of the royal family. It wasn't just her lifestyle that changed, however. Her sense of style underwent a dramatic evolution, too.
2012-2014: Laid-back pre-royal fashion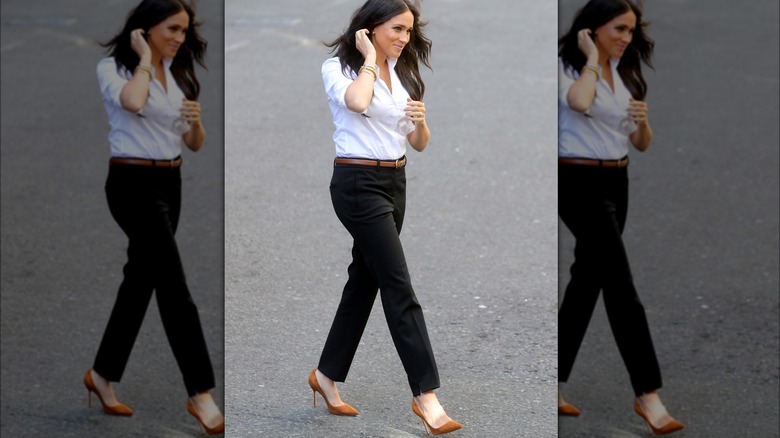 Chris Jackson/Getty Images
Meghan Markle is a native Californian. From the beginning, Markle's sense of style was heavily influenced by the state and her unique place within its culture. In a 2017 interview, she told Glamour, "My sensibility had always been relaxed California girl style, and on any given day I was in jeans, cut-offs, and flip-flops."
In the years 2012 through 2014, Markle was occupied with acting on the legal drama "Suits." On set, she played a sophisticated paralegal, Rachel Zane, who dressed just like the name of the show suggests — in well-fitting designer suits. Frequently, Markle portrayed Zane wearing perfectly contoured pencil skirts designed by Tom Ford. The actor explained that her own personal style has some similarities to Zane's, saying, "I like monochromatic and tonal dressing and I don't generally wear prints, and neither does Rachel now." One of the main differences between her onscreen and offscreen style: In real life, Markle preferred to wear more relaxed silhouettes. She told Glamour, "On the show I wear things that are so body conscious, so it's nice to have things that are a little easier to breathe in."
In 2014, Markle began posting her observations about beauty, fashion, and other lifestyle topics at her website, The Tig. This site was an integral part of her rise as a fashion influencer. Between the attention she attracted from working on "Suits" and the fans who found her online through The Tig, her Instagram following eventually grew to 3 million people.
2015: Daring fashion choices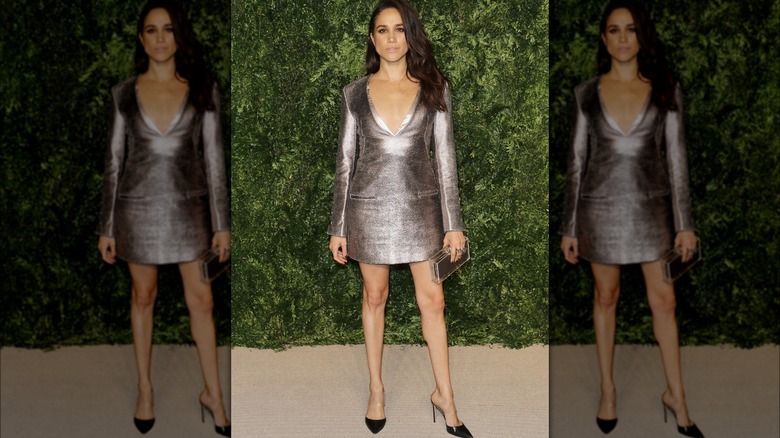 Jim Spellman/Getty Images
As Meghan Markle's fame and influence grew, there was an increasing number of occasions where she had to dress up and go out. Since her signature jeans and flip-flops weren't appropriate for red-carpet appearances and gala events, she had to search for dresses and accessories that would fit the bill. Pictured above, you can see the chic, simple, and daring minidress she wore to the Twelfth Annual CFDA/Vogue Fashion Fund Awards. With its plunging neckline, short hemline, and sparkling fabric, this dress epitomizes the adventurous fashion choices Markle made in 2015 as she socialized with Hollywood's A-list and worked on elevating her personal brand as an actor.
Sheer clothing was one of the top fashion trends of 2015. Both Markle and her "Suits" character, Rachel Zane, embraced this trend in a big way. In March of 2015, Markle attended the premiere of "A Postcard From Istanbul" wearing a bodycon dress with sheer panel from Antonio Berardi's 2014 Resort collection. In June, Markle was spotted on the red carpet at NBCUniversal's Summer Press Day wearing a sheer ivory-colored top and wide-legged dressy trousers. In 2015, Markle was also spotted wearing various other strapless or midriff-baring ensembles. Considering how tanned and toned her legs were, her habitual choice to dispense with hosiery didn't seem at all like an error in judgment. 
2016: Prince Harry and moving toward a more refined style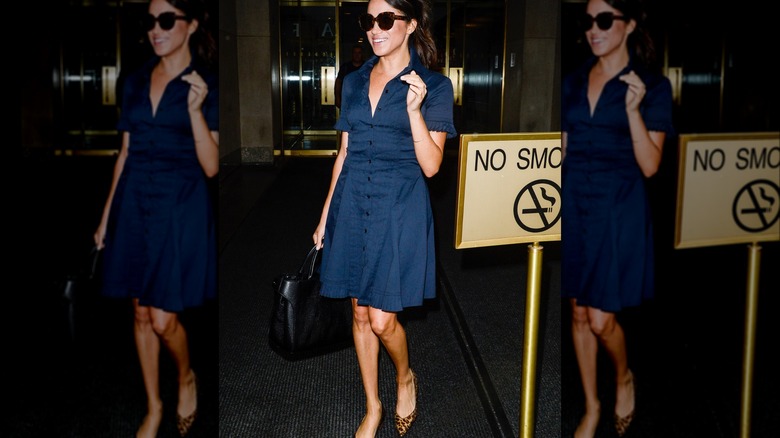 Ray Tamarra/Getty Images
In 2016, Meghan Markle met Prince Harry and fell in love with him. That year, she was spotted in an eclectic mix of ensembles. Nobody could have successfully accused her of letting her style get stagnant in 2016. If a common element amongst these ensembles can be found, it's that many of them were heading in a direction toward greater refinement and elegance. 
In May of that year, Markle wore a little black dress paired with a black biker jacket to attend  Sephora's unveiling of their newly remodeled Toronto facilities. In July, she wore a chic blue button-front dress as pictured above to a "Today Show" recording session.
This was also the year Markle was photographed for a feature that was published in the August 2016 issue of Good Housekeeping. Meghan's Mirror reported that she had been involved with styling the shoot, where she was photographed wearing playful, flirtatious, colorful clothing that was distinctly different from her characteristic monochromatic outfits. These pieces were boldly patterned with stripes, florals, and gingham check designs. For this photo shoot, Markle was willing to experiment with prints and head-turning color combinations.
2017: Meghan Markle's engagement and the rocky transition to regal royal style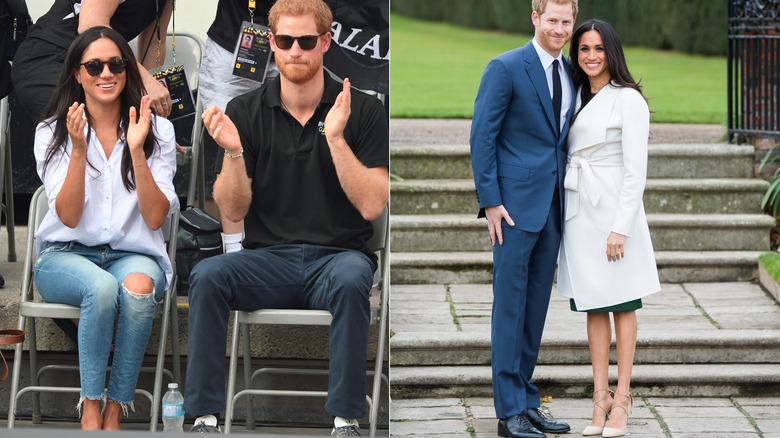 Samir Hussein/Getty & Karwai Tang/Getty Images
When it became known that Meghan Markle was Prince Harry's girlfriend, her style was suddenly subjected to more intense scrutiny. Ordinary people wouldn't have thought anything of wearing torn jeans to a 2017 sporting event. After all, distressed denim was on-trend that year. However, the royal family had style protocols they typically followed. Although Markle wasn't even officially a royal yet, when she wore distressed jeans to the 2017 Invictus Games, her look was controversial. Some people protested that she didn't dress regally enough for their liking. 
Prince Harry later wrote about the incident in his memoir, "Spare," alleging that the royals had deemed Markle's apparel acceptable for the occasion. He went on to express disappointment that his family members hadn't publicly affirmed their approval of Markle's style choice. Harry wrote, "One statement, that week, in defense of Meg ... it might've made a world of difference."
Later in 2017, Prince Harry and Markle announced their engagement, and the smiling couple posed for engagement photos. Multiple aspects of Markle's look drew attention. Fans rushed to buy their own Line the Label coats like hers, causing the style to sell out. Her lack of hosiery sparked discussions on both sides of the pond. Celebrity stylist Joe Zee told "Good Morning America," "She didn't wear stockings, which, in the royal handbook of fashion, it's a big beginning of being a rule breaker in a way. I thought that was really great."
2018: Dressing mostly in black, white, and inconspicuous neutrals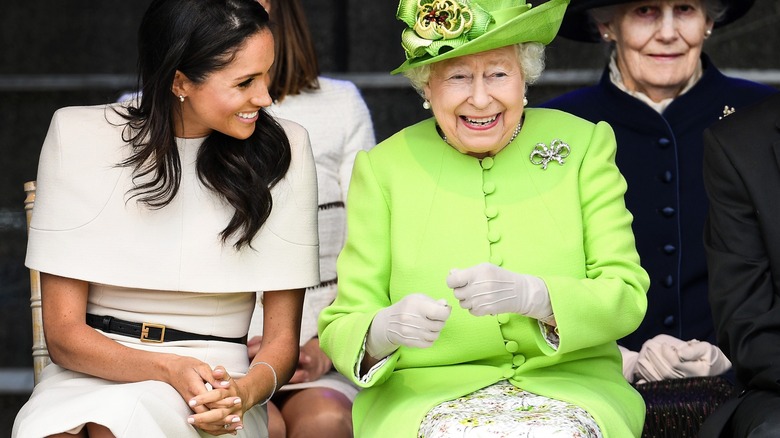 Jeff J Mitchell/Getty Images
In 2018, Meghan Markle wore a chic white gown for her wedding to Prince Harry. However, as 2018 progressed, Markle continued to wear white and other subdued colors such as beige and black to her royal engagements. 
Markle later explained the thought process behind her bland wardrobe selections, telling Netflix in 2022, "Most of the time that I was in the U.K., I rarely wore color ... To my understanding, you can't ever wear the same color as Her Majesty if there's a group event" (via US Magazine). Considering Queen Elizabeth II's fondness for bright colors, this made neutral color selections much safer choices for Markle. She continued, "But then you also should never be wearing the same color as one of the other more senior members of the family ... So I was like, 'Well what's a color that they'll probably never wear?' Camel? Beige? White?" She explained that her intention was to conform to the family's aesthetic and not be perceived as a royal misfit.
Some of the duchess' fans were surprised and underwhelmed to see this increasingly subdued aspect of Markle's fashion personality. Coming to her defense, celebrity stylist and designer Katharine Polk told Vox, "Her style choices are constantly under the microscope and I think she is pulling off the modern-day princess look quite remarkably." Polk added, "She has a gift for blending tradition with the unexpected. Most of her ensembles are sleek, chic, and relatively fuss-free."
2019: Custom-tailored royal maternity style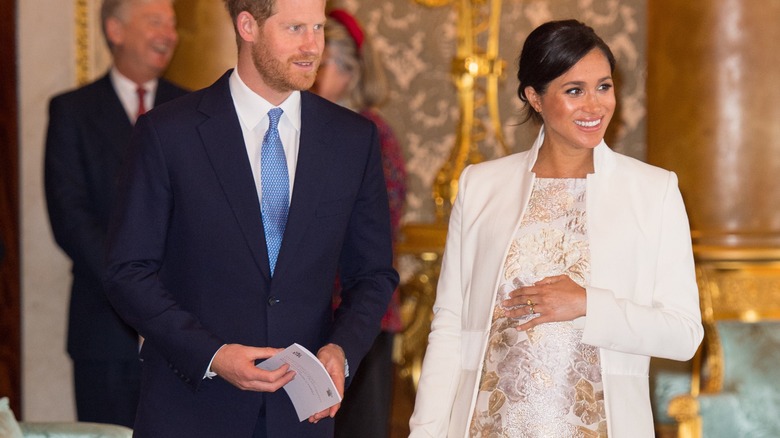 Wpa Pool/Getty Images
In 2019, the Duchess of Sussex was pregnant with her first child, Prince Archie of Sussex. One of Meghan Markle's best looks that year, pictured above, was a spectacular floral metallic brocade gown that tailor Ajay Mirpuri custom-made for her with help from his team. Mirpuri told Tatler, "We were really proud of that dress. It was a maternity dress that we made from scratch for her. From the headlines that we saw online, it was very well received." The dress was commissioned for the duchess to wear to a March 2019 reception at Buckingham Palace.
Markle had previously voiced her appreciation for well-tailored clothing in an interview with celebrity stylist Joe Zee on Yahoo Style. "I think the most important thing you can do is tailoring," Markle told Zee. "You think it's not going to make a big impact but if it fits you to a T, you look a million times better" (via ABC News).
Although Markle did her own styling  and was responsible for her own fashion choices, it is clear that Mirpuri and his team deserve acknowledgement for helping Duchess Meghan to look her loveliest. It was his hands that helped give life to her visions and make them a reality.
2020: The royal era ends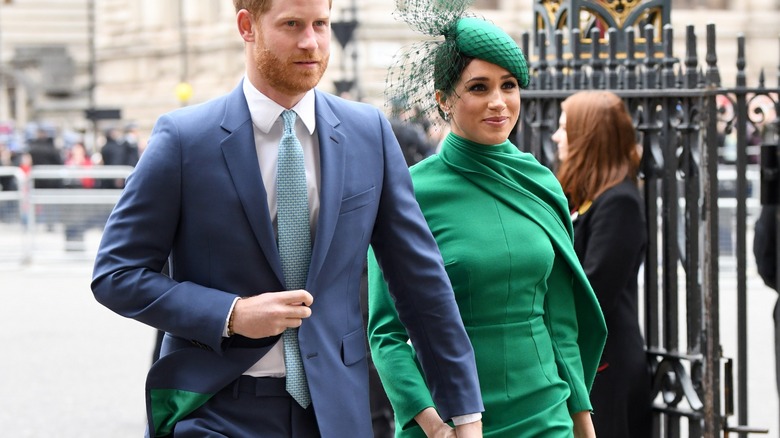 Karwai Tang/Getty Images
Meghan, the Duchess of Sussex, was 39 years old in 2020. That year, she and her husband, Harry, Duke of Sussex, decided to distance themselves from their royal lives in the spotlight. They posted a statement on their website that said, "We intend to step back as 'senior' members of the Royal Family, and work to become financially independent, while continuing to fully support Her Majesty The Queen." After much discussion, the royal family arrived at an agreement on how they would proceed. A statement by Queen Elizabeth II read, "They are no longer working members of the Royal Family."
The duchess chose to wear bright colors and aristocratic silhouettes for some of her last official engagements as a representative of Queen Elizabeth II. In Episode 5 of the couple's Netflix docuseries "Meghan & Harry," the duchess discussed her color choices, telling the audience, "I wore a lot of color that week ... I just felt like, 'Let's just look like a rainbow'" (via Insider).
To attend the Endeavour Fund Awards, the duchess dressed in a vibrant blue Victoria Beckham dress that had been custom-tailored by tailor Ajay Mirpuri. She wore an eye-catching shade of red to attend the Mountbatten Music Festival, with the dramatic red of her Safiyaa dress echoing the red in Prince Harry's coat. For the 2020 Commonwealth Day service, she wore a chic green  Emilia Wickstead dress. Wickstead, known for designing regally ladylike silhouettes, also outfits other members of the royal family and is one of Kate Middleton's favorite designers.
2021: Returning to her roots in the United States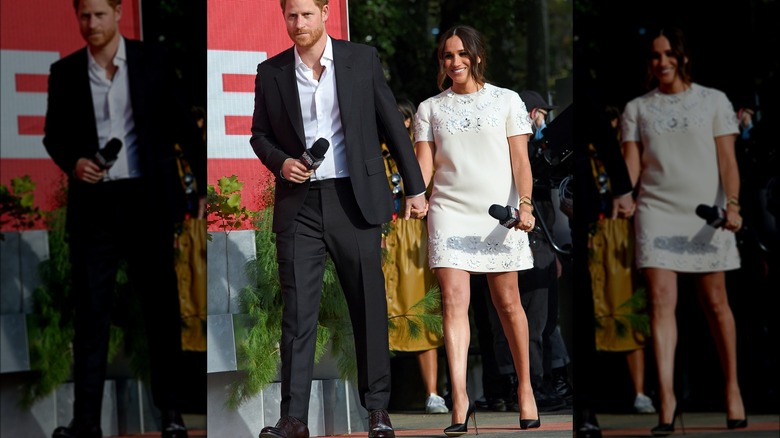 Kevin Mazur/Getty Images
In 2021, the world was in the midst of the COVID-19 health crisis. Like everyone else, during the pandemic, Meghan, the Duchess of Sussex, spent more time than usual lounging at home. On her 40th birthday that year, she shared a video of herself dressed in a cream-colored tank top, zippered hoodie, and lounge pants. She did not make as many public appearances as usual in 2021. Face masks were the top trendiest fashion accessory of the year. When the duchess did have to go out in public, she was frequently spotted wearing a mask. 
In February of 2021, Oprah Winfrey interviewed the Duke and Duchess of Sussex. The duchess wore a relaxed silk Armani dress that Bath's Fashion Museum later selected as 2021's dress of the year.
In September of 2021, the duke and duchess were heavily involved in Global Citizen's Vax Live: The Concert to Reunite the World, acting as the event's campaign chairs. Pictured above, you can see how the duchess dressed for this 24-hour global event. Her Global Citizen look epitomizes her post-royal style in many ways. With its short sleeves and high neckline, the duchess' Valentino dress is more regal and modest than many of the looks she sported before marrying into the royal family. However, the shorter hemline and pantyhose-free silhouette still hint at their wearer's roots as a free-spirited native Californian. Her original, laid-back Cali style was fused with her royal duchess style to give us a juxtaposition of both sides of her fashion personality.
2022: A year of revelations and mostly somber fashion statements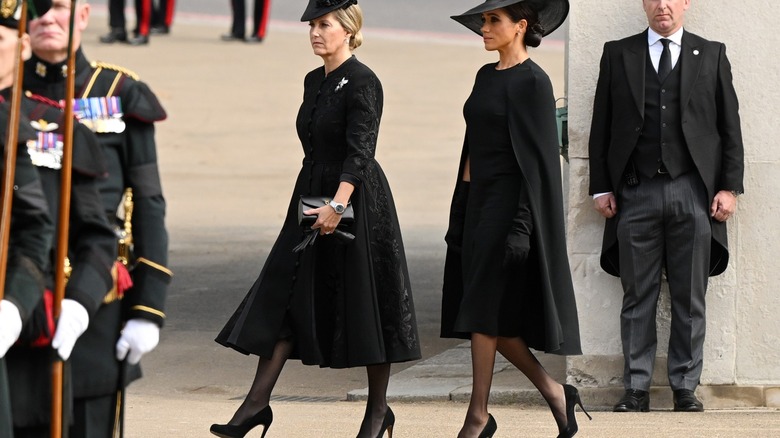 David Ramos/Getty Images
In 2022, Harry, the Duke of Sussex, and Meghan, the Duchess of Sussex, went public with their Netflix documentary titled "Harry & Meghan." On the fashion front, many of the duchess' style choices that year could be summarized in three words: black, white, and denim. One noteworthy exception was the vibrant fire-red Another Tomorrow ensemble the duchess wore to the One Young World Summit, where she addressed the audience as a keynote speaker. She was also seen wearing pink at a Lakers game. Overall, many of her post-royal fashion choices were bolder than her style had been when she was actively representing the royal family.
On September 8, 2022, citizens of the world grieved at the news that Queen Elizabeth II was dead. The Duke and Duchess of Sussex returned to London's Westminster Abbey for the funeral. The duchess dressed in head-to-toe black to mourn the queen's death, and the look she chose was as royal as ever. Her black dress was a Stella McCartney style that was similar to a navy blue design she had previously worn in 2018. This style choice suggests that Markle's departure from royal life didn't totally derail the trajectory of her style evolution. As this look demonstrates, there were times when she opted to continue wearing regal styles befitting a princess, even though she was no longer an actively working member of the royal family.
2023: Meghan Markle highlights her glamorous side with sparkling party looks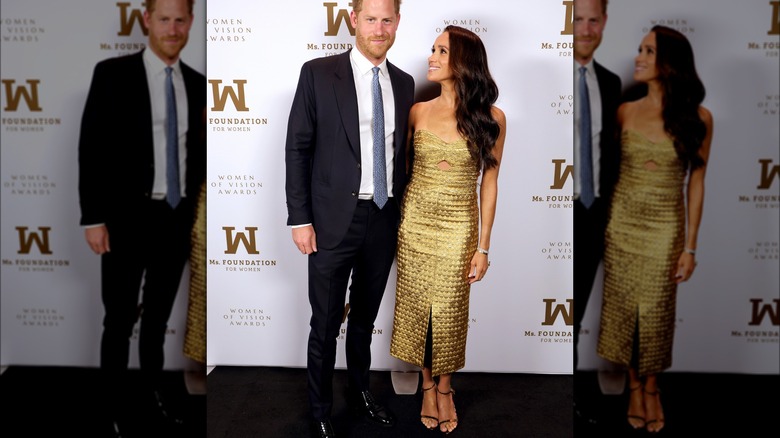 Kevin Mazur/Getty Images
As of 2023, Meghan Markle has arrived at a stunning style that truly works for her. It fuses elements of laid-back California cool girl with elements of regal royal sophistication as well as some Hollywood drama thrown in for good measure. Since leaving England and arriving back in California, Markle's style has gone back to its roots in some ways, but overall, her style trajectory did not entirely roll back to the way it was before her royal wedding. In 2023, her tendency is to wear longer skirts than she used to in her "Suits" days, but she feels free to choose shorter hemlines on occasion, too. She doesn't feel compelled to always wear nude-colored pantyhose or close-toed shoes like she did when she felt accountable to Queen Elizabeth II's style protocols. 
We think Markle's best looks of 2023 so far have been glamorous ones. She was spotted at a recent Beyoncé concert wearing a stunning sequined miniskirt in shimmering silver. She looked confident, dazzling, and radiant in a quilted, strapless golden gown by Johanna Ortiz when she accepted the Ms. Foundation Women of Vision Award and gave an acceptance speech at the awards ceremony. Celebrity stylist Miranda Holder told Newsweek, "Meghan literally glowed last night, her outfit giving us all the golden goddess vibes as she made her first glamorous public appearance for some time, to collect her award."
The duchess' style has certainly evolved since the early days, and her fashion transformation has been a truly stunning one.