Beyoncé Wants Us To Wear Chrome For The Renaissance Tour: Tips To Deliver On Silver Style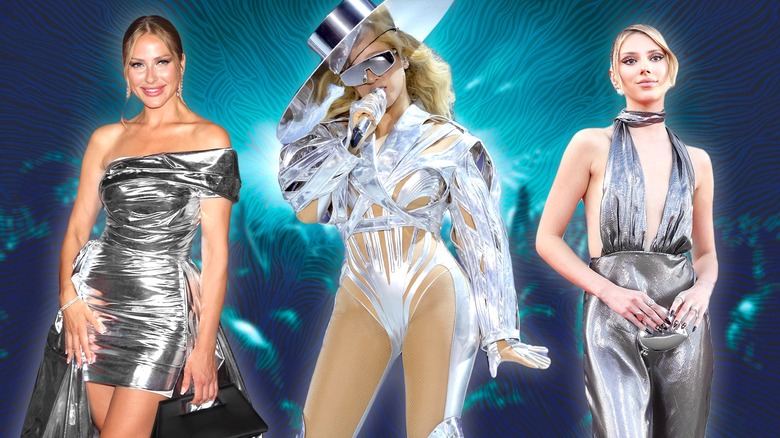 Static Media/Shutterstock/Getty
Beyoncé's Renaissance World Tour is just a month away from nearing its end, and Queen Bey has one request for her fans. "Virgo season is upon us. This tour has been such a joy and as we approach the last month, my birthday wish is to celebrate with you wearing your most fabulous silver fashions to the show 8.23 – 9.22," she shared on her Instagram Stories at the end of August (via Entertainment Weekly). She continued, "We'll surround ourselves in a shimmering human disco ball each night. Everybody mirroring each other's joy. Virgo season together in the House of Chrome. See you there!"
Since her announcement, devoted members of the Beyhive have been swarming to stores to assemble their silver outfits. Even Meghan Markle and Prince Harry understood the assignment and were seen in chrome-colored outfits at Beyoncé's Inglewood concert, as a fan shared on Twitter. If you're catching the last legs of the Renaissance tour or simply want to bring the Virgo energy through the first half of September, there are plenty of ways to shine.
A form-fitting silver dress needs barely any accessories
When you're wearing a statement piece like this mega-shiny minidress, it's better to let it speak for itself. The one-shouldered style gives the dress a sophisticated look, and the short hemline makes legs look miles long, especially with glassy footwear that will bring shine to your shoes. All you need is a tiny matching silver handbag to store your keys and lipstick in. With an outfit this bright, you won't even need any bling.
Sparkly bikini tops are not just for the beach
Concerts can get hot and sweaty, especially if you're dancing to Beyoncé's Renaissance World Tour's set list, so donning a bikini top is the perfect way to stay cool. A shiny silver one is perfect for shimmying to music, and when paired with a black patent leather skirt, the outfit screams more rock star than beachgoer. To improve this look, slip on a pair of eternally classic hoop earrings and a matching choker.
Sequins are sure to make you stand out in a crowd
When you're going to a concert, there's no such thing as being too bedazzled — especially if Beyoncé herself requested fans to rock their best chrome looks. A silver crop top in a more subtle shimmer complements the skirt without overtaking the outfit. Accessorize with a white cowboy hat and boots as a fun nod to the "Crazy in Love" singer's roots in Texas.
Shine like a mirror in a silver jumpsuit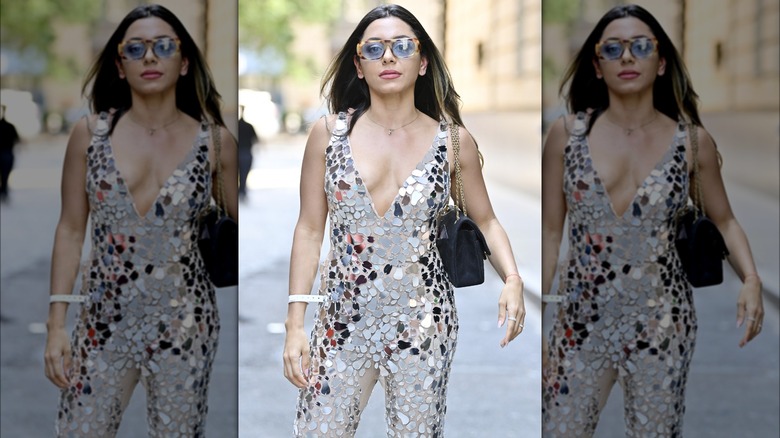 Roy Rochlin/Getty Images
Planning your outfit for the Renaissance Tour can be stressful, but a silver jumpsuit gives you a one-stop outfit without having to think about pairing a top and bottom. It's a great alternative to a dress, and you can pop, lock, and drop it without worrying about an accidental flash. This mirrored jumpsuit is one we think Beyoncé would even wear on stage — that's how diva it is.
This fairy festival look is bringing on-stage energy
If you want to get noticed, this outfit will definitely have all eyes on you. It's so savage that even Beyoncé might notice you from the stage. Something as intricate as this look takes a bit of planning, but we think it's well worth it. To build an outfit like this, start from your base outfit and accessorize from there. A long headpiece draped over your body will have you looking like a queen — just like Bey.