Glassy Footwear: The Fashion Trend Bringing Shine To Your Shoes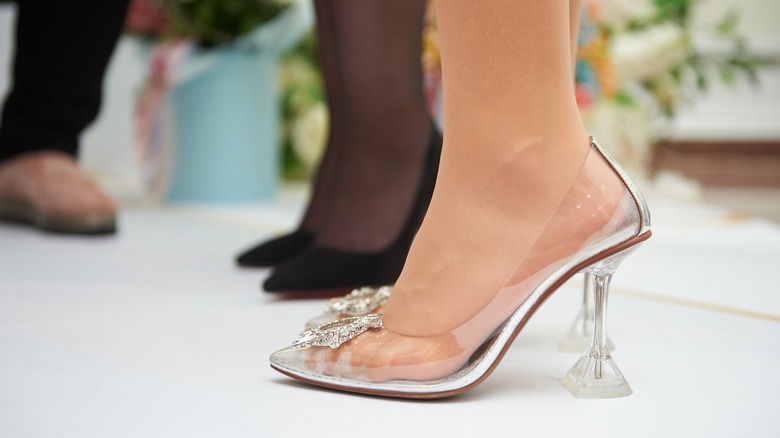 Dmitrii Pridannikov/Shutterstock
Footwear is a major part of your look that's important not to overlook. The right shoe can either elevate your look to a whole new level or have the opposite effect. Not only do the right shoes help you look your best, but they're also a big part of feeling comfortable in your ensemble. This is why picking the right footwear is key.
Shoe trends are always going in and out of style, and while there are some styles that never go out of fashion, there are other, quirkier trends you ought to try. Trying out fun new trends can help add an element of surprise and originality to your look. Have you heard of the clear shoe trend? Clear shoes have made waves all across the internet and in real life, with a number of celebrities being spotted in them. They come in a variety of shapes, styles, and designs, so you're guaranteed to find one you like.
Heels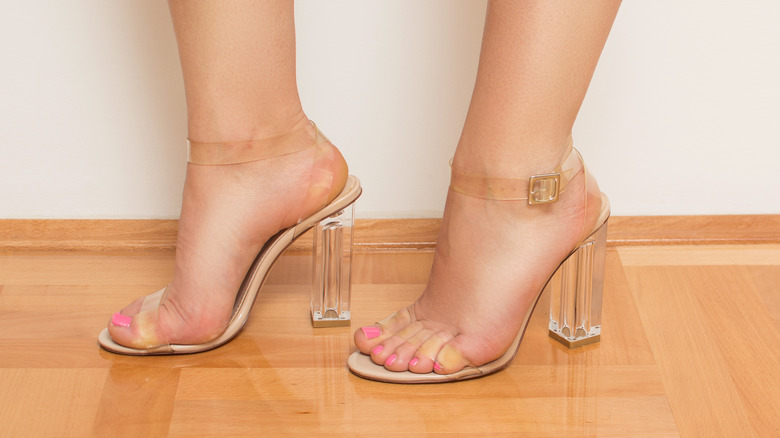 BigLike Images/Shutterstock
Clear heels are one way to go when looking for glassy footwear. You can opt for ones with a clear heel or a clear strap — or both! For those seeking some vintage glamour, there are also platform heels that come with a retro perspex platform. Either way, any high heel with a glassy element to it is a great way to make a fresh statement at your next event.
Wedges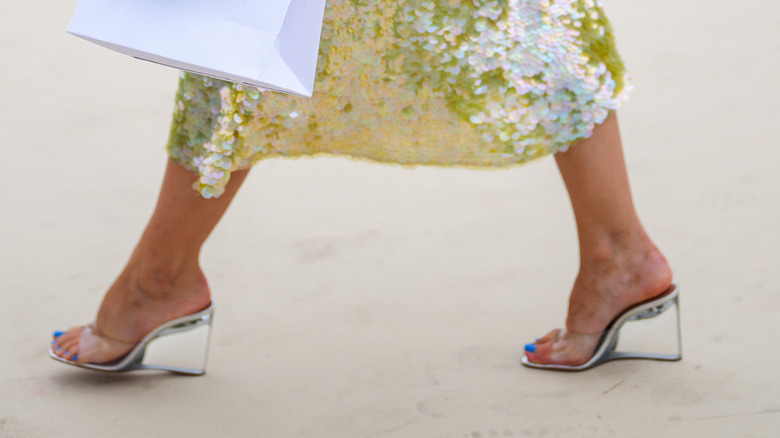 Edward Berthelot/Getty Images
If you find heels to be a bit uncomfortable or you don't personally like the look of them, wedge heels are another great option. You can go for one with a solid wedge and a clear front portion or rock a perspex wedge. Wedges, which soared in popularity in the 2000s, are known for offering comfort and style all in one neat package, making them a great summer option to dress up or down.
Mules
Mules — clear or not — have also been making the rounds, so you're sure to look super up-to-date with transparent mules. For example, kitten-heeled mules are a practical yet chic and trendy everyday option you can quickly slip in and out of. Glassy mules are versatile and can be styled with almost anything from your wardrobe, whether dresses, jeans, or skirts. You name it!
Ballet flats
Ballet flats are another style of shoe that always goes in and out of style. Every year you ought to see a revamped version of them, and this time it's the clear ballet flat. They offer the classic girl-next-door look with both comfort and style. You can also opt for mesh ballet flats for a different take on the transparent shoe.
Sandals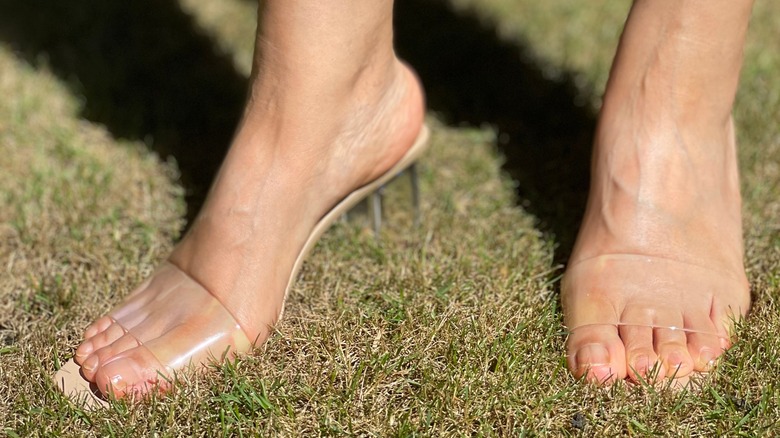 CB 3762 Studio/Shutterstock
No footwear list is complete without sandals. Sandals are, of course, an everyday staple we all have in our wardrobe, but clear sandals are the way to take it up a notch. They're a great way to show off your new pedicure and add a trendy touch to your everyday outfits.